Nathaniel – Jan 31, 2021
I purchased a 125cc Four Wheeler for my son for Christmas. They shipped it to me in time. Expected to be able to put it together fairly easy Christmas Eve. NO INSTRUCTIONS! NO MANUAL! Thank God for my son in law he knew about Four Wheelers. We did what we could til 5a. Woke up and we're back at it until four PM he had to reroute the fuel to get the gas flowing properly so that it would start. I contacted them asking for a Product Specific Manual and a partial refund due to the hardships and lack of information to put their product together. I was sent an email informing me that they would not be doing anything due to in the description of the product online in small writing it "suggests" a professional mechanic and it has an instruction manual but it is pictures. When they addressed my request for an Owner's Manual, I was basically told that they do not have "Individual" Manuals all Four Wheelers have ONE Manual because they have the same style and basic parts and don't need one therefore a "General Owner's Manual" is sent with all Four wheelers. Do not buy from this company. They are not friendly and are not willing to admit they are running an extremely Shady "Just Enough" Business.
Lucas – Jan 09, 2021
Just checking you Costumers Reviews , note F and looks you Costumers should contact federally the FBI homeland security why ? Most complaints are criminal, and a total known rip off by CEO and criminal employees! Myself made pictures of Reviews and send them to the Supreme Court of the United States, to stop you Comunisten gangsters and bring you to the US courts! Like I write to you no $ from us the Ananomus 4.5 million Legion around the world Whe watch and investigate such criminal Garbage business!
Holly – Jan 04, 2021
I purchased a go kart buggy for my son for Christmas. It doesn't start. I finally got thru to sales girl and she was very rude and hung up on me. I kept calling and got thru to parts guy finally. He told me it's not there problem that the go kart was shipped broken. These people should be put out of business, they are blatantly scamming and ripping people off. What a shame that a USA company is doing this to people. It's disgusting and shameful.
Jordan – Dec 25, 2020
Ordered my son an ATV 50 cc for this Christmas. It was ordered on 11/24/20. When I received it through delivery, it had 3 flat tires, brake handle broken off, steering column bent so bad you cannot turn the wheels ( I paid extra for full assembly). It looked like someone through it down a hill, tried to re-wrap, then deliver to me as a quality product. I contacted company and their customer service is a joke. Closing tickets and telling me I have to pay to return and MAYBE they will refund my money? It was sent in a non-working condition to no fault of my own and now they want me to pay to return and maybe I get my full refund? I have filed a complaint with the BBB and will continue to pursue this matter as I see there has been over 102 complaints filed against this company. My next step is contacting the Attorney General in CA. Worst part is I could not give to my son for Christmas. Worst company ever.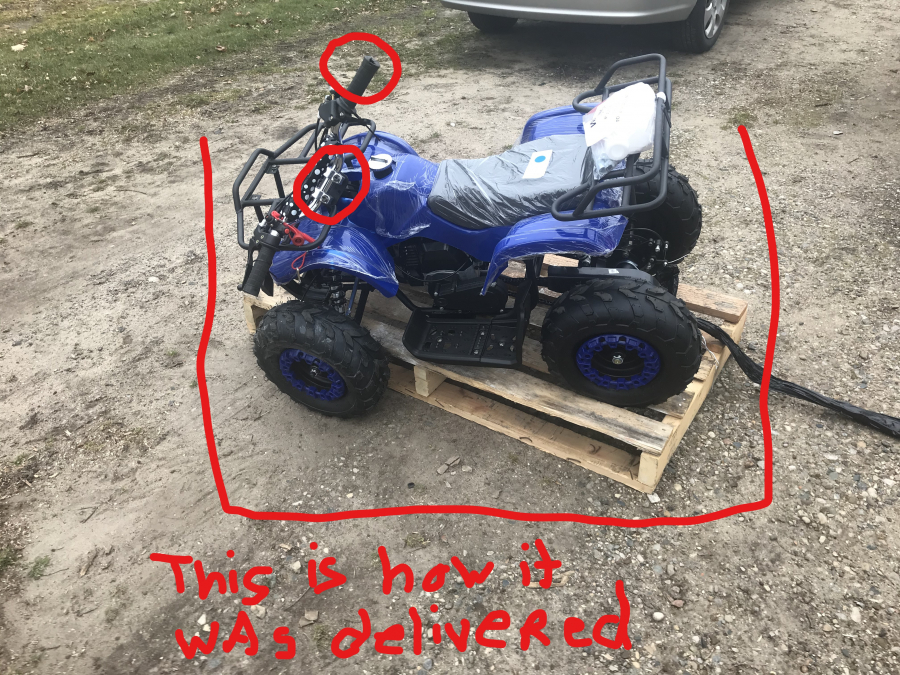 Kathryn – Aug 25, 2020
Victim Location 48415
Total money lost $1,800
Type of a scam Credit Cards
We purchased a 3 wheel 50cc moped 5 weeks ago. They charged our card, sent the product, and it has been non functional since. It has never even been on the road! We have attempted to call numerous times, always busy and then you get disconnected. Web site does not work. They sent random replacement part and the machine is still not functioning. We get an e mail response assigning us to an agent, and then no follow up. They have our money, we have a unit that does not work. I feel they are trying to wear out our warranty time frame, and have no intention of making this right. We are out $1800.00!!!
Paula – Aug 18, 2020
Victim Location 01906
Total money lost $1,399.99
Type of a scam Counterfeit Product
I purchased the bd125-10 (a small motorcycle with a 125cc engine) from Redfox Powersports about three weeks ago now. I payed $1099.99 with an additional $240 for shipping and handling.
The bike arrived 80% assemble, as agreed upon. I assembled the rest of the bike, which included the rear suspension shock, the front tire, and handle bars.
After adding fluids to the bike and getting it running I soon realized that the shift peddel was stuck in first gear alot and I often had a hard time switching in between gears. I discovered it was something internally wrong with the gear box.
I filed a warrenty claim about a week after the bike arrived. They told me that I could either take the engine off the bike and send it to them to be repaired or I could return the bike for a refund but I would have to pay for shipping.
I argued with this company's employees many times about the fact that they sold me a bike that doesnt work and they continued to hang up on me and ignore my phone calls and Skype requests.
After getting nowhere with the company I decided to cut my losses and return the bike and loose $500 dollars in shipping. However, I then discovered that there are many more victims, like me, who have bought from this company and recieved a product that was not as advertised. Some of these people had even stated returning their product and never receiving their refund.
So currently I have filed a claim with my credit card company for fraudulent behavior and am hoping to receive my refund in the near future.
In the meantime, I am requesting that you launch an investigation into these criminals so that noone else ever has to go through this again with these people.
Preston – Aug 06, 2020
I have been scammed by these people also. They shipped me a defective DongFang 300CC scooter for 2465 $ and it burned all electric parts when I tried to start it.
After 2 mechanics and another 1000 $ spent on repairs the bike will not work. Red Fox Powersports tells me they are not responsible for anything other than parts and no mechanic in the are will touch a DongFang vehicle.
Do not purchase from these people they are scamming you of money and you will be left feeling robbed.
They do not answer calls or emails, their support is non-existent. You think you are buying a vehicle but you are expected to learn to repair a motorcycle. Not ride it.
Tammy – Jun 02, 2020
Victim Location 02143
Total money lost $1.30
Type of a scam Online Purchase
I ordered a motorcycle from them they don't answer any calls or emails at all they immediately took my payment haven't received my order at all and can't get any answers now I'm out $14000
Kurt – May 19, 2020
Victim Location 91746
Total money lost $600
Type of a scam Online Purchase
SCAM SCAM SCAM!!!!! This place is complete trash and will scam you out of your money. If i could rate negative stars they would have all of them in the universe. Please save your time, energy, and most definitely money, and spend it somewhere else. What type of company doesn't send an email confirmation after ordering???? Scammers that's who!! The customer service is beyond horrible, matter of fact you will never receive any service after spending money here. Experienced issues with a brand new 125cc 2×4 atv purchased from here, only to not receive any help be contacted. I've called several times during business hours, received an automated message to call back during business hours. They claim to be busy helping other customers all day ( complete lie), cant never talk to a real person. I've submitted a help ticket and the next day received an email that my ticket status was closed. No one responded, called, emailed, or contacted me PERIOD so how is my ticket closed and my million issues unresolved. I've done LIVE chat only to have JONA end my chat session after I told her about the issue I'm having, but she was quick to respond to my first question regarding the warranty. Everything about this company is a LIE, the first is having satisfied customers, all they care about is stealing your money and delivering lemons that will eventually not work properly. Tried to fill out the complaint form on the website, guess what received and error after submitting, this is a complete joke. I don't see how this place is still in business. Please check all reviews on their website and facebook page before purchasing. They refuse to help several customers after they experience issues buying items from this website. This business should be sued, and completely shut down. Most importantly a lawsuit should be filed against them for compensation for anyone that made a purchase.
Vincent – Apr 01, 2020
Victim Location 85607
Total money lost $1,169
Type of a scam Online Purchase
I purchased a 50cc RTX scooter moped from them on 2/10/20 and it was listed as "in-stock"; however, almost 2 months later my order is now listed as, "on hold – preorder" after charging my credit card. I have attempted to contact them several times to get a delivery date and each time someone gives me a different date. There are several poor reviews listed for this company, which I should have checked before I ordered. Beware of dealing with this company!
Ramon –
Victim Location 13492
Total money lost $600
Type of a scam Counterfeit Product
Ordered a kids atv and received a atv that won't run. Called, emailed, smart chat with the company and have received no response.
Devon –
Victim Location 36314
Type of a scam Online Purchase
We attempted to purchase a go cart for our children for Christmas. We went online on Dec. 8 and placed order with our credit card online. Website said item would ship out Dec.15 so we think we're good to go to get it in time for Christmas. When we placed the order it was over the weekend and hours listed online are Mon thru Fri. We placed order online then tried calling the company Mon, Tues, Wed, Thurs, Fri at the number online. The number never goes to a person, only to a recording telling you to try to live chat instead online. We also sent an email to the company website on Wednesday to no avail, no answer from company by Friday. On a Friday Dec. 14 tried again to live chat bc could never find link to live chat before but now it suddenly pops up. "Chat" with possible robot bc could not have possibly been a real person giving such vague answers without any elaboration. Actually only answered 2of the many, many questions I asked. Took screenshots of entire question and answer session of chat. Hate dishonest people/companies, especially this time of year. Had to call and cancel credit card purchase. Left with less than 10 days until Christmas to find a plan B for Christmas gifts for kids!
Gregory –
Victim Location 85031
Total money lost $1,280
Type of a scam Online Purchase
We were purchasing a "200cc GVA Go Kart" as a christmas present for the only child we have in our family, from the website redfoxpowersports.com . We made the purchase on 12/02/2018, by debit card providing our information as we do on other sites, such as Amazon, Ebay, etc. They sent an automated email with the order confirmation number. We checked the website constantly to see the status of the order, website stated 2-7 business days for processing. We placed the order expecting to receive the package by 12/12/2018. After the 7th day on 12/10 we started calling several times and no answer, tried chat and it stated was 'offline', website was still showing 'processing-preparing order' as it showed first day order was placed. We called several times each day; no answer anytime of the day. We tried sending emails to the customer service address provided, no answer. We tried the chat again and finally received an answer on 12/14, informed us that they will send the order that same day on Friday. Again the same status is showing on the website; 'processing-preparing order' 2 days later. Tried the chat to check status again, no answer after 1 hour of waiting (website states they have quick response) now showing 'online'. A few minutes later I refresh the page, I let them know I have a question about a product I'm interested in buying and they respond within 15 min. When I ask to check what happened to my order, they have not replied and it's been another hour. Please do not purchase from this site.
Mitchell –
Victim Location 13760
Total money lost $1,279.90
Type of a scam Fake Invoice/Supplier Bill
I purchased a go cart from red Fox power sports website. They immediately took the funds on Dec 1st and I have not been able to reach the company by phone, live chat or email since. I want a full refund immediately.