Jaime – Dec 12, 2020
I received a priority mail envelope ( this is the 3rd one) from WAL-CARD AUDITORIA ASSESSMENT. They wanted me to deposit or cash a check for $2,480.00. Then use that money to go buy Wal-Mart gift card with the money. I was to buy 2, $400 cards and 1, $200 and a few other things. I was to scratch off the serial numbers and report them right away in a photo text. (Yea right) then mail them in. Also email a photo copy of the survey I filled out on the employees at the store. The story was that the Walmart employees were telling customers not to buy the gifts and steering them away to other things for reason and that what they were doing was illegal.
I tried for hours to reach this company from many different angles with what ever name I could find on the couple different websites I linked them too. Nothing. So then I just googled, after flipping through a few pages, there they were. Gotta Ya B[censored]!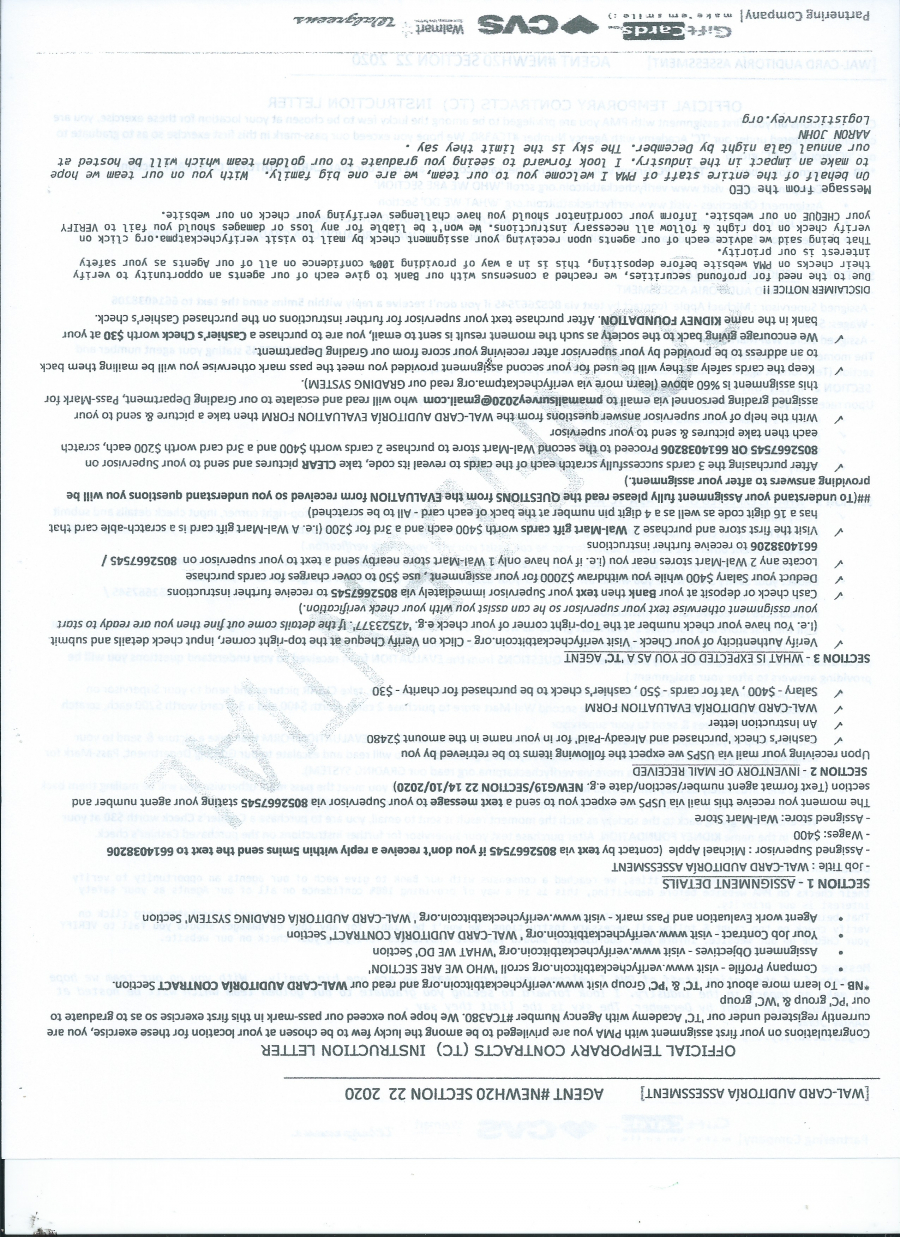 Douglas –
Victim Location 96795
Type of a scam Employment
Responded to a mystery shopper employment and received a reply by email to fill out the application form.
Sometime later I get another email asking if I'm still interested, I say yes and about a week later I get an 'Priority Mail' envelope. Inside is 2 photocopied sheets and a cashiers check in the amount of $2,350.27.
The first sheet is instructions with the first line typed in BOLD,UNDERSCORED, and ALL CAPS: "IT'S OF UTMOST IMPORTANCE TO TEXT 507-237-6643 ONCE YOU CASH THE CHECK".
It goes on to say that as a level 1 agent this is my first probationer training task and I am to choose a WalMart store in my area, pose as a shopper while evaluating the effectiveness, efficiency & customer service then on to my "assignment", which is to evaluate the Money Gram transfer services by sending MoneyGram funds to another receiving Secret Shopper because there have been reports of lapse in the services of their Management and some of their staff. Complaints are based on reports which customers forwarded anonymously and phone calls were also made. These reports included unqualified staff, slow services, loss of money, rude attendants, excess charges, and late opening hours and early closing hours.
My assignment, should I choose to accept, is to send $920. to a Kevin Wuinn in Atlanta, Georgia and $980. to a Mark Harmon also in Atlanta.
Specifically I am to cash the check, deduct $350.27 off the top (as my pay), take $1900. and send the above mentioned amounts in two separate transactions to two different people making sure to utilize the 10 MINUTE SERVICE (those words are in bold, all caps and underlined) be discreet so as not to let on that I am "spying" on them, observe anything useful, act like I know the person I'm sending the funds to (avoid suspicion) and pay the $50. transfer fund fee on each with the remaining $100.
When you're done, it is paramount you send agency number to the text only number so the actual assignment timing can be noted.
NOTE: You will be entitled to a $100. bonus payable in your next assignment check if you can complete the survey within 24 hrs.
I did not take them up on their offer, but it's been my experience that the "cashier's check" will bounce or not clear resulting in the deduction of funds from my account to cover it.