Craig – Sep 20, 2020
Mine worked less than two months just enough for the warranty to run out. They do not believe in their product and there customer service told me to kick rocks. I purchased a Mophie and it has been fantastic. Already more than double the lifespan on the Bolt and I found it refurbished so it was cheaper.
Andre – Jul 20, 2020
i bought a SWITCH from them and it took over 3 weeks to get here and when it did was a little yellow toy! i am now out 106 dollars! no replys no nothing! This is heart breaking someone could do this to people!
Austin – Jun 26, 2020
Looks pretty, but horrible quality.
I purchase one on Jan 29th. I got it feb 24. It worked for about 3 months, then suddenly, it decided to no longer charge the phone, unless you unplugged the base and plugged it back in again.
I contacted customer service, asking if there was anyway to fix this, and they replied:
"We'd love to help, however, upon checking here, the item was delivered on February 24, 2020. It's now outside our 30-day replacement window. You reached out to us on June 24, 2020. I'm sorry, but this no longer qualifies for a replacement.
Please be advised that we don't have a warranty and we can only replace your unit within the 30 days upon receipt of your item. If you reported the issue within the 30 days, we will be more than happy to replace your unit."
No attempt to get more information. No attempt to try to help a customer. Just went immediately to after 30 days, its your problem.
The lack of troubleshooting or effort to understand tells me they likely have a lot of quality problems.
Kristi – Apr 21, 2020
The charger took about a month and half to be delivered and after a month and a half of finally using it it stopped working all of a sudden. When I reached out to Magic bolt they said well sorry but you past your day for a refund or replacement no alternative solution or anything in other words is your problem, I should had know when I opened it up and it looked like a cheap imitation from China with no brand name or anything if you planning to get it don't.
Charlotte – Apr 15, 2020
I agree with everyone on this website.
It took 30+ days to be delivered.
Watch charger didn't work and not after 40 days the entire charger doesn't work anymore & Magic Bolt wouldn't replace it or pay the money back as it's over the 30 days warranty time. What a joke this company is! Never ever buy anything on there!
Barbara – Apr 14, 2020
Scammer's address BFE Corporate, STE E, Cranbury, NJ 08512-3510
Country United States
Type of a scam Online Purchase
Initial means of contact Not applicable
To whom this may concern,
I'm not sure if this was supposed to be funny, but I did not order the little alligator that came in the mail yesterday, and I want the two touchless thermometers that I did order on April 4, 2020.
I will be returning the lizard in expectation of receiving the order I placed in return.
There has obvious ly been a mistake. I can be reached at 912-507-0347.
Renee
Roberto – Apr 13, 2020
I purchased the Magic Bolt Power Dock Pro. Four days after ordering I received an email to say the item had been shipped. This caused my first concern because many companies ship the same day. The next concern arose when I checked the tracking number only to find it was a bogus number not registered with anyone. After a couple of weeks I emailed the company to enquire as to the whereabouts of my product. Eight days later I received a form email reply that said nothing to address my concerns. At this stage I accepted that I had been scammed. Imagine my surprise when a week later my order arrived. (Delivery took so long that the supposed warranty had expired). I opened the delivery and found my purchase was not branded in any way to connect it to Magic Bolt. It was simply a cheap Chinese product which I assumed they were reselling at a profit. The ultimate letdown occurred about three weeks into use when the phone charger component stopped working.
Michele – Apr 06, 2020
Scammer's website Magic Bolt
Scammer's email https://magicbolt.co/blogs/what-powers-you
Country United States
Type of a scam Online Purchase
Initial means of contact Email
I purchased this product for my husband for Christmas. The product I purchased was a muliti charging station (for iPhone, apple watch and apple ipods). The product took longer than provided to arrive. When it did arrive it didn't even have the Magic Bolt logo. The product appeared to be some rip off from China, poorly made. But we used it and it seemed to work decently for the first two months, than the charger for the apple watch stopped working. I contacted the support team and they said it was beyond the 30 day warranty and I could not get a replacement. So basically this product only last 30 days. Overall I was extremely disappointed the website is very misleading and makes this product look like a high end mulit charger but it is not it is a piece of junk; buyer beware. Do not purchase this product.
Virginia – Mar 28, 2020
AVOID! I bought this for my mom as a Christmas gift and the whole ordeal made this seems like a curse. Here are the reasons why I say avoid:
1. Slow shipping from NY to NC. This took 3-4 weeks. Weird tracking and shipping notification. Email said it had arrived and no box was there. The company had us asking our neighbors if they got it.
2. All parts didn't come in packaging. The USB and adapter were not included. Company insinuated we were lying about not receiving it.
3. Company website said I could return the product, but wouldn't start the process.
Avoid at all costs.
Antonio – Mar 14, 2020
Scammer's phone Unknown
Scammer's website Www.magicbolt.co
Scammer's address Unknown
Scammer's email [email protected]
Country United States
Type of a scam Counterfeit Product
Initial means of contact Social media (e.g., Facebook)
Junk. False advertising, ZERO customer service, only auto replies. Don't fall for the very nice website that appears professional and eye catching.
Tried to get a refund three times, no response.
No where on the item or the packaging does it say Magic Bolt or Power Dock Pro. The model actually is a Griffin charging device, the Griffin Power Dock Pro.
The sender address actually has Corporate spelled wrong. BFE is a Chinese based company promoted as a global shipping warehouse.
On idaptweb.com they have reviews for a charger from j.stark. Same exact charger as I received with the words FAST CHARGE on the cell phone holder. Sells for $24.99 on Amazon. Looks like they resell junk at higher prices hoping no one will notice.
Lots of red flags, shame on me for falling for it. Do your research people, don't make the same mistakes I made.
Alana – Mar 03, 2020
Garbage company. Garbage Product. Dumpster Fire Customer Resolution.
Ordered before Christmas. Arrived mid January. Stopped working in 3 days. Spent weeks emailing back and forth plus sending a video proving it doesn't work. Supposedly shipped a replacement, but order does not have tracking yet and just thus weekend (March 1) said their going to look into it and update me.
3 months wasted, $50 burned.
At this point I'm all in to seeing if they'll ever ship it before resorting to chargeback.
It's such fraudulent practice that it's almost comical.
Angel – Feb 29, 2020
We purchased this on December 27, 2019. The device lasted less than five weeks before the phone charger failed. I contacted customer service on February 12, 2020. It took them almost two weeks to respond. At that point they informed me the warranty is only 30 days. DO NOT BUY THIS PRODUCT and please broadcast this warning to anyone who is considering buying it.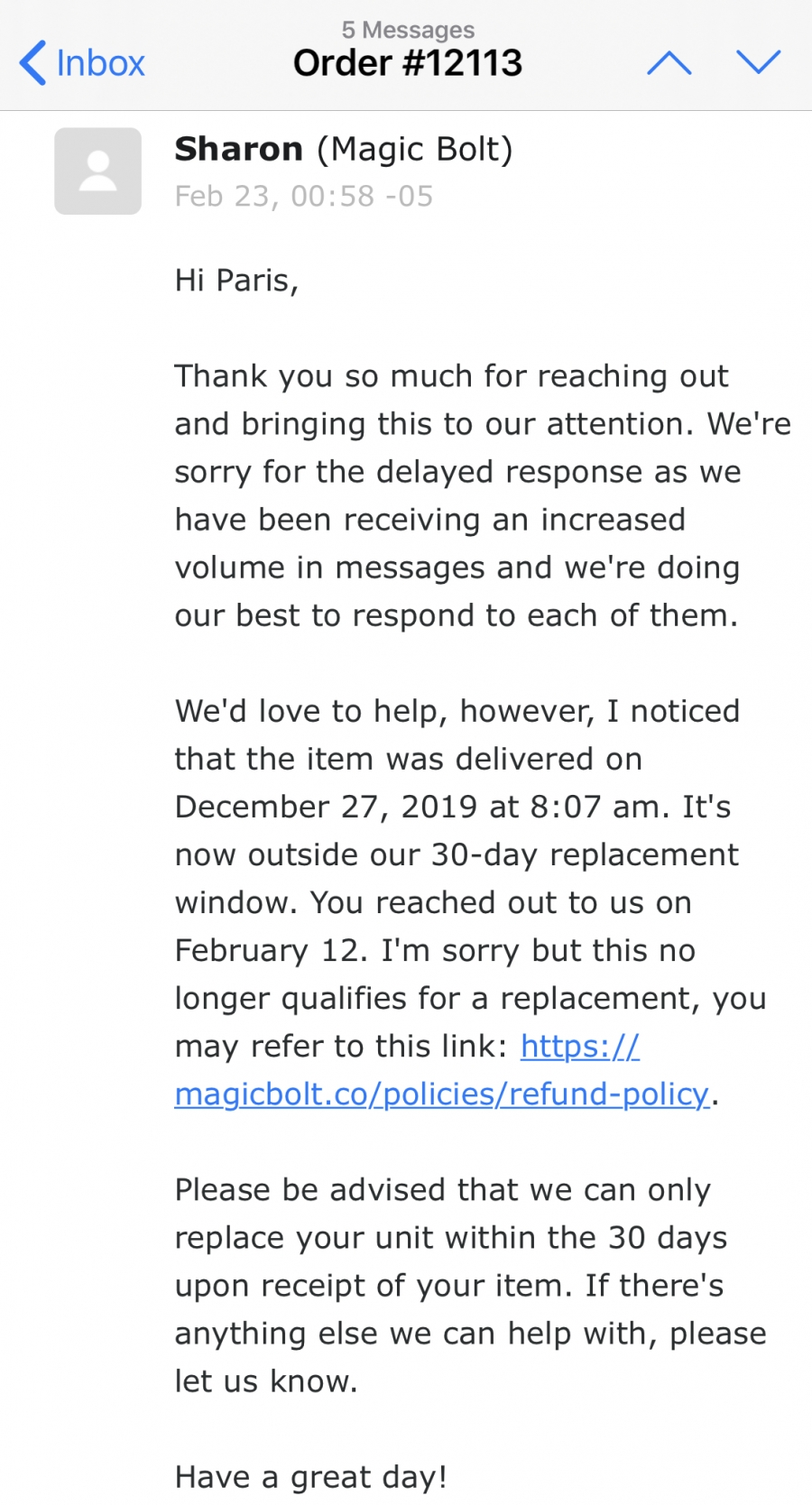 Jaime –
Scammer's email Magicbolt.co
Country United States
Type of a scam Online Purchase
Initial means of contact Email
I ordered a magic bolt 2 weeks ago from their Instagram page and I haven't received shipping information up until now. I have raised complaints with their customer service thrice and also messaged them on Instagram but I haven't received any feedback. It's a scam
Meghan –
I ordered a magic bolt 2 weeks ago and I haven't received shipping information up until now. I have raised complaints with their customer service thrice and also messaged them on Instagram but I haven't received any feedback. Does anyone know their phone number that I can call?
Thanks.
Shawn –
This is definitely a scam. Phone number is out of service. No response from support. I've disputed with my credit card company and hoping for recourse here. They sent shipping information but no movement. Scam scam scam. Stay away.
Nicole –
www.facebook.com/magicboltdefective
Emily –
Ordered on January 28 – almost 3 weeks later, after 2 mails to Support and finally contacting American Express to refund my money, Magic Bolt got back to me saying they were really busy and if I dropped the chargeback they would give me a 10% discount, send me the version that works with my Airpods Pro (which is what I had ordered) and send me my order in another 3 weeks. They create a USPS shipment right away to make you think you will receive it, but the items is never delivered to the post office…
Kathleen –
I am having a similar problem. "Pre-shipment" sent to USPS, but USPS has not yet received item. It's been over four weeks.
Monica –
I ordered this dock through a Facebook ad. Received it in about 3 weeks. Works fine for my phone (iPhone 11), but will not charge my watch! Haven't had to charge my AirPods yet, but I have very low expectations. Contacted their support email and waited days and days before hearing back. They are unable to help me unless I take a 2 min. video of my watch charging from the front, then another 2 min. from the back, but you have to send them via Dropbox! What will a video tell them that a picture will not? The standard charger for my Series 3 watch takes about 2 hours for a full charge. I've left my watch on for 12 hours, starting from 43% charge and it still only got to 80%! I'm done with fighting with them.
Ernest –
Ordered 1/28, card charged 1/29. Received an email it shipped 2/1. Tracking did not appear until 2/6. Tracking says awaiting package from sender still as of 2/12. Company did respond via messenger said to expect the shipping to be updated in "the next week or so." Refund requested 2/12.
Jasmine –
This company Magic Bolt LLC registered in New York is fraudulent and employs unfair and deceptive business practices. It was registered in October 2019. They created pages on Facebook and Instagram in September 2019. Go to: www.facebook.com/magicboltdefective for up to date reports of how their product doesn't work, non-delivery and deleting of any messages that show negative reviews. They removed messaging capability on Instagram recently due to all the negative publicity. DO NOT BUY this product! Report them to the New York Consumer Protection Division.
Rafael –
Classic scam. They'll take your money and ship you nothing in return. Fake reviews. Stay away!
Steve –
www.facebook.com/magicboltdefective
Shaun –
Victim Location 02127
Total money lost $78.40
Type of a scam Online Purchase
I found this company through an ad on Instagram and went to their website. I ordered two of the Magic Bolt PowerDock Pros, which are charging stations for iphones and apple watches. I placed the order on 12/5. On 12/16, I contacted their support since I hadn't received any updates on when it would be delivered. I finally heard back 3 days later on 12/19 and was told it would be there that day. It never came. I have since emailed on 12/19, 12/20, 12/22 and 12/23 and haven't received one response. The company has no listed phone number or address, only a support email address. It says emails are responded to within one business day, but I haven't gotten one answer in a week. I went to their facebook page today and looked at some posts from other customers who have said the same thing, that they have been trying to contact the company for weeks with no response. This is clearly a scam.