Paula – Oct 20, 2020
Scammer's phone 5852824453
Scammer's website N/A
Scammer's address "Somewhere in New York"
Scammer's email [email protected]
Country United States
Type of a scam Fake Check/Money Order
Initial means of contact Email
So. This lady Naomi Scott and her Husband Dave whatever, they posted on my local pet sitter site they needed a pet sitter for their German Shepard named Jeff and Husky named Busta. She said Jeff was a "naughty dog." They offered me $35 an hour to walk the dogs and brush them. She sounded legit. Even went ahead and sent me photos of the dogs. Said they'd be needing kitchen appliances, dog food and a dog brush before they came so they sent me a check worth $2480.00. I did deposit it, but I felt weird so I called and had it cancelled after finding other people complaining. They wanted me to cash app some dude handling the appliances as soon as the check cleared but absolutely needed this done immediately. They told me to keep some extra money for my trouble. I confronted her and she hasn't messaged me back.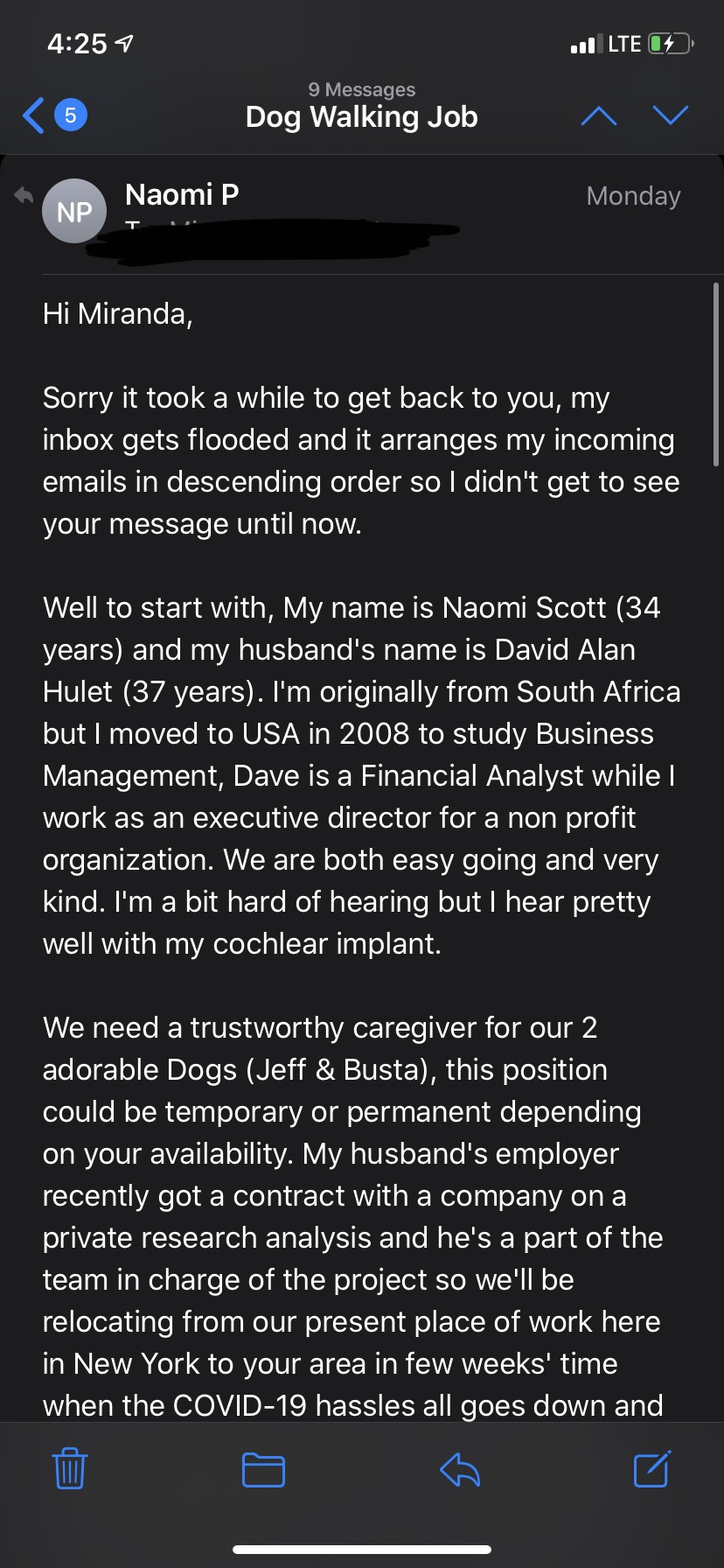 Roberto – Sep 16, 2020
Victim Location 50036
Type of a scam Fake Check/Money Order
I saw an job posting for a pet sitter so I sent an email to the email that was listed ([email protected]). 5 days later they emailed me back and it was very long and detailed. The person emailing me was the wife, Naomi, and she described her husband, herself, and the dogs. They live in New York and her husband, Dave, got a contract with his company and they are relocating to "my area." Naomi is 6 months pregnant and have 2 dogs. She included a whole paragraph describing the dogs. They are gonna move in a few weeks and are delivering the dogs by air and they are driving from New York. The dogs are coming a day before them so she wanted me to buy dog food, brushes, etc. for the dogs. She then asked me about myself so I replied with more information about me. Then she sent another email that was long and even sent pictures of herself and the two dogs. They were gonna send a check that was more than the rate they were offering to pay, due to the supplies I would need to get. She then says that the financial clerk will need my address and phone number.