Jamie – Mar 07, 2020
I hate to say that I too have fallen victim to this scam. I thought I was very well educated about the financial scams. I am sorry this one fell outsides the bounds of a good business but I had a plan. They even try to make you feel at ease with their warning of scams through Western Union, Mpney gram, Gift carding, iTunes, App Store, and do not honor any approach to pay by non banking methods.
I was contacted by Salanic Financials because I was attempting to get a Debt Consolidation loan. I have gone to the point of sending the $503.00 for the escrow
Med Morgan LLC. I passed all the background checks and got an approval of the money then was rudely informed that I had to pay the closing costs of $1500.00 that was fully refundable. The reason that they gave me that it was refundable is that It was not an escrow on a mortgage. I was able to hustle together enough for the closing costs same process as the escrow. I was expecting that then I would be given my money. Oh no there is one other problem you can't have the money until you have secured your money with insurance. The convince you that it would be done with another company just inside the loan which isn't their way of doing business for this effort you now must decide if you are going to insure it for 6 yrs or 9yrs which is the length of my promissory note tells me. for the 6yrs it is $1650.00
or the 9yrs is attractively packaged that you get 1/2 off so it only costs $2550.00
So I managed to scrounge up enough for the 6 yrs of insurance. So now I am currently attempting to see this thing through or find out if it is a scam I have to come up with another $1650 Or I can't get the loan.
I thought it was over but when you find out that on the other side is another hiden cost and that is where I am currently I have to come up with something called escrow tax relief I am not sure if that is correct terminology so you don't have to pay any money in taxes when you get your money sent to your bank account.
that is where I find my future currently.
I am in limbo though I was going to use the last of my resources to pay it and I had to start paying the bills that were overdue or I would lose my car, insurance, and cable, water, electric. I also have a loan that is not connected with this situation that I took out in November last year
don't know if it is a scam or if they finally
I have not been able to come up with the
if you need more info contact me at [email protected] we can discuss it more.
Marvin – Mar 02, 2020
Scammer's phone 844-843-0042
Scammer's email Salanic financial. com
Country United States
Type of a scam Bank/Credit Card Company Imposter Scam
Initial means of contact Phone
they and said i was pre apptoved for $50,000 they gave me a rate and i sent my infomation. i never sent any money. however when j called to ask questions the phone number didnt work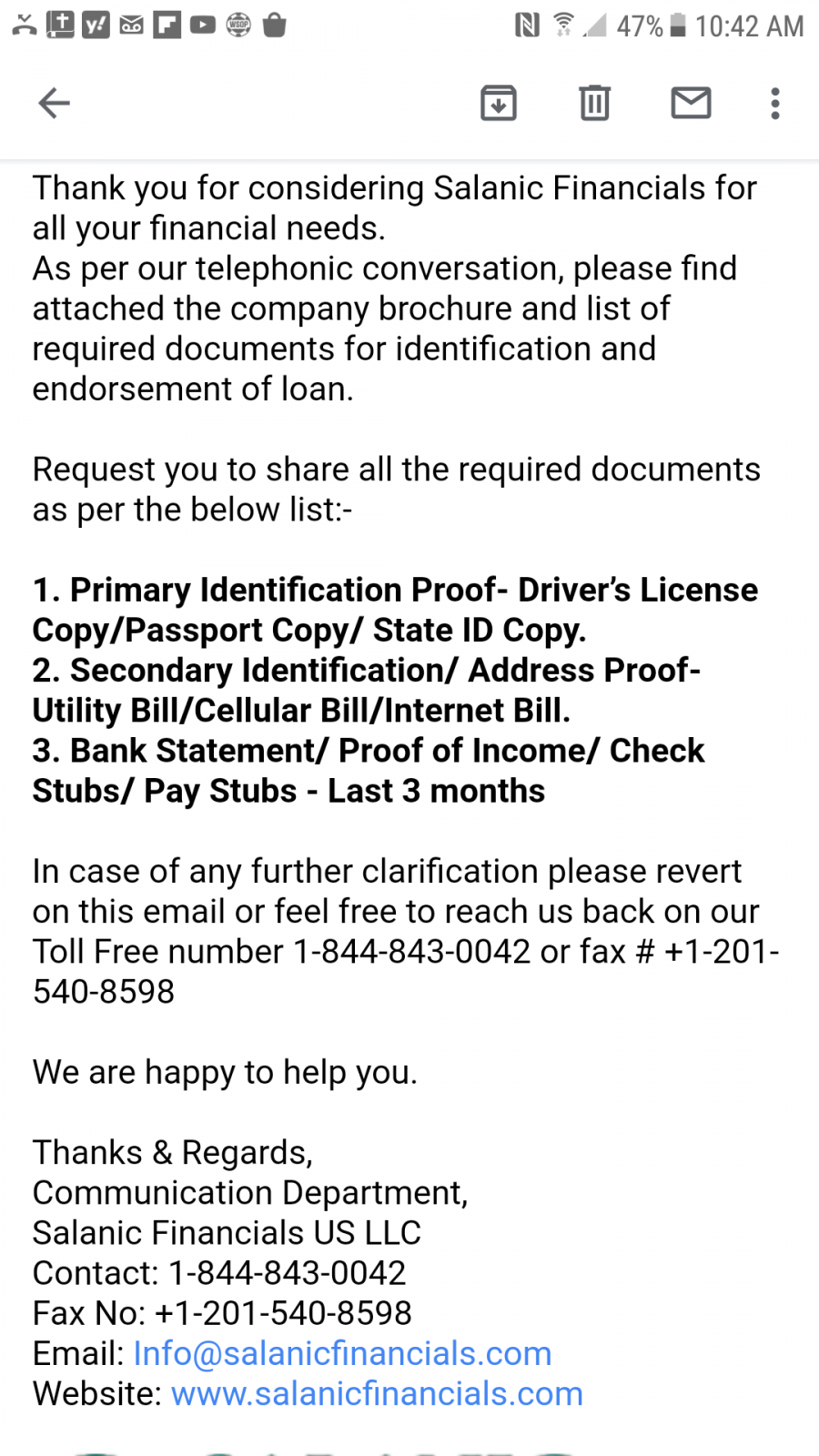 Drew – Feb 27, 2020
Make sure you go to www.annualcreditreport.com to check and see if they are stealing your identity . Because I just got that call and I could use 50K. I only gave them my name address and email. Im still nervous. They hung up.I try calling back. Does not Connect. Goes to the old tell. If its too good to be true. It usually is. SCAM.
Jillian – Feb 25, 2020
same happened hear they have to be away to track them can i contact some DA to report give them check no to trake them
Nicolas – Feb 25, 2020
I'm not sure
Sandra – Feb 25, 2020
My mother and I both send them money 512.12 each my mom didnt have a closing cost so hers was supposed to be in in back within 72 hours still nothing and it's been over a week,I did have a closing cost of 3% I didnt do it cause I dont have the 1500.00 when call they will answer and call back now when I tried calling them today it just hangs up doesn't even ring on both numbers 1-844-843-0038 and 1-844-843-0049 when I first find out I looked the company up it showed it was ok but now when looking the company up I find this stuff saying it is a scam I wish I would of known before we sent them money
Hillary – Feb 25, 2020
Victim Location 88101
Total money lost $1,024.24
Type of a scam Advance Fee Loan
I was looking for a loan online and I got a call from this number I gave them all my information they then called me back and said I was approved for up to 50,000 they sent me all the paper work and they said all i have to pay is 512.12 i also had my mom do it to so i paid a total of 1024.24 for both of are the they had told my mom hers will be deposit within 72 hours cause hers was only for 10,000 but I would have to pay a closing cost which was 1500.00 I told them never mind and I want my money back they keep giving me the run around and now when I call the number doesn't even ring it just hangs up
Carrie –
I give my personal information im calling social security and let them know i lost my social security card and my id dont worry they will get them soon
Shane –
Country United States
Type of a scam Advance Fee Loan
Initial means of contact Not applicable
I was called up and by these guys who could barely speak English asked if I wanted to obtain a loan so I went on with it about the next day or so they called me back saying that I was approved did you send them a photo of my driver's license W-2 and proof of residency while on the phone with them and they said they would give me a call back Wednesday morning today is Saturday so let's see what happens. Does anybody know what they do with your personal information once they have it and has anyone ever gotten it? Has anyone received any money the amount of the loan agreed upon or any money whatsoever from these guys?
Cassandra –
I was trying to get loan from them as well. But before I sent any money I did a lot of research cause I had this gut feeling that it wasn't legitimate. So I went to my bank asked to talk to the Loan Officer and my gut feeling was right. I'm so glad they never received a dime from me and I listened to my gut as well. This Company is Huge Fraud Company.
Charlotte –
Thank God for you people giving this info and i pray you all recoup your losses if any. i was due to send my info to them today,however after doing my research the same questions about their procedures arose from reading you guys posts. Thanks a million!
Andrew
Tina –
These.people contacted.me.about.a loan ..I gave them.my personal iformation..
Louis –
I did the same thing you did I gave them my W2 driver's license and proof of identity. Now what?
Christy –
Don't give them a dime. They are Scammers big time..
Jorge –
Salantic Financial LLC is supposed to be a loan co. The attorney the want you to send money to is called Med Morgan LLC and the mailing address is 730 Peachtree St NE #570, Atlanta Ga. My closing cost, package fees etc were $509.13. If you look up Med Morgan LLC, Atlanta, Ga., you will find Morgan and Morgan on Peachtree St, but slightly different address and suite number. They are highly rated Personal Injury Lawyers. I knew from the beginning it was a scam, but I played along to get all the info I could to give to the police. I stopped short of signing the letter of intent and the promisary note and giving them money.
Marie –
Thank you for the comment cause I almost was going to go try this but then I did my research seen your post and I went to my bank loan officer and found out they are scammers.
Peter –
Wait, so has anyone actually gotten a loan from these people?
Audrey –
Hi, I did the same as the others and gave all my personal info and paid a 505 dollar fee threw certified check. Now Im being asked to submit a 1.5% closing fee. Has anyone submitted the closing fee and got a loan? I just stopped after the $505 check.
Janet –
So did you get funded after you paid?
Kenneth –
We paid the same $509.13. We live in Atlanta and we're told to send our funds to New York. Have you recovered your fund. Did you get docs?
Chase –
Scammer's phone 844 843 0042
Scammer's website www.salanicfinancials.com
Scammer's address Town Square Place, Jersey city, NJ. 07310
Scammer's email [email protected]
Country United States
Type of a scam Phishing
Initial means of contact Phone
I sent my pay stubs and they approved me without asking my social security number was the first clue then they asked for money up front was the last clue it was a scam. I asked for the number of the bank financing the loan and they didn't want to give me the number at first then they did. I called and the phone went to a "busy" tone. That was the confirmation! When in called them (Salanic Financials)back within 3 minutes… the "account manager" was suddenly gone for the day. I never gave them any of my banking information or send him any money when they asked. But wanted to inform you and anyone else that may consider this company.
Cristina –
Salanic financials 1844.843.0042 fax 201.540.8598 [email protected] finacials.com Town Square Place, Jersey city, NJ 07310… Is Salanic Financial a fraud online personal loan company or not? They did call regarding personal information to be faxed over to be approved for a personal loan. They called back and said the loan was approved and requested a cashier check be overnight to them in the amount of $510.00. They advised the customer to make a copy of the cashiers check and receipt from post office to show where it had been overnighted. The next phone call after sending that amount. Salanic Financials is now asking the customer to send a cashiers check to them overnight in the amount of $2,600 to pay for closing costs and fees. The customer does not have that amount of money sitting around so they advised the customer to go to loan company and borrow the amount to pay for the closing costs and pay the loan off when they get the loan. Salanic Financials said that they cannot take the closing costs out of the loan. Please advise me information to the customer so that they will not be a victim to this scam. I'm so afraid this is a scam and really concerned how many people will be victim to this crime
Ricky –
Did you send the money and did you ever hear back?
Wayne –
Victim Location 60062
Type of a scam Phishing
The caller can not speak English very well, tries to get you to provide too much personal information, sounds like he's in a boiler room with loud background noises and has an associate/manager get on the phone to get you to send over personal documents while still on the line.