Janet – Jun 11, 2020
These people are fraudulent and have been reported to the federal trade commission.
We planned to purchase a Sphynx cat and we got ripped off. Here's the fake websites and shipping company.
parcelworldwideexpress.com
Parcel Worldwide Express (FakeSite)
3598 I-35 Frontage Rd Oklahoma City, OK 73149, USA
+1 (580) 370-7420
[email protected]
Sphynx.company.com (Supposedly based out of Oklahoma)
Jerald brown
(405) 335-9867
[email protected]
Looks like the same scammer is doing it on another website as well. https://munchkin.company.com
They pretend to have your best interests and the pet and hold a dialogue to get you scammed. They even sent us a contract. But when we questioned the delivery and extra shipping costs not included in the total cost. The person was super aggressive and trying to be manipulative. We didn't but it. Please note for future. If buying a pet through the internet it's legit. Real breeders are will be sure you know what your getting into, info about the pet in detail and provide real time photos or videos to make you feel confident about your purchase.
They will get caught in the end…
Drew – Apr 12, 2020
Victim Location 15136
Type of a scam Online Purchase
Their site claims they sell munchkin cats, but it is fraud! They will take your money and you get nothing, no cat! They will eventually stop responding after getting your money. A family member fell victim to this! Their website is using an address in Montana fraudulently as being their "location." Meanwhile, the house at that address as shown on Google maps does not match the house pictured on their website. Further, some of their links take you to different sites and the area code for their phone number comes up as a Colorado area code. We were scammed out of money!
William – Mar 17, 2020
I contacted them in hopes of adopting a munchkin kitten, and asked them a couple of questions, including pictures of the parent cats (Kings or Queens). They evaded my questions twice, focusing on the transaction details and giving suspiciously short replies, as if they had never read my messages fully. The behaviour felt a bit off to me, and different from how other professional breeders offer their kittens – waitlists, information, parent info, adoption contracts, delivery info, and generally a sincere desire to make sure their kittens are going to a good home. I did not get any of that information from Robert-Kim Cattery, and decided to inspect their website again. Then I noticed several paragraphs of text had been copied from other websites – some with the website links still embedded in them e.g. adopting sphynx cats, a completely different breed but also a 'designer' cat costing thousands of dollars. I searched one of the original websites (shown in the screenshot) and they were legitimate, but it appears Robert-Kim Cattery is not. Buyer beware, and purchase from reputable munchkin breeders instead!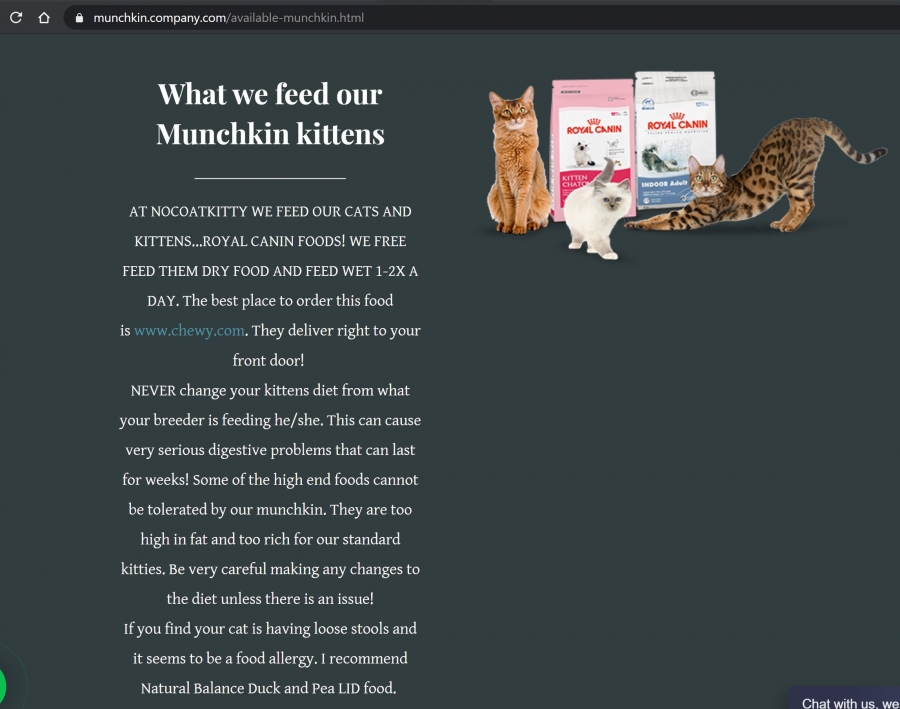 Whitney – Mar 12, 2020
Victim Location 95838
Type of a scam Online Purchase
Robert-Kim Munchkins claims to be a legitimate cat breeder out of Montana that is registered with breeder associations, however I could not find any record of them with the BBB, and their testimonials were identical to those found on https://www.minuet-kitten.com/ (Hope you are well. Tomcat – now called London 🙂 – is doing well. Even better the last few days.
We made him a sanctuary in our guest bathroom and put all of his comforts in there. the first few days he hid beneath the sink and refused to venture out. After a few days he became a little curious and would peek at us from the door but run back in if we attempted to come close.
My daughter Annaka would sit with him and eventually he let her pet him and then eventually hold him. He started purring and now they are fast friends and he will even nap with her for a little bit.
We love him so much and are so happy. photos attached.
thank you again. we will keep in touch with updates.
very best,
Marci" ) They refused to use paypal, insisting on Cashapp or Zelle. when we insisted on Paypal, due to buyers protection, they insisted on using the family and friends portion, which does not offer buyers protection, he then began texting and became very pushy and trying to pressure us to cashapp if we really loved/wanted the kitten, then began insulting us for being wary of scams.
Anna –
Victim Location 34238
Total money lost $800
Type of a scam Online Purchase
my daughter was also scammed. She lives in Glen Cove, NY and saw the kittens for sale and wanted to surprise her two young children. she and I were in contact with Royal Munchkins via email AND text. they even sent us videos of the kittens at our insistence to see if they were healthy and "real." The venmo transaction took place and a contract signed. A courier was to fly the kitten to glen cove and my kitten to florida. never made it except a phone call from "someone" at the courrier service saying the flight was rerouted to another city due to bad weather and the kitten needs care and new travel plans have to be made so please wire $1,300 more dollars asap if we want to get the kittens. their website lists the following address: 1055 Cardinal Loop, Helena, MT 59602. and when i call the phone # we are now blocked.
Peter –
Victim Location 95949
Type of a scam Online Purchase
They sound very legit but if you look up their description you will find it has been copy and posted to several other websites trying to sell the same cat but in a different country or state.
Brian –
Victim Location 99559
Type of a scam Online Purchase
This person claimed to be a registered cattery to sell Munchkin Kittens. They wanted $1000.00 up front for a kitten which was to cover cost of kitten and shipping. They wanted money sent through Zelle or Western Union. Other people have been swindled by this person and have reported it to Rip-Off.com. Had I not been suspicious I would have lost my $1000 dollars.
Brianna –
Victim Location 98036
Total money lost $3,275
Type of a scam Online Purchase
This Phone Number is a scam.It is affiliated with numerous websites selling Cats,dogs and Horses.On Tuesday October 21st 2019 me and my Girlfriend contacted this company for a munchkin kitten named Zima.The price for Zima was $*** plus $*** for delivery.They used a company called United ship cargo,also named United pets parcel to transport our cat from Norman OK.Our cat was to arrive wednesday oct 23 at 8:30 pm.About 2 hours before our cat was to arrive we get an e-mail from the shipping co. saying the cat was sick n we needed to pay another $*** for insurance and a new crate because the cat was week and needed a shot.Reluctantly we paid it upon the understanding $*** was refundable upon delivery.The next day we get another e-mail needing another $*** for a CT (City Permit)……To make a long story short You never get your cat and they stop answering the text's.I feel so stupid because i finally researched this number and company after the loss and lo and behold there are a few complaints for fraudulent activity from this phone number.Royal Munchkin kittens is fraud but the phone number 1-804-410-4481 is a complete scam and is associated with numerous scandalous websites……They write and speak with bad broken english.