Theodore – 3 h ago
Purchased a 120" screen and projector for $199 last March (2020)…haven't received anything can't even reach them!? They could immediately take my money at the time of purchase though! Thank goodness it was only a couple hundred dollars! This is so wrong and should be prosecuted! Just imagine if at our loss x thousands of people how much this scam company or person walked off with?
Savannah – Jan 09, 2021
This company is a rip off I too order the outdoor movie screen and projector in May of 2020 and have heard nothing from this company. Tried calling and email and nothing i also would like my money back! If anyone knows how to take out a lawsuit on this company please let me know you can contact me at [email protected] thanks in advance
Noah – Dec 14, 2020
I ordered a 50-in movie screen for the summertime never came emailed over and over and over no response
Billy – Nov 17, 2020
I like other purchase the the giant movie screen on May 30th of 2020 order number 12601 and route ID RT159170339836EMD I have heard nothing from Riverbend shop.com, I purchase this from a Facebook ad I like others I'm still waiting I want my money back.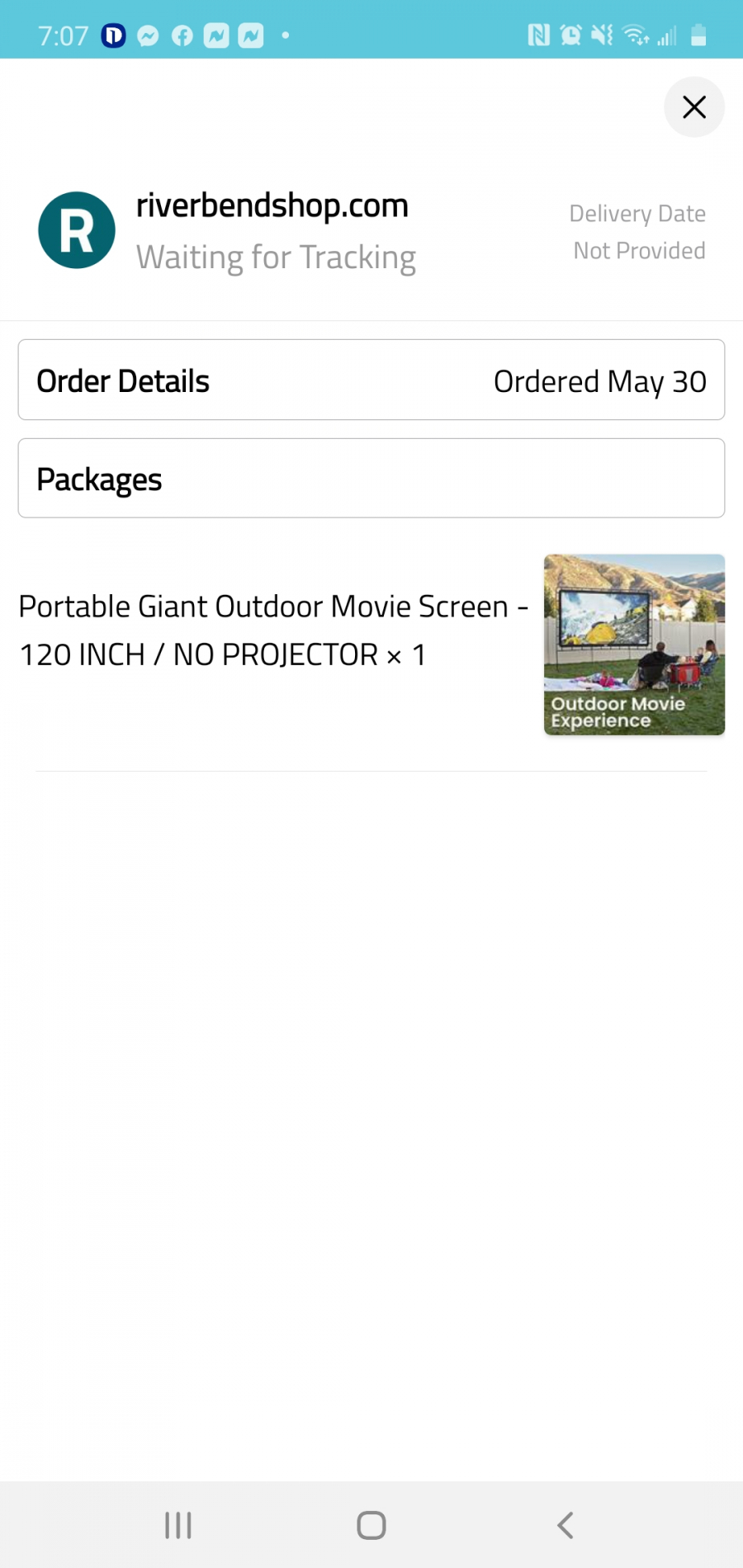 Wesley – Oct 31, 2020
I purchased a portable outdoor movie screen with projector for 129.00 on may 10 2020 order # 9513… I have emailed so many times no response..I am so infuriated..that this company is able to get away with this kind of fraud actual theft ..I am willing to do what ever I need to do..this is unacceptable..please advise ..thank you theresa [email protected] [email protected]
Shana – Oct 26, 2020
I purchased a projector and screen from Riverbendshop.com and never received it. I followed the prompts to check the status of my order along with about 5 emails to their customer service,. but I never received a response.
Joe – Jul 01, 2020
I ordered an outdoor screen and projector for $139. I received an order number but nothing else.I have contacted them three times but to no avail
Colin – Jun 17, 2020
Victim Location 45245
Total money lost $139
Type of a scam Online Purchase
I ordered outdoor screen with projector for 139 dollars, shop tracker still has in process from 4/30/20
Ana – Jun 10, 2020
Scammer's website Riverbend
Country United States
Type of a scam Online Purchase
Initial means of contact Social media (e.g., Facebook)
6 weeks ago purchase giant screen and 6 emails later no screen , no tracking number and no response back . Facebook needs to block them from there page. This place has no address or phone number to call . It just says contact us with email but they will never reply back. STAY AWAY FROM THIS PLACE FOR YOUR OWN GOOD !
Haley – Jun 09, 2020
Victim Location 21601
Total money lost $60
Type of a scam Online Purchase
Ordered products online on May 2nd and never received an email with a tracking number or verification of shipment. Sent 3 emails to their "support" and never received a response.
Armando – Jun 08, 2020
I have been scammed regarding this movie projection screen No product, Ask for refund via email and no reply.
Luke – May 07, 2020
Victim Location 30007
Total money lost $110
Type of a scam Online Purchase
I and others have ordered their advertised Giant Portable Movie Screen with Projector, the company has taken ALL of our funds immediately but no tracking number, no live person, no communication but the same template on Facebook indicating that your order has been placed. The tactics were simply the pictures of the "backyard movie theater" the prices.