Reginald – Dec 08, 2020
I literally just received an email from them.. they are now operating under Life Now Magazine (LifeNowMAG.com). I was so excited that someone wanted to interview me for my work, but luckily I'm the type of person who always does research.. so it literally took me 5 minutes to find out it's a scam.. they also operated under a page called Red Game Magazine.. for scammers they should at least be smarter…
Wesley – Oct 25, 2020
Red Game Magazine used to go by Told Magazine Inc, and many other names. It's all a scam, don't fall for it.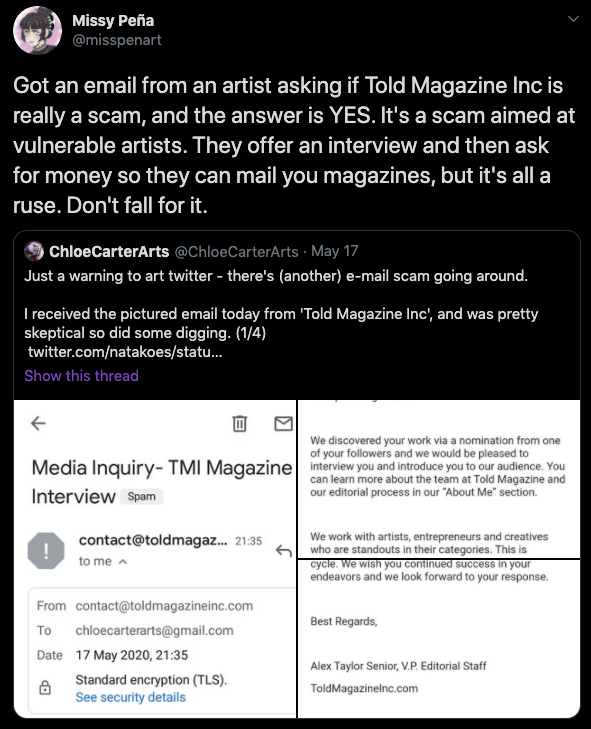 Emmanuel – Sep 21, 2020
They had contacted me asking me for my interview in first email. Second email they asked me fill the questionnaire form and submit the payment of $36 to be published in front cover page. My date of pub lotion has already passed and it's been over a month. I have emailed them several time but no reply whatsoever. I highly recommend not to waste your money on this scam magazine. It's my personal recent experience. Totally fake and scam for sure.
Very disappointed!
Rafael – Aug 28, 2020
Victim Location 08051
Total money lost $36.26
Type of a scam Vanity Award Scam
Sent this email ,
If you would like to be interviewed and featured in our upcoming issue, let us know immediately as we are closing out our selections for this publishing cycle. We wish you continued success in your endeavors and we look forward to your response. responded next they sent a questionnaire, and a bill for additional print copies never received the feature or magazines. They processed my payment and haven't heard since. Won't reply to emails or anything total scam