Paula – Nov 12, 2020
Jasmine Henderson from Next Day Poodle Puppies took $500 from a senior citizen who, in good faith, sent $500 via Zelle to her for a puppy, only to get a $1399 Bill the next day for shipping. She refused to take my calls, obviously since it's a SCAM. And I live in a fixed income yet she didn't mind stealing my money.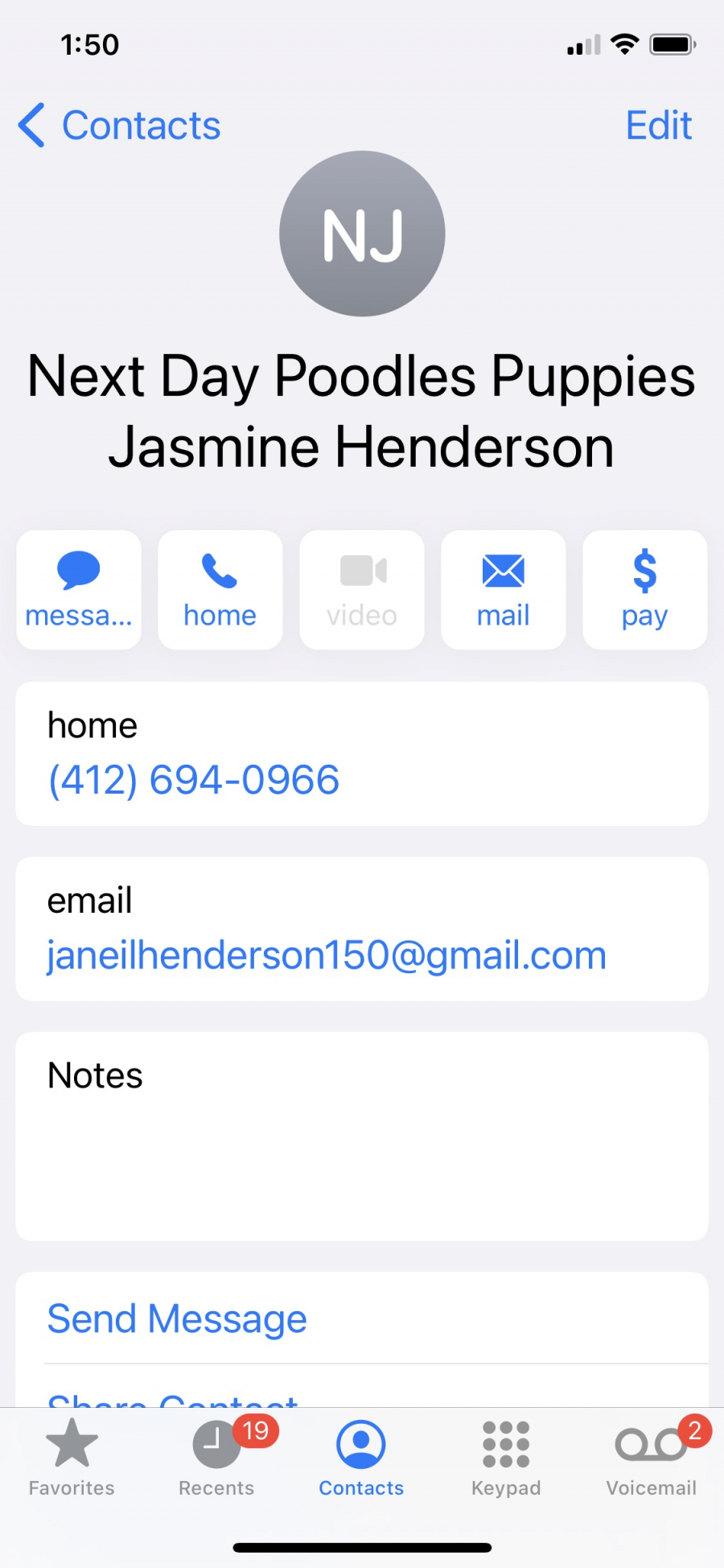 Karl – Jul 29, 2020
Victim Location 21234
Total money lost $2,189
Type of a scam Online Purchase
I purchased a puppy from this website for $850 7/27/2020 included shipping and delivery to my home. They emailed me a contract which I signed and returned to them via pic through text. They required me to pay with Zelle or another type of Venmo type of transfer which I wasn't familiar with. I used Zelle (since i thought it was safe going through Bank of America. I reported it to Bank of America yesterday. "Next Day Poodle Puppies" required me to take a snapshot of the transfer transaction before they would send me the contract. Communication was done via text with this person Rowan Aquino phone #4126940966. Yesterday when the puppy was going to be shipped I received a call from the shipping company "Global Shipping Company" phhone # 910-710-7546.
https://globalshippingscompany.com/services/ emailed me stating they need a $1289 deposit for a thermal shipping crate. I had to do it through Zelle, but they would give it back to me once the puppy was delivered. I thought they were reputable since "Next Day Poodle Puppies" apparently uses them. These 2 companies are working this SCAM together. I have a broken heart and I am out a total of 2139.00. I have addresses from their website that I have since been investigating on my own and the shipping company, it's just a piece of land with a truck on it. The puppy people show a home.
I received a 2nd email form the "shipping" company wanting more money for insurance.
THE SHIPPING COMPANY ALSO ASKS FOR A COPY OF THE FRONT OF A CREDIT CARD. THE EMAIL ADDRESS I USED FOR the 1289 shipping TRANSFER [email protected] and the EMAIL ADDRESS I USED FOR 850 puppy TRANSFER was [email protected]