Carrie – Feb 05, 2021
Here are similar scam sites – https://cutebritishshorthairbreeders.net
http://lilacragdollbreedershome.net
Same behaviors. Only accepts payment via Western Union, MoneyGram, or Zelle. Their address is an empty house currently for sale in Virginia. Said they welcome visits but when we offered to drive over and pay in person, suddenly they don't allow anybody in (then how is their house being viewed for sale, I asked). They wouldn't return phone calls until we let them know they were scammers. Then they called here just long to see how the phone was answered and hung up. Checking to see if we were law enforcement, I'm suspecting. Apparently this type of scam is extremely wide spread right now. Never send money to buy a pet that you can't see in person.
Linda – Jan 26, 2021
This is their information for your reference. They might also change it frequently.
Ragdoll Breeders Home
5247 Millenia Blvd Apt 304 Orlando, FL 32739
442-274-0793
[email protected]
Eduardo – Jan 26, 2021
This is absolutely SCAM, please DO NOT FALL for this ! They're saying that they're in Florida this time. But the shipping company that they're processed is in TX. I paid $500 for a kitten named Mia. They keep rushing me that it's only "today" for free shipping, so act quick. I made the payment via zelle. After they received the money, they sent me a tracking number from a company called xpresspetshippers.com and they're asking me to zelle another $850 for insurance transportation fee for the kitten due to Covid which will be refunded upon the delivery. Thanks God my instinct is tellting me that something is not right. First, they don't really speak good English (Indian's accent). They always try to rush you to send the payment. Their contract is full of errors with misspelling. They kept asking me to send me money via zelle or money order (Amex gift card). I texted them back saying that if I send it to you by money order, how would I get a refund. They said when the kitten is delivered, they will give me a form to fill out for the the refund., blah, blah, blah.. I contacted the seller and saying that I want to cancel my order and I need my money back and they said it will be after 30 days from the purchase date. This is not on the contract. And they stop responding to my text afterward. I already filed a police report against them so this unlawfully business will be shut down forever. These people are really not humans. They're using these cute kitten stolen photos to scam people. Please DO NOT be another victim of this ILLEGAL business.
Vanessa – Jan 22, 2021
They have a new phone number (251)291-0763 and said they are in Mobile, Alabama. I said I would want to pick up the kitten in person. They kept emailed me again saying it would only be a couple of hours if they shipped him. Luckily I read these reviews before I sent any money their way. I could not figure out why they still had so many kittens when all other breeders I've talked to need a deposit and most of their litters are all reserved. Again, I received some great advice from breeders I've talked to so even though I was hopeful for a kitten, I did not fall for the scam. I asked detailed questions on the coloring and temperament and their vet, none of which were answered. They also sent me a video of a totally different kitten than the one in the picture.
Troy – Jan 02, 2021
Nancy's Ragdoll kittens is a scam website, they have stolen my bio, and other breeders photos.
I am a reputable breeder in TX jamilasragdolls.com is my website.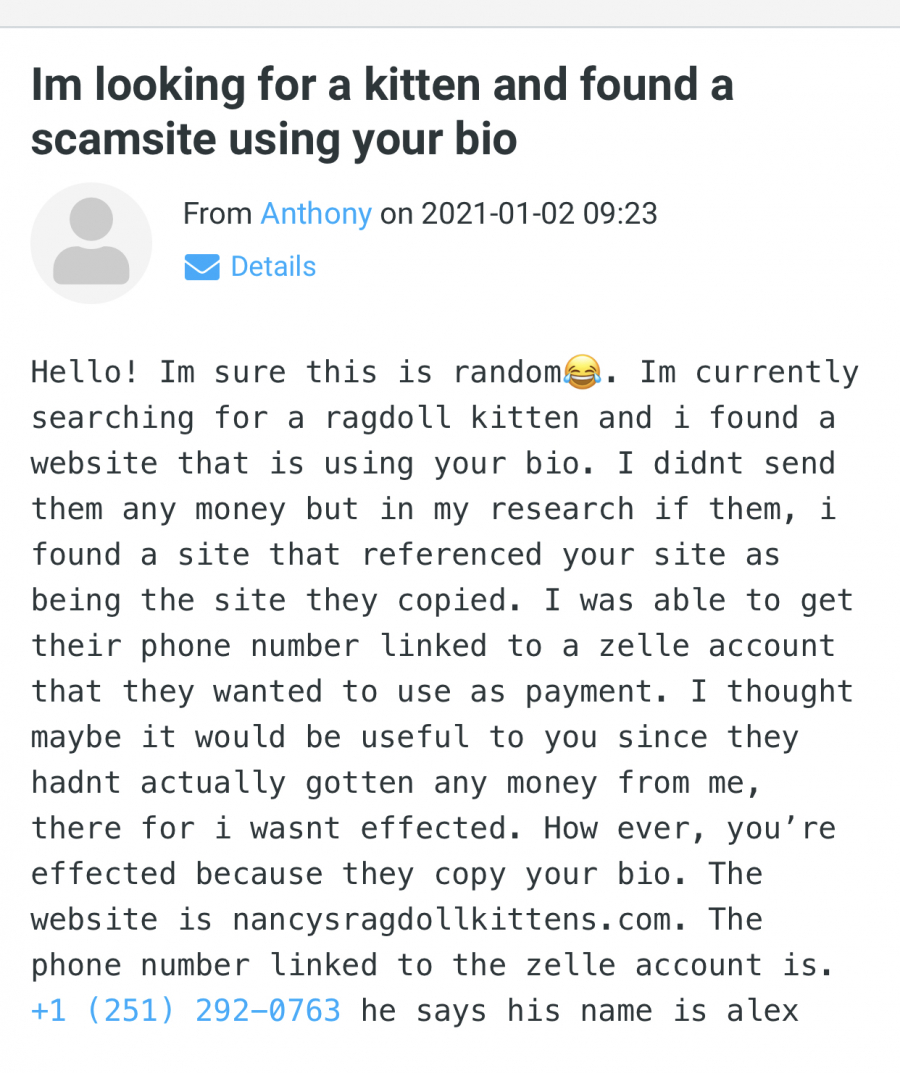 Alexander – Dec 23, 2020
Nancy's Ragdolls stole Jamila's Ragdolls bio. Probably stole other breeder's kitten pictures. Wanna bet this scammer is somewhere in Nigeria? I wish I knew where to report this scam web page. Please be careful where you buy your kittens. Scam web page never show the parents, There's also no info where the "cattery" is registered. And when you contact them, they're hard to reach.
Anthony – Jan 02, 2021
Actually they're in Pakistan. The other website aniyahs ragdolls is also in the same city in Pakistan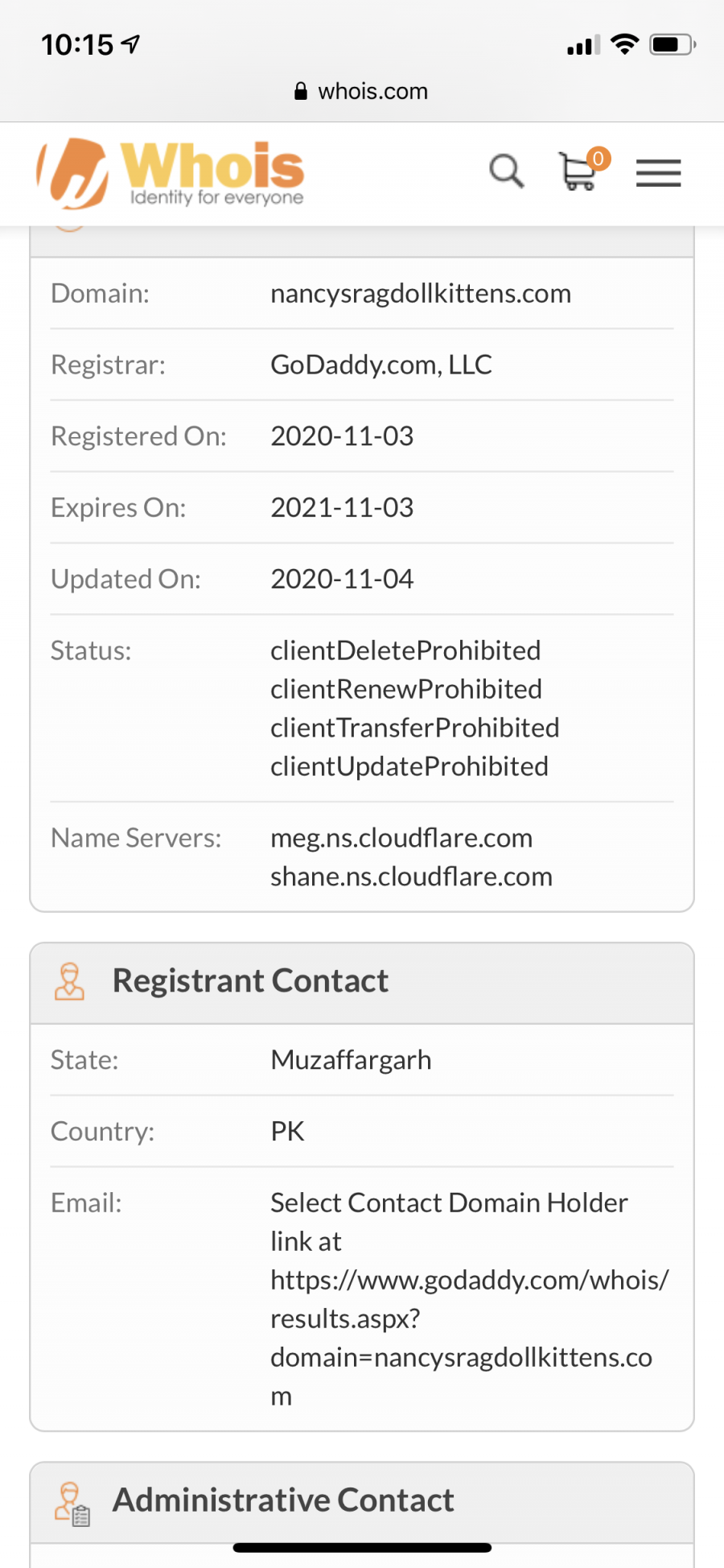 Julia – Dec 14, 2020
Scammer's phone 9152294085
Scammer's website nancysragdollkittens.com
Scammer's address Avoids answering questions on location.
Scammer's email [email protected]
Country United States
Type of a scam Online Purchase
Initial means of contact Email
Literally the exact same scam as Aniyahs Ragdoll Kittens. Same photos, same story of having cats in Libya, they use the same website creater just different templates. I submitted an interest form for a male cat called Leo on Nancy's Ragdoll Kittens. James emailed me back from ragdollkittensempire which I googled and could not find anywhere. In his email he said the cat was available and would be $500 and asked me to fill out some personal questions about my love for cats to seem legitimate. He also texted and called me from 9152294085. He did not leave a voicemail so I called him back and it rang a few times then the call ended with no option to leave a voicemail. I asked via email and text message where they were located and he avoided the question. I also asked if he would send a video of the cat and he has yet to respond. I then reverse image searched the photos he gave me and found Aniyahs Ragdoll Kittens where they were selling the same cat named Cleo a female cat. Both websites claim they have been breeding ragdolls since 2010 but the websites were created in 2020. DO NOT FALL FOR SCAM.