Jerome – Oct 11, 2020
I ordered a Halloween projector for 34.99 and they not only charged an additional 1.50 but never received an email or the product. I called my bank showed them this website and filed a complaint with the BBB. These are all ads that pop up in search engines and they are all from either china or Hong Kong. Be careful and do your research first. These companies are spamming our search engines and listening to everything we say that is why ads will start to pop up with things we are interested in. These countries will continue to spy and do the shady things they do until we put a stop to them by not paying attention to the ads that seem to good to be true. If you have already been a victim of these countries call your bank asap and file a complaint and charge back for fraud so they can have a record. Also forward the name that appears on you credit card statement to homeland security so that they can trace the IP address for these scam artists.
Derek – Oct 06, 2020
I order from www.foerose.com place an order for shoe bins updated organizer , and they charged my credit card ,but for some reason the website I notice have no customer service number to get intouch with . U wich I would if had done my research, before .wow this sucker really got me,
Ashleigh – Aug 11, 2020
Ordered the translucent light up flower under glass. May 5 cost me $41.98. NEVER RECIEVED, OR EVEN A EMAIL.
had to try to explain to my mother in Florida/I'm from Wisconsin why her Mothers day present, I told her it would be there by her Bday in June. CONSIDERING COVID, I WAITED N WAITED! STILL WAITING
Natalie – Aug 08, 2020
I dont even know what the hell got ordered but it charged me $111.86 and i want my [censored]in money back!
Marisa – Aug 04, 2020
Beware of ordering from MAIKAISIMAO after ordering an above ground pool skimmer for $49.99 through PayPal.
I saw an additional $1.50 taken out out of my bank account a few days later by the same company. The transaction is not posted in the PayPal account which leads me to believe this company somehow accessed my bank account without using PayPal. I have closed my PayPal account and My debit card access. so watch out.
Allison – Aug 02, 2020
I had a problem on 21 June 2020. My Wells Fargo credit card statement (used via PayPal) showed "Maikaisimao" (Hong Kong) as vendor. A dog bed had been ordered. I actually cancelled the order the same day, but they refused to refund, saying item already being shipped! Dog bed never arrived and it is now 3 August 2020!
Meagan – Jul 15, 2020
i ordered some led lights and now i can't get my money back or receive the led lights
Andre – Jun 25, 2020
I ordered a 1/6 Super Rock Rey 4WD Brushless Rock Racer RTR from Gliaua.com on May 15, 2020, received my order yesterday June 25, 2020. But, it was not the Rc car I ordered, it was a cheap 1/16 scale Slayer RC car worth about half or less than the $62 I paid. No reply from company yet. Even though I ordered it from Gliaua.com the company name on my paypal charge was Maikaisimao and the tracking was through YTT customer service and the 17 track until it was handed off to USPS. I really don't expect to hear from them, just another rip off company making it hard for the legitimate honest small online companies to make a go of it.
Mindy – Jun 18, 2020
My nephew asked me if he could use my debit card to purchase a Losi RC. He told me it cost $62. I looked online and they go for $800. I looked the company up online, and it's a scam I called the bank and got the card cancelled. I got lucky Chinese companies need to be shut down. and Donald Trump is a dick, he has nothing to do with it but had to throw that in there.
Randi – Jun 17, 2020
17 track sent another notification this time the email is from AMT customer service. said to download 17 track. I am sure it is a virus, so I am not downloading anything. Used a link that goes to their site and didn't need to download anything. went from China to L.A. to Virus hold, to Grapevine, Tx, to process, to Texas prepare for shipping to Commerce, CA – Pitney Bowes. and I am in CA. I look up 17 track and they are clearly just putting out lies about where and what is going on. I called my CC company. They said they have had many complaints and credited my account. They will pursue company… Dont use Nanomond.com, dont use 17 track, dont use AMT or Maikaismo. 4 days since in CA, yet cant find my door step. Got my money back so happy. Buyer beware on New companies posing as shippers, sellers etc. Shame on PayPal for working with these thieves.
Tabitha – Jun 10, 2020
I can't even get a hold of the company to do anything. They don't even say when it will be shipped I just want my money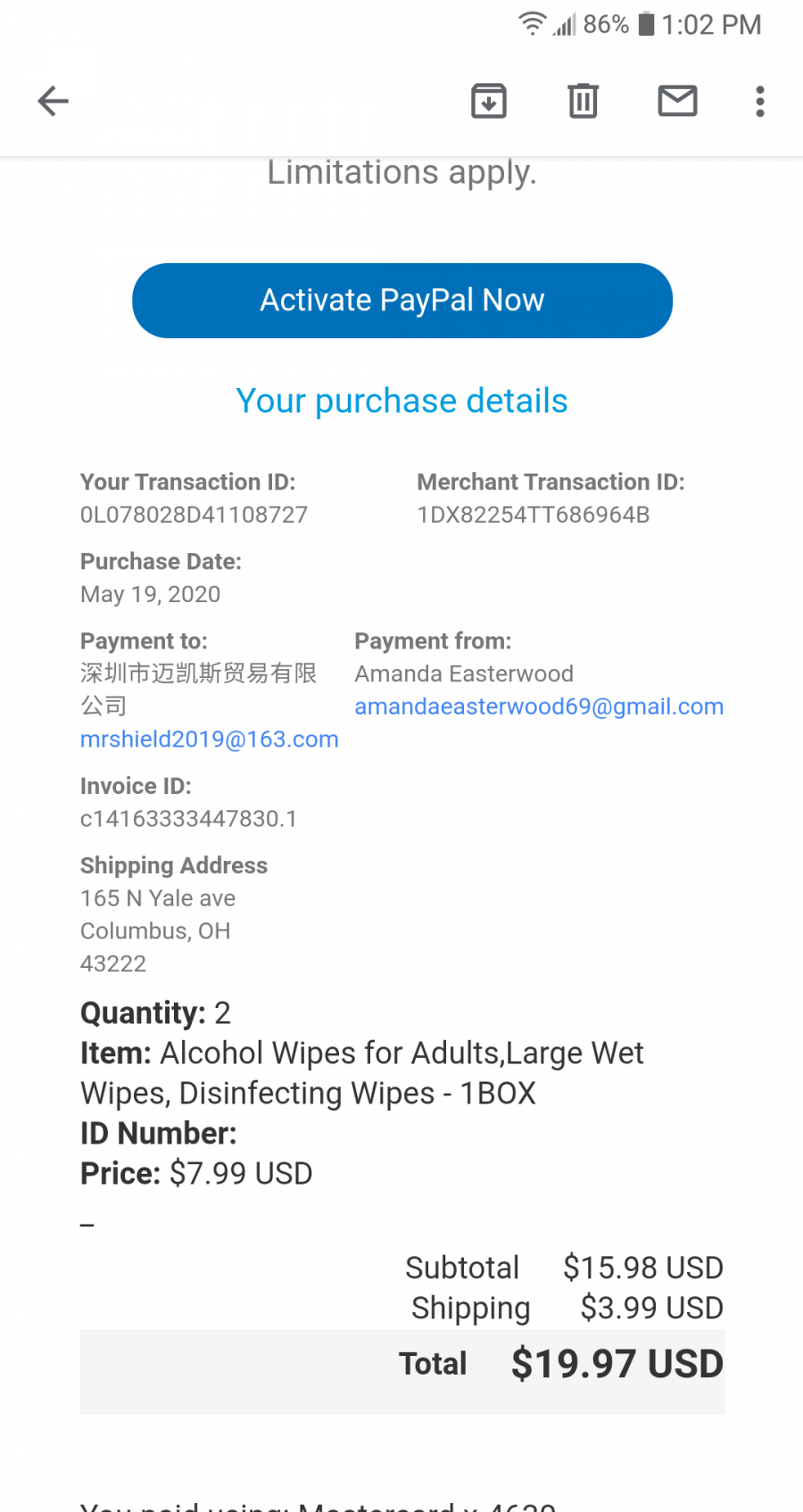 Mitchell – Jun 10, 2020
I want to cancel it because it has been almost a month and they say my order is still being processed.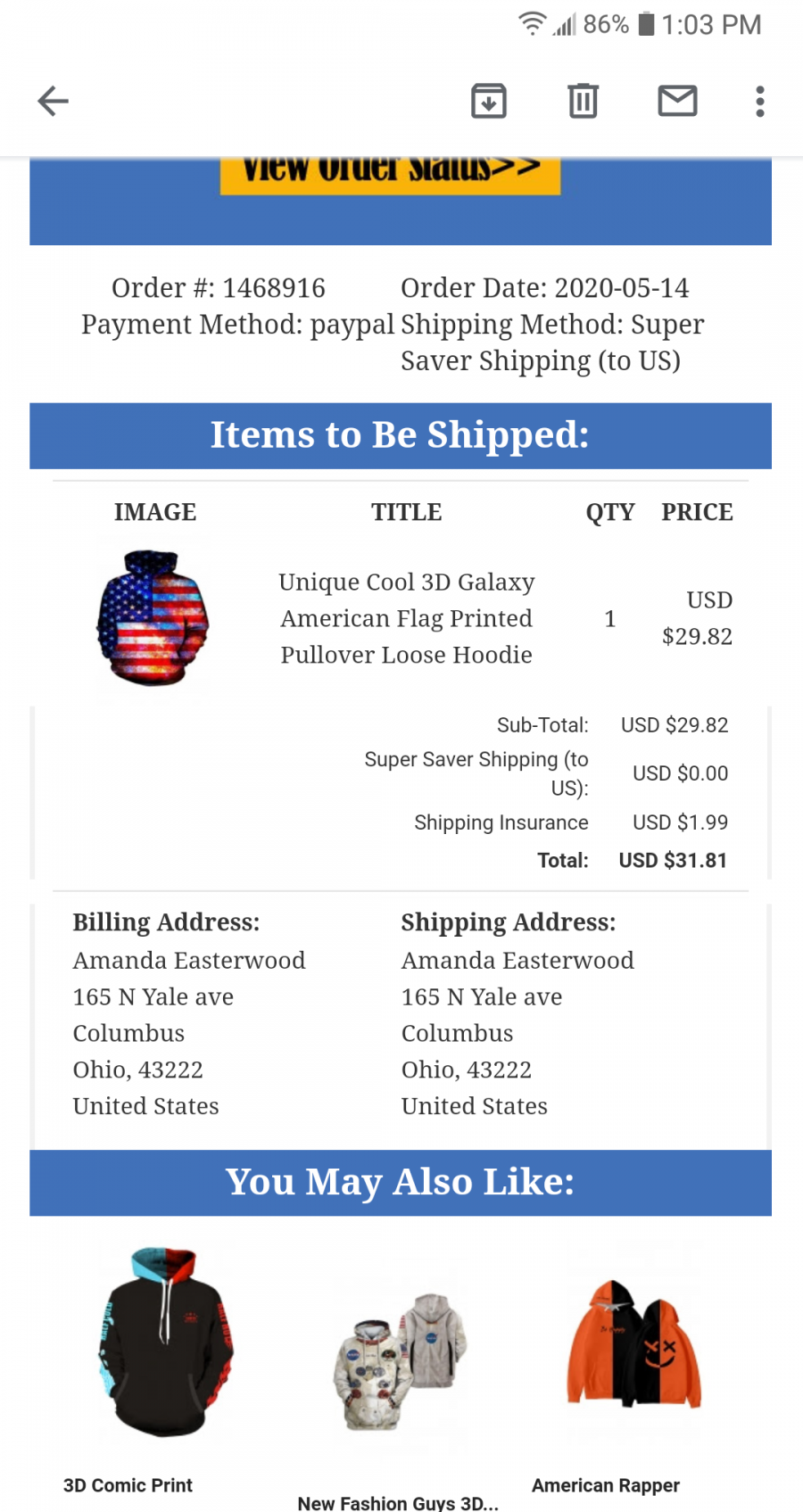 Joanna – Jun 10, 2020
Ordered on line maikismao never recieved order $27.99 on 4/13 no email no phone number nothing tried resourcing could find no information at all
Theresa – Jun 10, 2020
I ordered a 4 pack of LED strip lights totaling over 65ft long for my daughters room. It took 40 days to receive and numerous emails to the company. When I received it they gave me 1 pack of LED lights totaling about about 16ft. I emailed them again they said the order was correct. I took a screen shot of what I ordered and have not heard back from them.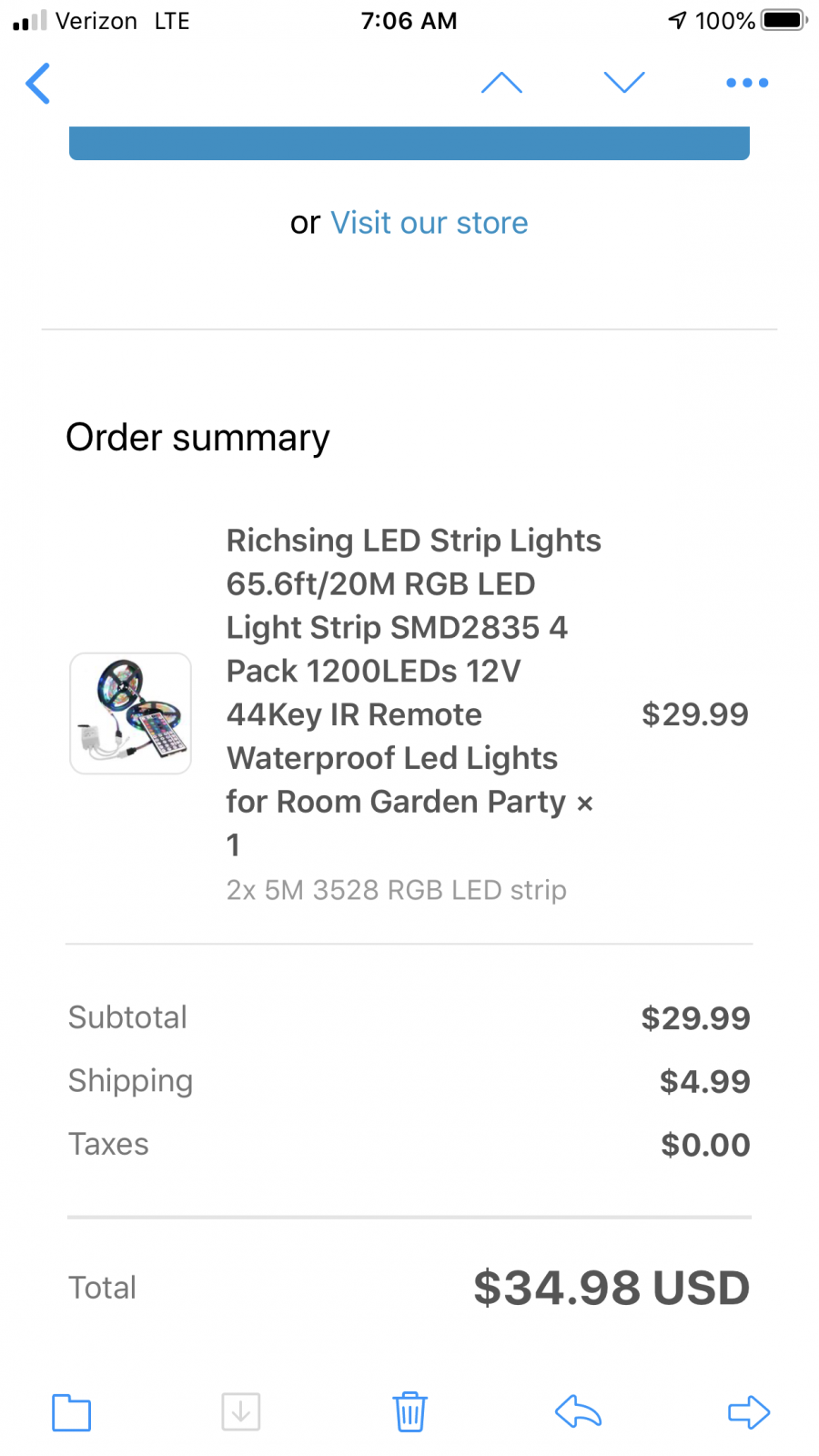 Jay – Jun 09, 2020
I also received a shipping response from a company named as YTT Customer Service at a email address of [email protected] No phone numbers
Craig – Jun 09, 2020
I arrived to Nanomond.com while researching soil tester's on Amazon and on Google. Both sites pulled Nanomond as a place to purchase a garden soil tester. The price was slightly better than a competitor but had more features and seemed legitimate as address was in Albuquerque NM. LOL, a city no one can spell! right away received a confirmed order, and next day it said it shipped. after a week I thought I would have. I emailed for a tracking number and the email bounced back, [email protected] so went to www.nanomond.com and found [email protected] I emailed and they replied that left CHINA… so much for US company… It said it finally arrived in Los Angeles on May 27th, then it said is delayed due to Coronavirus… Mail and shipping comapnies are working their hard so I know coronavirus isnt going to stop the shipping. In retrospect I paid them with a credit card directly yet they show a receipt from Paypal. Further My paypal account does not show a purchase yet my card was charged. I know I wont ever see a soil tester, or one that works. Nanomond.com minimally has horrible customer service and shipping. DO NOT BUY from them.
Raymond – Jun 10, 2020
Mee Too with a watc is there a number?
Cole – Jun 08, 2020
I made and order on May 19 and have not gotten it is 114.79 that Iam out I would like my money back I am going to take there the legal way if I don't received my money or the product
Leonard – Jun 08, 2020
Ive placed several orders and not recieved them sent several messages with no response back
Shannon – Jun 02, 2020
All of the above. When they billed me, they billed me twice. once with a California address and once with a China address. My fraud alert caught it and cancelled one of them. I doubt I'll ever see the products i ordered or a refund. Has this been reported to USPS or Pay Pal or anyone to make them stop?
Amanda – May 26, 2020
I placed and order at the beginning of April and since the 27 of April it has said my item is still in Channing. I have sent several emails and "Kas" says they used a 3rd party to ship and to be patient and that they can't refund because it's already been shipped. It's a complete scam and need shut down!
Adam –
Yeah I guess I got screwed out of the 26.98 towards the Bluetooth earbuds also ,Ordered them on 05/07/20. Was trying to be patient but after no response to my emails started looking online and low and behold scammer city. Low life f*"'#ers. Also I looked on that pay pal, wich I never use don't know how that happened but instead of nanomond it says maikaisimao? My order on nanomond site says payment status – paid and fulfillment – unfulfilled. What a joke. It's not the lousy 26 bucks, who knows how many people they've scammed so I imagine you're talking serious $. They definitely need to be shut down and SENT TO PRISON. 👿
Renee –
How's your life all alone with your mother. Alliance is coming for you! Q
Wendy –
You deserve it and YOU WILL BE IN PRISON SOON
Leah –
Ordered survival shovel on 4-8-20 paid $31.99
Package never arrived. Upon contacting NanoMond Support I received a link to track my package
This link and tracking number doesn't work
I've sent several emails requested tracking info or a refund.
They said could not refund because package was already shipped.
I believe this company is based in china and are scammers.
Do not use NanoMond for any purchase
Reported to better business Bureau please report too if experience same problem or worse
Susan –
Placed a order april 22nd (ill provide a photo) .
Waited some time and sent a email. Get a reply that they had a logistical error but they had another being sent out …
Wait alil more still asking for tracking info but i get a reply now the post office had lost my package but DONT WORRY WERE SENDING ANOTHER. Thats when i kinda think its getting out of hand still not even giving a tracking number .
Time again passed . i asked several tines for info. I get a tracking number stating its been picked up by a partner or some bs and USPS was awaiting the item. But GET THIS it says shipped (to partner or whatever) april 23rd at 5:44am.. Now i thought the first package had a logistical error . thatd push the shipping date forward a week . plus the one they told me the post office had lost making the shipping date off/later yet .
Im still waiting for a reply to a email sent to them today May18th . they do have 2 contact emails i know of. The Kass one and this one i get similar replys from [email protected]
Now its a waiting more game . just ridiculous the emails they sent. Makes no sense to me really. . .
Included screen shots of the emails . proof of purchase and the shipping..
Jamie –
Hey everyone…got an update. Well yesterday, 32 days since I placed my order, I kind of received it. Two problems. I ordered TWO Team Losi 1/6 Super Rock Rey 4WD Brushless Rock Racer RTR's. I race r/c's and this was a great deal. LOL they sent me ONE POS Chinese r/c car…you know, the ones that you see on clearance at Walmart for $10.00? Now here was my journey. I placed my order on April 7 2020. This is where it gets confusing. The original tracking number I was given was for FedEx. The told me numerous times that the didn't have the package. Well when I received my package yesterday, I noticed that it was delivered by USPS. It had a totally different tracking number. I entered it into the FedEx site and it showed delivered. I entered it in the USPS site and it tells me that USPS is currently awaiting package WTF?
Kate –
At least you got your package. I ordered 4-8
Still no delivered package. Just the run around by NanoMond. Crooked scammers
Veronica –
This js what i ordered on april 22nd . posted my review i guess u call it just now .
Benjamin –
Scammer's website www.nanomond.com
Scammer's address 6102 Natalie Avenue Northeast,Albuquerque N M 87110 USA
Scammer's email [email protected]
Country United States
Type of a scam Online Purchase
Initial means of contact Not applicable
Hey everyone…got an update. Well yesterday, 32 days since I placed my order, I kind of received it. Two problems. I ordered TWO Team Losi 1/6 Super Rock Rey 4WD Brushless Rock Racer RTR's. I race r/c's and this was a great deal. LOL they sent me ONE POS Chinese r/c car…you know, the ones that you see on clearance at Walmart for $10.00? Now here was my journey. I placed my order on April 7 2020. This is where it gets confusing. The original tracking number I was given was for FedEx. The told me numerous times that the didn't have the package. Well when I received my package yesterday, I noticed that it was delivered by USPS. It had a totally different tracking number. I entered it into the FedEx site and it showed delivered. I entered it in the USPS site and it tells me that USPS is currently awaiting package WTF?
Erin –
As any body been in touch with the state's Attorney Generals office? Also this is wire fraud, federal crime so this falls under USPS office of investigations. I just got jiped out of $24.00 for wireless Airbus. April29th of this year.
Andre –
I am make and donating masks and needed more elastic band, so on 04/22/2020 I placed an order for that exact thing. Still no product, I emailed and they didn't except it. If I can't get my money back I would like to help stop them from doing this to others.
Theodore –
Well we both got had! I ordered the exact same thing on 4/18. Have requested refund several times and they kept saying to give it time because of the current events. Suddenly they say, no refund it has shipped. They have a 30-day return policy.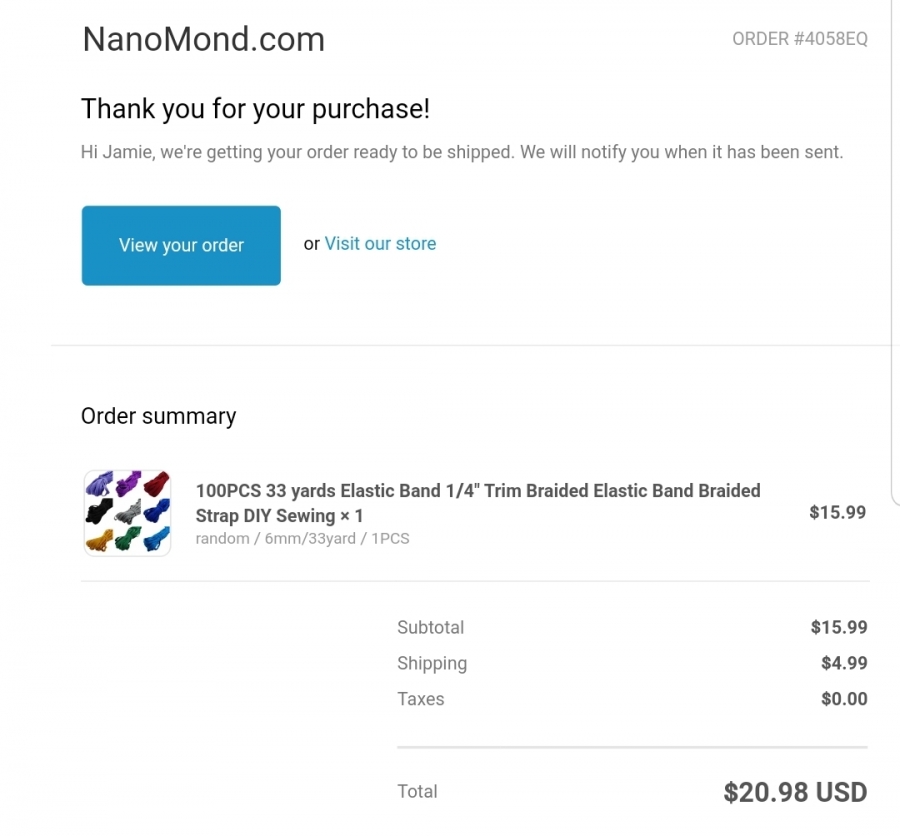 Derrick –
Victim Location 87114
Total money lost $34.38
Type of a scam Online Purchase
No customer service Number, tracking not legit, continually state item is in transit with fake tracking and item never arrives. Reviews searched indicate this is a common theme
Rebecca –
I order a Giant bean bag I paid $36.00 and it made me download an app called "arrive". It only shows my purchase with an order number. Several emails have been sent and have been rejected. This site is a scam.
Kristina –
I ordered two rc cars on 4/7/20. On the 12th I received this email from them ""Hi,
For security reasons, we would need to verify your ID and credit card before we can process your order.
Can you please send us your ID with your name only (you can cover your address, date of birth and all the other information)
and also send us a picture of the credit card you used to purchase this order(You can cover all the other parts and just show your name and the last four digits of the card) Please verify your information with us.
Thank you we appreciate your order."
Reluctantly I provided the info. I have had numerous conversations with Kas MCC . she keeps insisting that the order has been shipped, but Fedex tells me different. Fedex tells me that when they pick up shipments they give a confirmation number. Today is asked them for the con #, lets see if they write back. Either way they list an Albuquerque address. yeah I live right down the street. gonna give a special visit.
Candace –
I wish i lived close enough. Been a month now i guess i lost 85$ on my order from april 20th roughly.. This Kass whatever replys but all a joke. Was first told they had a logistical error but a new package was on its way. Then time passed and i get a email that my package was lost by the post office and a third was on its way.. Everytime i emailed i asked for tracking information. Finally get it and it shows april 23rd it was picked up by a shipping partner and usps was awaiting the item.. Now .. I thought they had to resend the package.. But i get a tracking number dated the day after my purchase.. Wtf is this place doing . i still have all these emails .. Guess ill see what bs they say to my last email sent today may 18th… Ffs…
Seth –
Scam website. Placed my order 4/23/2020..have not received any tracking info. And the support email bounces back to me with failure notice. They charged me for my $20.00 and have no number or working email..
Jennifer –
Victim Location 39047
Total money lost $31.99
Type of a scam Online Purchase
NanoMond.com ordered survival shovel. Paid for it. No package delivered. No response from customers service. No phone number
Nathaniel –
I ordered a pair of blue tooth earphones. For $21.99 + $4.99 shipping on April 4th, 2020. Have not received a single reply to any of my emails concerning my order. This is a scam through and through.
Bethany –
Same here. I ordered an RC Car for my husband April 19,2020 I was so stoked because of the size of the car and how fast it went let's not mention what really caught my attention which was the low price. I ordered here we are April 23,2020 and I still have yet to hear anything back. I paid 90.00 for that car and I've sent emails no response. I should of known it was a little odd because even when you order from the crappiest sites you still get a detailed receipt which states your order is processing. Unlike this site they didn't do that but by then it was too late funds were already taken from my account. Now I'm gonna call my bank and report fraud against whoever's bogus company belongs too. They need to be shutdown and they need to be investigated seriously.
Kayla –
I ordered an item for $31 on April 9, 2020. I received a confirmation an that I would be notified once shipped. Never received another email. I emailed them an it looks like the email address given isn't even valid. Of course there's no number to contact anyone. So far this appears to be a scam!
Raul –
Try NanoMond Support.com
Probably won't do any good. I've emailed several dozen times and they say package has shipped but won't provide tracking number, date it was shipped or refund my money
Jermaine –
Victim Location 33830
Total money lost $14.99
Type of a scam Fake Invoice/Supplier Bill
I was shopping online and March 22, 2020 and I found this item that I was interested in and I checked out their website and I noticed they have a physical street address but no phone number so I figured this must be a legitimate business so I purchased the item and I have not heard back since I Sent them an email 2 emails to be exact. I waited a few days but no response let me check Better Business Bureau since I've been scammed before from another company have a Spain the website looks legit but I'm afraid This company might be scamming a lot of people out of their money luckily for me it was only $15.
Samantha –
Victim Location 33157
Total money lost $103.97
Type of a scam Online Purchase
This company never delivered the product I ordered and refuses to give me a refund.