Scott – Jan 21, 2021
I have ordered a dress of 80 dollars and gave additional 40 dollars for fast delivery to india..they didn't responded for 6 months but after months they messaged me on whattsapp for more 80 dollars and told me that there courier company is changed ..and only then I googled about them and found out that this site is a scam…and that's how I was saved to spend another 80 dollars on them…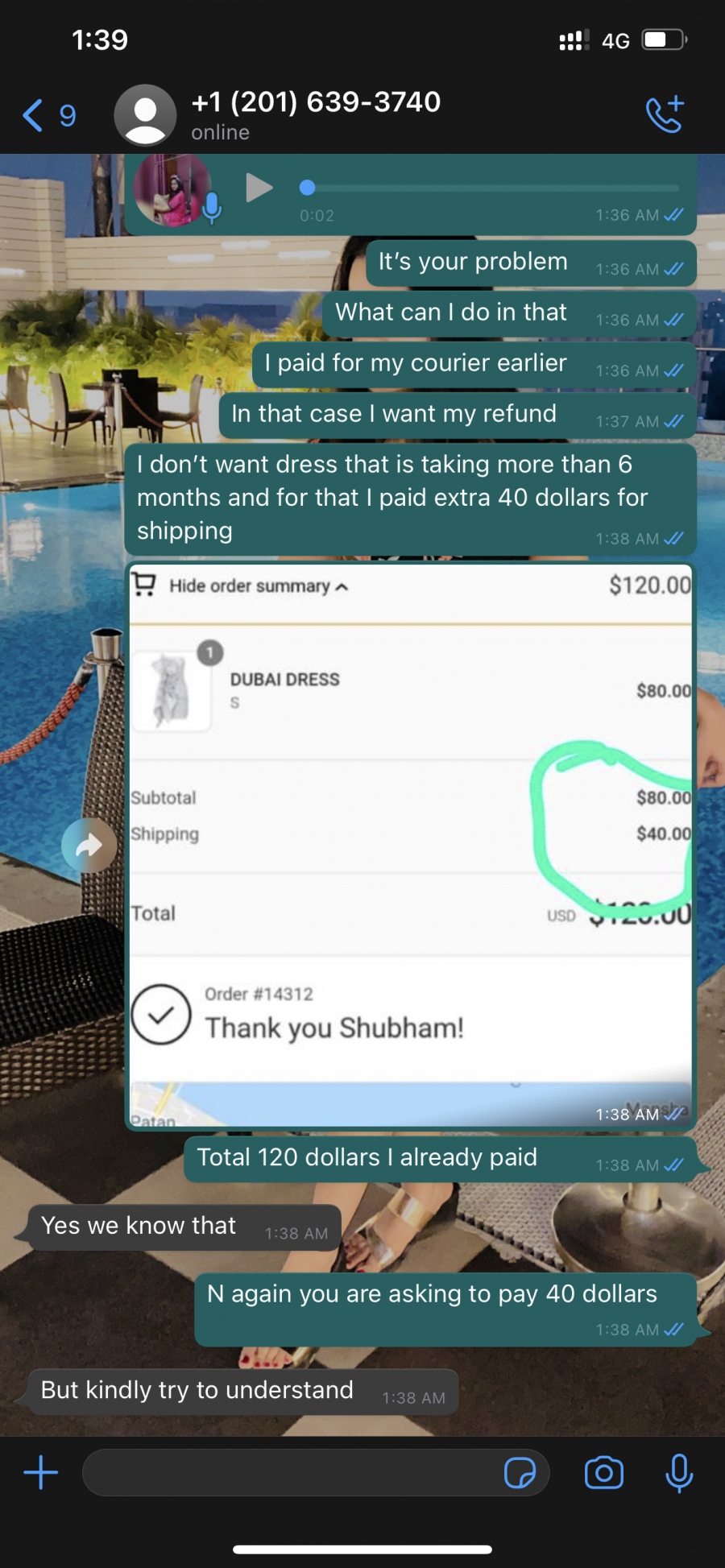 Carly – Nov 19, 2020
Very horrible quality clothing. I ordered and my order was 300+ the packaging was plastic plain paper no logo or anything. No tags on the clothing but the Worst part is the shipment was for my birthday and each outfit was super small definitely China clothing horrible inseams/stitching, very cheap quality and the nerve to charge a 100 for some pieces I had ordered 😤😤.. Do not buy you would be disappointed
Nathan – Oct 18, 2020
THE WOST! Still not received my order for more than 4 months! And their customer service is BAD… They keep replying the same email for my claims and there is no available tracking number!… BE AWARE AND DO NOT BUY ANYTHING from them
Whitney – Sep 04, 2020
Terrible terrible terrible customer service! Worst experience ever… not to mention the quality of the clothing is WORSE than Shein or Zaful. You are better off buying them on those websites! And you'll save about 100$ per piece. My items took around 4 months to arrive. Every time I emailed them they would take a week or more to respond, if they responded at all! Honestly, if you're reading this save yourself and DO NOT BUY FROM THEM! The sad part is that the girl that owns this is from my home town and I have dm'ed her and she doesn't even respond? You would think she cares about her brand name, but I guess not.
The quality of the clothing is so bad that the tag even came with the writing "made in China" on it. We are paying almost 100$ a piece just for her to not even invest maybe 20 cents on a nicer tag to fool us a little better.
This is ridiculous I am very upset with this purchase and WOULD NOT, I REPEAT, WOULD NOT BUY FROM MUSE EVER AGAIN or recommend anyone else do either.
Xoxo have a great day muse.
Steve – Sep 20, 2020
She even said she will sue me of me purchasing and chasing back my refund! She said in her interview that she is studying in the university of Miami, what a BS! I also emailed her university as well! Don't think a person with a degree would be as stupid as she talks lol
Her plastic surgery failed as well as her business loll
Girls report her together in https://www.ftccomplaintassistant.gov/#crnt
Or send her a legal action letter to
17691 Lomond Court, Boca Raton, FL 33496, USA
I have already did the above! Hope u will do the same as me! She has no one working in her company but herself only! Don't let Hailey Weiner keeps scamming people's money! Stop the girls being victims in her fake fashion online shop again!
Marcus – Sep 17, 2020
I just reported Mussier Clothing to the FTC complaint assistant.gov, pls do the same as me because we cannot let her Hailey Weiner (the owner) scamming people money on internet again! And please also report her personal IG account "hailwein" and her new scamming IG account "heiressbeverlyhills" too. She said in an article that she studies in the University of Miami! she also blocked me for asking for my refund back!
Randi – Aug 25, 2020
Ordered 3 dresses totaling to an amount of $150. I understood the long shipping times as the pandemic severely delays the turnaround time for logistics, so I wouldn't put that against them. When my items arrived, I was expecting a better than average quality compared to places like H&M, F21 or Missguided. I was MORE than extremely disappointed in the presentation of the packaging. Just a plain poly-mailer bag with no logo, brand name or whatsoever, and on the mailing slip it even says it comes from AlieXpress and I knew something was up. The dresses were horrible quality, the sizing and length was off and the material was inconsistent. (I ordered 2 different colors of the same dress) and they both came in completely different materials and lengths. No tags, sizing or labeling of the brand whatsoever on the garments. All I got was a badly printed China manufacturer supplier tag. With this, I took it to instagram to make a series of stories complaining about the products I received as well as the presentation in branding and quality of the garment itself. This was the reply I got:
"Hi Jennifer. Mussier is a fast fashion boutique. The celeb stylists and magazine reviews are for my personal luxury brand @heiressbeverlyhills that I still ship myself from my home thats designed in MIA/Beverly Hills. Right now to speed up shipping, we are using an aliexpress shipping service from our factories in China rather than EPackets.
For Mussier, we made this change several weeks ago as we desperately wanted our customers to be able to receive items quicker.
Heiress my personal brand has 2-3 day shipping from the USA :)"
I've worked in customer service before and this is not how you answer to a customer's complaints. Instead of apologizing and trying to find a solution with a paying customer to try and improve their products and services, they (or just the owner in this case) seem to completely miss the point of actual complaints I had about the quality and branding presentation as well as misrepresentation of product online and instead trying to justify themselves with a crappy explanation in order to avoid my question entirely. So long story short, DO NOT BUY FROM THEM and spend your money elsewhere.
Anthony – Aug 20, 2020
MASSIVE SCAM! I ordered an 80£ dress about 3 months ago, haven't even received the order, no confirmation email, no tracking nb, nothing. I researched more about this company and everything is made from China. I found pictures of "their" clothes on Alibaba. This is such a scam please DO NOT BUY FROM THEM. I emailed them and received an automated email giving me a fake tracking number. I sent another email a month later and never got a reply. I feel disgusted. Haily Weiner is a scammer.
Ross – Aug 14, 2020
Amazing website, not sure why there are bad reviews. The quality is amazing, I have been a customer since they opened. Shipping takes long but it's worth it. Will be a customer forever.
Tina – Aug 11, 2020
i have ordered 2 items on April 12th, however still hasn't received ANY information about my package. I have been sending them multiple emails (even the new email) however I haven't heard back from any of them.
Evelyn – Oct 18, 2020
Me too! I haven't received my order and they are not even replying! They are the worst 🙂
Jacquelyn – Aug 07, 2020
Scammer's website mussierclothing.com
Scammer's email [email protected]
Country United States
Type of a scam Online Purchase
Initial means of contact Email
Ordered a dress on 6 of June, no receipt, no acknowledgement, got a reply with general information that it takes few month to deliver but still no acknowledgement of my order.
Sent another email few days ago, got a mail delivery subsystem email…((((
Robert – Aug 09, 2020
Hello,
Our website states orders take an average of 6-8 weeks right now due to COVID. However, thats merely an average. It can take longer, our new email address is [email protected], the old email address is no longer in service.
Stacy – Aug 06, 2020
Most horrible company. After 3 months of waiting for my product, I received a product in the cheapest quality imaginable. It looked nothing like the images online – literally nothing was the same. The product was worse quality than an item from Forever 21. Nobody would reply to emails and the person messaging me on social media was extremely rude and unhelpful. I hope the company is reported.
Naomi – Aug 02, 2020
I placed an order with them for a dress and a top back costing me $100 in May, it is now August. I received the dress only to find out the quality is awful and it comes from China! It was the Hamptons dress and it is so see through, cheapest material ever. I have not received the top despite emailing them about 10 times, to which they responded once and have since stopped responding. Honestly don't know what to do at this point. Avoid this place it is a SCAM!
Lee – Jul 31, 2020
I ordered the Hamptons dress on May 15. Its July 31 and I still haven't received my package. I started getting anxious like 2 months in and I decided to write, they replied saying it took about 6 weeks and gave me a tracking number. That tracking page was all over the place and it even said at one point that my package couldn't be delivered. That's when I wrote the second time and didn't get a response. Poor costumer service. Besides that, yesterday I received an email saying my package just got delivered, but I'm still clueless on the whereabouts of my order. I hope that I get my order in the best conditions or I will lose it. I was so excited for that dress! 🙁
Gary – Jul 29, 2020
I ordered 5.5 months ago and still haven't received my package. It's hard to get a response from Hailey (the owner). Tracking information is invalid (you apparently need to go to another website that isn't mentioned at all). My friend who has received her package says the clothing is terrible quality. CHINA CLOTHING. All the articles written are not okay if it takes nearly 6 months to get two tops. It is not disclosed where the packages are coming from. If I had known that my package was coming from a random Chinese manufacturer, I would not have ordered since it hasn't been INSPECTED by the company owner. Even though she kept posting new things onto her instagram account, my messages and comments were being ignored for several days (and maybe she was busy, but it shouldn't take days). I had to comment several times asking for her to please check her messages where I was asking for help (it took saying that in writing a bad review to get a response), I did not get an apology and her response was very snarky in saying that "I wasn't checking the right website" (which ended up being some weird site i have NEVER seen or heard of before, so how would anyone else know?). For the past six months I have been messaging her about this, and I always kept getting "this is the normal time to get a package," as she kept raising the amount of time. It went from 4-6 weeks to 2 months. It's been 5.5! Lastly, I checked my tracking number and realized my package was "delivered" 20 days ago but I have not had anything delivered to me. I had to call UPS and spend 2 HOURS to try to find my package. Get a hold of your business.
Mussier need to be rethought on how the business is being handled. I had three main issues with this company: shipping time, quality, and with the owner. I had ordered two tops for $165 back in April and it's now the end of July and just got my packages after a lot of trouble. I kept instagram messaging the owner, Hailey, about the whereabouts of my package and each time she would say that the average time for the package is more than the last time she said it was. I understand that there is shipping delays because of corona, but this seemed absolutely ridiculous. The tracking information that was sent with order confirmation was invalid for me. I messaged Hailey via Instagram to ask her about my tracking number and she sent me a link to a whole other website that I had to use to track my package which I did not know about. I shouldn't have to even be tracking my package like this as a customer. Considering that Mussier is an Instagram business, it takes forever for her to respond to messages and comments but that is besides the point. In total, I had messaged her about 4 times asking for help. Hailey would put up articles of how she's in "Instyle magazine and Vogue" but wouldn't respond to the comments people were leaving her to check her dm's, mine included. Since I was given the link to track my package, I have been checking it a lot. I checked it 8 days ago and it said my package hadn't been delivered yet, but all of sudden, four days later it says that it had been delivered on July 9 at 2 pm but it hadn't been. I spent two hours on the phone with the carrier USPS to try to figure out where my package is. They kept asking me for the tracking number but each time they said that the number Mussier has given me was invalid. I spent the next two days with the post man that delivers my packages trying to find it, which they finally did and I was glad, but there was a new problem: the quality of the clothes. The quality of the clothes that I had received was TERRIBLE. I had paid $165 for two shirts that I expected to be amazing quality, considering the price and how they looked online and in pictures. I now understand why there are no places to leave reviews for this company. I also saw that the packages were coming directly from the manufacturer, which is something that was not made aware. If I had known, I would have never bought from them (especially after seeing the quality). The clothing should not be coming from the manufacturer and should be inspected before being sent to the customer. I understand clothing and manufacturing; I have been around the business my whole life. The clothing is an absolute scam and I feel scammed after seeing what I received. This clothing is not nearly $165 worth. NOT AT ALL. It just very cheap cloth with a little stitching on it. It's the same or maybe even worse than Forever 21. Anyone with any sort of understand of clothing would say the same thing. I had reached out to someone that also bought from Mussier and said that it was terrible quality too and they would be reporting the company as well. I had reached out a couple days ago on Instagram to get help with my missing package but I had not gotten a response and when I finally did, I messaged her that the quality is terrible and I will be reporting the company to the BBB, to which she responded, "Why would you report a small business in a time like this?" Corona has nothing to do the quality of clothing. She also claims that I never reached out to her personally (she means email, but she has put up early that week to not email their email because it isn't ready yet), even though I did. She then proceeded to tell me how her clothing is known for their quality and basically saying I am wrong, which a company should never do. If a customer has a problem with anything, the company should be quick to try to fix it, come up with a resolution, and apologize since it is not my fault the shipping took so long, tracking number is invalid, and quality is bad (all the reasons to report a company). She also proceeded to tell me that she won't help me because it's "to late." How is it to late if I just got my package and how was I supposed to know the quality would be terrible? If a customer has a problem with a product from a company when they receive it, the company should not say they can't fix it. How is anyone supposed to know what the products gonna look like. She then stopped responding to my messages after she asked me to send her a picture of my clothes. I cannot get a refund since the company doesn't offer any and I paid with a gift card. "Multi million dollars company" because of the scam of clothing they send. Over all, this company is being poorly handled and they should rethink their manufacturing situation.
Logan – Aug 09, 2020
Hello,
Our CEO & Founder is not the proper person of contact. Customer service is, you should have reached out to us and feel free to still do so.
She is not expected to answer individual DMs, she financially backs this boutique and her main focus is her own brand Heiress.
She handles daily operations, logistics, fulfillment, etc for her own brand Heiress (the company the articles are being posted about), not for Mussier.
There are no articles about Mussier, only Heiress, her personal brand that takes 2-3 days to ship as it is shipped from the US.
CEO's are not responsible for company operations. The boutique is not run via Instagram, its primarily just a website.
Please in the future, email us at customer service rather than reaching out to a CEO.
Jermaine – Jul 29, 2020
Please ignore this one. My phone had a spaz attack.
Darren – Jul 28, 2020
Cheap terrible clothes that are drop shipped separately from China. Reverse image search and all their Aliexpress/Chinese manufacturers come up. Total scam
Carlos – Jul 28, 2020
WORSE STORE EVER. Their Instagram says Miami, so I assumed they are US based. Placed an order of 4 items ( about 400$ total) middle of may. It's the end of July, I just received 3rd item out of all 4. They apologize thru the email about the delay yet their website just warned that there might be delays, it doesn't say 8 week delay! Quality is worse that fashionova, the dress I wore about 4 times has decorative buttons that almost all fell off. They say their items are hand made personally for each customer. Yes bet lol. Looks like they are hand stitched. Metal parts on a shoes has already darkened. I JUST UNPACKED THEM. Did not dcenHORRIBLE! Don't waste your money
Seth – Jul 22, 2020
SCAM SCAM SCAM SCAM SCAM! First of all… I ordered 3 items for $300 back in March and STILL haven't received my full order. Secondly, the item that I did receive literally has the same quality as a Halloween costume. Cheap, terribleeeeeeeeee craftsmanship (threads loose everywhere) literally the tank top they sent me will snap in a second due to them clearly hand stitching the item horribly wrong. And lastly, please do not waste your money like I did. No refunds and half the time no one answers my email. Oh and on top of all this I just got another item last night after waiting 3+ months and guess what?! ITS THE WRONG ITEM. I would bet money that they underpay their workers in China and use very cheap materials. Terrible business. Shut it down!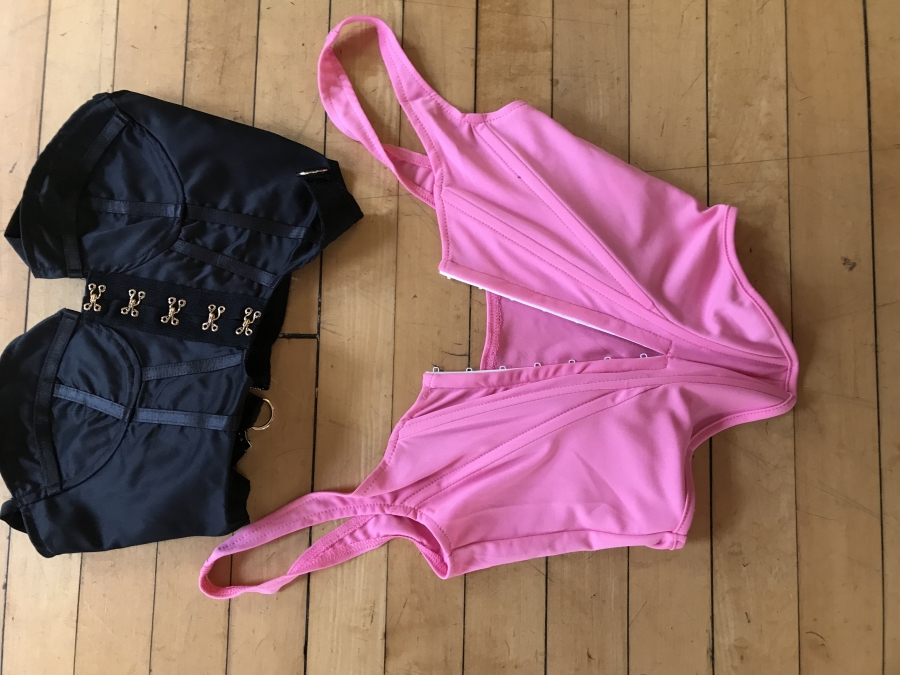 Richard – Jul 19, 2020
Have been a customer since they opened, also love their luxury line. Amazing quality and pieces you cant get anywhere else.
Chase – Aug 07, 2020
Not luxury. Shein is better
Bryan – Jul 14, 2020
They have wrong sizing and when I got my dress I ordered a medium and once recieved after over 2 months of shipping it was an extra small sizing. My friend is a small and she could not put it on. When I asked for a refund they will not refund or exchange ! Complete rip off and they r considered a "higher end" clothing. Do not order from there
Wendy – Jul 14, 2020
One of my favorite websites. The quality of the clothes is great. Yes it takes a long time but it's worth it
Suzanne – Aug 07, 2020
In what world do you think this is great quality
Jenna – Jul 07, 2020
This company is an absolute SCAM. Do not order from here. Orders MONTHS ago, haven't received anything and they won't respond to any of my emails. I have commented on their photos and they just delete them. SHADY AF. I am going to have to get my refund by calling the bank and hopefully work to shut their shady business down.
Cody – Aug 07, 2020
The only way to get a reply is if you threaten that you will report the business to the BBB
Fernando –
I order one item June 10th and paid for expedited shipping. Here almost a month later I still have not received my order. I have contacted the company multiple times and they have replied stating the items are made to order and parcel is running with a tracking number.
My concern is, the item shipped on June 15th and I paid 40.00 additional dollars to get the item (in what the website states 5-10 business days). More so upset that I paid for fast shipping but clearly getting standard.
Victor –
I've ordered multiple items from their website. They all were shipped from China and they all came separately. It took more than a month to have all my items at he. But the worst part is that the were nothing like the pictures! Really cheap quality, completely different design and cut! The sizes are also random, I wear a size small and ordered the clothes all in size small, but I received clothes in random and wrong sizes. The clothes I got do not fit me at all! They are either too small or too big. They don't have a refund or change policy. I'm very sad that I wasted my money. Please say away from this shop.
Latasha –
Victim Location 30316
Total money lost $320.60
Type of a scam Online Purchase
I placed an order through this website totaling out just over $300. I have no received even one item from my purchase, the email provided on the website to contact the merchant for customer service only replies back to customers in automated responses with no actual legitimate updates regarding tracking, arrival, or refunds. Since then, the merchant has deleted all social media, ceased all communication, and has updated refund policies to unreasonable conditions such as "all cancellations must be made 1 hour after purchase to be considered for a refund", which was not the original policy listed upon my initial placement of my order. I do not recommend business with this merchant as there is a great chance you will never receive your merchandise. I am now seeking my refund using other methods since this will clearly be an ongoing smoke and mirrors process.