Eduardo – Oct 05, 2020
So very happy I checked them o ut. We were looking at a puppy named Abagail and got the same BS the lady #53538 got. Sorry about her losses. Just can not trust anyone especially if they will not give you a phone number address etc. Thank you ScamPlus for getting this information out.
Mitchell – Oct 05, 2020
I also been in contact with them and was interested in a puppy named Blake! I did get a few emails and they stated they were in Arkansas and about the coupons. My last emailed was inquiring about a number I can speak to someone and FaceTime them to see Blake and no response. Something was off and I came on this site and I. Happy I did.. I will purchase my fit baby from else where!
Erin – Sep 25, 2020
Morgan Shih Tzu is not really a scam. The real owner is in New York, she has a facebook page and a website that is blue. There are some people who are using her name for their scam and are saying that they're in Arkansas and Florida. I was looking for a puppy and I saw a puppy name Blake, my father was contacting them and asked for a phone number, they never responded back, I asked them for a video of Blake, and they never responded again. They were asking for $670 for each puppy and that everything will be covered on their side with shipping preparations and everything. Luckily no money was lost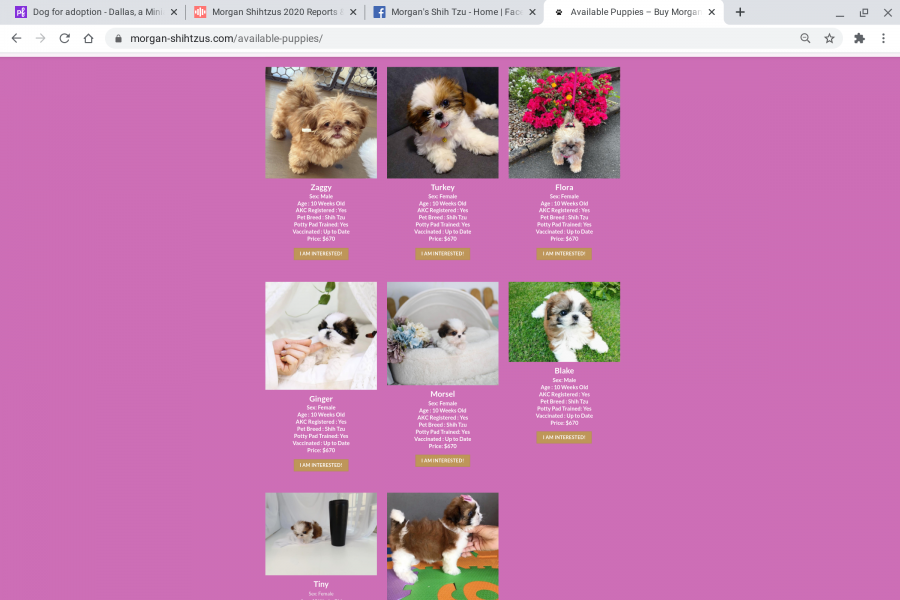 Blake – Oct 21, 2020
Thank you!
Catherine Morgan
Samuel – Sep 25, 2020
Hey just letting you know I'm Morgan's Shih Tzu of Endicott NY. I have been a shih tzu breeder for over 25 year. My website is morganshih-tzu.com. The fake website has a S on the end of morganshihtzus. Shih Tzu is not spelled with a S on the end as it is already plural. They don't post a phone # on their website so people google Morgan's Shih Tzu and find my phone number and think we are on in the same. I have tried to get these websites taken down but a new one pops up in different state every month. This has caused lots of stress and don't think I will renew my website this year because of these scamers. Please don't post my phone # as the has nothing to do with me.
Kayla – Sep 06, 2020
So glad I came across this site. I am currently exchanging emails about a puppy named ginger in Arkansas
Gerald – Jun 09, 2020
Victim Location 70006
Total money lost $3,470
Type of a scam Other
First, I got an email from them saying that the puppy I want to buy is on sale for only $600 because they were expected another litter coming up next month. A few days after I paid them $600 through Quickpay Zelle, I got another email saying that the crate the seller used was not appropriate for shipping to other states (The seller is from Florida, and I need it ship to Lousiana), so they wanted me to pay for the electronic crate with the price $995 in order to continue with the shipping process. After I paid them that $995, they even gave me the tracking info from a third party travel company. However, a few days later, I got another email saying that the puppy needs life insurance in order to travel because they dont want their agents to take responsibility in case something happen to the puppy. The insurance was $1895. I paid that as well. It did not stop there, one day later, they asked me for a final payment of $1200 for city permit so that the puppy can enter my state. I realized that i was scammed because I sent them an email using a different email and name to request for the same puppy. They still responded and said the puppy is still available with the same email I got the very first time. If the puppy was already shipped, how could it still be available? I emailed them back, but they never respond anymore.
Bryan – May 28, 2020
Victim Location 53538
Total money lost $1,650
Type of a scam Online Purchase
My husband and I were looking for a puppy shih tzu and came across the site. My husband started correspondence with the company via email stating he was interested in the puppy named Jax. They stated the currently have free shipping coupoons with their shipping agent to ship 4 pups at no extra cost. They stated they are located in Orlando FL. They said the puppy would be fly and arrive 3-6 hrs and that shipping would be taken care of on their end. They also stated how the pup would be flown in with care and insurance. For payment they stated to use Cash App or Zelle. Cash App account was listed as Esegemu Alain Payment Tag: $alainkaka666 #407-633-6768 He also stated that we sounded skeptical and it was wrong that this is a legit business.These emails went from 5/1/2020-5/6/2020. Then they stated the shipping company needed more money and that our pup was needing a better cargo because of bad weather and unfortunately my husband gave them more money. The total is $1650 that was given and never returned. During this time my mom died and my husband was trying to surprise me with a new puppy. I have copy of these emails and searched the email on google after things settled down and that led me to a Facebook page stating these people were scammers and using another persons business as a front.
Carly – Jun 08, 2020
Same people, same scam!
Nicholas – Jun 04, 2020
I have been in contact with Morgan Shih Tzu today regarding adopting a puppy…named Jax! They told me via email they are located in Arkansas…awaiting further communication from them.