Savannah – Aug 11, 2020
This product DID NOT meet my expectations! Looks nothing what I thought I was getting… DON'T WASTE YOUR TIME!
[censored]ty Job! 💩💩💩
Eugene – Aug 08, 2020
They gave me a bogus shipping number. I lost $40 bucks
Erika – Jul 24, 2020
Complete thieves, I sent money; they sent a bogus shipping number which I tried to track but it goes no where! No phone contact works and the emails I sent go no where! Lost $98.00
Andre – Jul 22, 2020
I tried calling customer service and writing an email and nothing? Why is this even possible? I can't get a refund or nothing just money floating? Can I sue this alleged company? Also I paid $25 for a customizable shirt and all along it's a rip off that's just sad they have vital information.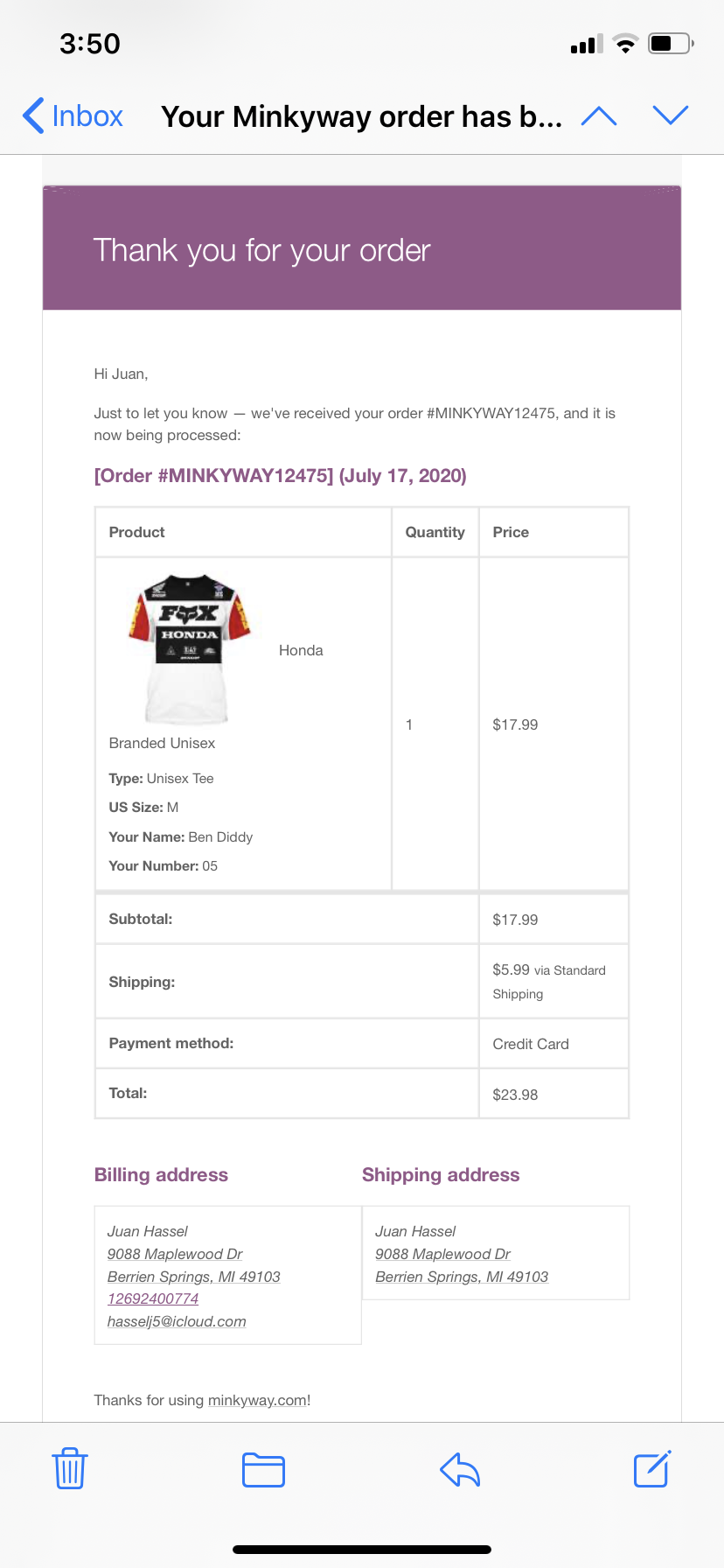 Thomas – Jul 21, 2020
I had ordered a Buffalo sabres hoodie and they gave me a track number MINKYWAY11933 i have got no response. My order cannot be tracked. Their phone number is a recording that hangs up. Their email always has errors. I paid $42.95 for the merchandise.
Jesus – Jul 14, 2020
SAVE YOUR MONEY THEY'RE SCAMMERS
Nancy – Jul 11, 2020
I TOO BOUGHT a jersey paid for express shipping and haven't received anything their phone is no good nor is the email. [censored]!
Devin – Feb 24, 2020
Victim Location 29316
Total money lost $79
Type of a scam Online Purchase
I placed a online order for 3 shirts on Jan 17. On feb 7 minkyway.com sends a yunexpress tracking number. It has been over a month now contact from sellers and email you reply to is no good.