Antonio – Sep 15, 2020
I received the hair treatment after 2 months I ordered and it doesnot work at all. Nothing as shown. I ask them for money back, they refused, I sent few emails again but haven't replied till now, They are scammers , just wasted my money.
Jon – Sep 02, 2020
I placed an order May 23rd and have not received any notification about the order. There is no way to track the order on their website. I sent an email and was told it was delivered. I asked for proof and did not receive any further notification. I sent another email to see if I can receive a response.
Keith – Aug 12, 2020
I ordered keratin hair treatment back in May and have sent NUMEROUS emails!
Now the site comes up as an error when I try to contact MERRYPEARL!
Meagan – Jul 14, 2020
My order was sent to California instead of my sons in Iowa… Email sent… I did two orders one for them and one for me… I received mine… Just not theirs… Orders were done May 5th…
Lawrence – Jul 14, 2020
Ordered Keratin hair treatment April 30. Still nothing. I hate scammers.
Adriana – Jul 13, 2020
I placed an order with them in May and have still not received my goods. I sent 4 + emails to get in touch and have heard nothing back
Alexis – Jul 11, 2020
I never received my order, 3 months! I want my money back
Jake – Jul 08, 2020
haven't received my order and i want my money back how do i get in contact with them ?
Omar – Jul 07, 2020
I ordered my items on May 26th it is now July 7th and still haven't receive my ordered items and when I tried to contact customer service through email because it's the only option they give you no one ever response. I'm so upset cause I spent over$150.
Krystal – Jul 06, 2020
Ordered a strapless bra. Never shipped. I emailed them. Never replied. My $ lost.
Mandy – Jul 06, 2020
Victim Location 94703
Type of a scam Online Purchase
I never received the merchandise I ordered
Dustin – Jul 03, 2020
I noticed that we all have the same situation, i also sent them emails asking for updates and as I haven't heard from them, I started a dispute with PayPal, I recommend you to contact your bank and do the same thing.
Isaac – Jul 02, 2020
I also ordered from Merry Pearl and haven't received any thing. I got a email to track the order and it's unavailable. I fell for it dont you!
Barbara – Jul 01, 2020
I have ordered an item 3 months ago, never received, tracking order is not exist, writing for a refund, nobody answering 25 Dollars lost.
Jordan – Jun 30, 2020
Their website has been taken down
Wesley – Jun 30, 2020
Order never received. Tracking states that it never made it to the post office.
Tony – Jun 30, 2020
I ordered from this company and never received my order. When I go back to check the status of my order and tracking information. It states that the store is unavailable. This website is a scam and ripping people off. Please save your money and don't purchase anything. Once you order they will send you all types of coupons to try to get you to order more stuff so they can steal more money from you which is not cool especially during this pandemic! I'm so glad that I didn't order more stuff because of a feeling I had and I was right. But I'm out of $26.00. I provided picture of the email trying to convince me to buy more stuff and an email stating the store is unavailable.
Albert – Jun 30, 2020
Victim Location 12564
Total money lost $26.29
Type of a scam Online Purchase
They take your money, and there is no such things, that you ordered.
Timothy – Jun 29, 2020
I ordered a hair product from this company and I never received it. I received an email saying that my order was lost in a riot and they would be shipping a new order soon. I emailed them back stating I still haven't received my item and haven't gotten a response
Kristin –
I ordered may 5 and still no product. I have emailed requesting a refund and they do not respond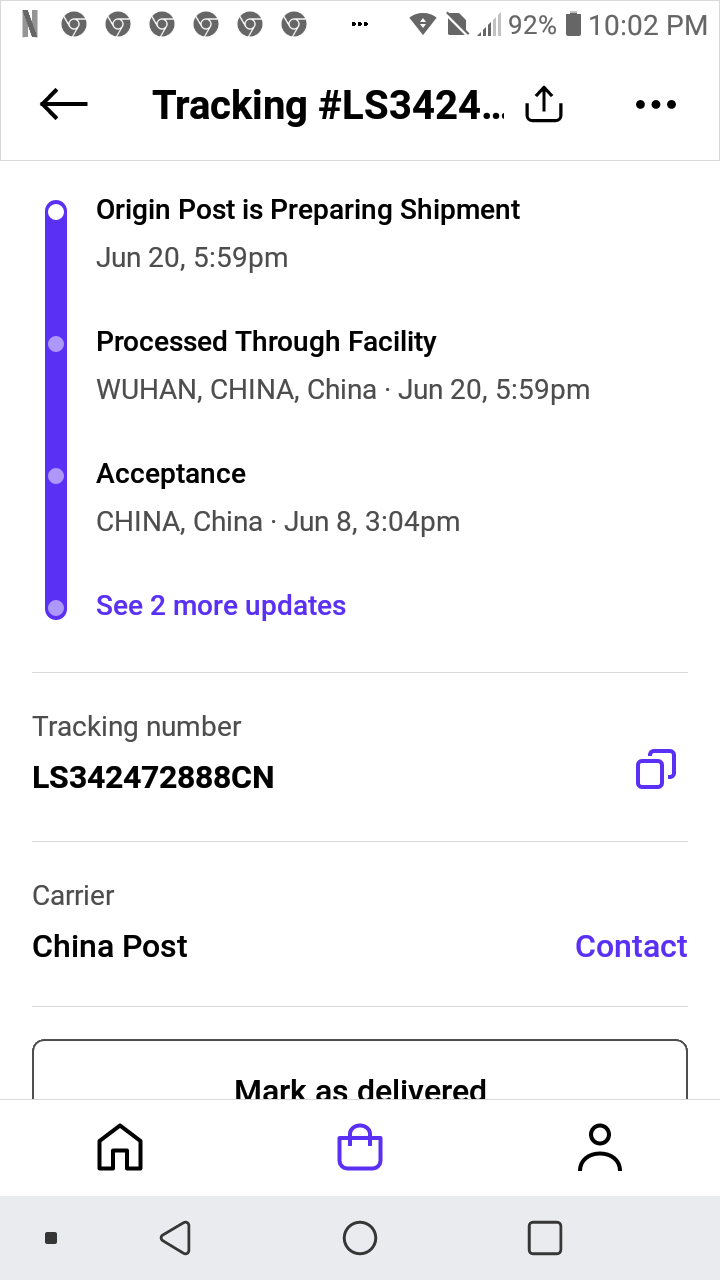 Marie –
Bought the 5 sec Keratin Hair Treatment on May 22nd, for a good 25$, they sent me a fake tracking number, the tracking systems say it is illegal, today I tried to reach the website again, found out the shop no longer exists.
I an a victim of a froud.
DO NOT BUY MERRY PEARL!
Adrian –
I ordered eyebrow makeup after reading about company on Instagram. Its been over a month and I still not received a package. I emailed the company' and they emailed back saying they no longer see my package in transit. This is definitely a scam! Beware! Do not give them your money
Micheal –
Victim Location 98229
Total money lost $20.96
Type of a scam Other
Merry Pearl is a counterfeit company. Many people have ordered from them, been charged and never received the product. They have a facebook page where MANY people have listed their grievances and similar circumstances. They have their credit cards charged and never received the product.