Brent – Sep 09, 2020
Unwilling to pay sight un seen. Willing to make 9 hour drive, cash in hand, to get puppy. Response to me was "[censored] you"
Calvin – Aug 25, 2020
I have Purchase Siberian husky eagle. I had to pay 850 to transfer him to a bigger cage.Which they say I will get a deposit back then I had to pay 145 for travel Inn delivery straight to the door close the door cost 850 as well and now I'm getting emails about I have to pay insurance for the dog because of the coronavirus so he can be transferred to the United States. I don't hear from the red owners I've been getting texts and emails but never a personal call. Now they're asking me to pay 1200 Dash 1500 or 1700 to put insurance on the dog.Which the agency should be the ones covering for that to make sure that the dog does not become stressed right now or dead while they were making the transfer to my household they want me to pay for it. To me all this seems like a scam and they're not calling you directly.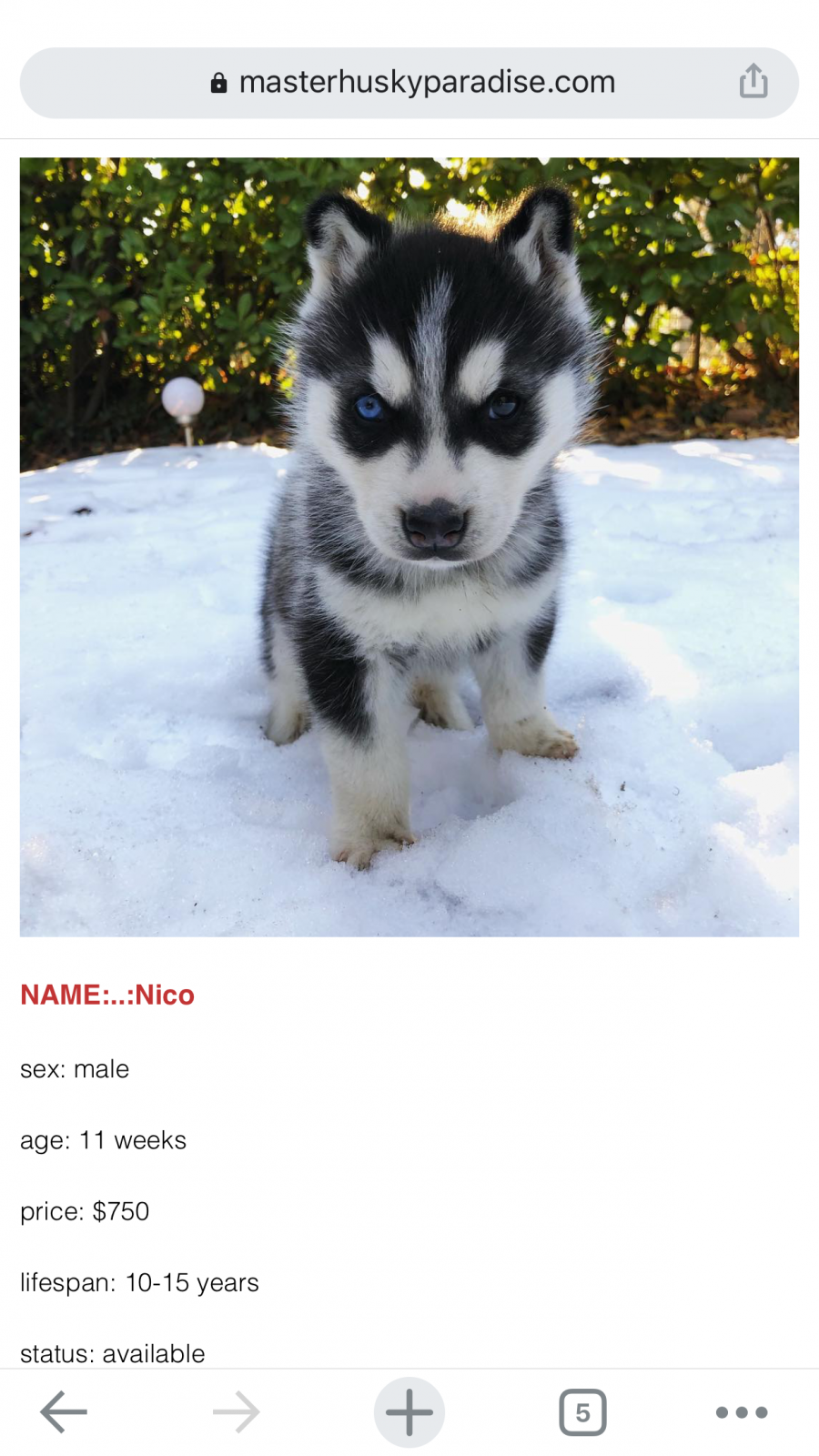 Jorge – Aug 25, 2020
Victim Location 31201
Total money lost $750
Type of a scam Counterfeit Product
I contacted the website about getting a puppy. After agreeing to a price and selecting a puppy they wanted Glad the payment before meeting the puppy to reserve the dog. After paying we were given a bogus address to go to in Savannah, GA. We called them and they say they're operating out of Honolulu, Hawaii. So in order to get the dog we're going to have to pay extra to get the puppy shipped to us. The website never mentioned anything about Hawaii. The website only mentions Macon, GA.
Tyrone – Aug 24, 2020
Any updates?
Joshua – Aug 11, 2020
Victim Location 59501
Type of a scam Online Purchase
Pretending to be dog breeder. Refuses to meet or let people see puppies before they pay half down.
Tried to get money from me on down pay for a husky puppy. Would not send pics, address or let me see in person without down pay. When asked why they stated nobody comes to their place without money down.
Jill – Aug 24, 2020
Was it a scam?
Yolanda – Aug 16, 2020
Can you give more information please? I recently contacted them and submitted my application and it seems pretty legit.