Frank – Jul 10, 2020
I received this mail, where appeared the same legend: Your business is required by Federal Law to post a current compliant labor law poster in the
workplace. Federal law requires that this poster be placed on the property of the business whether
you have 1 employee or 1,000. You must post UP-TO-DATE employment posters in the workplace.
The poster must also include information about workers' compensation benefits.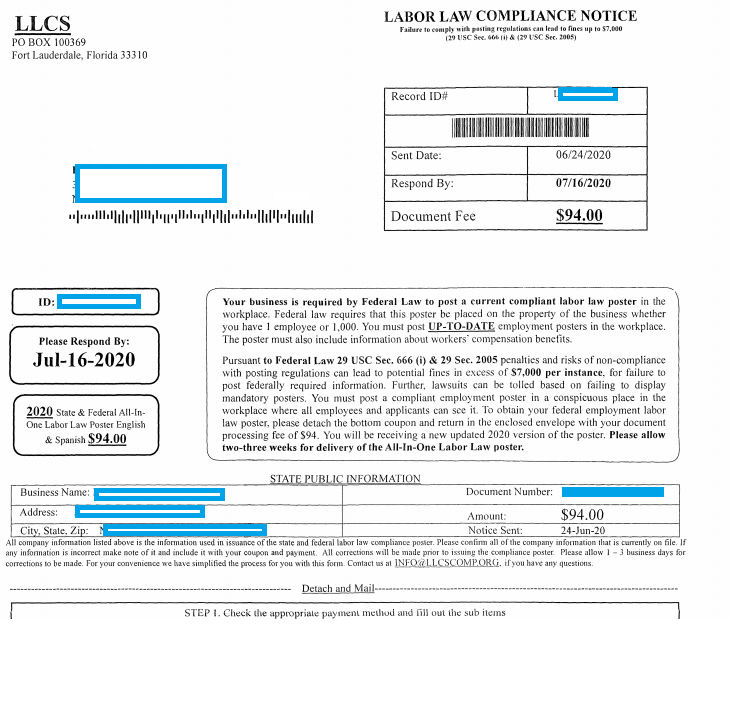 Robert –
Victim Location 43227
Type of a scam Other
I formed an LLC single-proprietorship and on 4-28-18 got a form in the mail for me to send eighty-four dollars ($84.00) to them for a poster for employees. I work for myself and have no employees. The request told me I would be liable for charges up to $17,000.00 if I failed to send their for with the money by May 9, 2018. It was to be sent by prepaid envelope to Labor Poster Services, P. O. Box 100369, FT. Lauderdale FL 33310-9972
Jason –
Victim Location 28739
Type of a scam Debt Collections
I just got a LLC through the Secretary of State. A few weeks later I get a letter stating I owe $85.00 for required government compliant labor law posters. They threaten I can be fined $17,000 if I do not buy the posters. Turns out the state of North Carolina provides these posters for FREE!!! Businesses are required to have compliant posters but this company is Scamming people! BEWARE!
Raquel –
Victim Location 44221
Type of a scam Other
This company warns me that if I don't have a labor law poster in the workplace that I can be fined in excess of $17,000. They want me to send them a check or money order for $84 right away.
Nancy –
Victim Location 30309
Type of a scam Employment
Scammers are saying that if our newly started business don't send in $84.00 to have a complaint Labor Poster that we will be fined up to $17,000 per instance if not reported. The back of form includes the $17,000 fine notice but, I wasn't able to send a 2nd PDF..They stipulate this comment several times throughout the letter. They do not have any phone number or legitimate web-site. The form looks like a copy and also is requesting our credit card number along with having you print your full name and write your signature. We looked online and found out that an actual poster would cost only $29.00 including shipping. We also found out that if the business is only me and my wife that we don't need to have any Labor Law Poster. We are reporting because we feel that if these type scammers can include in on the status quo that they can do it to anyone.