Elizabeth – Jul 18, 2020
I think I just got scammed. Purchased a puppy, spoke to them on the phone. Reviewed photos of parents, information of registration and all documents – but I think it was made up. Now shipping company is requiring a 1500 insurance payment which alarmed me. I wish I had reviewed websites like this prior. So sad and disappointed..
Christian – Jul 14, 2020
Thank you for all of these post. I also was looking to purchase a puppy from them. Whew… glad I found this site first. Why can't people just be decent!
Logan – Jul 18, 2020
I wish I had found this website first.. I just got scammed 👎
Totally my fault for not searching forums first.
Glenn – Jul 02, 2020
These people just tried to scam me. I inquired about "Kira" and they said she was 10 weeks old. Weird the previous complaint on here back in April Kira was 10 weeks old and here we are in July and she is still 10 weeks old lol. I asked why they were listed on the BBB for a scam they said someone tried claiming breeding rights to a puppy the bought. Then when I asked where in Texas they were located their response was…well you can see it in the pictures I post! Don't get ripped off by these scammers! Always review check before you purchase ANYTHING online!
Leah – Jun 23, 2020
Scammers! Do not entertain. 9154401269 in number they use. Email is info.sweetdobermans.com
Jeremiah – Jun 15, 2020
my sixty year old mother had the same situation. She fell in love with the pictures of "Princess" the ten week old puppy and immediately contacted them. Right away they sent them this very well typed out list of questions as the screening process and also sent her pictures of Princesses of supossed parents. they continued to talk back and forth and when it came time to pay i told her to ask for $400 before and $400 after the dog was delivered and they completely disregarded her question and just ignored her. she had to sign this fake bill of sale and send them pictures of it signed and then i told her to have them request money from the account we were venmoing from and they said no they cant do that. so we sent $800 to this @mocha-april and the guy said the dog would be delivered the next morning. my mom then proceeded to buy $600 worth of dog supplies. for three days the guy insisted that the shipping ompany for the dog would contact her the next morning for delivery details. by this time i had found all of these similar reviews and i knew we were getting scammed but the guy kept emailing us. I told my mother that since he's trying to continue the scam to demand pictures of the dog being handed over to the shipping company and also pictures of all of the shipping details and tracking numbers and everything. the guy again ignored my moms request and continued to say the dog will be delivered the next day. finally i called his number on the website 915-440-1269 because i wanted to talk to the guy in person and try to get my moms money back and he did not answer of course. then he texted me back and tried to see if i wanted to buy any puppies and i said no i just either want my money back or the puppy i bought and he said who is this and i said the person that supposedly just 'bought' the puppy princess or so i thought. we have not heard from him since. I looked up the address on the bill of sale on google earth and it is not a real address and i found that his instagram and his handle is @Thabo.bandile through information on the Better Business Bureau.
Randall – Jun 08, 2020
Same experiences as above, started out asking for info from me then next email had a payment amount and asked to be paid via zelle $920. I asked about parents and was sent a bunch of pictures of two random dogs one male and one female but could not provide any real pedigrees or proof of testing for the dogs.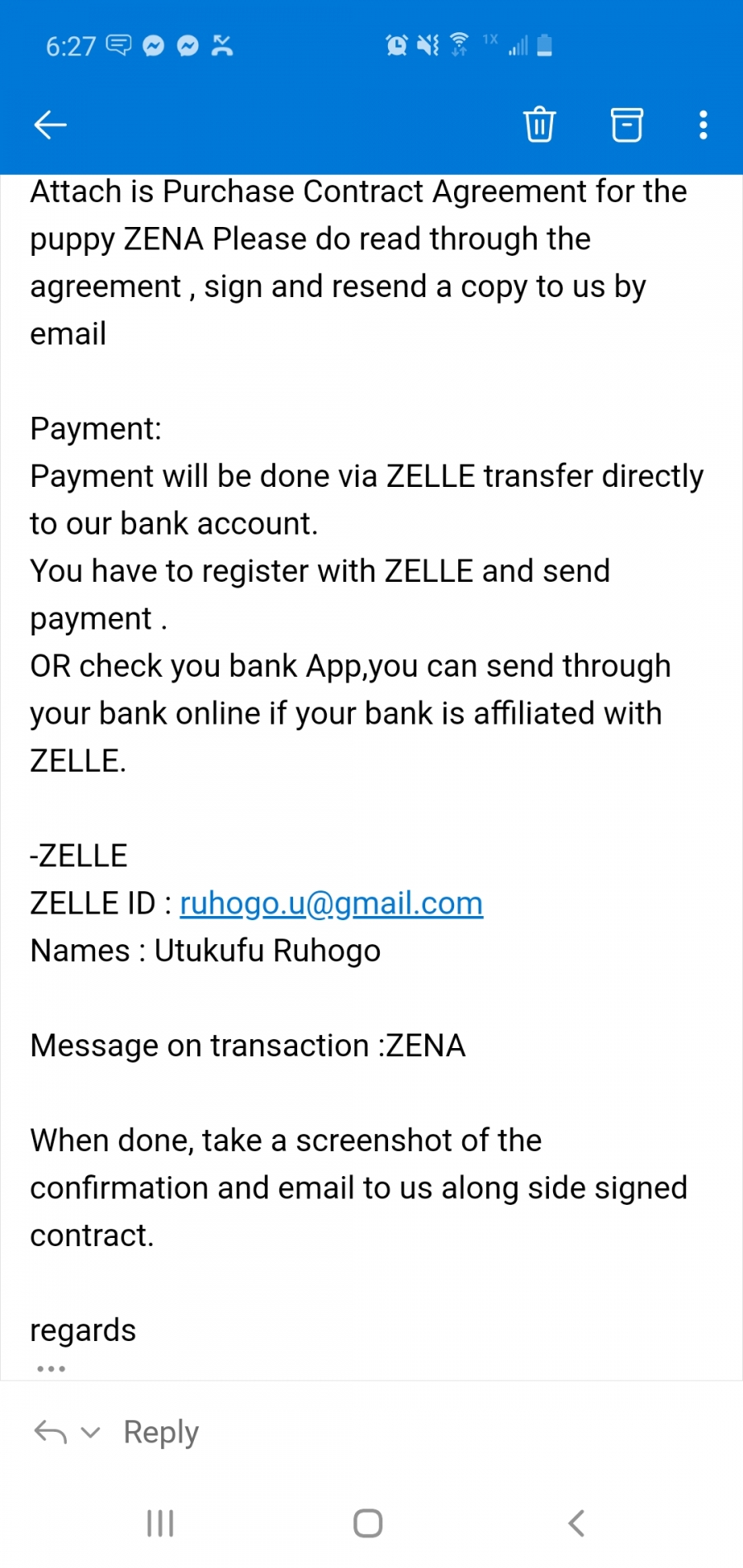 Trevor – May 26, 2020
I just want to thank all of you for posting about this fake site. We were about to make a purchase but suddenly they wanted the payments through zelle quick pay. My wife and I knew right away something was wrong. Hence, I researched the company and found this. How do we stop these people from doing these things.
Stay safe everyone,
Arnisador
Stacey – May 21, 2020
I too was robbed by these individuals. Mine is the same story except I purchased 2 dogs so I was out of $1800. Once I called them on it – they changed the phone number and never called me back – stopped responding to the emails. I'm so hurt and angry and mad I didn't see the signs at first. I disputed all charges and fortunately I have a good relationship with the bank so I'm getting my money back, but I was more disappointed that I don't have the dogs I truly wanted. These scammers are horrible and relentless.
They also are affiliated with the fake Royal Transport Company. They sent me an initial email as well saying the dogs were registered for shipping, but never called back once they found out I knew about the scam.
Jonathan – May 18, 2020
Victim Location 35210
Total money lost $920
Type of a scam Online Purchase
Puppy Scam web site was called SweetDobermans.com they ask for payment thru Venmo or Zelle (redflag). The next day I got a email from royalpetdelivery Basically asking for $1500 pet insurance in order to deliver the puppy . They also wanted payment by zelle or venmo. That's when I knew it was a scam. You don't need pet insurance to transport a puppy. I asked the seller for a facetime of the puppy. he said that the transportation company had the puppy , so it couldn't be done. I called the transportation company No Answer!!
Total Scam Beware of this Company!!!!!
Angel – Apr 17, 2020
Victim Location 55303
Type of a scam Online Purchase
We are looking for a doberman puppy. We found the website online. We text the number on the website and got a response. We then asked questions but they would not talk by phone. They said they were email us information. Their email had broken english and the spacing was incorrect so we kept asking question and requests for instance, "Can we see a video of the puppy?" They said they would send over the purchase agreement to be signed and would ship the puppy to us. That's when we decided to look up to see if it's a scam.
Here is a copy of the emails:
From: [email protected]
Sent: Thursday, April 16, 2020 6:09 PM
Subject: Doberman Puppies Available
Hello ,
Thanks for the mail and your interest towards our
puppies,they are champion bloodline, registered,vet check , updated in
all shots.Comes with a 2 year health guarantee well tamed and potty
trained, good associate of kids and other house hold pets also very
eager and. energetic to lean.To begin I will start by asking you some.
questions, sorry for all the Questions just to be sure the puppies are
going to a good home.
Are you a breeder?
Are you use to this breed?
Do you have kids?
What is your occupation?
Give me a Brief Description about your Environment ?
Are you sure that you are going to take care of the puppy ?
Where exactly are you located?
Which of the puppies do you need?
check from our website
With this information I will be sure that you are going to take good.
care of the puppy ,And I will be Very Happy if you can get back to us.
with all the Answers to the Questions ,each puppy comes with all
Registered documents,puppy formula, traveling Kennel, A couple of weeks
food, 2 year health Guarantee and a Nutrition hand manual regard to
their feeding also with a Pet degree sanction.The fee is 700, if you
want ears cropped it will cost an additional 120.
All puppies are Clear
– Clear DCM 1
– Clear DM (Degenerative Myelopathy)
– Clear Dings (Congenital Deafness)
– Clear Z-factor (Oculocutaneous Albinism)
– Clear GPT (liver)
– Clear MDR1 (drug sensitivity)
– Carrier vWD
– Genotype #7 red
– Clear for an additional 160 DNA profiles
All puppies are health-tested for
– Cardio Echo
– Cardio PDK4
– vWD
– OFA Hips & Elbows
– OFA Patellar
– OFA Eyes
– OFA Dentition
– Thyroid
– Brucellosis
– Albinism Z-factor
– Dings
– Degenerative Myelopathy
– Genetic Drug Sensitivity
Get back to us with the complete answers to the questions
Regard
—
This email has been checked for viruses by AVG.
https://www.avg.com
Austin
To:
Shannon Rothstein
Thu, Apr 16 at 8:19 PM
Austin Rothstein
From: [email protected]
Sent: Thursday, April 16, 2020 7:13 PM
To: Austin
Subject: Re: Doberman Puppies Available
Hi,
It was nice reading from you, Thanks for your interest in KIRA,She is
10weeks old,The fee is 820 for her with ears cropped, We are located in
TEXAS, shipping will cost an additional 100 , all we need is a home that
will love and take good care of her as a family member not just as a
pet ,she is vet checked and will be coming with 2 year health
guarantee papers,she is house trained and Potty trained ,she eats
2 times daily .she is socialized with kids and other house hold.
pets,she loves to be kissed .
We shall need your information to prepare a Purchase Bill of Sale
agreement and send to you before any payment is made by you,we shall
need the below information from you.
YOUR NAMES :
HOME ADDRESS:
CITY:
ZIP CODE:
PHONE NUMBERS:
NAME OF NEAREST AIRPORT TO YOUR HOME:
Once we have these information, we shall prepare the bill of sale.
agreement with warranty for the puppy,sign and send to you, and as
soon as payments are done as requested we shall proceed to have the
puppy registered for shipping to your address and get back to you with
tracking number for the delivery. You will be having the puppy with all
papers, toys,food stuffs ,hand booklet and some cloths . Kindly
provide us with details needed as above to prepare bill of sale
agreement.
Regards
—
This email has been checked for viruses by AVG.
https://www.avg.com
Reply, Reply All or Forward
Send