Mandy – Nov 08, 2020
Hello, I am messaging with Mable Hope who asked for £200 deposit which I said no to but got the address to drive and pay on collection?
Address in Bristol – puppy price £550 – social media not linked.
Person who contacted me is Mable Hope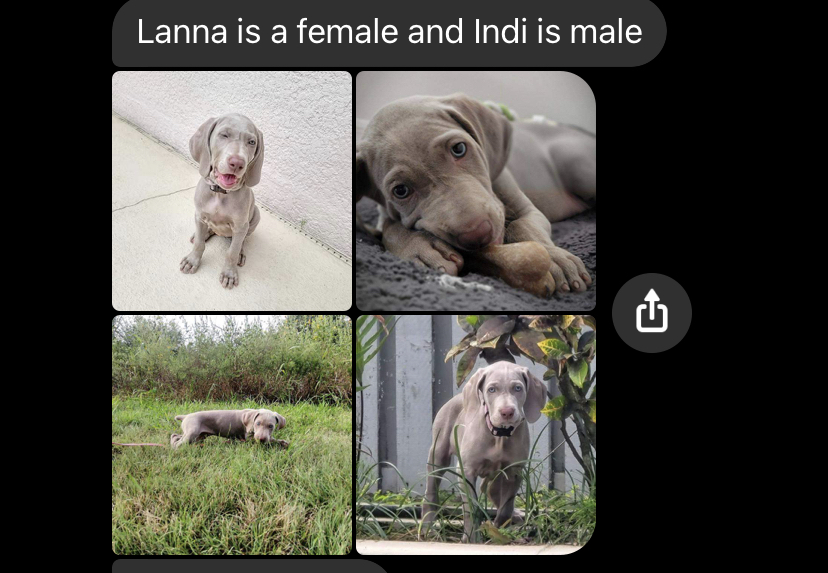 Joanna – Jul 21, 2020
Victim Location 49441
Type of a scam Online Purchase
We are looking for a puppy, a weimaraner specifically. My daughter found this "breeder" online and I inquired about a puppy. "Nana."
Their website seemed legitimate, so I followed the prompts and emailed them for information.
A person by the name of "John" responded quickly via email and then began texting. His responses seemed to evade direct questions, which made me become suspicious. I finally asked for vet information. He responded with just a phone number. Then I texted again asking for the Vet's name. He responded with "Paul Hope" He then proceeded to tell me that he preferred if I just "texted" the vet. I ran the name "Paul Hope" through the Ohio State licensing website, and found that there was no licensed veternarian in the state of Ohio by the name of Paul Hope. Upon a search of the name, I quickly found a link on Skammed stating that someone else had purchased a puppy online through a Paul Hope and never received the puppy. That particular puppy was purchased from "starpitpulls.net" I was attempting to purchase a dog from "starweimaranerpuppies.net"
I responded to this "John" and let him know that I had done a license check and that Paul Hope did not hold a vets license in the state of Ohio. I never got a response back.
I did not pay any money to this person, I am out nothing, but I am reporting it to stop someone else from being scammed.
Thanks!
Logan – Aug 04, 2020
I nearly got scammed too. "John" has been emailing me only but I could never get a hold of him through call. I felt that there was something off and decided to check through their website carefully. None of their social medias (facebook/instagram/twitter) brought me to their social media account. I almost lost $1,000+ buying two puppies. Thankfully I saw this report before buying the puppies. I hope the website gets taken down soon for scamming people.