Leah – Feb 19, 2021
Scammer's phone (714)453-9292
Country United States
Type of a scam Other
Initial means of contact Phone
A lady by the name of Judith stating that she's calling from "LEGAL DEPARTMENT STAFFORD & ASSOCIATE " and that they recieved a complaint and it's a legal matter and in regards to paperwork dropped off at the property at 377##### Sul#### which she mentioned in voice-mail is my address and no one has came to my house. Not to mention my house has 5 cameras out in front and side of the house. Once I call to please reference my case #56055. Also, she has questions in regards to the property and she mentions my address again. This collection agency calling to sound threatening like if by them mentioning your address they will come and hurt you.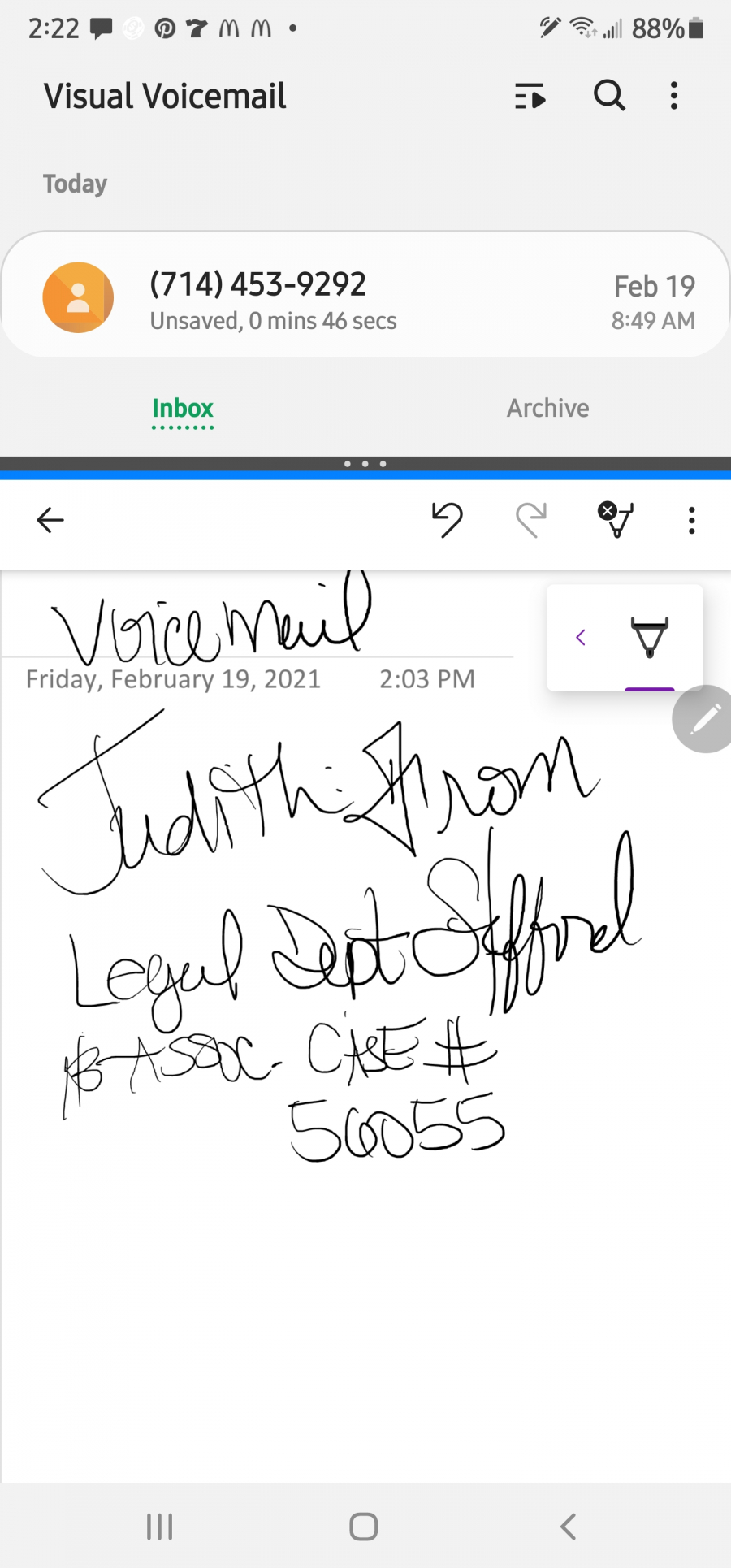 Alan – Dec 23, 2020
Received a call from a Judith calling she was from Stafford Grifford and Associates. Called the 714 453-9292. A very famous scammer by the name of Victor answered stating a different law firm. When asked for one of the attorneys bar number he hung up and before leaving stating I will get paperwork in mail. He said he mailed out two weeks ago from Orange County. What a joke scammer be aware. He didn't even know who he was calling. Couldn't pronounce name right. Lol
Grant – Dec 16, 2020
Received a call from Hilary stating their company has received a complaint against me and had sent me paperwork a few days before she called, no such paperwork ever came. Her words: "It is imperative that you contact us immediately with your file #————-. Then she wanted to discuss my property and gave my address. I guess the buffoon doesn't realize that this is a HUD apt for low income, disabled senior citizens. It sounded legitimate even clearly said my name. This is a SCAM. These are lazy, evil people, the sad thing is they keep doing it, especially to the most vunerable, senior citizens, because it works. Their number: 714-453-9292
Tina – Nov 23, 2020
received a call from this company today 11/23/2020 .. claimed they sent me paperwork and as of this posting i have none and pretty much matched the claims i have just read about … refuse to talk to them about anything unless i have real paperwork
Abby – Nov 17, 2020
Got a voicemail from Hillary stating they sent documents to me and all… but never received any and threatened to file a case against me… this is scamming really is getting worse!
Teresa – Oct 07, 2020
Received a phone call today from them. Stated they mailed papers out to me a few days ago, which I not received. Papers are in regards to a complaint received regarding me, it requires immediate attention. They also wanted to discuss property that we own currently. Thank you all so much for these warnings – I will NOT call them or give any information to them. Actually, I am blocking their number.
Samantha – Sep 02, 2020
So do you want to put a scammer on blast? 714-453-9292 look up this number. During a #pandemic they call you & try to scam money from you if u had court papers they get your number & say u owe money now & take payments. total scam. Hillary leaves message & Victor scams incall They are bad. They work out of an apartment it looks like in San Diego they don't have a website they call from a blocked number and yes victor is the bad cop here. He threatened me with all kinds of stuff. Talked about a debt I owe from over 5 years ago that was paid off already. Scam look out and look on Twitter under #pandemicscammer #covidscamcall 714-453-9292 not sure about the San Diego address just found in research
George – Aug 25, 2020
My brother received a call from Cindy back in February of 2020 regarding a loan that was defaulted on my my ex husband. I provided divorce decree and court order regarding the loan and who is responsible for said loan. Cindy assured me that I was in the clear and in no way liable to repay the loan. She stated she spoke to the attorney and he cleared it. She offered me a 20% deal to remove it from my credit immediately but assured me I was NOT obligated to pay for the defaulted loan. I opted against the 20% deal due to finances and the fact that the loan was already 7 years old. 7 Months pass and Victor calls my mother demanding payment for this loan. Leaves a voicemail on her phone regarding the property I now own. (I did not own this property when Cindy contacted me 7 months prior). After explaining how upset i am that he is now calling me he stated all the notes line up but I don't have 'proof' that Cindy took care of the situation. He promised to take care of me if I resent the documents after arguing with him and requesting his supervisor. I resent the documents and got a call back from him asking for someone else, I told him who I was and he stated he'd call me back in just a few minutes. He never called back so I called him, again he said he'd call me back in 10 minutes, after 20 minutes he called and stated I am responsible for the debt his coworker assured me I was in the clear on. He stated he was the supervisor and refused to give me a name or number to his supervisor. He stated I am now responsible for the defaulted loan (7 months later) and that his supervisor is the owner of the company and refused to give me his name, he then claimed he was the owner even providing me his name as the owner name. He was sarcastic and rude. He continued to call me different names other than my own and even left me two voicemails for other people. This company is a fraud, do not give them your money. They lie cheat, steal and pray on single mothers. Further more if you solved an issue or paid a defaulted loan with this company be sure to get it in writing.
Randi – Aug 04, 2020
Just told me I owe $886 and needed to pay $100 now and $486 later. Wish I had looked into this.
Chase – Aug 21, 2020
Hi. I just received a call from this company saying there is a legal matter on their desk and they want me to call them about it under my name so things do not escalate. Is this a legitimate scam? Did they ever put a judgement against you?
Joanna –
Victim Location 11554
Total money lost $100
Type of a scam Debt Collections
I received a call over a year ago from Stafford Group Associates demanding a payment on a credit card. The caller was threatening and convinced me to sign a e agreement and set up a payment plan. They took 100 dollars. I researched the company after (I wish I had before) and there are only negative comments about this collection agency. The caller scared me into signing an agreement I couldn't continue. Just today, over a year later, I get another call stating there is going to be a judgement against me. The initial credit card has come off my credit report because of so much time going by. This company is not legitimate. Do not give them any of your money any info about yourself! They will use it against you!