Naomi – Apr 29, 2020
Scammer's phone Na
Scammer's website Www.sout x mart.com
Scammer's address Internet
Scammer's email Na
Country United States
Type of a scam Online Purchase
Initial means of contact Not applicable
I purchase a 5 in 1 play set with balls and had not received the item however the money was taken from my account but no item delivered yet since April 20, 2020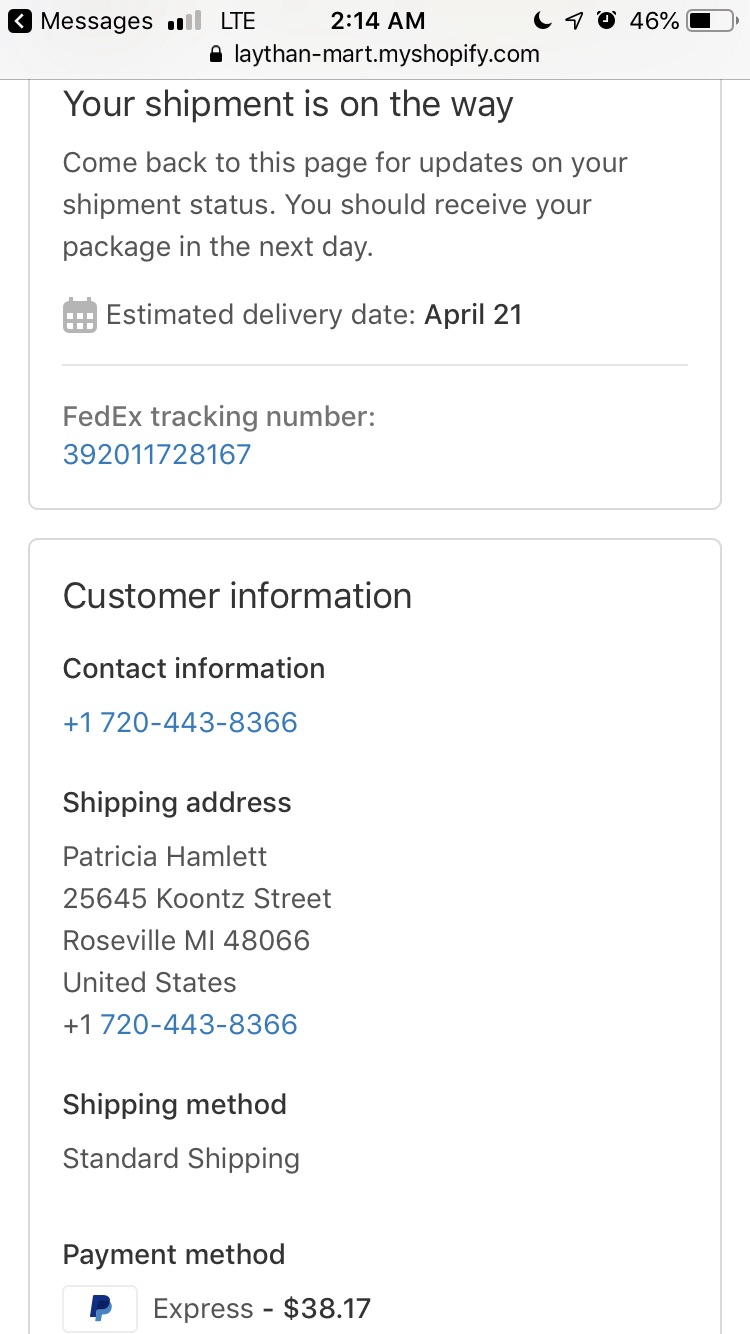 Brandy –
Order 2297 I did my order in November 29 2019 and It got canceled also I didn't get refunded! THEY ARE SCAM
Kaitlin –
Victim Location 92336
Total money lost $39.98
Type of a scam Online Purchase
On 12.2.19 I ordered a Little Tykes Activity Center Baby Playset for $38.99 from Sout X Mark. I received an email from the company, [email protected] stating they cancelled my order and would receive a refund. This was December 4, 2019. Cancellation email sent from the Company dated December 16. I searched the internet but there is no telephone number listed. I sent them 3 separate emails questioning my refund but no one has returned the emails.
Nicole –
I placed an order with sout x mart on November 27th for $53.20 for a Ninja air fryer. It said it was shipped on December 6th. I still haven't received my order and have sent 2 emails with no response. One to [email protected] and another one to [email protected] Order #2214.
Louis –
I placed and order with them on December 3rd 2019 for 74.09 I received and email about my order From Sout X Mart and a email from PayPal for my payment to Leoleo Sout but I paid with my debit card I didn't pay thru PayPal.
On December 5th I received an email from Sout X Mart that my order had be canceled and my money was refunded.
No money has been returned to me and I have sent them 5 emails and no response back from them!
Do not order from Sout X Mart this is not a real store!
This is the info I found and there is no number to call.
The website is still up and running!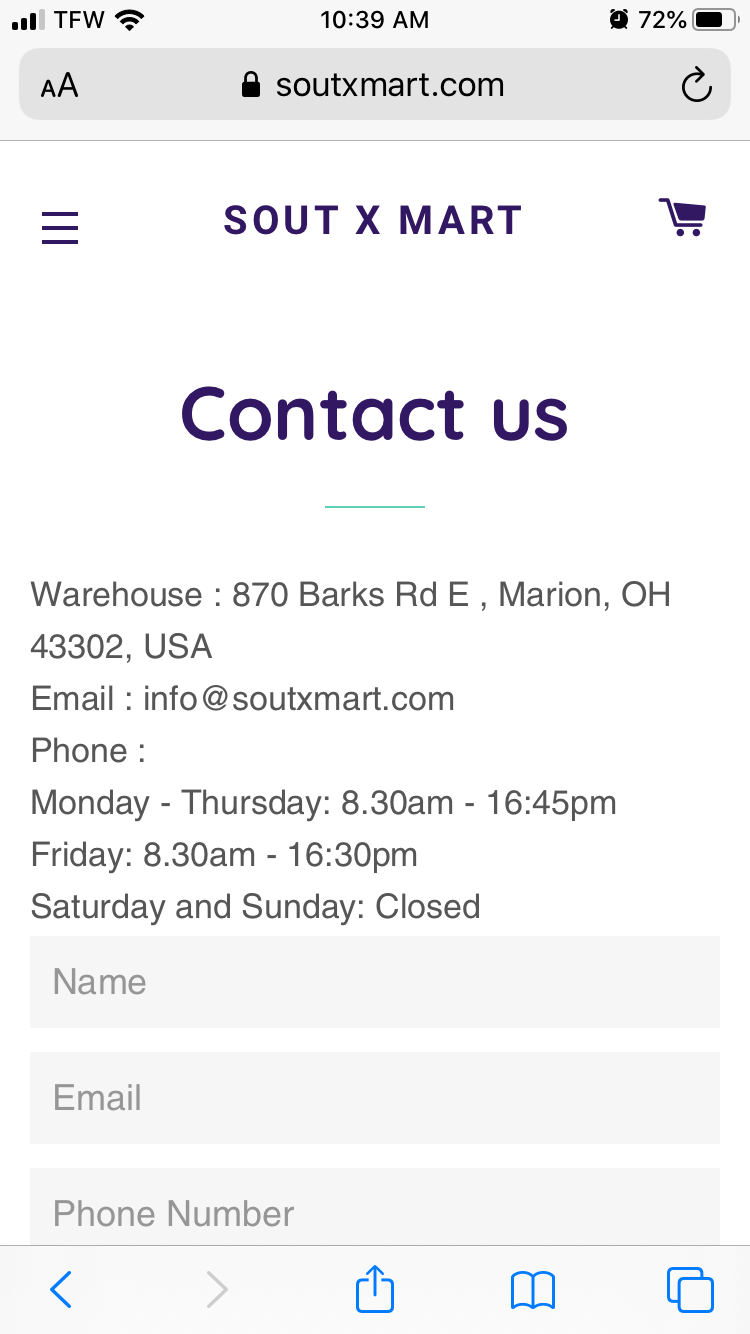 Janet –
Same for me…ordered a little tykes play set they took my money right away for Ching Nyguyen but never got any email or any cancellations notice…so now disputing with PayPal to get refund.
Cory –
SAME Ordered a coaster toy and recieved a message saying it was canceled. No response from website. Filed complaint with paypal
Manuel –
I purchased an air fryer on 11/23/19. On Thursday 11/28/19 I received a text ( since this is the only way they communicate with you) that my order was canceled and I will be refunded. I placed the order with PayPal so I filed a dispute with them since I have yet to be refunded. I tried emailing, texting the number back and nothing. I have no idea in my mind that this site is a scam and do not buy anything from it.i only wish I saw this reviews first !
Tristan –
Hi everyone,
Sout x mart, Is not a real store, not even an online store. They play games!
They don't have contact info, they send from different addresses and phone numbers every time! They also put a Wrong phone number on the box they shipped! no way to reach them. I but an air fryer on Nov 24-2019 and they sent wrong size and I couldn't return it. The Label on the box I received Is Sent from Bed Bath and beyond In New Jersey.
Order #2157
Purchase day 11-24-2019
Phone numbers they used for texting shipping notifications
‭+1 (951) 460-1340‬
‭+1 (323) 577-7185‬
Beth –
I ordered Britax 2 car seat bases for the amount of $115.89. I only received one that came from buy buy baby in another persons name and credit card number and it took forever to get the one. . I have sent 3 or more emails asking for my other car seat base or refund. No response from them and I can't find a phone number for them. Do not order from them. They ripped me off and they don't respond.
Carlos –
Victim Location 43302
Type of a scam Online Purchase
I googled my address and realized that this online company is using our home address as their "warehouse" address. This is very concerning as this company is giving false information.
SOUT X MART
SEARCH CART
Contact us
Warehouse : *** *** ** * , Marion, OH 43302, USA
Email : [email protected]
Phone :
Monday – Thursday: 8.30am – 16:45 pm
Friday: 8.30am – 16:30pm
Saturday and Sunday: Closed
Brett –
Victim Location 29687
Total money lost $60.99
Type of a scam Online Purchase
On 9/10/19 I placed an order for a Britax car seat base and paid a total of $60.99 to company and received a confirmation email. On 9/18/19 I received an email that the company cancelled the order and would be issuing a refund in the total amount paid, $60.99. I have yet to receive a refund. I have emailed the company on 4 separate occasions asking where my refund is an have not received a response.
Britax B-Safe 35 & B-Safe 35 Elite Base
Order #: 1262
Purchase Date: 9/10/2019