Phillip – Oct 16, 2020
These are substandard products for the money you will spend. I am trying to go through my bank for the second time to get my money back. Unless you like bathroom rug mat quality that you would purchase from Dollar Tree DO NOT PURCHASE. You are never able to speak directly with anyone nor are there any response to your email.
Cristina – Aug 05, 2020
It comes in a plastic bag and is not a rug or a carpet but a material pattern piece of crap!
Bobby – Aug 02, 2020
Victim Location 08505
Total money lost $83
Type of a scam Online Purchase
Messaged on numerous occasions under the last 3 months…. Where is my money back…. Still have not received the item and still have not received the tracking information and the delay it's not due to covid because I have received a lot of online purchases till this day. I am reporting you the ScamPulse.com as well as every social media platform that your store is fruad and they steal your money. I want my money back and I have not gotten any response from this business about the product I paid over $80 for don't go to them done buy anything because they scammed me and never sent the product to gave me a refund
Brett – Jul 06, 2020
I saw a beautiful rug through another website when i bought my house 4 years ago. It was really expensive. I actually painted my walls to match the rug which i planned to buy but decided to hold off since my dog seemed to like peeing on rugs. I figured at some point i'd buy it because she wouldn't always be around but wasn't in a hurry to fork out all that money. By the time a got around to ordering it a couple years later, it was no longer in stock. Fast forward to April 2020. I saw an ad, the EXACT same picture that was used on the legit website i was going order it from originally, and it was way less expensive. I figured it was overstock and jumped at the chance to finally have the rug to match my house perfectly. I ordered 3 of them…one large area rug and tow smaller ones for in front of my doors. I received a small mystery package a couple months later. To my surprise it was my "rug". I actually laughed when i saw it. It was a cheap mat that had a picture of the rug i loved printed on it. You can even see the individual tufts of carpet fiber if you look at it closely. This rug was folded and crammed into a small package, leaving creases all over so it can't lay flat. The color wasn't even close to what they advertised. The background color of the rug they advertised was a seafoam green but the actual background color of what i received is gray. It has a black trim to cover up and finish the cut edges of the mat. It isn't even straight and won't lay flat. It's a joke and would never have purchased this item if they had used an actual picture of what they were trying to sell. Fortunately I purchased it through PayPal and hopefully will get my money back. MEWE replied to my claim through PayPal but has not replied to my emails that i sent to them directly. I think they are hoping that if they reply through PayPal and keep asking me to send stuff directly to them, more pictures, etc. that it will look like they are cooperating and the 3 week period that PayPal requires to allow a seller to reply to a dispute before filing an actual claim will run out. It's interesting too, how that website no longer works! Normally i'm more cautious than i was this time and check out reviews, websites, etc., but since my dream rug miraculously reappeared in an ad, my heart bought it before my brain could question it! Always do your research before purchasing anything online!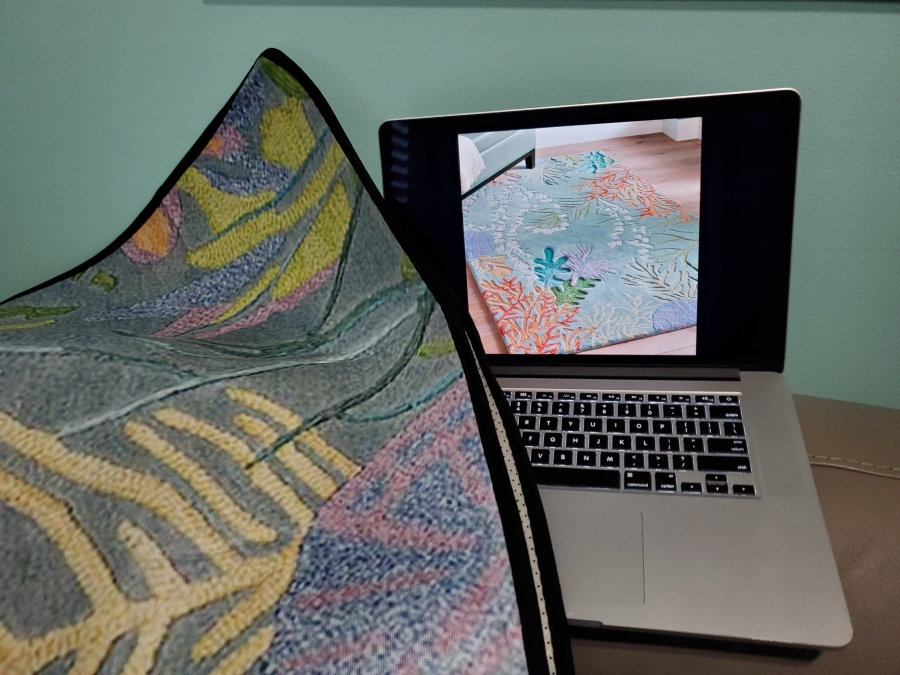 Anthony – Jun 30, 2020
Much of the same issue as others. No customer service to speak of. I emailed them 3 times before they sent my the pre recorded email with a bogus tracking number. First it was it was going to a USPS site in Brooklyn NY, then to a USPS site in Bloomington CA. Now it is going to USPS IN Greenwood IN., still waiting on bed spread doubt that I will see it. this company is not to be trusted. do not buy any thing from them! This is a Scam company!
Jerry – Jun 29, 2020
This is a scam! I ordered a baby blanket on a Facebook ad on April 24 and received a fake tracking number. Never received. When I tried to email the lady kept saying it was on its way and gave me a new tracking number. Then nothing. I have since read online that many people have been scammed by the #RUGGEDEN or MewGallery as they are called. Please beware!
Kristen – Jun 26, 2020
I ordered. Quilt set for my daughter back in March. Paid full price on my Visa debit. Made numerous phone calls or numerous emails to some Jonathan guy that told me my tracking number was invalid and that he will contact somebody and get back to me with a different tracking number. I never heard anything back from him. So I emailed again and still have not received any replies. There is no contact phone number that I can see anywhere so I continually try to email with no lack of course. So this to me is a definite scam and it's really unfortunate because it will it look like a really good product and I hope these guys are my visits cuz this is not the way to do business. I will be looking into a way to follow this up on some sort of scam web page and maybe through my bank so that I can get my money back since this was a fraud deal. Will never return from them obviously again and neither should anyone else.
Tracy
Marisa – Jun 14, 2020
I ORDERED A QUILT, THROW, MASKS AND FILTERS FROM MEWE GALLERY/RUGGEDEN. NOT ONLY DID I WAIT 2 MONTHS, BUT THE ORDER WAS MISSING THE MASKS AND FILTERS. ($165) THE QUILTS ARE SEVERLY CHEAP AND NOT EVEN CLOSE TO THE PHOTOS. I HATE TO THINK THIS WAS A SCAM, BUT UNFORTUNATELY I THINK I HAVE MADE MY LAST ONLINE PURCHASE. I WILL DO MY UTMOST TO SOLVE THIS!
Mario – Jun 10, 2020
I ordered a rug on April 22nd paying $54.90, thought it was a great deal due to the rug was beautiful and the website
had a great sale going on. I've waited a month in a half for a small foam rug be delivered to me and look NOTHING
like the photo on the website. I am VERY disappointed in my purchase. Lesson learned all website with great looking products can still be a scam.
Wendy – Jun 05, 2020
Victim Location 73701
Total money lost $75
Type of a scam Online Purchase
We ordered 2 rugs from this company and we never received them.
Jodi – Jun 02, 2020
I ordered bedding set on April 21, 2020. My card was charged right away. The status changed to shipped 3 weeks later and I also got a fake tracking #. I have not received my bedding and no one will answer the messages I sent. That is the only way offered to supposedly contact anyone.
Valerie – Jun 01, 2020
Same as all the others. I ordered a quilt and was promptly charged for the purchase. I emailed the company last week and they told me to "Wait". Today is June 1st and I think that I have waited long enough. I received a fake USPS tracking number indicating the item was shipped on April 22, 2020. It has been six weeks and USPS is still waiting on another carrier? I don't think so. Fortunately, I charged this to my Capital One card. They have an entire Fraud department which will look into this and my money will be refunded.
Kelsey – May 30, 2020
Scammer's website Ruggeden.com
Scammer's email [email protected]
Country United States
Type of a scam Online Purchase
Initial means of contact Email
I ordered a queen size comforter set and paid for it and it just says shipped. It's been 2 months and countless emails and no response from them. There is no phone number and no other way to contact them. I'm requesting a refund. This is a total scam company do not do business with them.
Kenneth – May 29, 2020
Ordered a rug on April 17, 2020 have not received it when I looked up tracking code it said it was in New York but it hasn't come. I emailed ruggeden and was told to contact them later.
Leslie – Jun 01, 2020
I ordered a rug on April 19. I still have not received it. They do not have an 800 number. I emailed them. They sent me a tracking code, but that code is not found in any of the delivery systems. Now when I try to search on the run the web page just spins around.
Matthew – May 23, 2020
Victim Location 98607
Total money lost $59.90
Type of a scam Online Purchase
I saw an ad on Facebook for an area rug that would be perfect for my guitar-playing son. I didn't question it, since it was on FB (I know, stupid!). I ordered it and paid with paypal. On 4/22, my credit card was charged 59.90 for "MEWEGALLERY." Next time will definitely do more research before placing an order.
They had a beautiful ad that was very appealing. Crazy that Facebook allowed them to advertise. May have taken it down by now. The website is still on internet.
Here is the confirming email I received (redacted):
—-Original Message—–
To: xxxxxxxx
Sent: Tue, Apr 21, 2020 9:08 pm
Subject: [Ruggeden] #RUGGEDEN-xxxxxx Order confirmation
Your order confirmation
Thank you for shopping with us, below is your order confirmation.
Order Number: #RUGGEDEN-xxxxxx
Order ID: xxxxxxx-xxxx-xxxx-xxxx-xxxxxxxxxxxx (For Tracking)
Guitar QN230818TM Round Carpet Price: $49.95 Quantity: 1
Shipping address:
Full name: xxxxxxxx
Address: xxxxxxxx
City: xxxxxx
State / Province: WA
Zip: xxxxx
Country: US
Order summary:
Subtotal: $49.95
Shipping fee: $9.95
Discount: $0.00
Total price: $59.90
Another email they used is [email protected]
I have tried to contact them – sent emails of inquiry, tried to track with the order number and tracking number they provided, but their website does not recognize the numbers and they have not responded to any emails. Just wanted you to have this info for your records. Thank you.
Mitchell – Aug 05, 2020
This is crap product that came on the slow boat from China with no return address instructions or information. Luckily American Express has blocked payment until they return their info as they state 100 percent return policy?
Michele – May 06, 2020
Victim Location 80916
Total money lost $109.95
Type of a scam Online Purchase
I order a rug and never received it. I got the wed page from Instagram.