Gabriel – Dec 15, 2020
Lost 137.00 in Sept. Never got anything paid with paypal i want my money back. How do we get our money it was for my grandbabys
Rachael – Dec 12, 2020
Just another American that list over $100 and received nothing in return. Now I see similar products being offer from another company on the net. Same basic construction equipment. Why are these scams not being shut down immediately? They can shut down political info they don't like but allow hundreds of thousands of dollar to be scammed? Make a hell of a lot of sense!
Michelle – Dec 01, 2020
On Sept. 25 I've ordered a bulldozer with dump truck for my 9 years old grandson's birthday. Money from my Visa has been withdrawn on Sept. 28: $ CAD 149.87 , including $7.99 of my choice for express shipping and trucking number (never got one too). Third month on the way, 4 unanswered e-mail to Right Click Today, phone call to not existing number, and no products. On Visa statement it showed up as Neatexpress, order confirmation came from China (instead USA). Better Business Bureau- learned today- has warning posted about them. SCAM- be aware!
Erin – Nov 28, 2020
Ordered 3 RC construction toys in August for USD136. Received tracking number which had item coming from China despite ad saying items are shipped from USA using USPS. Eventually (early November) received small static excavator. Numerous emails remain unanswered & phone number is disconnected. FULL ON SCAM. Website is still active late November. DO NOT USE. Will attempt to get money back from PayPal but don't hold out much hope
Sarah – Nov 19, 2020
Wow i placed my order on the 28th of August and on the 10th of November (I did have a tracking number) 1 tiny excavator turned up .. no sign of dump truck or bulldozer ! and I dont expect them to turn up either … should have know the deal was too good to be true .. ps even though it is saying the payment is in American Dollars the item has come from China and the box the excavator is in has all chinese writing over it SCAM !
Jorge – Nov 17, 2020
I ordered 3 trucks for my grandson in August. The money was taken out of my account immediately and I'm still waiting for the trucks. I have emailed And of course no response. Be aware of fraudulent companies.
Carrie – Nov 13, 2020
I purchased an excavator, bull dozer and dump truck on Oct 4, 2020 only to never receive a shipping/tracking number. I have sent numerous emails requesting contact but haven't had any! I have obviously lost $140 'This is a fraudulent company! DO NOT PURCHASE FROM RIGHTCLICKTODAY!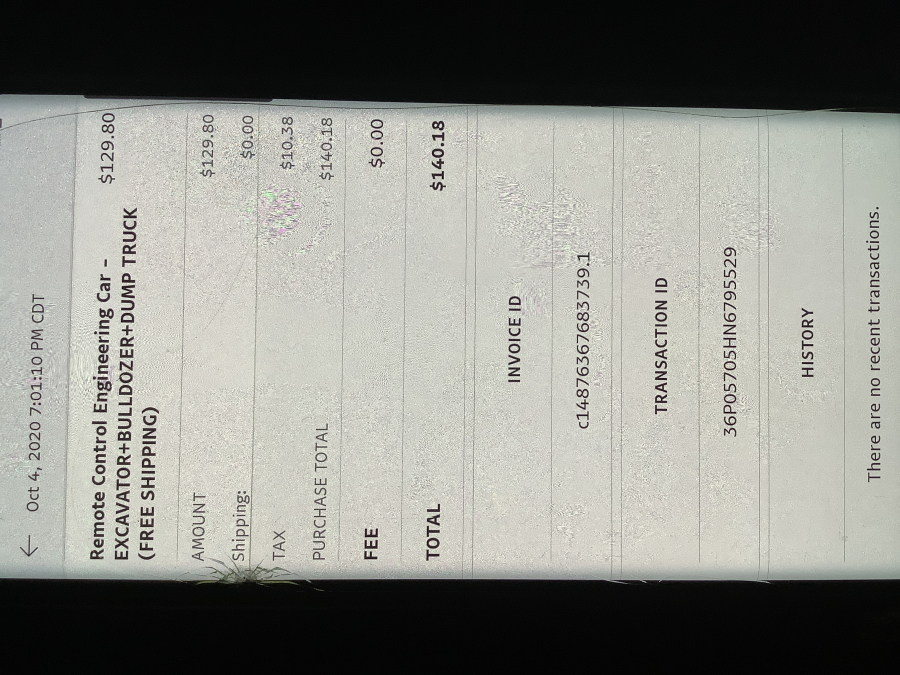 Rafael – Nov 11, 2020
I ordered a Christmas present for my grandsons in September and now I can't reach the company to see where it is or for a refund. Have emailed several times and the phone number they uses is connected. I can't believe people have no heart by stealing peoples money
Carla – Oct 29, 2020
Scammer's email [email protected]
Country United States
Type of a scam Online Purchase
Initial means of contact Social media (e.g., Facebook)
On Aug 28/20, I ordered 2 big remote control trucks. I never got a tracking number nor will they answer my e-mails. They received my payment of $128 USD, I made by PayPal. FRAUD!? I want my money back or the correct products. I don't have this kind of money to through away!
Brittany – Oct 27, 2020
I ordered 4 items got 1 and it was a little bigger then a matchbox car! I'm pissed
Andres – Oct 26, 2020
I ordered remote control trucks Oct 3 rd and they have taken my payment for $129 I have emailed several times with no response. I want my order or my money back
Erika – Oct 18, 2020
I made a purchase over 2 months ago and I've not received the items. I have sent 4 emails and no reply
Alana – Oct 12, 2020
I bought product Sept 29th and no response to 3 emails. I called and number disconnected.
I never received any product, or email response upon trying to contact them.
My pay pal invoice was to Ha Thanh Chung.
I believe this to be a total scam!
Beth – Oct 06, 2020
The website came up on Facebook. I ordered 2 items and never received them. The phone number listed by Rightclicktoday is disconnected. According to my electronic receipt from Paypal, my money went to Ha Thanh Chung, an immediate red flag. I lost $128.
Sergio – Sep 15, 2020
I ordered some RC tru ks online over 6 weeks ago and I haven't received them. I had sent over 15 emails and tried to contact them and no luck. Don't waste your time and money with this company
Neil – Jul 16, 2020
Victim Location 53226
Total money lost $86.97
Type of a scam Online Purchase
I paid for an item on this website that I still have not received. I think it's a scam website and I've lost $86. There is no contact information – no address or phone.