Tristan – Nov 21, 2020
Ordered a hammock chair back in June yo take on a camping trip. Got an email that it had been shipped but here it is November and nothing has shown up. Angry doesn't begin to describe.
Just want my order. Now I want my money back I can't get anyone to reply to my emails. Sorry business 😡😡
Taryn – Oct 11, 2020
Ordered several months ago, never received item. Link no longer works. Scam 🙁
Stefanie – Oct 01, 2020
I ordered back at the beginning of June and was charged 33.90 and have YET to receive any order, update, or return email. Unbelievable!
Rebecca – Sep 17, 2020
I purchased May 30th and to this date, 9/17/2020, still nothing. I have emailed with no response and have tried to track my order. When I try to go to view my order, it takes me to a screen that says they'll be back soon and that the website is currently unavailable. Horrible.
Edward – Sep 01, 2020
I placed an order for the Hammock Recliner in June 2020. It is now September 1st, and I STILL have not received my order. I have messaged them multiple times over the past months and have NEVER received a reply. They took my payment just fine though. This has to be a scam. I would like to get my $16.95 back! How can they get away with this? Very dissatisfied customer here!
Benjamin – Nov 21, 2020
Me too they had no problems taking the money and I am still waiting on my order. 😡😡
Cassandra – Aug 19, 2020
I ordered 2 RECLINER LUXURY CAMP CHAIR on July 4 of 2020 and I paid $33.90. My order number is 1708. I have tried many time contacting the company thur email at [email protected] with no reply. Very upsetting to be scammed! I just want my chairs or refund my money, please. Thank you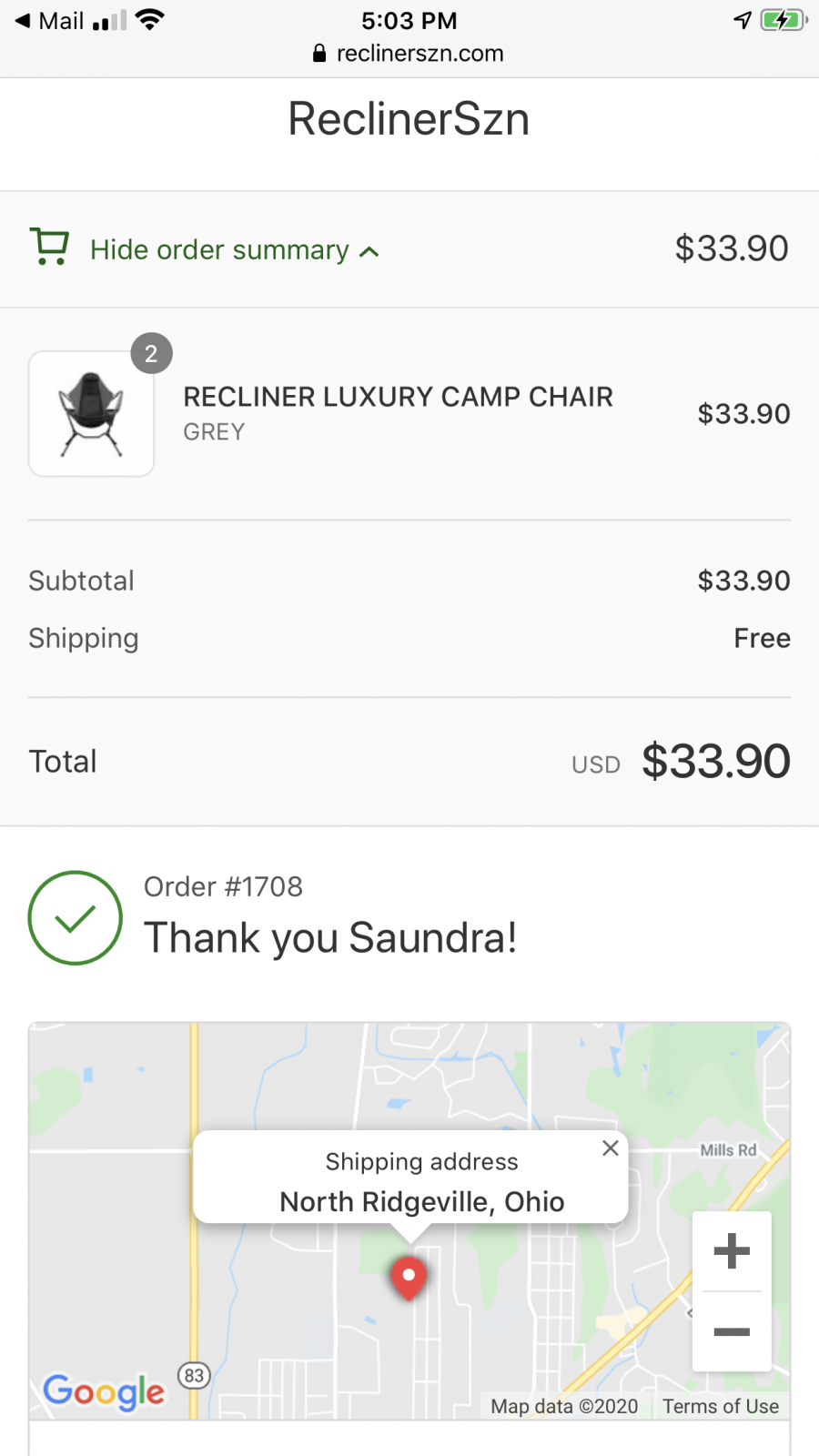 Ann – Aug 14, 2020
Ordered July 5th. Reached out after giving them a month to deliver. No response. No refund. Scammers suck!
Andrew – Aug 02, 2020
Ordered 1 chair on July 1,2020. Havent recieved anything yet. Order says shipped when I try to track order nymber it says cant find order number. I have sent 6 emails, with no replys.
Jack – Jul 31, 2020
We ordered 2 chairs on May 28th and it is now July 30th and still no chairs we have tried contacting reclinerszn via email 4 times and still no response. Very dissatisfied!
Nichole – Jul 30, 2020
Victim Location 53188
Total money lost $39
Type of a scam Online Purchase
I ordered two recliner outdoor chairs from an ad I saw on Facebook. They took the money out of my account, I paid for expedited shipping and a month later I still have not received my items. I have sent them at least four emails and not a response. There is no address on the website, it just says the company is located in Los Angeles, CA. I think this is a scam though.
Cristina – Jul 28, 2020
Ordered and charged for 1 chair on July 1st. It's the 28th and still no chair. Then absolutely no correspondence after that, no messages alerting me of any delays. I sent several emails with no reply. There's no phone number so obviously a scam. Tracking feature doesn't work wither. I used the supposed order # and it comes up as order not found. I think we've all been scammed. I know better so I got what I deserved. I'm ashamed
Savannah – Nov 21, 2020
Same here. Order not found can't find where you ordered this.
Ruth – Jul 28, 2020
I order 7/16 and received an email stating it was delivered by Fed Ex on 7/18 but nothing on my porch. Reached out to Fed Ex and they are telling me it has been lost so I should contact the company- which I have done with no reply.
Shawn – Jul 20, 2020
We ordered five chairs and still have not received them let alone a shipping email saying they have been shipped it wouldn't be a problem but we paid good money for five chairs and have not received them
Alicia – Jul 15, 2020
Scammer's website reclinerszn.com
Country United States
Type of a scam Advance Fee Loan
Initial means of contact Email
I ordered may 25 haven't gotten anything ordered 3 chairs sent 2 emails with zero response
Sara – Jun 18, 2020
Ordered a chair on June 5th, also paid for expedited shipping. Shows shipped, but no further information and no way to contact other than email, which no one has answered in the last two weeks.
Amelia – Jun 10, 2020
Placed an order. Been saying shipped since May 26. Paid extra to have order expedited. Emailed them 6 times asking were order was seeing they took my money . no reply from company at all.
Lisa – May 27, 2020
Victim Location 66002
Type of a scam Online Purchase
It seems like a lot of the info was copied from galaxysensation.com except the location is in California.