Marvin – Sep 12, 2020
Not a bad experience got my refund instantly, the lady on the phone was helpful
Melody – Sep 12, 2020
Not a scam, there are a lot of other companies out there like this one but most of them are bad. This one however seems to be the only legit company that cares about the customers and helps them.
R. Sanchez who manages this website and company was very polite, refunded my money and changed my address for free.
Thanks,
Dane – Jan 28, 2021
Definitely not a scam I used rapid address change. And the women I spoke with was very professional and helpful. Email me always with updates and every time I would call customer service they would answer and help. They are legit!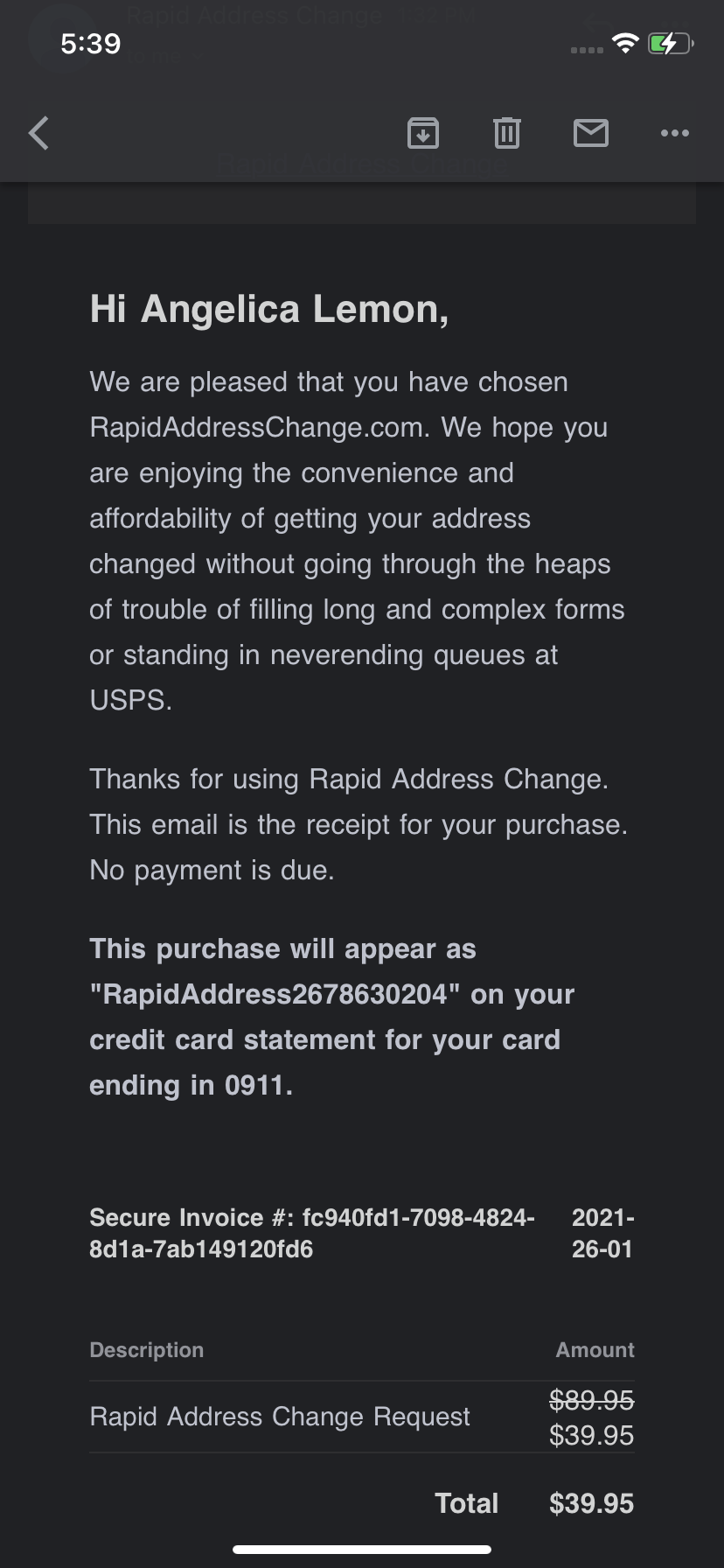 Andrea – Sep 12, 2020
Great people, helped me change my address, I was unable to file it with the USPS as I have like 13 people in my family, costed me pretty much the same with no extra efforts to fill the same form again and again.
Martin Redwood was the representative assigned to my request, I'm an old man with not much info about tech but this company helped big time!
Krystal – May 29, 2020
Me cobraron el dinero pero no veo nada que me diga que me cambiaron la direccion
Mathew –
Victim Location 07302
Total money lost $29.95
Type of a scam Online Purchase
When you google for address change USPS, you get a bunch of companies like USPS and one of them is https://www.statespostalforward.com/and it converts into http://rapidaddresschange.com/ This company has the same form as USPS and then asks for credit card to charge a fee without stating the amount. Next thing you know you have been charged $29.95. As soon as I noticed (minutes after)that I have been chaged that amount, I called the number on the website and i got a message that the number has been disconnected so I sent a message saying that I wanted to cancel the service. They got back to me 2 days later with the following message:
Rapid Address Change (Rapid Address Change)
Aug 26, 7:15 AM IST
Hi,
My name is Andrew Symonds, I have been assigned to your support request and I would be happy to assist you today!
Kindly note, your address submission request has already been processed by our team of Agents. I would like to go over the list of the benefits you have agreed to receive through our one-time address change fee:
1. Address Change with the Postal Office by our Agents to shield you from errors and mistakes in form submission.
2. 24/7 Customer support by our Address moving Experts to expedite your shifting process.
3. Exclusive eBook – "Rapid Address Change Checklist" on How to Make a Smooth Move and Which Agencies to Notify in order to Avoid PENALTIES from the Government.
4. Complimentary Inclusion in the National Do-Not-Call Registry. A Huge majority of our customers have benefitted from this.
5. $500 WORTH of Coupons for services viz. moving, television, broadband, and telephony services.
6. Unlimited Complimentary Resubmissions for your Address Change in case of mistakes and errors.
7. Guidance on Address Change with various Public and Private Agencies.
Because address change submissions are final and irreversible, refunds are not applicable once your address change has been submitted. If we can be of any assistance, please don't hesitate to contact us by replying directly to this email.
Thank you for choosing RapidAddressChange.com, and have a great day!
Regards,
Andrew Symonds
Customer Satisfaction Expert
RapidAddressChange
Attachment(s)
Rapid_Address_Change_How_to_Make_a_Smooth_Move.pdf
I called the credit card company and they couldn't proceed right away as the amount was showing as pending and until it is not posted they can't do anything.
I went to their website and read the disclaimer:
Disclaimer: This site and service is not affiliated with any government agency. The cost for this service includes processing for address changes for a single name or business as well as any processing fees for submitting an online change of address request. The fee also covers inclusion in optional do-not-call list subscriptions, plus discounted services such as moving, television, broadband, and telephony services. As an alternative, users may also go to the postal authority website or local postal office to have mail forwarded for free or little cost (the postal agency will not notify any other organizations for you, however). The site is a private business entity that facilitates and acts as an agent for the address change request process for its users and acts as an authorized agent for users wishing to file their address change request with the postal authorities. Please note that this service acts only as a facilitator and agent for your address change. However, the service will attempt to make every reasonable effort to notify the postal authorities of your address change and must rely on the customer's accuracy in providing correct address change information in order to process the change of address properly. Further, this does not guarantee that the postal authorities will properly process your address change, nor is our service liable in any way for such notification(s) and mail forwarding to be performed by the notified organization. This service submits and maintains your information for postal address change. Because address change submissions are final and irreversible, we do not offer refunds once your address change has been submitted. If there was a mistake in your original submission, we offer free resubmission of your address change as a one time courtesy. Please contact [email protected] to request this courtesy. Users submitting their change of address request may also be presented offers for discounted products and services related to the moving process. For this service we charge a $29.95 one-time fee. The accuracy of the information is the responsibility of the user.
That's the only place where you see the fee and what they offer.
I would appreciate if this company goes under investigation, it only shows on adds and couldn't find anything about it