Javier – Feb 21, 2021
Ordered a jersey for brother at the end of November 2020. Today is February 21, 2021 and I still have not received anything from them. To top things off, I have emailed and tried calling them a total of 10 times, and am yet to hear back from them. Truly don't know what to do other than file a complaint on here.
Neil – Feb 01, 2021
I have ran into the same issue. Ordered FOUR jerseys from this company back in August of 2020. I received one of those months after in November. They do no answer e-mails, messages on their social media pages nor does anyone ever answer the phone number provided on their website. Company is straight bull[censored] & I don't recommend anyone use them. Hopefully with enough complaints they are shut down for good.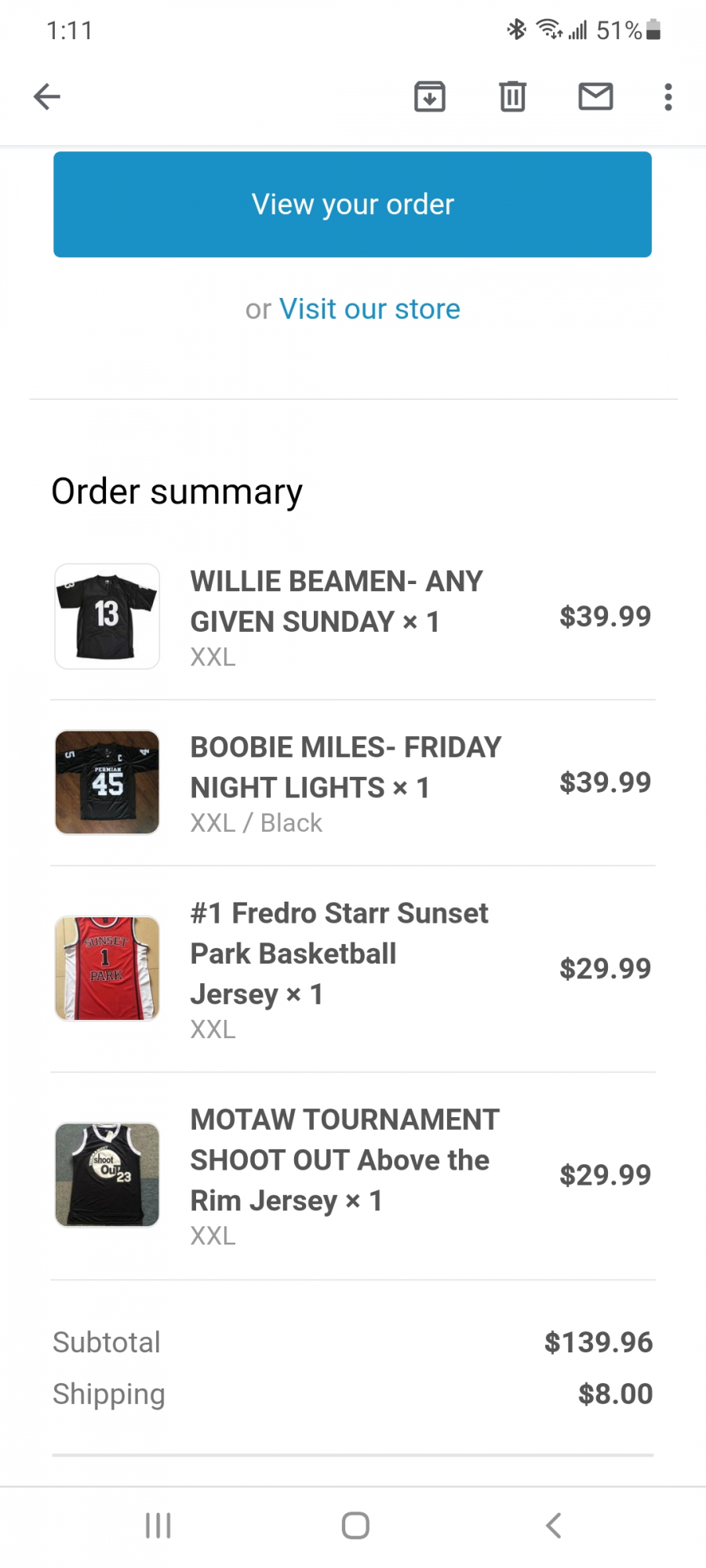 Phillip – Nov 11, 2020
I ordered a jersey for my husband on Oct 28th it's been 3 weeks and I still have yet to receive it. I've emailed, called and messaged them on Instagram. No one ever replies or calls back. This company is a scam artist. DO NOT order from them
Micah – Sep 06, 2020
DO Not ORDER FROM OG JERSEYS! They are a fraud, will not refund my money or give me a tracking number for my item. I ordered a jersey for $40 and it has been over two months. They will not contact me back. They will not give me a tracking number. I received a confirmation that order has been excepted and the money has gone through from my bank account. Please do not order from this company, it is a scam
Louis – Aug 14, 2020
So I ordered a Kobe jersey and it's been almost 2 months since I've even herd anything about it. When I checked the tracking number China post said it wasn't valid, I sent them 5 emails, commented on their ig page and called 10 times I have not gotten a response I lost 42 dollars
Adriana –
Victim Location 21001
Total money lost $37
Type of a scam Online Purchase
I ordered a Fresh prince of bel-air Jersey and was told I would receive a tracking number in 2-3 days. I didn't receive one I then contacted them through email,social media etc. didn't get a response
I later read multiple complaints from others who's having the same issue some ordered 3 months ago and can't get a response
The Instagram name is shopogjerseys
Hopefully the page gets deleted so no one else gets scammed
Caitlin –
Victim Location 22306
Total money lost $67
Type of a scam Online Purchase
I placed an order in April through the website ogjerseys.com after seeing the products advertised on Instagram. As of today I have still not received the product. I have spent $66.98. I have contacted this company several times through many different avenues and have still not gotten my refund or my items. They did respond on July 13, 2018 to tell me the item has been shipped but when I asked for a tracking number I received no response. I believe I have been scammed out of my money. I am aware that some people have received product from them, but if this were a legitimate business then why would they not refund my money or ship the items I purchased if they even have them. They have turned off the comment capability on their Instagram page and have not responded to the numerous messages which lead me to believe that they are scamming people out of their money. I am trying to find a physical address for this company so I can formally report to the BBB. I let them know that I would be reporting them to the ScamPulse.com and still no response. Please beware of this company. DO NOT order anything from them