Carrie – 5 h ago
https://www.makelifeasy.com
address listed: 37 rue des Mathurins, Paris, France
company name: NOVA SILK ROAD SARL
customer service email: [email protected]
ordered chair covers and got the item but can not return it as the email listed does not respond. DO NOT ORDER FROM HERE THEY HAVE NO CUSTOMER SERVICE YOU CANT GET A REFUND OR RETURN
Cole – Feb 18, 2021
I ordered a pair of tennis shoes February 1st …and still have not received my order or an email to confirm it was sent out
Heather – Feb 12, 2021
Scammer's website: www.papiyou.com
Scammer's address: 37 rue des Mathurins, Paris, France
Scammer's email: [email protected]
Country: NOVA SILK ROAD SARL, 37 rue des Mathurins, Paris, France
Type of a scam: Online Purchase
Initial means of contact: Social media (e.g., Facebook)
I ordered two coats on the website www.papiyou.com. Order P1058, tracking number 5P34C00965614, for 61,24€. On the tracking site the order results "Not Found" and we never received it. I'm from Italy. I sent an email but i got no answer. DO NOT order from that damn site.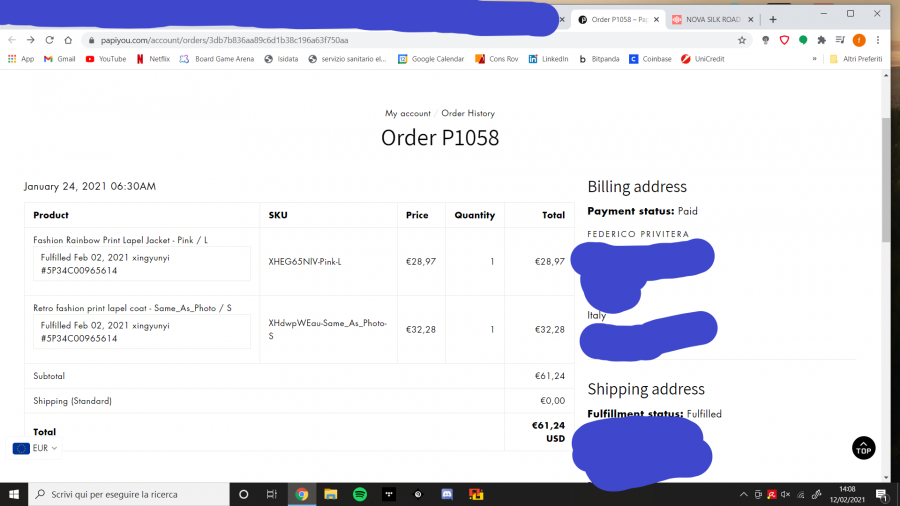 Kristopher – Feb 12, 2021
I never got an order number long one either
Joanna – Feb 12, 2021
How long ago did you order off them? I've ordered something and I had one email saying it's being shipped soon basically and then nothing since. I've sent emails like nearly everyday but it told me it was being sent via yaween or something?
Jesse – Feb 09, 2021
I ordered chair covers a month ago mistakenly ordered the same thing twice and today no order no refund. Said the second order was canceled. My fault for not looking further into this but it's sad that people take advantage of others.
Isaac – Feb 09, 2021
Scammer's website https://www.bebirdmall.com/
Scammer's address 37 rue des Mathurins, Paris, France
Scammer's email [email protected]
Type of a scam Online Purchase
Phillip – Jan 29, 2021
Scammer's website Ebestever (Instagram)
Scammer's address 37 rue des Mathurins, Paris, France
Scammer's email [email protected]
Country France
Type of a scam Online Purchase
Initial means of contact Social media (e.g., Facebook)
Today I wrote a letter to ebestever:
Hi, today I have taken my order, after 1 month, I payed for 5 day shipping but it is not only 1 problem, it is not my order, it is not shoes that is on your Instagram !
Ebestever address in Paris and yours is the same and their company is NOVA SILK ROAD SARL, they answer me :
Dear friend,
We are sorry for the unsatisfied purchase.
We are willing to solve your problem.
All of our items were instrctef before we ship.
Sorry for the quality, this kind of product you bought is too hot, maybe something goes wrong in the production process. We have contacted the manifacturer and told them to improvethis issue as soon as possible.
Could we offer a 30% refund to you as our sincere apology ?
Best regards,EBestever Team
Websitr: https://ebestever.co./Facebook:https://www.facebook.com /ebestever.Shop/
and than I wrote again :
I already messaged you with respect to the order arriving late and partial refund, i had paid for for 5day shipping and it arrived after a month , therefore I was due the entire sum of the product plus the aforementioned shipping fee. If you address, i will send it to you but you have to pay for the return shipping fees etc.
You only respond to me, when I post all over your social media such as instagram , i will continue to do so, until i have received the full refund of the product plus the shipping fee, should this processed be delayed I will continue to post on your company under the NOVASILK ROAD SARL name , located,as it is statec on your page in Paris France. I will be reporting your page for false information should my refund be delayed as I mentioned . If you want to avoid these actions from my end kindly provide fast and speedy refund of the product and shipping fee as it is due to me as I explained
Thank you.
Victor – Feb 12, 2021
Hi I'm guessing you got your item? I to have ordered from this place but to get hold is nearly impossible about 2 weeks ago I received an email saying sorry and something about 7 days. I ordered the product a month ago (tried to with plenty of time hoping it would be here for Valentine's Day!) This message was more a so the site isnt a scam? They do send the items? And how long did you end up waiting.
Not sure if you will see this but hoping you do thanks
Jordan – Jan 28, 2021
I ordered Justin boots with black an silver angels on them I can't even get a tracking number that's been a month .and came up with all kinds of different companies. I want my damn boots.
Peter – Jan 08, 2021
Scammer's website Vikimore.com
Country United States
Type of a scam Counterfeit Product
Initial means of contact Not applicable
VIKIMORE una tienda en línea donde compre unas botas de cuero legítimo segun el anuncio y me enviaron unas botas de material sintético de muy mala calidad, reclame la devolución de mi dinero y me bloqueo, pretendo la devolución de mi dinero ya que sufrí de una estafa y en gano de parte de esa empresa y como dije me bloquearon de mesenger, que hago?
Tara – Jan 08, 2021
VIKIMORE, compre un par de botas de cuero legítimo segun el anuncio y me entregan unas botas de tela y material sintético de muy mala calidad, solicite la devolución del dinero y se negaron, no solo eso me bloquearon de mesenger para no responder más eso es fraude y engaño
Jillian – Jan 05, 2021
Order Christmas pJ on Nov 14th. Granted delivery and its now January 5th. Still no package. Impossible to get a hold customer service.
Hilary – Dec 28, 2020
Do not order any thing from neonals.com as it's shows same address , it says the office is in France but number given is from China
Robyn – Dec 22, 2020
I ordered a Waldorf doll with several sets of clothing in September for £40.94. after many emails I finally received a tatty cheap rag doll, no extra clothing. My emails asking for a refund are being ignored
Beth – Dec 17, 2020
I ordered a doll and have never received it. They kept saying they were sending it. I have asked for a refund and not gotten that either.
Kristy – Dec 17, 2020
This is a huge scammer called VANKIN. there are a group of four with a backer in Hong Kong https://www.facebook.com/SKAMSPY They hide behind a UK office (empty) but are in China.
Rodney – Dec 13, 2020
So disappointed with this company ordered what I thought was a flip pan the advertisement very very misleading doesn't show anything about the glove but I ordered glove by mistake cancelled within 2 hours of ordering only to be told already shipped but then received an email a few days later telling me my order now shipped even though I had cancelled the order so I want an address to return product and I want a refund
Peter – Dec 13, 2020
Thought I ordered a flip pan I realised the mistake about an hour into ordering and ordered a glove which I didn't want and cancelled my order and looked for a refund only to be told product already shipped even though according to them the order takes two days to process so my advise stay away or make sure you know exactly what you are ordering still waiting on a reply as to address of where to return my item that I cancelled
Not a good company to deal with
Angela – Dec 13, 2020
order the flip pan 10/8/2020 have not receive it order#20111312530710 please send my order
Neil – Dec 06, 2020
Country United States
Type of a scam Online Purchase
Initial means of contact Social media (e.g., Facebook)
I bought the balabella knife sharpener from them and I haven't received it I want my money back or give me what I paid for it's been over a month now and I have been trying to be patient and I'm mad give me my sharpener or give me my money back you're scaming me out of my money
Erica – Dec 01, 2020
hi, guys I just tried to ordered a 3d printer from the company name Sovol 3d printers on this website https://sovol3d.com/ after trying to purchase it my card was blocked and therefore I tried to it again with different cards and all of them got blocked, 10 later I got a notification saying my card got blocked. after opening the email I realised that it was an apparent scam attempt after doing loads of research I went to the website and I looked at the bottom of the page where it said the company name which was NOVA SILK ROAD SARL and the address of the company which was in France which was this one (37 rue des Mathurins, Paris, France), I found it a bit weird that the company was registered in France as it is a Chinese company and on the Instagram page it says that there facility is in jinchengyuan industrial Area, shenzhen,Guangdong, 518000 and I could find it on google maps that's odd. so I want someone if possible to confirm if its a scam website because they have great customer service and also a youtube channel which I find confusing
Trisha – Jan 28, 2021
Same here all different companies
Carrie – Nov 28, 2020
You can also add tc-dogfish.com that this company trades under.
They also trade under KingFish on Amazon.
The address they have listed is for an Auction House.
I purchased an SSD off Amazon and when I got it, it looked nothing like what was advertised, so I started digging and it lead me to this.
Veronica –
You can add mybath.co.uk to the list of websites that this company trades.
Cameron –
On 10-14-2020, I ordered two 42 inch high christmas lantern that plays music and has fake flurry snow blowing. I order the stands they go on and, they were advertised as items that could be displayed on your front porch. The items were being sold by Bonnyprotea under the company name NOVA SILK ROAD SARL, 37 rue des Mathurins, Paris, France but came from china. We paid a total of $79.78 plus $14.98 for express shipping to receive in time for Thanksgiving and Christmas, however, when we received the items, the lanterns were less than 5 inches high and the stands were also less than 5 inches high. We were totally ripped off, I couldn't believe it. Like all scammers, their website looks legit, mentions an email you can write them at and explains a return/refund policy, however, there's no way to reach them. Messages on website are not responded to and, the emails come back as "Failure Notice" and "Mailer Daemon". I am attaching picture of 1) what we received and 2) what we were ordered. Going to call my bank tomorrow to see if they can somehow help with this situation. So disappointed, hope no one else falls for this crap.
Misty –
They have one more site for their gangster business. Name Homecrat. Advertised through facebook.
Kara –
Ordered chair from Mecor. Site said 3-4 days to ship. after ordering, my email showed 3-4 weeks. contacted to cancel and no response. Contacting the FTC, BBB, Attorneys General and doing a charge back with my bank. Do not trust this company!
Christine –
Very poor Service and Items not delivered and still no refund or explaination from your customer services? Why?
As we seem to be having some issues with non delivered items and refunds from your SOBX.co.uk Company
Perhaps you can assist as all the same company?
www.furnituretrip.co.uk, www.salone.co.uk, www.sobx.co.uk, www.bridelily.com, www.gosuperlady.com, www.wfcase.com, www.wudnetur.com
and NOVA SILK ROAD SARL… I am still finding more companies too! So confusing or Scam?
Eric –
I saw a coat advertised by this company on Instagram and made the mistake of ordering it before doing more research. my order arrived a few weeks later and the quality of the coat is awful compared to the one I saw advertised. The material looks and feels cheaper and the colours are more garish – in short, I'd never wear it outside. The other basics I ordered are fine but based solely on the misleading advertisement I give this company 1 star and recommend avoiding them – you just can't be sure that what you receive will look the same as what you ordered. https://shebeautys.com/collections/coat
John –
I ordered a phone case by accident from this website because it was a perfect replica of the website I thought I was buying from. I was trying to buy a wildflower phone case, but instead bought from wfcase. Now, they've taken money out of my account and sent me an email asking for me to pay for my order, which I already had. I haven't heard back from them by email. I'm pissed. Can I sue someone for this? I'm so mad lol. Please do not buy from wfcase.com.
Karen –
Did you ever receive anything? I did the same thing. I'm so upset I though I was on wildflower and ordered 3 cases.
Steven –
Is this address legit as paypal are asking me to return the fake Dooney & Bourke handbag I bought from facebook from cemurth.com? Paypal are trying to pass the problem and not refund, so I have reported this to the financial ombudsman. What's the point of sending the item back when the address is associated with scamming websites?
Monique –
Have ordered the necklace pendant with my kids names for my wife's birthday and have emailed 3 times with no acknowledgement nor response. Very frustrated and angry as this was a gift for her birthday.
Jillian –
I ordered a product from this company and I haven't received it yet what can I do about that
Cristina –
I have order a product and haven't received it yet what can I do
Brittney –
Ordered and not received my order!
Emailed them more than 4 times. But no answer ! Bad experience
Kendra –
Através de um perfil no instagram denominado ONEDAYBEST essaempresa realiza comércio de roupas e acessórios femininos ,descobri que se trata de mais um nome fantasia dessa empresa NOVA SILK ROAD SARL.
Infelizmente cai no golpe quando realizei uma compra de 6 ítens paga em cartão de crédito e em dólar onde recebi apenas um item.
Fiquei no prejuízo em R$ 600,00.
Tentei contato com a empresa através de um e mail que eles disponibilizam, mas nunca houve retorno.
Não ha fone disponivel para contato.
Cuidado com esse site e as empresas vinculadas à ele.
Darren –
I was on Facebook and an advert came up for Radley handbags for "spring clearance ". Bags at 60% reduction. The site looked completely kosher, so I bought a bag for £33 pounds plus £9.95 postage. I went to pay with PayPal but the payment wouldn't go through so I then used visa which was accepted. I should have received a confirmation email to say the sale had gone ahead, but I didn't get one. When I tried to go back in to the account I had set up it wouldn't accept my password. At this point I smelled a rat. When I tried to put in the email address of the website it wouldn't come up. I went into my bank account to look up the recipient and you're guessed it Nova Silk Road Sarl, Paris came up! I've been stupid I know but I'm also angry with Facebook for accepting these adverts, but of course they aren't bothered because it's all revenue for them, scammers or not!
Lindsay –
I paid 165 dollars for a tv stand with led lights that I never received. My tracking number disappeared they don't have a customer service number I emailed a couple times never go a response back smh I smell the smoke just got burnt
Meredith –
Bought a 5 piece cake set for my daughter advertised from Jcolee.com through Nove Silk Road Sarl almost 2 months ago. Still have not received item. They sent a tracking number that doesn't work. Was looking forward to receiving this, as my daughter loves to bake. I hoping this isnt a scam, because there is to much of that in today's world.
Cynthia –
I only received the green pieces that are on the picture and it was suppose to be five Pieces
Terrance –
I bought the Bambi and friends "dooney and bourke" purse and there is no logo anywhere the material on the handles is trash and I wasted $50. I had purchased it after my mother saw the ad on Facebook. It took over a month and a half to receive. And when I tried to email a complaint it said the email doesn't even exist. I am so disappointed in myself and in whoever is scamming everyone.
Brianna –
Selling fake filter kit(s) for So Clean 2. https://www.moocoocare.com/collections/cpap-cleaner-featured-collection/products…⇄
Sharon –
Scammer's website Cemurth.com
Scammer's email [email protected]
Country United States
Type of a scam Online Purchase
Initial means of contact Social media (e.g., Facebook)
Advertised Dooney & Bourke Disney's Bambi Purse $42.99 and Wallet $19.99 On Facebook free shipping. One and a half months later I received my order FROM CHINA and not one brand name or logo on the bag, along with not receiving the wallet. Deception by brand for sales. I feel violated! The email the company provided does not exist either.
Katie –
I just received mine and I'm so upset. It is false advertising because the advertising clearly zoomed in on the dooney and bourke logo.
Dennis –
I ordered four items from an online store "Onedaybest" in association with NOVA SILK ROAD SARL. I only received two of the four items I ordered. The two items I received were horrible in quality and came almost two months after I ordered them. The customer service was unresponsive.
Nicholas –
Victim Location 26764
Total money lost $60
Type of a scam Online Purchase
I placed an order for a handbag and wallet with this company through facebook on 06/18/2020. The item has never came, nor has a shipping confirmation been given. I commented on the post on facebook and was deleted and blocked. I've used the email from their website but it comes back as undeliverable. I have also filed a claim with paypal, which this company gave them a fake shipping # and when I track it it's never been shipped. The tracking # is from China post which the company claims they ship from the US. Obviously that is a lie. Paypal is taking all of this under investigation. I'm just waiting for my money to be returned to me. This company is a fraud and needs to be shut down ASAP!
Randy –
Exact same happened with me. Disney's Bambi Dooney & Bourke purse and wallet. I received the NOT Dooney bag but not the wallet. Theft by deception of brand.
Shawna –
I had the exact same experience with them. Waiting on paypal while they investigate. I received a package with slippers but no handbag. Dooney and Bourke bambi bag. Put commet on fb site and was deleted
Armando –
Victim Location 33324
Total money lost $26.97
Type of a scam Online Purchase
Saw this massage equipment on Willowta.com and I was excited. I ordered this item since May 20, 2020. I emailed the company 4 times and no one responded.
Below is the item that I purchase for $26.97. Never receive.
Steve –
Victim Location 32068
Total money lost $26.89
Type of a scam Online Purchase
I ordered the Luxury Reclining Camp Chair from their ad on Facebook for 19.99 plus shipping total came to 26.89. When I received the camp chair it wasn't what I ordered. The chair I received was 9 inches tall and 8 inches wide hardly worth 19.99
The email and phone number are fake. There was a return address on package:
Online Seller
1800 140th Ave E
Sumner, WA 98390
I went to google maps and looked up the address it was the address of Amazon
The Facebook ad didn't show any pictures of the small camp foot stool just the bigger chair When I went to the actual website and looked up the chair, it showed what they call the original size (what I received) and then when you scroll down you see what they call the upgraded version. None of this was in the original ad
I am chalking it up as a lesson learned because there is no way to return it or get your money back
I just don't want anyone else to get scammed by these thieves