Catherine – Nov 20, 2020
I wish i saw this post 2 days ago! I have been watching nothing but pips on telegram for over a year… I can't believe he is still alive! He can read charts cuz anyone can when you get them from other signals! So i thought they were legit and fell for it like a FOOL! So after a very BRO chat he's like send over the cash through BTC and i will place all my trades in your account… i'm like yeah nah… lets try 100 my man i don't wanna get burnt.. and guess what? mr KYLE STOTT sets up my account and starts trading! i was so excited cuz some of our trades were going ok, so like a FKN [censored] i send him more to make real cash… and BAM! deletes all your msgs and renders your MT4 account useless… This IS A REALSCAM ARTIST that has mastered the art of luring you in,, read that [censored]'s response up there how he like the signals… KJS #nothingbutpips has nailed the fine art of scamming the good ppl of this world. look at his insta and fb… NO COMMENTS nothing! BUT FRAUD! Please be aware people out there, i lost over a grand cuz of this MONSTER! I will not stop at this post, i will TAKE HIM DOWN!
Shaun – Nov 20, 2020
Avoid whoever this is. Post trades and tells you to join vip trade starting $1000. I paid 1000 and sends a fake payment confirmation. 5days past I asked when the account will be setup and deleted all our conversation. What's annoying he's still posting the so called vip trade in the telegram group. I took a screenshot of all their channel. Their fake email is [email protected]
Please spread this everywhere possible so another person don't fall victim. Its unfortunate I can't post in the channel, I would have exposed whoever this is. There over 27k members in the group and they keep posting their scam. Spread this please.
Lindsey – Nov 11, 2020
Scam artist stole $500 from me, never provided me teading service, just ignores you and blocks you our group chat, which he later shut down.
Omar – Nov 05, 2020
Scammer's website Nothingbutpips.com
Country United States
Type of a scam CryptoCurrency
Initial means of contact Not applicable
KJS with nothing but pips is scamming individuals with an account management fraud. He has a VIP group that gives great signals to lure people in. He asks for $1k for account management and talk to you like it's normal. Once the money is sent, he never responds. He used to have a group chat but he took it away since he's scamming folks. DO NOT SEND THIS MAN OR HIS COMPANY MONEY EVER!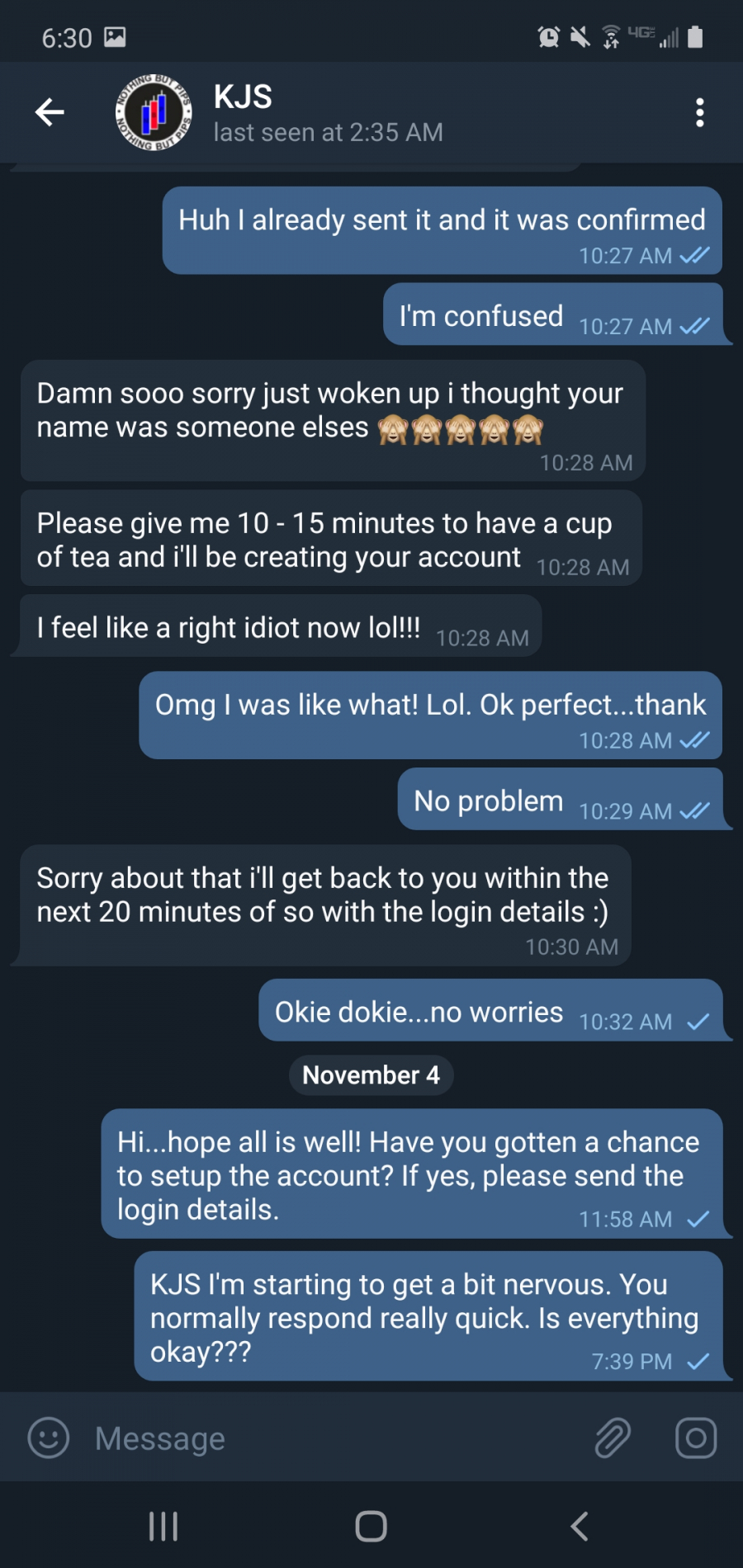 Mathew – Oct 14, 2020
I had a similar experience as the person listed above. KJS took $1,000. I was a part of the VIP group for a couple months then we chatted for a few days then when I checked on the status on my account management NOTHING, blocked from the chat so I sent an email but still no reply. Lesson learned!
Andres – Sep 17, 2020
Bull [censored] mate I've been subscribed for the past year and had nothing but good signals and can show you proof go ruin someone else's business you half wit 🙄🤦🏼‍♀️
Emily – Nov 20, 2020
Keep sending him subscription $$ like a fool.. then send him $1000 bux to manage your account… then you will see the true scammer he is!
Alex – Oct 28, 2020
You're such a fool for defending what's obvious. I'm also a victim of this scam. We talked and he promised to manage my account for me. He told me he'll have to create the account as people have disappointed him in the past by not paying him for his services, I sent him the money and he never returned my messages ever since. KJS is a scammer.
Noah – Sep 11, 2020
Victim Location 90302
Total money lost $600
Type of a scam CryptoCurrency
His name is Kyle Stott but he goes by KJS. He solicit individuals on telegram with a group chat that provides signals, literacy, and one on one sessions in understanding forex. He claims he can manage your account. Mind you I've been in the group chat a couple months and saw no red flags. He responded to messages and was giving out signals that would make money. He was also teaching us about reading charts. I sent him money to manage my account and he never followed up with the details. He blocked me from the chat and has not answered any of my emails or messages. I am not the only one who was targeted by Kyle.
Bradley – Sep 17, 2020
I have subscribed to npb (nothing bit pips) a few months back and he's been great shown me how to read the charts and become a confident trader on my own his signals and fire as you can see from the FREE chat I have chosen monthly withdrawals and can show you proof if you like and have a few friends that have done the same I think you may have been scammed and not by the real nothing but pips