Cassie – Nov 11, 2020
Got an email today from "Norton" wanted to charge my debit card for $499.99 for a 5 year Norton subscription. The email was actually from [email protected] – the billing phone number is 561-409-5317 – says they're out of Santa Monica.
Thank you – Cathie Moscato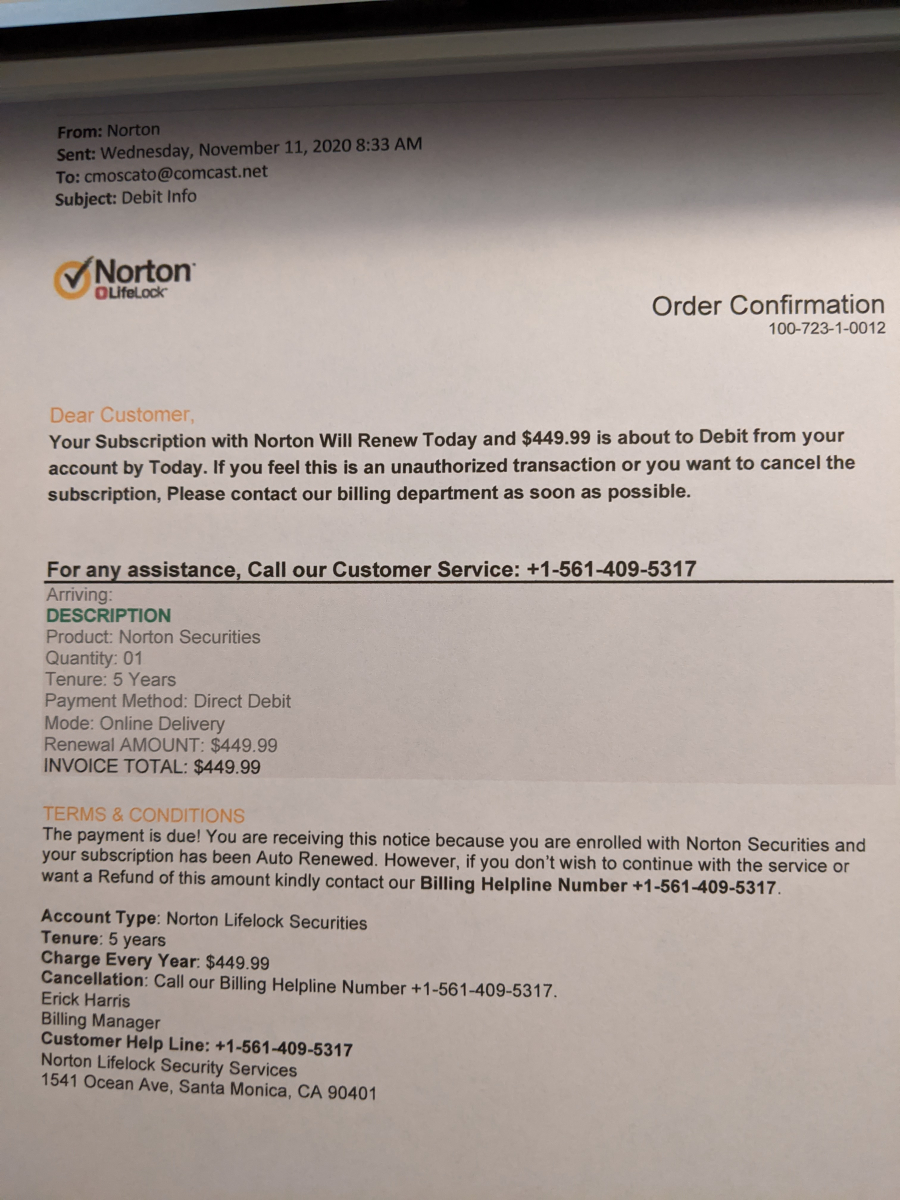 Ruben – Sep 19, 2020
September 17, 2020 received email(attached ) which stated that $349 was charged to my acciunt/card. Not having ordered Norton Lifelock I called the given helpline (443)-267-1175 toreverse/preclide the charge. Not have any luck reaching the number 3 times, I succeeded in talking to a lady on the 4th attempt. I was told that the charge was to my master card but for security reasons she could not give me the account number; further, the only way to not be charged was to fill out a form which she would send. She said she would send a confirming email that I would not charged. Having been victum to such a scam before and not being at my computer's location, she hung up. The next day I received a similar email except that the amount was $499 and a different helpline number (701)-369-2948 which I did not call.
Ashleigh – Sep 02, 2020
Victim Location 95820
Type of a scam Other
I received an e-mail through my husbands e-mail account regarding a membership purchase of $649.20. I made no such purchase. Called the number given to complain. Was told it was only $329.00 as a reduction. I wanted to know what card they had made unauthorized purchase, would not tell me. I was told that if I wanted a refund I would need to complete a refund form. Told them I would not give them any information since they were not giving me any. Hung up on me, called them again, hung up on me a second time. I contacted the real Norton Life Lock Security. They did not have an account for either myself or my husband. Be careful!
Ruben – Aug 26, 2020
NEVER, NEVER, NEVER USE NORTONLIFELOCK! THEY HAVE HORRIBLE CUSTOMER SERVICE – ALL IN 3RD WORLD, OFF SHORE, MINIMUM WAGE CALL CENTERS. IF YOU HAPPEN TO GET LUCKY ENOUGH TO GET AN AGENT THAT ACTUALLY KNOWS HOW TO AND ACTUALLY DOES TRANSFER YOU TO THE UNITED STATES, IT'S JUST AN OPERATOR THAT PROMPTLY TRANSFERS YOU RIGHT BACK TO ANOTHER 3RD WORLD, OFF SHORE, MINIMUM WAGE CALL CENTER WHO WANTS ALL YOUR PERSONAL INFORMATION. THERE IS NO NUMBER TO CALL THE US CORPORATE OFFICE TO COMPLAIN. NORTON LIFELOCK CORPORATE POLICY "TOO BAD, SO SAD, WE ALREADY HAVE YOUR MONEY." HORRIBLE, HORRIBLE COMPANY
Jennifer – Jul 15, 2020
Victim Location 54220
Type of a scam Identity Theft
I received the following email:
Dear User,
This mail is in regard to the Norton Services registered in your name, there is a billing of $699.00 for the 1 year Subscription pending, which would be charged on your Visa/Master Card which ever connected to your account. We tried to contact you for queries but could not get through you.
If you have any questions or wish to cancel the renewal please reach us on +1 888-481-2106 within two working days.
You need to be accessible to your Pc/ Laptop for verification purpose.
© 2020 Norton life-lock security
24/7 customer service +1 888-481-2106
Please talk to our customer support representative at +1 888-481-2106 so as to cancel or renew any service / contract.
Any email cancellations will not be entertained as per the signed agreement
Preference Management
If you wish to update or remove your email or other contact preferences for Marketing
Communications that Norton sends you, please notify us.
Thanks for being part of Norton Services family.
Sincerely,
Norton Security
24/7 customer service +1 888-481-2106
I did not sign up for the above service
Alison – May 13, 2020
Victim Location 05452
Type of a scam Phishing
Today I received an email Invoice stating that it was from Norton, the security software company for a LifeLock subscription and charging me $179.99. I did not order this. I called the number in the email. The person who answered was almost believable until he needed access to my computer to remove a .bat file so he could cancel my subscription and refund the $179.99 supposedly already charged to my COMCAST account. I refused access to my computer and he then said he had a different way to execute the refund and I should see it on my account within 24 hrs. Then I hung up and contacted Norton via chat and they confirmed the email was bogus. However, when I offered to forward the bogus email to them they were not interested; now, this is also suspicious. Why would a Security company, Norton LifeLock, not want to evaluate the raw data of a bogus email? I am loosing faith in NORTON. A segment of the email is attached below.
Order Number / Invoice: #13398461-9264024
Invoice date: 12th May 2020
Payment method:
Currency: USD
Product
Billing period
GST
12 month
12th May 2020 – 12th May 2021
US$
US$179.99
YOUR ORDER
US$179.99
GST included
The US $179.99 payment will appear on your bank/card statement in 24 hours.
If you have a problem with your order (e.g. doesn't recognize the charge, suspect a fraudulent transaction). Please Contact us on +1-877-346-6559.
If you have any questions or if you're encountering problems, our support team at +1-877-346-6559 is happy to assist you. Alternatively, you can visit our Support Desk.
Norton Lifelock
Finance Team
Helpline number +1-877-346-6559