Nancy – Jan 08, 2021
Ohhh this company.
I applied to a job they had "posted" just to get through everything and felt uneasy so I told them to cancel my application.
Started by having to download an app called Viber. Then I went through the questionnaire and what not with them. Got to the part where they asked me to send verification and all that Jazz. Then I got a text from an ID.me saying to click a link and after I did that, I got another text saying it was from the Arizona Pandemic Unemployment Assistance.. I DONT EVEN LIVE IN ARIZONA! Once again I told the "recruiter" that I was very uncomfortable and to cancel my application. After I sent that message, they went on and deleted all of their messages to me. Luckily for me, I took screen shots of every message that was sent before they deleted them.
Now they won't answer any of my messages when I told them I am going to report them for fraud.
Austin – Oct 02, 2020
It was a work from home post on Facebook, her name was Jody Steiner. I was told to download the viber app and give them a code. They asked for my name age sex and location. Then they gave me the google info on nexus and I said this is odd I'll just call and I was blocked on Facebook and all the messages were deleted on viber. I screen shotted the Facebook messages.
Sophia – Nov 18, 2020
When I told her I knew it was a scam she also erased all messages and blocked me. I screenshot everything and reported the page before that happened.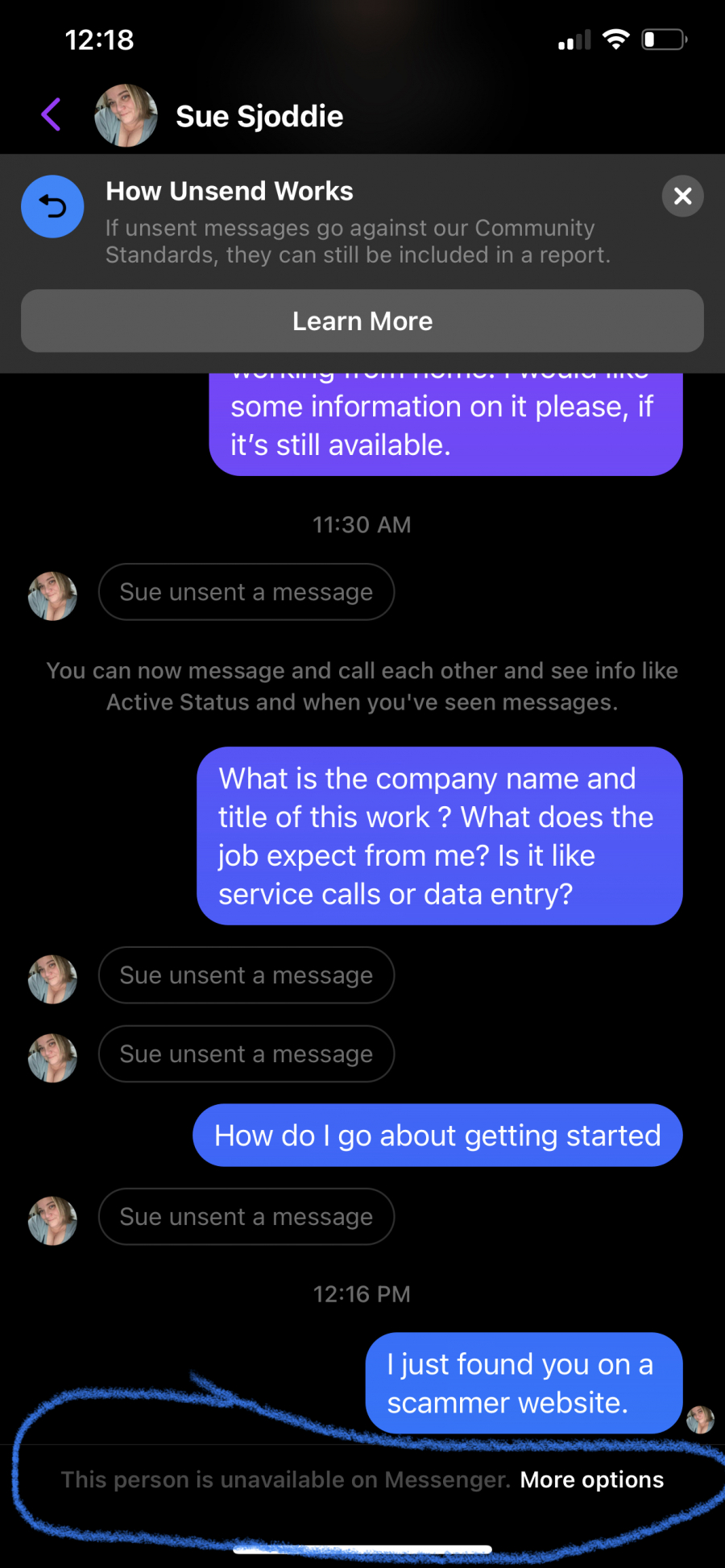 Gerald – Nov 18, 2020
I just got the same messages different name same photo being used on Facebook. same jewelry line her profile says she works for. Why would she change her whole name if not a scam. This time she using the name "sue sjoddie".
Bobby – Aug 11, 2020
Victim Location 83316
Type of a scam Employment
A post for a work from home for Nexus Telecom on Facebook. It was posted by a Jody Steiner saying she lived in Twin Falls, Idaho. When I started to think it was a scam I looked her up on google and it said she worked for some jewelry company and she was from Escondido, CA. I was instructed to download the Viber app and told the interview would take place through there. I downloaded it and was asked questions such as, name, gender, area I lived in…etc. I started firing her questions about the company, work hrs, direct phone line to HR…etc. No response. I let her know that I knew it was a scam and that I was reporting her! She immediately deleted all of her accounts.
Amanda – Feb 25, 2020
Scammer's phone 801 917 3853
Scammer's website Viper
Scammer's address Las Vegas
Scammer's email On viper.
Country United States
Type of a scam Employment
Initial means of contact Website
Megun kelly put the job on a market place ad. And i looked into it. Then she got me in touch with christi auther. I have all the text and things from her. Im supposed to be at the at&t store picking up phones but im not. She wants me to send thec2 iphone to Chicago ill. To have a gentleman out the siftware in them
Christina – Oct 23, 2020
Victim Location 30228
Type of a scam Employment
So I got a text message from a Jermaine Jackson for a job I thought I applied to on indeed .com, he said it would be easier for us to do the interview via Google hangouts, he even sent me a link to the website, asked me a series ofquestions, but then told me not to take a break from the interview, it sounded fishy, especially since they offered a lot of benefits and $37 per hour for a payroll clerk. My gut said it was too good to be true, so I blocked the number and the email address. I guess his name should have given it away,
Kristine – Sep 18, 2020
Victim Location 32802
Type of a scam Employment
I got a text from Krystal C Miller the Director of Quality Control and Employee Compliance of Nexus Telecom Company stating she was an HR hiring manager. She asked me to interview with hiring manager via google hangout. I did and quickly knew it's a scam when he asked my name, gender and city. I said why are you asking if you have my resume. I knew better and immediately disconnected and blocked my phone number from the caller. I am a suspicious and new better but wanted to see where it went. Read other comments it's a scam. The supposed hiring manager's last name was Wade. They also used this address for google hangouts.
Chase –
Victim Location 98390
Type of a scam Employment
I have been applying for a new position in the IT field for a couple of months, when I received an email from [email protected] stating that they found my resume on ziprecruiter.com. The first red flag was the available position which was listed as a: " Customer Service/ Admin – Assistant./support/management/ Data Entry Operations and Logistics/ Dispatch Associate/ Technician/ IT / Help Desk/ Receptionist/ Financial Analyst " position.
The second red flag was that the rest of the email was extremely vague on what the position was, did not include any details regarding the duties of the position. It was instructions on how to contact the company via google hangouts or Skype using gmail addresses, bringing me to the third red flag. None of the email addresses used were nexus telecom addresses; they were all @gmail.com addresses.
I was curious as to the nature of the job, and not aware that employment scams were even a thing, so I reached out to the person identified in the email (email address: [email protected]) using google hangouts. Once I contacted them,I was then asked what my specialty was, and provided a list which did not include anything on my resume. When i stated as such, they asked if I could do one of the more simple tasks on the list (data entry) if trained. Then they stated that they would provide a briefing and that I was to only say "ok" when finished reading each section so that they could continue. They said I could then ask questions at the end. Then they asked my name, gender, and location. The "briefing" was a short description of the company (copy/pasted from the company website), then told that the reason they found me is that they are hiring remote positions because they have new branches being created, and that the one nearest to me would be completed in 3 months. I was told I would be allowed to work from home until this new office is finished, and then would have to report to the office for work. A check would be sent to purchase the materials necessary to set up a home office. I was also told that the pay for this data entry position was $45.00 per hour, which was a huge red flag. As someone performing a much more complicated job in the industry and making much less money this was the too good to be true claim. Similarly, the responsibilities did not match the job title of data entry, but seemed to be more of an administrative position instead, although I hadn't caught this flag at the time. The briefing continued, and there were many character-related questions asked, but none for any personal information. At the end of the "briefing" I was told that the individual would send my responses to their manager. Less than 5 minutes later, I was told that I had scored great on the questionnaire, and that I was hired on the spot by the board of directors no less (red flag!). Duties would be provided daily at 8am starting with a week of training, and that I would be mailed my Employment Offer Letter and the check for materials the next day. I would need to contact them for the tracking number. I had not been given a chance to ask any questions, so I asked when that would happen and they allowed me to do so. I asked them if I would still be allowed to work from home if the nearest office to my location was too far to commute, and was told that it didn't matter because they were building it in the town that I live in (wow, lucky me!)
It was at this point that the conversation ended for the day, so I went online to see if job offer scams were a thing. Turns out they are becoming quite common. As I live in a small town, I also tried to find out if there was any new offices being constructed in my area. Just in case the offer was legitimate, I logged on at 8am the next morning, and was told that the check would go out the next day and to log in at 8am for the tracking number.
On the third day (today) I received a poorly written letter with a check for $6350.00 from Eastwest Bank in Pasadena California. Looking up the address, it appears to be correct. It is still odd however, as the nearest corporate office to the United States is in Ontario, Canada. When i logged into Google Hangouts, the "recruiter" that I had already posted that they sent the check out twice to ensure it got to me and provided two tracking numbers. No mention of the Employment Offer Letter, a contract, W-2 or any of the other documents that were mentioned on the first day. When I said the Check had actually just arrived, the "recruiter" asked for the amount for verification. I was then instructed to go straight to the bank and use the ATM to deposit the check. I chose instead to not go to the bank and use the ATM as instructed, but to look up this form. I am currently sitting in front of my computer, pretending to be at the bank. After the Check was "deposited" they wanted a picture of the receipt, so I told them my phone camera wasn't very good and I needed to go home to get a picture that wasn't blurry. They then asked me to check how much of the check was made available immediately. I told them I had to get back in line, so they informed me it should be either $200 or $300. I told them the latter. Next I was told that I needed to go to a Walmart or CVS pharmacy and purchase 3 separate $100 iTunes cards in 3 separate places. (Red flag). I told them that there is no CVS Pharmacy near me and only 1 Walmart, so I was told do do it at a single Walmart, and then provided the original instruction which said in 3 separate locations again. I am now pretending to travel to Walmart to purchase iTunes gift cards to use in order to purchase software for the macbook pro that I will supposedly be getting for this "job"
Meagan –
Same thing is happening to me currently, any updates available?
Antonio –
How did you get them for the identity problems
Matthew –
Victim Location 27896
Type of a scam Business Email Compromise
Contacted via text message:
Hello Applicant, I am Mrs Cindy Howells, a hiring clerk with Nexus Telecom. I am contacting you in regards to your resume which has been reviewed by our Human Resource Team, you have been selected for an interview. Kindly reply if interested.
In respect to your response to our Interview Invitation, we would like to conduct an online interview with you to discuss your Duties and Pay scale.
You are required to set up a Skype account if you don't have one and contact Mr. Carl Damon the Head of Hiring via Skype on ([email protected]) to schedule your Interview.
He will provide you with necessary information as regards the Company and the Openings. Feel free to text back if you encounter any difficulty.