Olivia – Nov 10, 2020
I received a call from the very same "Company"
No number shown
and claimed that someone had listed me as a point of contact?!
What alarmed me was the person's name they used was the very same person that leased our house in 2008!
Erika – Nov 05, 2020
I received a voice mail with a reference number of 1156LC2160 phone number 833-570-1427, then my daughter received a call on her phone asking for me while she was in school, and then my sister in a different state also received a call from them asking for me and then asked for her by name and if they could leave a message with her. And left a reference number of 1156HP2160 same return phone number.
Meghan – Nov 05, 2020
Received a call saying I was going to receive a document from the county I live in, did not ask my name or address, just assumed it was me. Told him to give me his -employee number, name and phone number. Was given 833-570-1427 and a file number. Called it back person was a jerk and I told them to remove the number they had called and I would be reporting this to the authorities since I am a government employee. The did have my name and address, however, if our county is going to send me any thing they would not call first.
Dominique – Oct 28, 2020
Major scam! You would think that when they pulled it back in April they wouldn't try it again in Oct. call from unknown number, left message saying to call back 833-570-1403. Administration desk for National Legal curriers. NLC. They try to scare you into believing them because they have your address. They claim to threaten sending legal documents to your home and place of employment. It's illegal to harass you at your place of employment. One of the first give aways! Be Aware!
Deanna – Oct 13, 2020
Scammers Be Aware. Do not give them your information to These people called my family member unknown how they got my family members number. Gave the person a ref number and everything said they have to send papers that have to be signed for.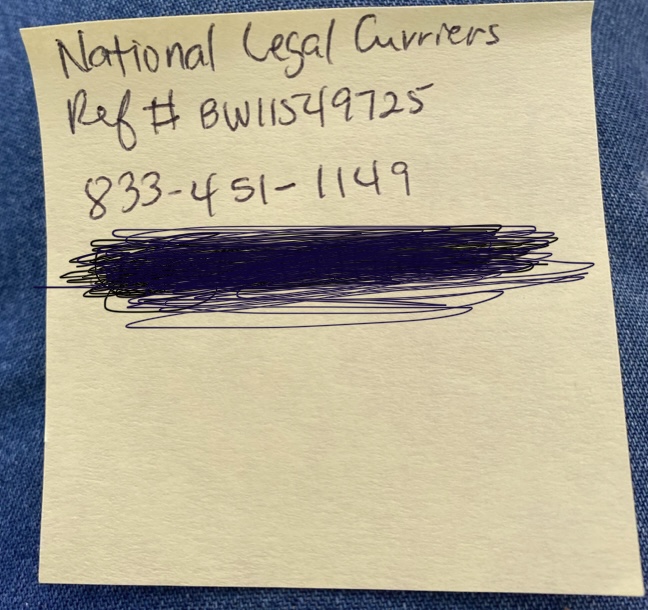 Martha – Sep 11, 2020
SCAM SCAM SCAM They called and had me verify my date of birth and SS Number. Then proceeded to argue that I owed this debt to someone I have never heard of. They talked over me and said I had to pay them. They would not let me get a word in the conversation. DO NOT PAY THEM ANY AMOUNT OF MONEY. This is a scam. They used the call back number of 833-544-0897. DO NOT call them, they will tell the family member that you have to call them back by 7:00 pm or Legal Action will be taken.
Sheena – Aug 24, 2020
I get scam calls from a private number every couple of years. The last time was in 2017, they spammed me and extended family members that I have never been financially involved with to get information and pay a debt to an unknown person. They lasted about 2 weeks and this time they have been going on for about a week. Already been reported to the FTC. I was finally able to answer a call as they always call when I'm at work and tore the guy a new butthole. They claim to be National Legal Courier and the man who calls goes by Jason. They have called family members of mine who only speak Spanish and the person calling is using Spanish. They also call family members who only speak English and when calling me only speak English perfectly. The number they leave to call back is 833-544-0897 with a "case number" to reference to either have documents delivered or to pick up documents depending on which family member of mine they have called.
Alyssa – Aug 19, 2020
Victim Location 07026
Type of a scam Phishing
These scammers call family members trying to get information about you saying that they have legal documents they need to deliver, they went so far as to call my old landlord to see if I still lived at the address and to verify, when she asked how they got her number they hung up. They use unknown, 833, 866 numbers. They give no information about the documents and ask for dob and ss#. Please be aware of these scammers and do not give them any information. In doing some research I found that this is happening to other people as well. And that the company does not exist