Valerie – Oct 25, 2020
I am looking for a Samoyed puppy, and I cam across this website: https://metrosamoyedpups.com/ the website looks very authentic. I inquired about the puppy called Angel. I was responded to immediately via text, and the "breeder" said they would ship the puppy from Austin Texas for 750.00. I thought it was great because my son lives in the next town over, but the texter insisted that I pay 500.00 prior to visiting, because there are a lot of people interested. Immediately, I thought this was a scam, because #1. None of the reputable breeders have puppies, #2. The price point was very low, and #3. It seemed too good to be true. So I said no thank you. Today, I am looking at an email from them ([email protected]). Yesterday the email was written in English, today the email is in Arabic/Hindi or something like that. I have attached the image, because when I copy and paste, it reverts to English. This is definitely a scam.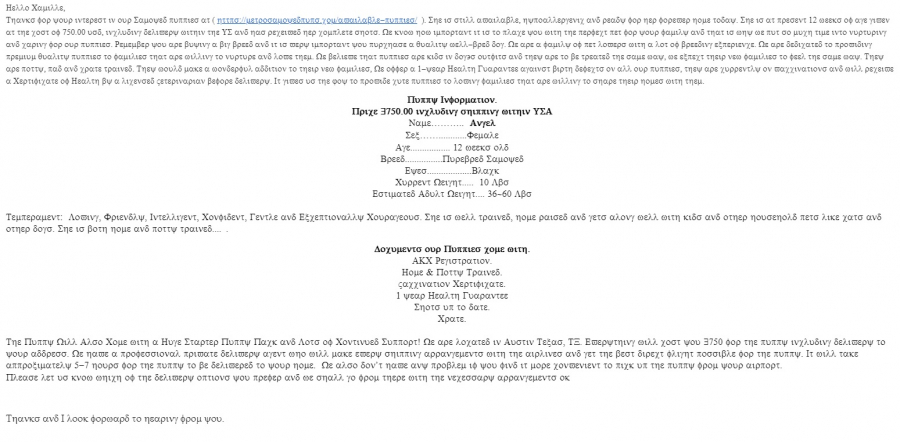 Steve – Aug 23, 2020
Victim Location 21903
Total money lost $772.22
Type of a scam Online Purchase
Website advertises puppys for sale. After you pay them they keep asking for more money. The website look legit and they have a shipping website that also seems legit. Do not do business with them. There are no dogs and this is a complete scam.
Arthur – Aug 20, 2020
Victim Location 43230
Type of a scam Advance Fee Loan
I was looking to adopt a samoyed puppy as it is a hypoallergenic dog and I have allergies. I googled samoyed dogs for adoption, and found https://metrosamoyedpups.com. The website looked nice, nothing out of the ordinary and they had available puppies, which surprised me. Too good to be true for $650 as they advertised. In the Contact Us section, I put my email ID and phone and requested a puppy. They replied soon after from [email protected] with a long messy email which didn't not look professional. We exchanged a few emails asking about pickup options, and they kept emphasizing the benefits of delivery to my home. I asked about their location and was told they are in Jefferson City, Missouri. I said I am not that far away and can come in person pick up the puppy and make a full payment. They said okay but I have to pay a $400 reservation fee through cashapp. After I agreed, they provided a cashapp id ($withoutborder) for Nicole Lane. I was not sure about making a payment and lingered. They kept texting and calling. I ignored but the calls did not stop. So, I called back and talked. It was a guy with a fake accent and after I told him there was no Nicole Lane in Jefferson City in the phone book yellow pages (just as a test), he got concerned and immediately hung up the phone. I went back to the emails we exchanged and all the emails I had from them have now changed their language that I cannot read or understand. I attended a cyber security course and have reason to believe suspicious and fraudulent activity in this whole experience. Attached is a screenshot of their first email that was originally in English. I think I made the right choice to not pay them and report. I do not want someone else to get scammed.