Bradley – Nov 08, 2020
Received call for survey post 2020 election results. First of all question on who I voted for in 2020 allowed for I prefer not to answer but question on who I voted for in 2016 did not, it forced me to pick one or say I did not vote. I refused to answer,
Second it asked my eduction level. Which I believe is a data point that is irrelevant in this day and age
Third many questions had a rating scale respond and I had to ask the caller what the scale was.
Fourth there was a question on whether election night results if changed due to mail in ballot counts changes results do I think that is essentially fraud but asking that question almost a week after election night is really difficult to answer
Finally there was a question whether I think poll workers count votes with integrity. Again that is a broad brush approach and the integrity is specific to that individual poll worker
So survey is extremely flawed and they couldn't tell me who on behalf of they were conducting however there was a question whether I had seen a commercial encouraging me to vote then specifically naming for companies to see if I had seen their ads…so I suspect they were tied to this survey
Gary – Oct 31, 2020
This just came in a text message today. I'm done. I'm definitely replying "stop" and see if that will end it.

Marcus – Oct 22, 2020
Country United States
Type of a scam Other
Initial means of contact Text message
Her name is Beth. She texted me about taking a national survey … and I asked if it was about politics and she said no, it was about stuff in the news. It was clearly all political with two questions about Trump's handling of Covid and the appointment to the Supreme Court. She has my age, race, etc. I should have known better. I asked her in the middle if she had lied to me about it being about things in the news because it was clearly political and she didn't answer me. I blew it!
Steven – Oct 21, 2020
Just got a text from this entity calling itself Beth from Matthews Surveys, phone number 336-810-8448. As per above, i was asked to verify my name. i replied "stop" and got the boilerplate "You have been unsubscribed" message. i also blocked the number.
All our names, phone numbers, and political affiliations are available and easily found through voter records, which are public. That said, i have no interest in texting with someone or something i know nothing about.
Katherine – Oct 01, 2020
I got this text after checking my phone for notifications since I was barely on it all day. I haven't responded but I didn't recognize Matthew's surveys and found this.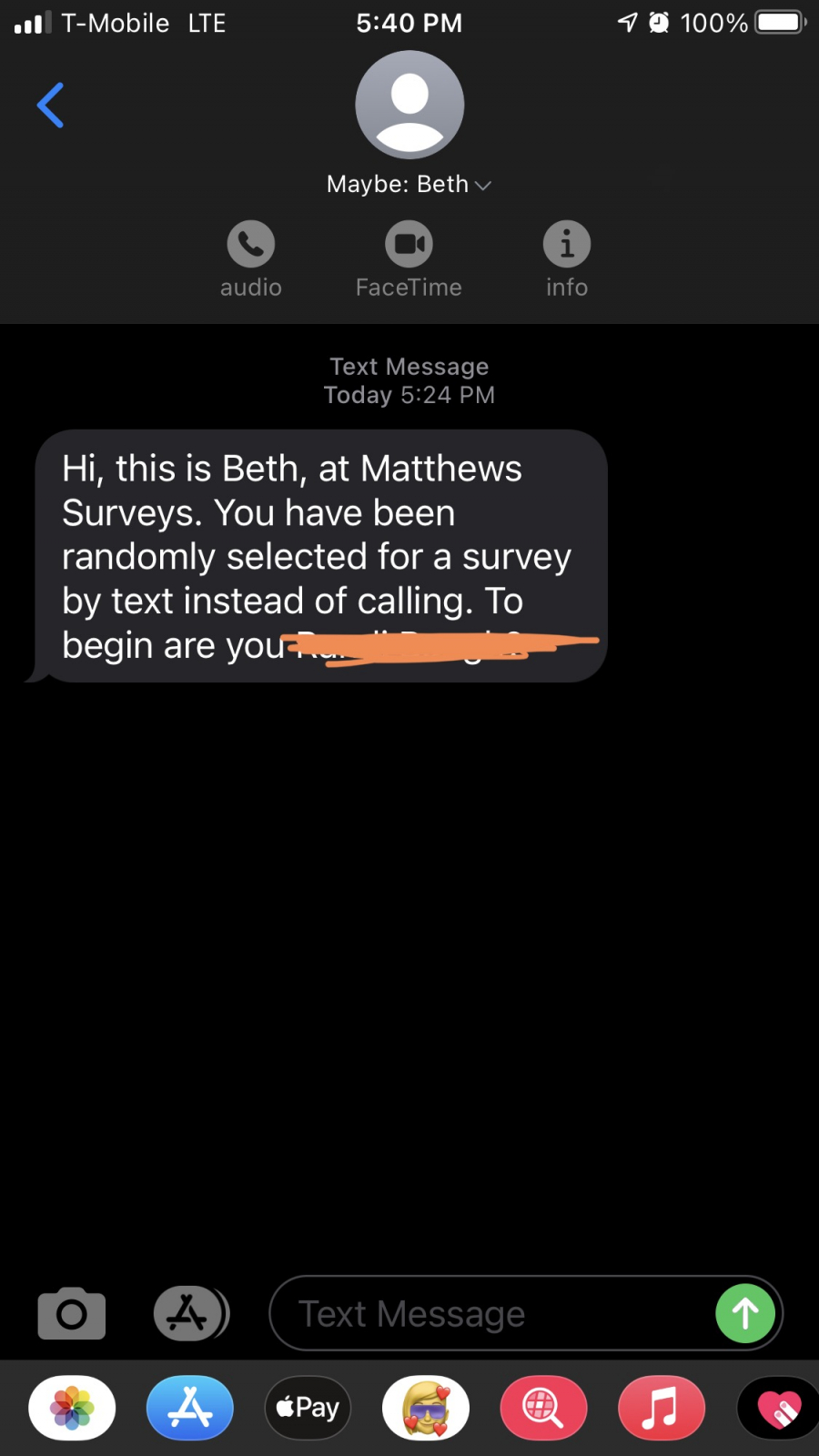 Kelsey – Sep 23, 2020
Scammer's phone 17179135084
Country United States
Type of a scam Phishing
Initial means of contact Text message
Unknown what they were going to ask but they said I had been selected for a text survey instead of calling, and then attempted to confirm my name.
Ronnie – Sep 20, 2020
I received the same text from someone stating they're with Matthews Survey. I've had other texts asking who I was going to vote for. I write them & tell that I thought it was supposed to be secret ballot, so why are they asking. This is the 3rd or 4th text I've received telling me that they got my name & number off a registered voter list. We need to find out if when & if we register, is our name & number given out to companies like this?
Jeffery – Sep 17, 2020
My phishing experience today 9/17/2020. Our conversation ended quickly as you can see in the screenshot provided.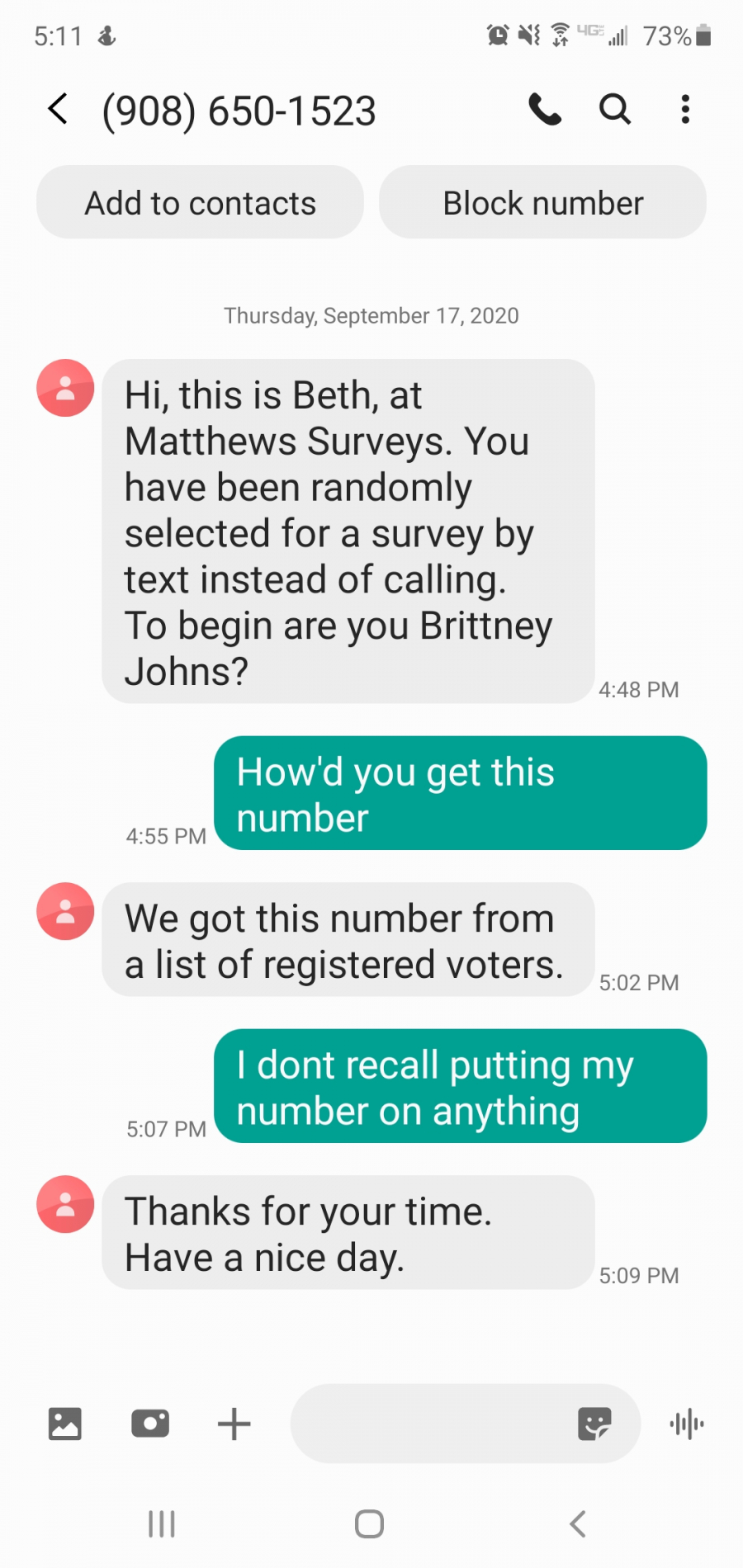 Jack – Sep 16, 2020
I was contacted by this scam, they requested I verify a name . I advised them they had the wrong number after a google search of the company.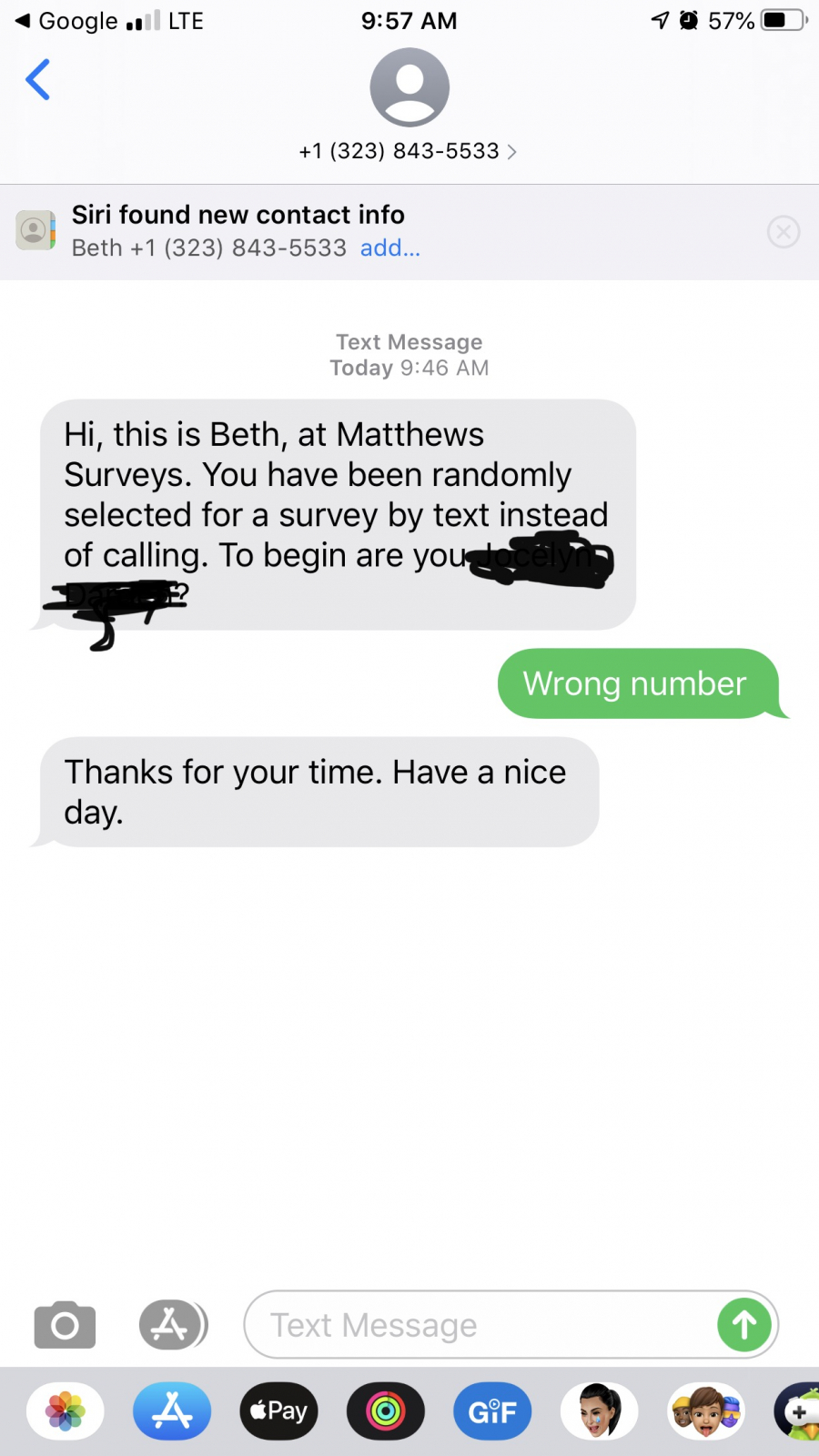 Cheryl – Sep 12, 2020
I got one today. Reply "STOP" to those types of things and it typically works.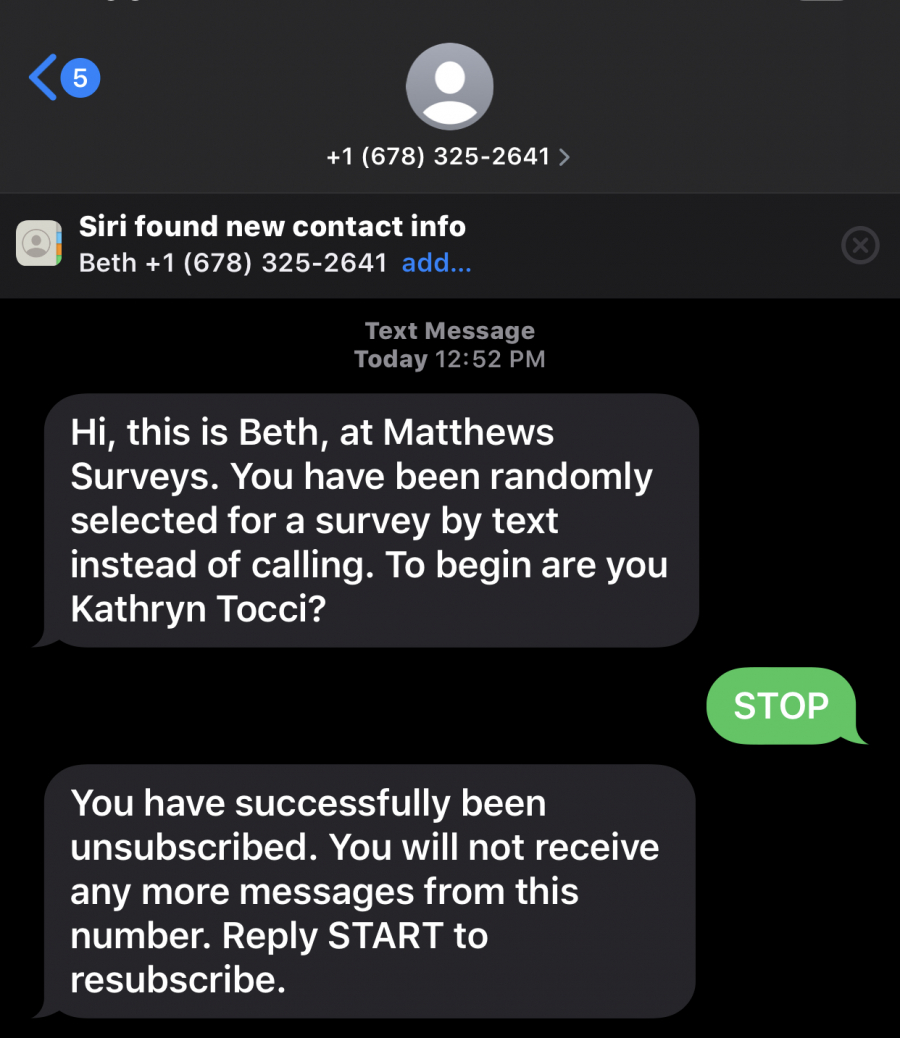 Kendra – Sep 05, 2020
I've had multiple texts from this company. They always call me by the same name. It's foreign and I can't recall the name. I've replied stop everytime. I've even replied telling them to remove my number because I'm not the person their texting, but I still keep getting them.
Fernando – Sep 17, 2020
Someone else said that they replied with "STOP" and that worked for them.
Mathew – Aug 21, 2020
Call came in today from 602-671-0014 and went as follows:
Hi, this is Beth, at Matthews Surveys. You have been randomly selected for a survey by text instead of calling. To begin are you (name redacted)?
My response:
Hi Beth. To prevent a possible phishing attempt, please provide me with:
Your company's website
Your contact information (phone number and email)
Thank you.
Their response:
Thanks for your time. Have a nice day.
So I'm going with this as a phishing attempt. If you're a legitimate company, you should have no issue providing this to your 'customers'.
Francisco – Aug 15, 2020
I received a text wanting me to verify who I was because of a so called survey. Luckily I googled before I answered.
Katie – Jul 15, 2020
Victim Location 07030
Type of a scam Phishing
I was contacted via text message by an individual claiming to work for "Matthews Surveys." They asked me to confirm my name before launching into a political preference survey. When I asked for more information about the company, the told me they were a "national survey organization" but when I googled them, I could find no website, no information. I asked them to validate their companies legitimacy by providing a website link and they refused. They are more of a nuance than a threat, I'd imagine. They only asked me to verify my name and name+phone number combinations are public information.