Chelsea – Jan 20, 2021
I was contacted by James Clark III in March saying they had a buyer for our Mexican timeshare.After much paper work(we have a stack of paper about 3/4: thick) from them. every week we were asked to pay more money to various mexican gonernment offices as well as customs and Citibanamex. By the time we stopped we had paid out over $60,000.00 USD. We have not heard from them since June2020.
Jay – Aug 15, 2020
After 5 1/2 months of phone calls, wire transfers of money for transfer fee, SAT tax, various penalties and a high income fee – I have finally separated myself from Your Primier Properties. The total I lost is over $92,000.00. I'm embarrassed and very angry. I am filing complaints with any legal entity I can locate – including the FBI and the Interstate Commerce Commission.
Here's more of my story. David Lane, claiming to be a South Koran who sounded very Mexican, called in early March – offering a rather huge price for my Celebrity Park Tower time-share at Vedanta in Nuevo Vallart, MX. I told him that I had been scammed twice before in 2019 and wound send NO MONEY – except the transfer fee which I knew was required by Grand Luxxe – Vidanta. He assured me that nothing else would be asked for. Wow – was I taken for a ride! As is the case with most scams, David and I became "friends." I felt like part of his family. How could I possibly refuse helping him secure such a huge amount of money? When I was unable to send more, he offered to pay half of what was being asked by the Mexican bank. It adds up fast. It wasn't until my local bank and that of my wife refused to wire any more money to Mexico. With all of the fees and penalties that both YPP and I had paid, all of it to be reimbursed by the Canadian company that was the "buyer" the total in the bank account was well over $500,000.00. How could I possibly walk away from that?
When I tried to exercise the cancellation option in the contract my wife and I had signed, the $4,0l00.0 cancellation fee was compounded by the number of moneys we had been negotiating. So they wanted me to pay $24,l000 to cancel – and supposedly get all of my money back.
AS is true of most scams, I was passed to two other persons – a financial guy named Roger Vaccoi and then the "closer" named Donald Davis. It's obvious from reading other descriptions that YPP is a huge collection of "brokers" who are all in the scamming business.
I had a hard time getting away from Donald. He told me it was his job to make sure that I was "happy." I'm pretty good at writing strong letters – and I finally told him that the only thing that would "make me happy" was to find my money back in my account! NO MORE WIRE TRANSFERS TO MEXICO.
I'm going to see if there is some way I can take legal action against this company.
Marcus – Aug 02, 2020
I am detailing my experience with Your Premier Properties Real Estate such that others can benefit from my experience and avoid getting caught in such timeshare resale scams.
The persons I engaged with initially are James Lodi (broker) and his boss Vincent Palacio, a Managing Director. "Legal" documents all came from a Samantha Fox, the Financial Officer. Finally, once I stopped paying, a Joseph Kain contacted me, yet another Managing Director. He is likely their closer, and is a smooth talker. Both Samantha and Joseph are referred to in comments by other people here.
The whole procedure was convincing in the beginning for the following reasons:
– James, Vincent and Joseph all provided NY broker licenses. They also provided the license of the company. While they check out online, licenses can be stolen or faked.
– The legal agreement is followed by recorded agreement reading conducted by yet another Managing Director, Douglas Jones.
– They provide a Foreign Investment Permit along with RFCs (equivalent to US SS#s).
– They provide Mexico SAT (equivalent to US IRS) statements for additional "COVID-19" taxes that were stamped once payment was received from me.
– They provide a Bank Statement from Citibanamex where so called buyer Junichi Masuda deposited sale amount and compensated for additional tax payments. They provide a phone # which you can call to verify.
– They provide a phone # for the Mexico SAT Office of Foreign Depositors. According to them foreigners must deal with SAT through this office.
– They provide references for *each* stage of the process whom you can call to verify that these people received their money.
No one will pick up the phone # directly. You have to leave your account info and they will get back to you. This probably gives them time to prepare the response.
DON'T FALL FOR ANY OF THIS SOPHISTICATION.
The fact that this is a scam is established by the following facts.
– First and foremost, I haven't been paid. And they've stopped contacting me.
– The RFC # on each of the SAT statements for the legal expeditor, Jose MacDonald Torres is invalid.
– I contacted the SAT office – they told me my wife and my RFC # was invalid. They also confirmed the statement from Customs was invalid as well as previous stamped receipts. btw, you can query RFCs online at sat.gob.mx.
– The bank to which I did the transfers in Mexico has been unable to contact the account owner, meaning it is not an official SAT account.
– There is a comment on BBB that states that they are *not* located at 1251 Avenue of the Americas as claimed.
<span title="https://www.bbb.org/us/ny/new-york/profile/timeshare-resale-and-rental-marketing/your-premier-properties-real-estate-group-0121-186618/customer-reviews
https://www.bbb.org/us/ny/new-york/profile/timeshare-resale-and-rental-marketing…⇄ />

BOTTOM LINE
– If the price is too good to be true, it probably is.
– Don't fall for sophistication – all of it can be faked.
– If you are paying ANY money, you shouldn't.
– If you are transferring money to Mexico, don't as you will never recover it.
– If all the answers to your queries are too convenient, they are likely untrue.
I hope this helps other to avoid getting caught in such scams. There are people out there with no remorse who will go to extreme lengths to steal people's hard earned money.
Clayton – Jul 01, 2020
I have a similar experience, but got out before it was too late, as everything wasn't passing the smell test.
I received a cold call from someone posing as a registered NY real estate agent.
Michael Johnson
Your Premier Properties
1251 Avenue of the Americas,
New York, NY 10020
Tel. 347-429-7342 Ext. 1728 l Fax. 1-347-491-4839
[email protected]
www.yourpremierpropertiesre.com
In short, they were offering to buy my Florida timeshare to a buyer as a tax write off.
They sent an offer letter that looked like it was prepared by a sixth grader in 5 minutes using google docs.
Once I proved I owned the property, I next was instructed to open a bank account in Mexico.
At this point all kinds of alarm bells are ringing.
See attached "Process Breakdown" and "Purchase Assessment Forms".
Isaac – Jun 26, 2020
I rarely answer my phone for numbers I do not recognize.. this time I did and it was yup, you guessed it, a John Handy from Your Premier Properties. He asked me about my timeshare with Vidanta, how many bedrooms, where I owned it (Nuevo Vallarta), I was on my 2nd glass of wine so I decided to listen and play along. I am a VERY skeptical person when it comes to unsolicited calls, emails, etc. He said he was going to email me something.. couple of days later I get an email with an "assessment" and an offer for my fractional timeshare.. ha! Ok then. The first thing I always do is Google the companies/person and check out what I find.. I am a paralegal and have always been the investigative type.. and sure enough, this was one of the forums I found. Scam. I am so sorry to hear about the ones that actually engaged with them and lost money, if it sounds too good to be true, it is. Take a few minutes to research whenever you receive any unsolicited offers, if you do not have access or cannot, ask a friend, a relative, someone you trust to do so for you. How these people get our info is way too easy nowadays, anyone can find you and your contact info. Be wary always.. I will not respond to this person and will block his name and number. Thank you for your comments!
Martin – Jun 23, 2020
Just received a call from your premier property's (062320) Michael Johnson. He was calling me regarding our property in Nuevo Vallarta. Before he got started I informed him that all of the previous calls I have received have been from scammers. He assured me this was not the case and I was welcome to look into his company. With one quick search I found this forum. Thank you all so much, forewarned is forarmed.
Laura – Jun 20, 2020
I'm writing this complaint on behave of my father who was also scammed by Your Premiere Properties. We have been dealing with a broker who's name is Cynthia G Landis. I looked her up on the Occupational licensing management system of New York. Her license # is 30LA0692040. My dad was offered $52,000 for a timeshare in Florida. They then proceed to tell him they had a buyer from Mexico. My dad agreed to the contract and has now paid penalty taxes to Mexico in the amount of $26,000. They are now asking for an additional $24,000. Cynthia was very aggressive when I asked her to give me her license number and the information of who she works for. When asked why her company is not listed in the BBB she told me I didn't know how to do my research. She is not licensed in the state of Florida. Licenses are public information. The number to this so called business is (347) 429-7342. My dad how now lost hard earned money. Please report this company! This is a real scam.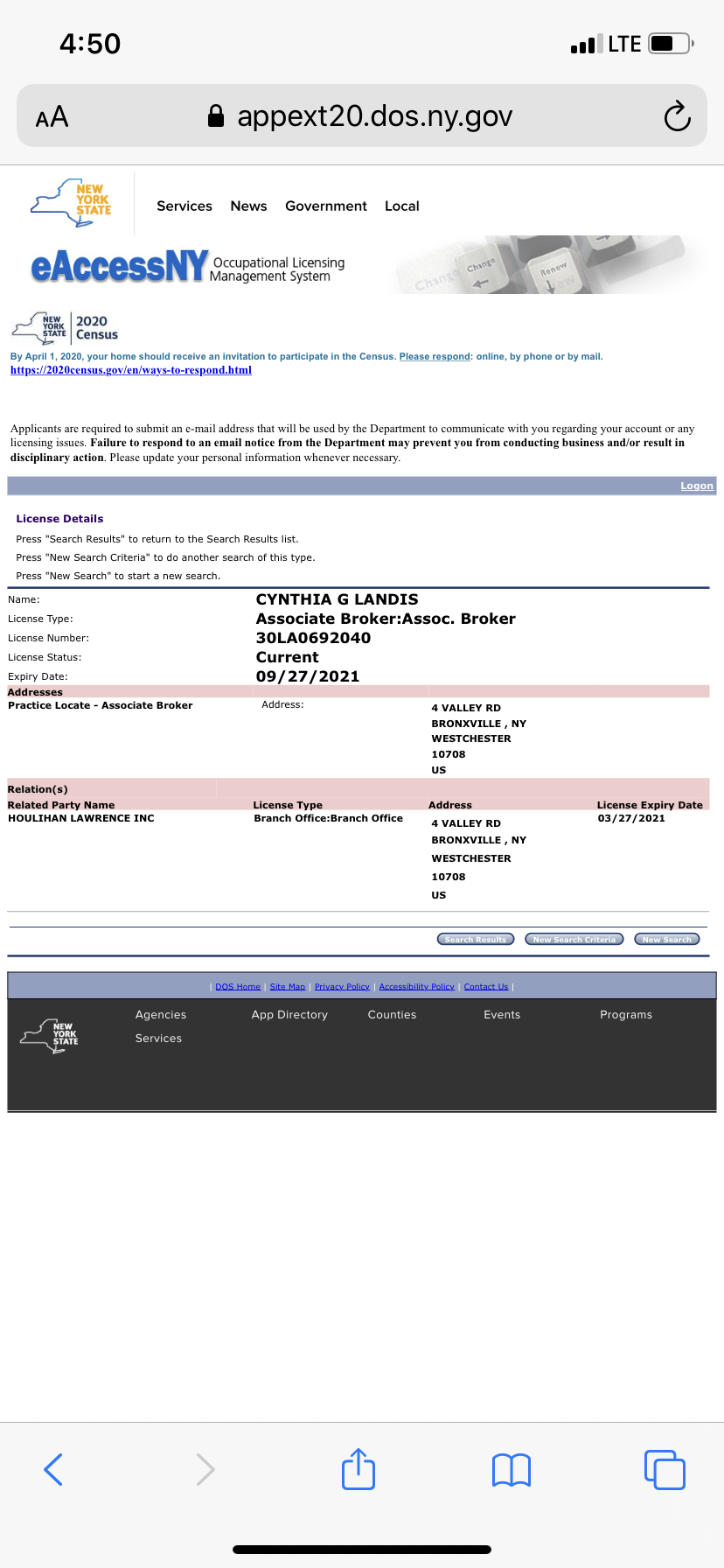 Jimmy – Jul 08, 2020
Received email this morning from Cynthia G. Landis plus one last week from Samantha Fox. Same story as you received.
Ian – Jun 17, 2020
This company has been calling me for months now and left many messages. I finally picked up the line recently and they provided me with current email, timeshare account information contact information. A David Rodriguez, send over an agreement document that is way too good to be true. Obviously the Mayan Resort Parent company have provided this information. So I called them and they denied they have done this and denied someone hacked this information from their systems. So i did some searching and found a number of scamming sites like this one providing some very sad stories. Thank-you for posting.
Kristin – Jun 02, 2020
These scammers from Your Premier Properties called my elderly mother today with similar promises of selling her time share in Cancun Mexico. I have replied to other calls on my mother's behalf from companies making big promises about selling her timeshare. I am licensed real estate agent in California. My best advice is never pay any money upfront and always require an escrow account in the US using a company chosen by you. Never send money direct to these people or give them personal financial or sales documents. Also, if you did lose money to these people report them to the Secretary of State in the state where their offices are located and to the FBI. These people are the lowest of the low and I'm not sure how they sleep at night while scamming the elderly.
Thomas – Jun 02, 2020
So good to get these reports just going through the same ordeal and they won't more info from my wife and myself. They won't to set up trust account etc. Very frustrating and thank god I read these reports. Thanks great site Samantha M Fox is a name I have ph 347-429-7342 the other number is 1-347-491-4839 his name is Michael Johnson and yes the money they were offering seemed to good to be true. All I can say is [censored]
Marcus – May 28, 2020
I also have been approached by a Michelle Pak from Premiere Properties offering to buy our Grand Luxxe Timeshare in Neuvo Vallarta-Having been scammed /Attempted scammed In the past I am truly grateful for these postings-These people deserve to be dragged & staked in the desert for all the financial & emotional hurt & distress they cause -Hopefully one day Justice will catch up & serve them harshly-Very Much appreciate the insights provided!
Lance – May 16, 2020
I figured this was a scam. That is why I checked the website. I received the same type of call on three different occasions. Thank you for sharing your experiences and helping others not to fall into the same scheme. I have now blocked their number from my phone. The phone number they used was 347-429-7342
Kristopher – Jul 08, 2020
They are still using the same number. Just called me again. Comes up as Brooklyn, NY
Suzanne – May 15, 2020
Victim Location 85253
Total money lost $172,684.44
Type of a scam Travel/Vacations
I am reporting this scam on behalf of my elderly parents today, May 15, 2020. In May 2020 I just recently learned of this ordeal and started asking my parents questions. Note: Your Premier Properties Website states they occupy an office space at 1251 Avenue of the Americas in New York City. My husband called the Security Director May 15, 2020 at that building to verify they are a tenant. The Security Director told my husband they are not and he has reported to the authorities (including BBB) about others who have been victims of this scam.
My parents have a timeshare in Puerto Vallarta, Mexico at Vidanta which they are no longer able to use because difficulty in traveling. In late December of 2019 my dad was contacted on his home phone by Joseph Kain a timeshare resale broker from Your Premier Properties with a New York area code saying he had a buyer for their timeshare at the price of $231,500.00. The phone number he used to call my dad is 347-448-2076 ext. 1509. My dad was happy to sell and accepted the offer. He signed the agreement with the intention of selling the timeshare on January 10, 2020 with a close date of January 27, 2020. The agreement seemed believable because it showed Premier's logo, address, etc. Shortly after, my dad was told to wire money for registration taxes in the amount of $6,305.00. Several weeks later Joseph asked him to wire money for legalization of documents in the amount of $6,000.00 then finally an International Administrative Closing Fee of $5,787.50. An account was supposedly set up with the Mexican Taxing Authorities to which the money was wired.
My dad received a courtesy call almost every day from Joseph starting in December until now. Many times he was "checking in" but mostly advising of delays in the sale of the timeshare and other pending tax obligations my dad would need to pay. Joseph was very kind and helpful to my father and they had what my dad thought was a very honest business relationship, my dad trusted him. (My dad's business career was in the financial industry so as you will see, Joseph was working my dad).
In February and March my dad paid additional tax obligations. Nayarit State required tax of $25,465.00, Customs Clearance Verification of $40,481.95, Income Tax of $69,450.00, and finally Income Tax Readjustment of $37,287.49 or a total of $172,684.44. These funds were also wired to the Mexican Taxing Authorities, but as you will see from the description below were scammed by Jose MacDonald Torres.
In early April, Joseph called my dad and said he was unable to reach the real estate attorney in Mexico named Jose MacDonald Torres that was handling the transactions. Joseph told my dad he was personally flying to Mexico City to find Mr. Torres because he wasn't answering calls. Joseph contacted the Attorney General of the Republic, Federal Investigation Agency and reported him missing. The Attorney General's office immediately alerted all competent authorities by releasing an all-points bulletin about the order for search and capture of Mr. Torres. On April 17, 2020 the Agency caught the Mr. Torres at the airport with a case of 5 million pesos and many fake credentialing stamps; consequently, he was arrested and put in jail. Joseph called my dad with this information and said that they would go after my parent's stolen money along with the ten other victims caught in the same scam.
The Federal Investigation Agency in Mexico called my dad on April 22, 2020 and asked him to send several personal documents one with at least a photo to verify his identification. They Federal Agency demanded he send these documents and if not he would be subpoenaed to Mexico. They discussed my dad sending a copy of his passport and a copy of his college graduation certificate. My dad was upset and said he believed this was a scam and wouldn't send anything, the agency hung up on my dad. Joseph sent an email on April 22, 2020 (same day as the FBI's call to my dad saying "I stuck my neck out for you and now you've made the Agency very mad". In this email he told my dad to give them whatever they are asking for (a threat). My dad has never sent them copies of his personal ID. On April 22nd, April 28th and May 6th 2020 my dad received emails of the criminal reports, including Mr. Torres picture and the charges he is accused of. Of course the documents had the correct government logos, seals and signatures. The document was signed by Alvaro Tomas Lopez, General Director, and Federation Attorney. This is just another piece of information to influence my dad that this was all legitimate.
As of last week my dad has finally agreed that this has all been a scam. Joseph's last contact on May 11, 2020 stated that my dad still owes additional taxes of $18,643.75. He has refused to pay. Since we know that Your Premier Properties doesn't exist as a legitimate business operation for timeshare resales, my dad has no confidence that the all the funds stated above will not be refunded as they originally agreed.
My dad has a variety of documents in his possession all supporting the above complaint and I will be happy to get them to you as soon as they are in my hands. I am also going to file this complaint to the FBI and the Arizona Attorney General's office. Thank you for your assistance.
Alexis – Jun 18, 2020
your open letter has been very helpful to me. I have been receiving many calls from these guys with an unbelievable attractive offer for my property in Mayan Resort in Riviera Maya, Mexico. Appreciate your explanation alerting new bees like me. Thanks
Grace – Jun 18, 2020
Your post was very useful, my partner and I owe a business that sells spy equipment and have a line of detectives that work independently but get a lot of referrals from us, then suddenly this guy name Douglas with the same looking scam called and since we own a Vidanta time share they called with the same intent to get us involved but what they don't know is that we are collecting data from them to build a case, so far we have asked them to provide drivers license and business license and passed it on to our PI for further investigation, we will try to reel in as much information from all these crooks to crack down their operation, we'll keep you guys posted.
Lee – Apr 22, 2020
We also were approached by a man named Eric Jacobs supposedly from Brooklyn,NY, again saying they wanted to buy our memberships at our luxury properties in Mexico.
Of course seemed like a very nice individual, however we were suspicious about their offers and as we thought can see it is a scam. Thank you all for sharing your experiences. It is disheartening that there are individuals out there looking to take advantage of people during these times. They should put their efforts in doing good for those front-line individuals putting their lives on the line during this pandemic.
Desiree – Apr 02, 2020
SCAM company looking to take advantage of people in vulnerable situations. Shame on these people especially now with COVID-19 crisis. They say they can sell our timeshare BUT we need to transfer $3000-5000 upfront first. SCAM SCAM SCAM. Called multiple times too. Fake address and they use stolen identities.
Nicole – Mar 20, 2020
I too fell victim to their scam. The lady in my case was name Abbie Smith. I initially wired them the $4800 they said was due in taxes. The week that I the deal was supposed to close, Abbie called me back and said that they would need another $7000 to cover an unexpected Mexican tax and settlement, and be assured that I would soon receive the money for my timeshare within 48 hours of sending them more money. This is a SCAM! I fell victim and lost $4800 in which I will not receive back nor will they be buying my timeshare. They are operating somewhere out of Mexico or Mexico City with false business registration and using stolen identities of licensed real estate agents in New York state. I am sharing this so hopefully others don't fall victim to their scheme.
Sarah –
Type of a scam Travel/Vacations
A lady calling herself Stephanie Anderson phoned me regarding our membership, which is with a luxury resort in Mexico. By the way, we don't own a timeshare, we only own a membership, for which we paid the resort $2000 seven years ago and that was legitimate. She said that if we don't use it anymore, we could sell it and showed me where to find the "Terms and Transfer" clause of our contract. This clause allows us to sell and requires a 10% transfer fee. I asked how she received our information and she stated that because we hadn't used the resort in the last few years, we had been put on a Registry of Foreign Membership list. I asked how she makes her income and she stated that they take 7%, which is due after the sale is completed. We would have to pay the transfer fee up front unless they found a buyer willing to cover it. We could be paid for the sale by cheque or wire transfer and the whole process would take 2-3 weeks. She had our email address but had to ask how many bedrooms was our unit type and how many weeks we have per year. She emailed me the attached assessment form, which I did have my husband initial and I sent it back to her. Then she asked me to send her our proof of ownership after she sent us a sample proof of ownership, which she did. I then emailed her our proof of ownership, which unfortunately included our signatures, membership number and home address. She said she would have to contact the resort for their permission to sell and she later phoned me back to say that we can sell and she wasn't sure if she told me before that per Article 2.3 of foreign investors law, the Mexican government requires an obligatory RFC fee of $5250 in order to sell. I said we obviously weren't going to pay more than twice as much for what we paid in the first place and let's forget the whole thing. Shortly after, a male colleague phoned to ask why I was backing out and he asked if I would work with them if they would cover that fee. I said I didn't see how but he said he would see what they could do. Then he phoned back and became very angry at me, "this isn't a game; these properties are worth $62,000 and why did I waste their time?" I was about to reply but he stated that I'd said enough and he hung up.
Paula –
Thank you for sharing this. I too have been approached by "your premier properties real estate corp", but I was suspicious of their offer & I do not intend to engage them further.