Tyler – Sep 26, 2020
My senior citizen parents have wanted a Mini Dachshund their entire lives. As the world has changed, they live with us and we're about to realize their dream only to get snared by these heartless scammers. Disgusting.
I am sickened by this and my mother is heartbroken. She was so excited to meet "Bob" and has already ordered so many things to welcome his arrival. My chest actually hurts seeing her like this.
These people are horrible.
Bryan – Sep 06, 2020
I think was suckered into this scam. Same exact thing happened to me today. I send money for the crate and the insurance and then they asked for a final payment for the permit and I decided that this was a huge scam. Over 2,000 given to them. I'm so disgusted not only at the scammers but at myself for not doing my research. I hope my bank can halt these transfers.
Samuel – Aug 26, 2020
Wanted to get Bob the puppy, cute as hell. He told me his location was thunder Bay ontario and offered shipping. Coincidentally I live close by and offered to drive and do the transaction in person, I was the ghosted and realized what was happening.
Donna – Aug 26, 2020
We emailed back and forth for days about the male puppy, Bob. Bob was $600 plus $280 to fly him to us to our front door. They sent a pet tracking link, Best Pet Movers. https://bestpetmovers.com/
Well it all says pending. Then an email from the pet movers saying that the puppy needed a different crate to fly then the puppy needed insurance. I got upset and said they never said anything about these fees. He said he got the same email and to send him the money and he would give to them and we would be refunded. I told him I was done and I needed my money back because he's a liar. I even emailed the pet movers and told them I would expose them all for being liars and using sweet puppies as bait. These are terrible people who scam anyone out of money KNOWING what they are doing.
THESE PEOPLE ARE ALL CROOKS AND LIARS! BUYER BEWARE!
Mark – Aug 23, 2020
We just showed up to airport and we had been in contact with him through email and phone calls and we called before and he said she should be there at 5. We showed up and no flights were coming in then, we called him multiple times he finally answered and said we needed to pay 1,900 or something for a change of crate for the puppy to get here because the airline requires a plane safe crate and that it would be refunded after getting her and that she was still in fort Meyers. Which, doesn't make sense because he told us previously that she would be there at 5. He blocked my number then we called from another phone and he said he didn't and that he couldn't refund us till tomorrow. Which I do not think he will do we will be contacting police. Everything seemed legit with flight confirmation and everything. I'm bawling my eyes out.. we were emotionally attached to the puppy and were so excited to have our first puppy together. Can not believe a human would do this .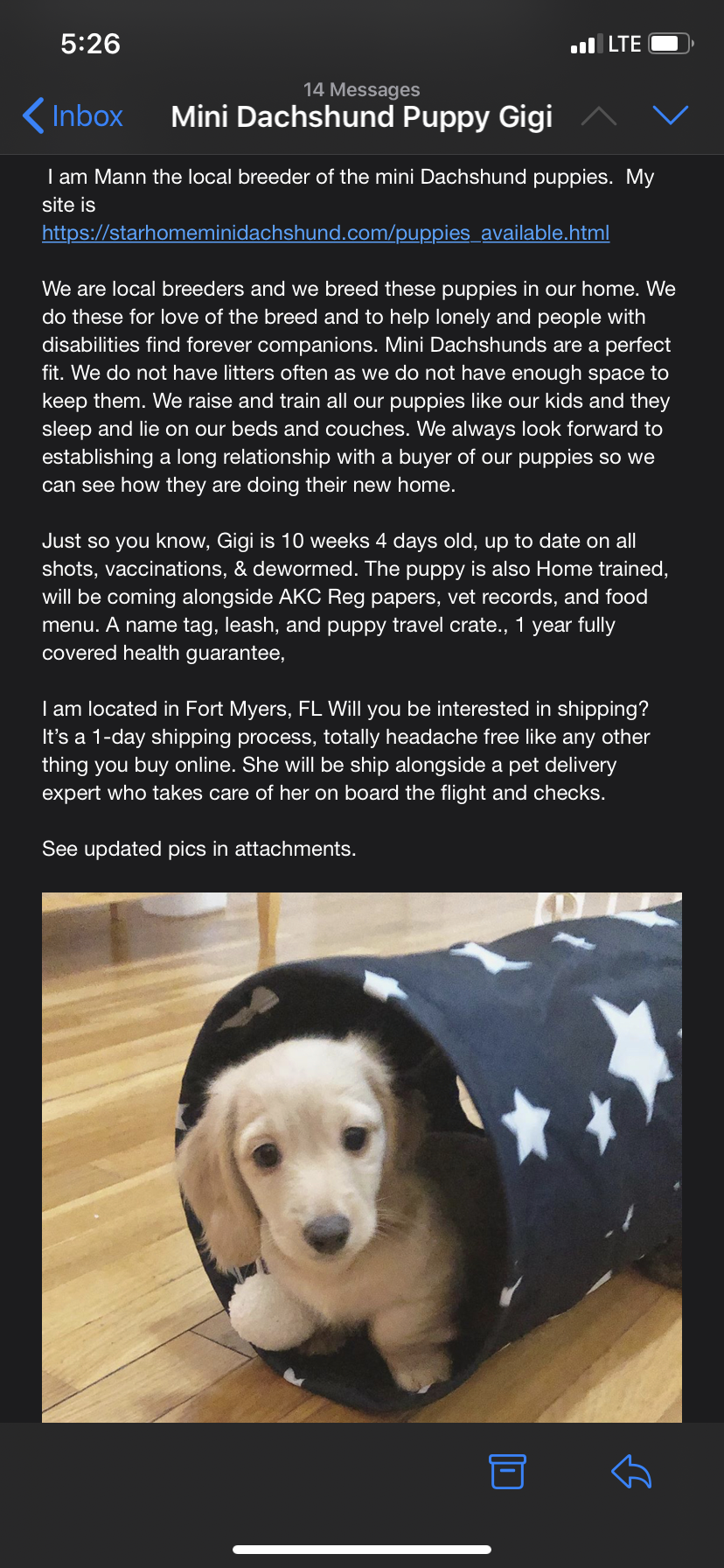 Misty – Aug 23, 2020
I cried my eyes out after realizing this was a complete scam! These people are horrible!
The so called puppy we were getting was $600 plus another $250 for flight. Once we sent money they sent a separate email from "best pet movers" asking for $980 for a thermal crate for puppy that it will be refunded once puppy is picked up. Once that was sent they then asked for another $600 and something dollars for insurance and said that would also be refunded once puppy is picked up.
This is when we realized maybe this is a scam. I ended up driving to air port myself and also speaking to the police…to keep this sort and to the point the was a complete scam!
(Side note- as I was crying the scammers called me back asking for pay "last payment" and said then they would give me flight details/Flight number for puppy. As I am crying they acted like they aren't scammers and ask me to stop crying as if they cared) these people really are cruel! Keep in mind the "flight details they send in the email aren't real" as much as it does look accurate. I hope this dosn't happen to anyone else!
I found out there are serval websites owned by the same people running different websites that are all scams! My advice is to pay in person once you know it is real! Because we spoke to someone on the phone, through text & over email. We received photos and a video of puppy and it was all fake!
Thomas – Aug 26, 2020
That's exactly what happened with us! We tried to get Bob the puppy and it all seemed legit too and we had tracking and everything.
Ashley – Aug 22, 2020
I found this site and emailed with someone who seemed legitimate. I paid for the pup and was told that the delivery service would contact me. Best pet movers did contact me and kept wanting money. Said the seller had the pup in a basket which the airline wouldn't approve then they needed pet insurance then to top it off they needed a site or city permit required for the puppy. All monies to be refunded when the puppy picked up which of course never happened and I haven't heard back from them. I'm gonna put out there all the names websites phone numbers and names I have. So hopefully no one else gets scammed. You all are heartless.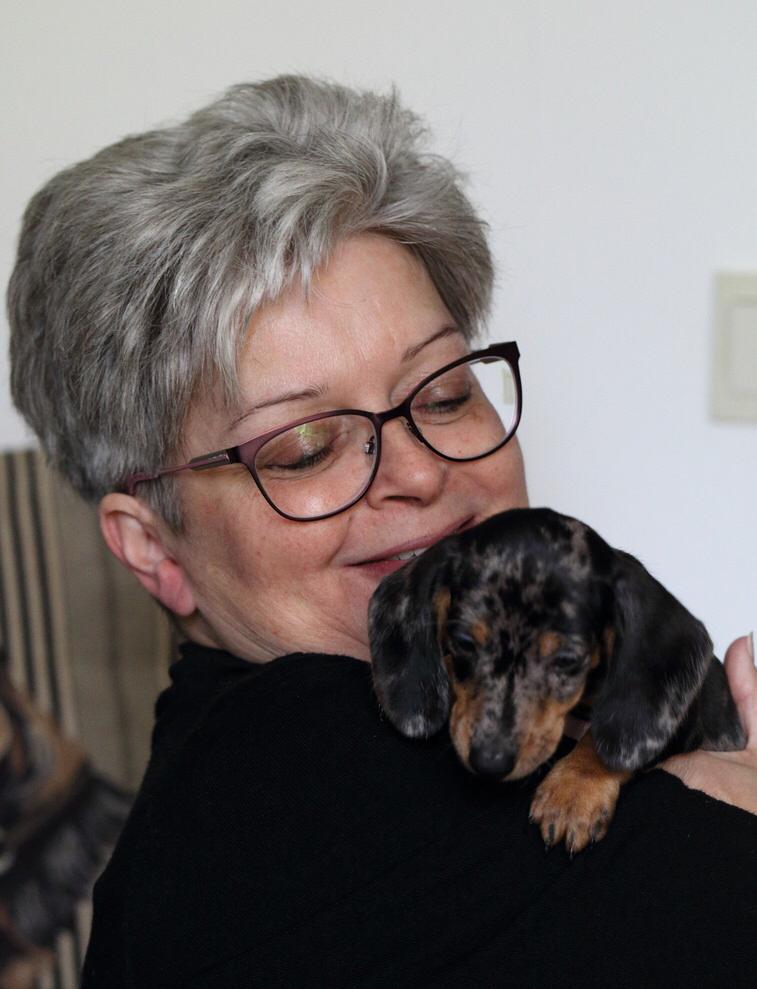 Wayne – Aug 18, 2020
Victim Location 85122
Type of a scam Online Purchase
We were searching the internet for a mini doxie and found this website. We emailed for a bit and I got a phone number which was 863-300-1166. We asked to video call to which the person said they're old fashioned and don't do that. I googled the number and saw it was associated with Life Companion Mini Dachshund. I called and asked if he runs both websites, he said yes. Asked about some puppies and after I asked how many breeding pairs he has, he hung up on me