Erica – Aug 10, 2020
I ordered a kitchen table set when I moved into a new apartment. I received a confirmation email and everything. It's been months and I have not heard a word back from them. No table set, no returned emails or phone calls. Absolute worst company I have ever dealt with.
Ashleigh – Aug 11, 2020
As most of the previous reviews have stated (including mine), this is not a company at all. These are scammers. I suggest you contact your credit card company right away and dispute the charge. Stop trying to contact the seller because you will never get a response.
Bobby – Aug 06, 2020
I ordered online a desk from them on June 24, 2020. I received an email stating that they received my order and will send an email with tracking information once the item has been shipped. I have called and left messages and sent emails but there has been no response. I believe this company is a scam.
Eugene – Jul 30, 2020
Scammer's phone 8772384469
Scammer's website Stackingchairsdepot.com
Scammer's email [email protected]
Country Unknown or Invalid Region
Type of a scam Online Purchase
Initial means of contact Website
I ordered on nightstand shown in the picture on July 8th 2020. Shortly thereafter, I received an email stating they received my order and I would be notified when it was shipped. That was close to four weeks ago oh, I have not received any further correspondence. I was charged $100 for shipping. There is no tracking information. I have emailed them at least 15 x to the email that they sent me and I reply to as well as to the customer service email via their store Page. In addition, I have called their customer support number; which answers after three rings and tells you to leave a message no matter what you do what you do not speak to a person. I have left six voice mail and have threatened to report them to the Better Business Bureau. I'm really not sure what to do but would appreciate hearing back from others who had the same problem and figuring out what we can do together.
Jonathan – Jul 02, 2020
Ok. This "company" is a fraud. DO NOT I repeat DO NOT buy from here! I have gotten scammed multiple times. I am now realizing I have been scammed! Please. I AM BEGGING YOU
Paula – Jul 02, 2020
I wish I had read this first. I ordered 3 chairs, charged to my credit card. Had a very polite email to say they were sorry, but they were on back order, delayed by covid19. The said it would come 21 days later, from the order on May 21. Asked if I would wait. I said yes. Here we are on July 1, no chairs, several emails to ask whats happening, not a word. About to go to my card company and see if I can get my money back. DO NOT BUY FROM THIS SITE. SCAM!
Ross – Jun 18, 2020
I order a 3 set bar and chairs last night…after ordering I saw the reviews and realized I had made a mistake…I called my bank as soon as they opened and canceled my order. Thank you all for sharing your experience with this fraud of a company.
Jasmine – Jun 14, 2020
I ordered a bookshelf with this company and I got an email right away saying order confirmed but that's it. They say orders ship within 24-48 hours and I haven't gotten an email telling me that it's shipped. I've called numerous times which goes to a voice mail so I left messages and I've emailed them but no response back. I wouldn't recommend this company to anyone!
Ruben – Jun 09, 2020
I paid $750 for a chair I've yet to receive. It's been over a month. I order because of the quick shipping date.. u can't get in touch with anyone it goes straight to voice mail. How do I get my $$$ back. I'm so effing pissed!
Derek – Jun 15, 2020
If you paid by credit card please call the credit company and ask for help in Disputing A Claim. I did that once and my company needed me to show my attempts at contacting the company which I did by phone and e-mail. It really is an easy process that may involve forms being mailed for your signature then returned to your card company. With the proof given to them they returned my money to my account and went after the scammers. So call the customer service number on your credit card and never ever never use a debit card as that opens your entire bank account to thieves.
Jay – May 28, 2020
WOW.. and here I though my chair was really on back order. Its May 28th and I placed an order March 28th ! I got a email saying they were out of stock and it would be 3 weeks. is that ok? (yes, fine) ..They initially were very response, but now, NOTHING. I've left messages and have received No Calls Back.
Im going to file a claim with my bank. I should of done this over a month ago !
SO BULL[censored].
Justin – May 27, 2020
Thank you all for taking the time to report this "company." I started an order, but never submitted payment or completed it. The higher-than-expected shipping charge stopped me. When I called the customer service number to see if I could get a discount/promo code, the voicemail on a normal business day during normal business hours made me a bit suspicious. When I didn't receive a call back by end of day, I finally decided to check online for reviews, and lo and behold this site popped up. Looking back, there were several red flags – item priced considerably lower than all competitors, item in another color available on another very similar-looking site (I'm sure it's run by the same scammers), high shipping charge (Is this charge nonrefundable? Is that how they make their money?)
Always good to remember the old adage – If it's too good to be true…
Carolyn – May 15, 2020
Scammer's phone ‭(877) 238-4469‬
Scammer's website Stackingchairsdepot.com
Scammer's email [email protected]
Country United States
Type of a scam Online Purchase
Initial means of contact Email
I ordered a chair from them and it's been three weeks and I haven't heard anything back from them even when I email them or try to call them which is obviously a bogus phone number because it goes to a voicemail and I've left numerous as well. I get no response at all they haven't charged my card yet but I don't know what to do at this point because the order is confirmed and I want my money back.
Alberto – May 15, 2020
Same experience as all of the previous ones. I wish I would have read these first. Ordered a chair after comparing prices on Google. The said they would ship in 24-48 hours. I got one email saying my order was received, but no shipping notification or tracking number. Tried emailing and calling them multiple times. No response to emails and like the others have said, the phone message just says, "leave a message," but they don't call back.After reading all these reviews, I'm thinking they are scammers. Hope others read these reviews before they make a purchase.
Mathew – May 14, 2020
Same darn thing here. Confirmation on the 29th of April. "Joe" This is just a confirmation that your order from Stacking Chairs Tables was recently fulfilled and sent to our shipping company. We'll be forward you shipping details.
Joe
So far I have requested updates 10 by email and numerous phone calls with no answer just voice mail.
$218 for a mattress I have to have. How do I get it back? So disappointed. I have everything I NEED Except the mattress.
I don't have extra cash for a Real One.
Tamara – May 12, 2020
Don't bother with this company. I spent a total of $365 for a bed frame, never got a confirmation, and when I tried to contact someone for FIVE DAYS , I never got a response. UNTIL I used a nicer tone the 5th day, in which i posted a photo for you guys to see. You can see how bogus and unprofessional they are. The site says they ship within 48 hrs at max, yet they said they were backed up for 3 weeks. Why wouldn't they have specified that at checkout? Anyway, I got reimbursed, and by that I mean they closed the $365 order, but pocketing $130 of it. They. Kept. A. Portion. I wish they would have just cashed in right away so I could dispute the purchase with my bank, but oh well. If you've purchased anything with this company and it's gone thru, I highly recommend you dispute that and get every penny back because you're never going to get your furniture.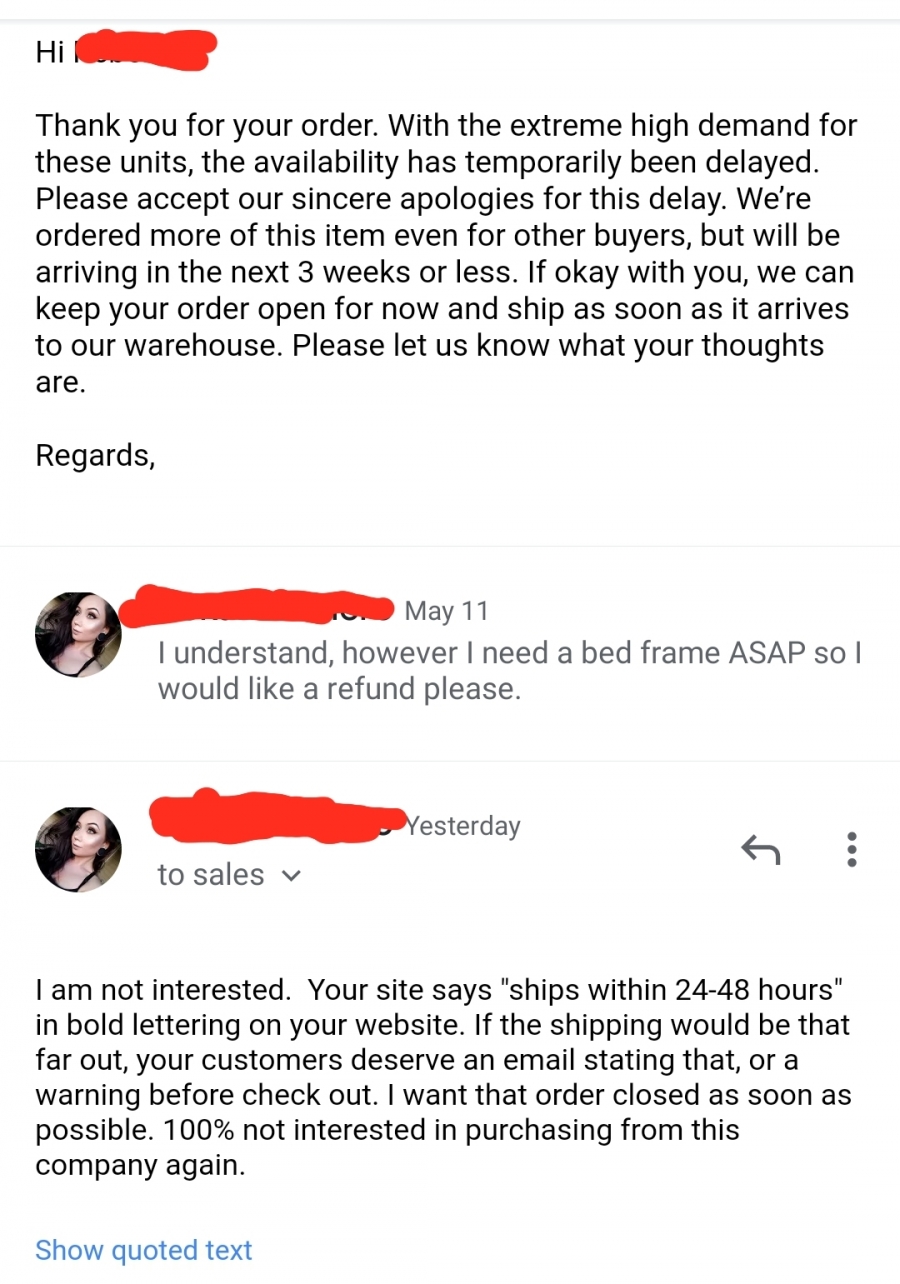 Carolyn – May 12, 2020
Like another user posted, please please PLEASE just stick to Amazon, or a trusted furniture website for your needs. I Google "black tufted bed frame" and a beautiful one on this company's site popped up. It looked like a great deal so I purchased it, and $365 later I waited for a shipping confirmation but got none. I decided to give it 5 days given the covid situation… but still I received no emails. Their customer service number isn't a real one, and they don't respond to emails quickly. I had to try and contact them about 10 times until I got a response, and I've posted our small conversation below via email so you can see how unprofessional they are. Their site claims to ship within 24-48 hours. They ended up closing my order like I told them to, to reimburse me my money, and they did, minus $100! Scammers.
Lydia – May 06, 2020
Worst service ever !
Same exact situation happened to me as I ordered a chair, Joe sent me a message that my order has been sent to the shipper company but gave no tracking number… I emailed him back several times and never got a response. Then I called their number left a message but still no reply… when I called again they blocked my number as I was unable to get through again… They cashed my money the day I placed the order and never heard from them again…
What legal action can be taken ?
Toni – May 07, 2020
Not sure, im letting my bank handle it. Im sure I'll be able to get it back. Dispute it with your bank/credit company because i have not received my refund so obviously we have to do this the hard way, stick to amazon, spend the extra money 😂😂at least i know they have a legit site, customer service and refund policy.
Mathew – May 01, 2020
DONT ORDER FROM HERE I JUST DISPUTED THE TRANSACTION WITH MY BANK! I ordered a tv stand never received shipping information when i got an email back it said it it was back ordered until mid june. This was not the shipping information on the website. The telephone # for the company is bogus. I should of known better I'm gonna just stick to amazon hope this helps someone!
Craig – Apr 18, 2020
I ordered a chair a chair that was scratched and wanted to return it. I have had very little success through email. I have called and left messages through an automated machine and no one has responded. I haven't heard back anything since March 26 and it's now April 18. I just want to return the chair and get a refund.
Ramon – May 03, 2020
Any news?
Kaitlin – Apr 29, 2020
Did you ever receive a tracking or shipping info? I literally just ordered and i haven't heard anything like i would with amazon, etc
Grace –
Victim Location 21783
Total money lost $253
Type of a scam Online Purchase
I purchased a chair from this website on Dec. 7, 2019 as a gift and received an order confirmation email that day. I found the company through doing a Google price comparison on that specific chair. Before purchasing, I did a quick search on the website to see if any scams or bad reviews had been posted and there were none. Looking back, the fact that there was nothing posted — positive or negative — probably should have sounded off alarms.
I received a second email Monday, Dec. 9 (attached) from "Joe" letting me know my order was preparing to ship and I would be sent a tracking number in 24-48 hours. That was the last communication. A week later, I emailed back to ask about the tracking number. I didn't hear anything after two days and decided to call the toll free number on the website. That's when I started to get worried because it wasn't the typical automated message. The auto voice did not identify the company name, nor were there multiple options to choose from. There was just one option — to speak to a customer representative, which I chose. The line rang several times, then I was prompted to leave a message.
That was all very strange. So I tried the number again an hour later and got the same results. Then I looked up the transaction on my credit card, which had the following merchant location information about the company:
Phone number: ***
Location: AL ***
I tried the phone number and got a message that the voicemail box was full.
I then went to the website and right-clicked to look up the website's source code. (view-source:https://www.stackingchairsdepot.com/) I don't know much about coding, but thought I'd find some links that would give me a clue about the real company. I didn't, but I did see a number of references to Shopify, suggesting that's the sales platform the company is using. Also, there were a number of links with this address: ***, which I believe are in reference to some of the code for the page graphics (***).
That's all I've got. Hope it helps.