Maggie – Jul 10, 2020
I donated to Soul Horse TX for two years. When I was attacked by internet trolls harassing the horse rescue. The reports coming in claimed she was boarding her "rescued" horses at hoarders and they were starving. One of the "trolls" making these accusations and harassing me – Randi herself made her own caregiver. When I told Randi she said she was hoarding and starving horses she flat out admitted she did. She then put said "troll" on as her new care giver. Randi NEVER is hands on with the horses she has stated this on her website. Her new "care giver" then raised funds for a blue eyed horse named "Cisco" that had a foal named "Fireball" after months of donations and heavy vet bills Randi's new care giver advertised "Cisco" on Facebook to potential kill buyers "bout as cheap as they come" after I realized these wild accusations by internet "trolls" harassing me had some truth to it- I called Randi Collier out on Twitter. She then told me "Strollin Willie" died. A horse she gave me that was boarded there I paid $350 a month for. No advance warning his health was failing- just he was dead. For weeks I demanded proof of the death- date, time and she wouldn't answer for weeks. Finally she sent me a fake vet bill. I called the # and her internet trolls harassed me by phone after calling- prior to calling "the vet" they didn't have my phone # so the fake vet phone # obviously was there's. I e-mailed the alleged vet they say they never heard of her. Nobody knows what happened to "Strollin Willie". Randi has made videos with her internet troll friends stealing my identity and making fake accounts in my name which she made very public on her Twitter @Soulhorses to discredit me. It was very ugly. She later admitted in another troll Twitter video it was not me- they stole my photo and made a fake Twitter to look like mine. She never publicly apologized after this HUGE Twitter scene to humiliate me or acknowledged on social media it was not me. I filed a complaint with the Better Business bureau and Randi stated I never bought a horse from her. I donated almost $2,000 and the horse I paid $350 a month to care for until he could be safely transported across the country due to his broken leg – which she killed. She GAVE the horse to me. I have proof of all of this in writing.
The Grandson of "Seattle Slew" the triple crown winner in the 70's named "Dusty Savanelli" was rescued along with a beautiful grey mare "Finally Estampa" over Kentucky Derby weekend we're boarded at the kill buyer Jacob Thompson's Uncle Erby Thompson's house after they were allegedly rescued. Over the course of 8 months Randi said she had no donations coming in for them in August and 8 months later said they were "adopted". During that 8 months I asked Randi privately and publicly over and over for the status updates and given nothing but harassment in return. I donated to all of the above mentioned horses. I do not consider horses boarded by the kill buyers family to be "safe" especially when updates are denied and they are never seen or heard from again. Randi claimed on the BBB reply that "Strollin Willie" was killed due yo a broken leg. He was raced with a broken cannon bone Randi herself made a video I have a copy with stating so. His condition never changed while at her rescue for over a year. She never said his condition was declining. In his ad for adoption she mentions the broken cannon bone and said she was working to make him sound. That did not happen. She claimed on the BBB reply she is NOT a rescue! She is a "rescue service" and is now a for profit company no longer a non profit and she has no obligation to her donors, including me- to provide info or updates on her alleged rescued. She said she posts the receipts after she pays the kill pen as a courtesy. She is a fraud and a list. If you donated ask for updates on the horse you donated to. Follow up- they may be dead or starving she is a wolf in sheep's clothing a VERY manipulative wolf with attack trolls who stole my deceased Mother's identity and harassing me relentlessly after speaking out against thoroughbreds being found routinely in kill pens, including Thompson's. There are people working very hard who stop at nothing to discredit people who raise awareness for this. Over 20,000 U.S. thoroughbreds who are not "fast enough" end up shipped to Canada or Mexico on a hot ride with no water, sometimes pregnant delivering in such wretched conditions to be killed in slaughter houses brutally murdered and turned into food. Perfectly healthy and gorgeous thoroughbreds are routinely found in kill pens most ship. I thought I could trust Randi to help them but sadly I was broken hearted to learn what happened to the horses I spent over a year of my life working non stop to raise funds for Soul Horse TX to raise funds for and rescue. It is more then getting ripped off it is the heart breaking reality NOBODY is stopping these evil people from murdering these beautiful horses and those we trusted to save them have betrayed us all.
Heather – Jul 11, 2020
Read for yourself Randi Collier's reply to the Better Businesses Bureau. XOXO https://mobile.twitter.com/AnnCarl09497790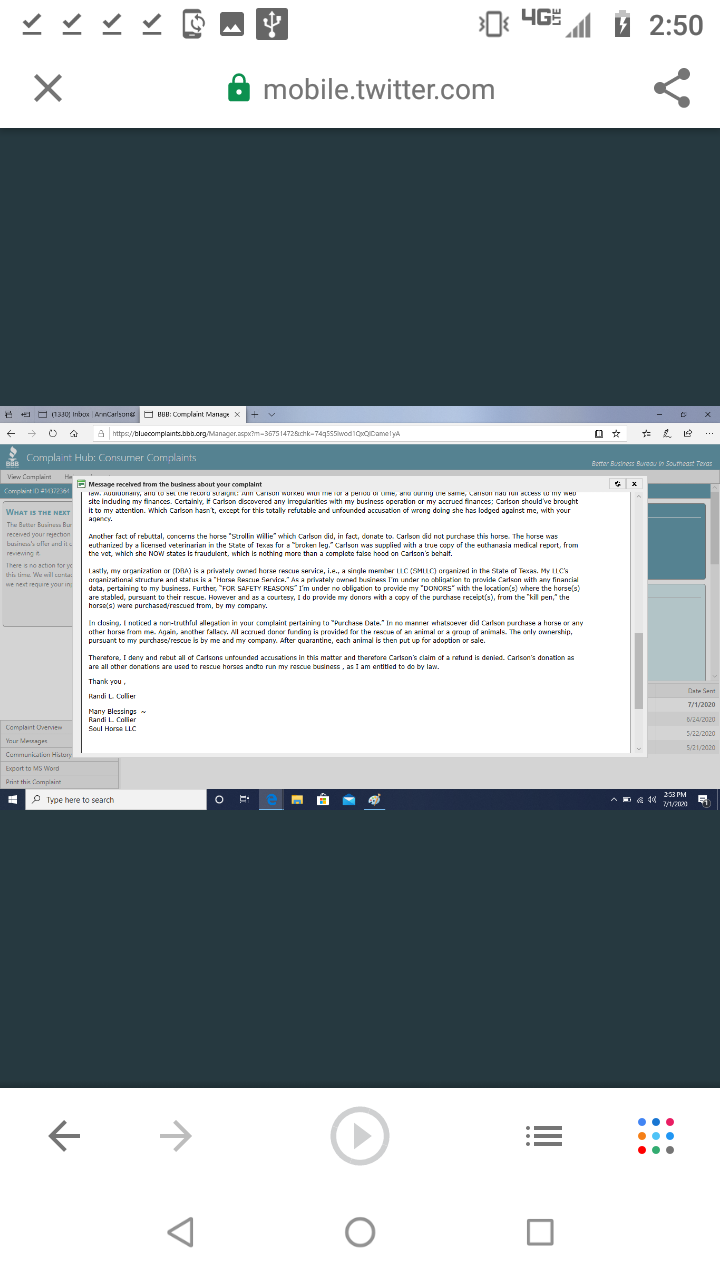 Darren – Jul 10, 2020
"Fina Estampa" auto correct is changing Fina to finally.
Marcus – Jul 10, 2020
Correction "Finally Estampa" was the "rescued" gray mares name. Randi only says she was adopted after dodging questions on her whereabouts for 8 months after posting on social media she was boarded with Erby THOMPSON – Jacob Thompson's Uncle (kill buyer she "rescued" it from). She publicly told her "followers" she was refunding me. I asked for a full refund many times including the BBB complaint. She REFUSES to refund me, apologize for harassing and discrediting me, or provide a proper update on the above mentioned horses. There are countless other horses, but I made a point to follow up on those 4 and NONE had good endings or updates provided to me when I asked by e-mailed, social media or BBB complaint. She threatens to call the cops when I ask.
Gloria –
Victim Location 77418
Total money lost $50,000
Type of a scam Charity
Soul Horse Tx is a horse rescue organization that is run by *** ***. The scam goes like this, using social media, she will identify horses that are advertised on kill pen websites. Again, using social media, she will fund raise to rescue these horses to prevent them from going to slaughter. People will donate money and send to her and she will pay the price the kill pen is asking. The horse then becomes her property. She will then raise funds to pay for transportation and care for the horses, always raising more than is actually needed. She will then find someone to go pick the horse or horses up and transport them to someone's farm to be taken care of. A promise is always made by her that she will pay for transportation and provide money for the care of the horses. However, if she sends any money at all, it is not enough to properly care for the horses. She will often have several horses at multiple loacations. She will continue to fund raise on these horses though. Once she has used up all of the resources of the people at one farm, she will either have the horses picked up, if they are in good condition, for the times the horses are not in good condition, it may be purely coincidental, but the authorities and / or SPCA always seem to make a visit and seize the horses. Meanwhile she still continues to fund raise. She will also send horses back to the auction, which usually lands them in the same situation that she "rescued" them from. She also has multiple Facebook and PayPal accounts to filter money through. She used to multiple Facebook accounts to publicly trash people on the internet attempting to ruin their reputation. And the best part of this scam, at least for her, is that she literally never leaves her parents home. She posts a lot of pictures of the horses on social media to give the illusion that she is actually doing the work and taking care of the horses. In reality she has not touched or seen any of the horses she claims to have saved. There are components of her scam such as rebates or kick backs that she receives from the kill pens that she deals with, etc. I conclusion, through her organization, *** *** has caused a great deal of suffering for horses and people solely for her own enrichment.