Deborah – Oct 09, 2020
I thought this company was legit to help me pay off my student loan in a payment program I could afford. It's a scam and they stole my money and they keep trying to take money out of my account. Thankfully, my credit union blocked them and reported them as fraudulent.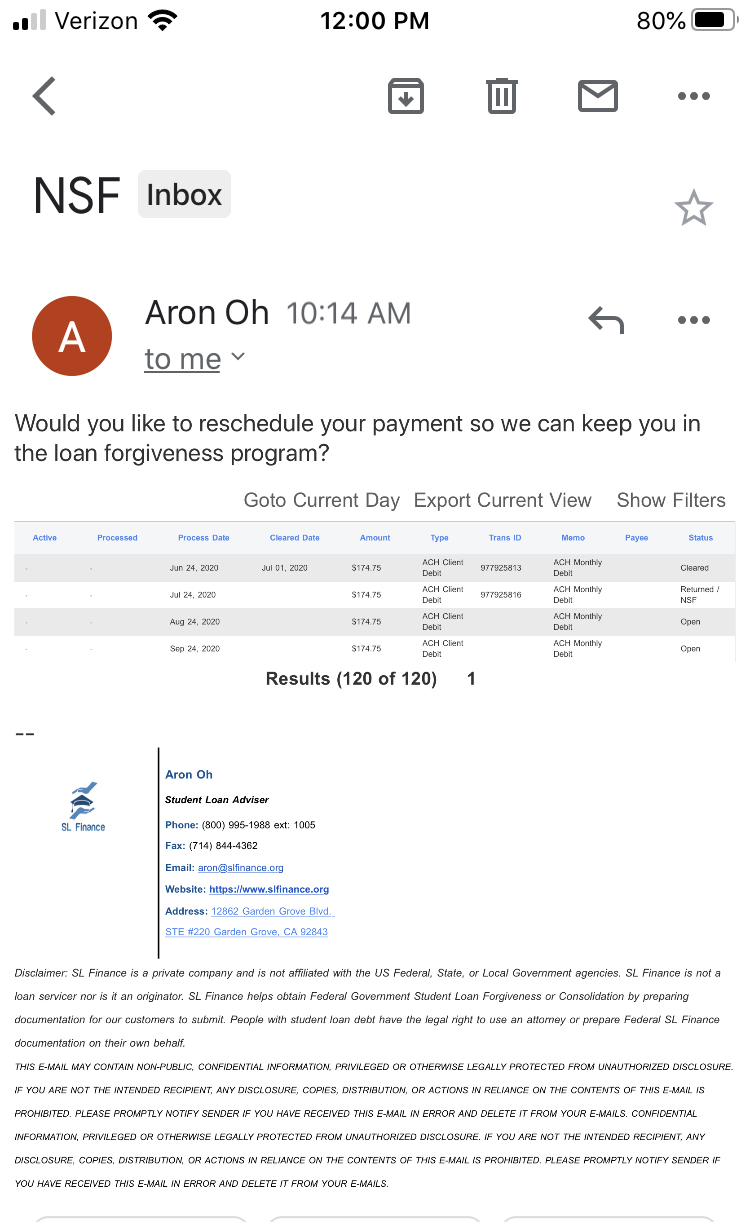 Caroline – Oct 06, 2020
I just got a call from them and when I returned the call the girl answered "hello". I than said I got a missed call from this number about student loans. She than said "Oh!, My name is Jennifer from… Blah blah blah". So sadly I have her my name and address, my last years income which was not even correct because I couldn't remember. Than she said she was going to load into the federal loan department to verify the schools I went to and the loan amount. She asked what email address was connected to my student loans. She than said a code will be sent to me and I needed to read it back for security purposes. So I read the code back and she mentioned that the email addresses are not the same for what's connected to my account and my student loans. It dawned on me that… If this is a student loan place they should have free access to all of that WITHOUT having to get my login and the code… OR needing to change my password. She was asking for verifications and I kept telling her to hold on I have to verify something. I googled the number and saw the scam alerts. I than started laughing and said… "You sick [censored]ing human being! You obviously don't have a heart scamming people during this time and who are already dealing with financial issues."
She than said…" Ummmm… " And hung up!
I quickly went to my emails and let them know I didn't change or approve changing of my account password and I reset it quickly
Naomi – Sep 04, 2020
Victim Location 80919
Type of a scam Credit Repair/Debt Relief
I have been receiving calls on a regular basis from SL Finance stating my student loans have been flagged for stimulus relief and loan forgiveness. The voicemail states this is available to all loan statuses, including those in repayment or garnishment. The VM is always left by the same agent "Jennifer Paul agent 2578" and to call 202-960-4548. I have called this number back on 2 occasion's and am directed to A live agent you begina requesting personal identifiable information regarding my student loans. Today the agent identified the corporation as SL Finance and calling regarding student loan forgiveness. I informed him I am on but federal and state do not call lists. He hung up before I could request to be removed. This is also what happens last time. This is a violation of FTC regarding DNC, in top of being an illegal scam offering debit relief to federal garnishments.
Devon – Aug 31, 2020
Victim Location 30701
Type of a scam Credit Repair/Debt Relief
Scam business identifying over the phone as student loan relief, attempts to steal social security numbers and bank information.
Joshua – Aug 12, 2020
Victim Location 40223
Total money lost $400
Type of a scam Credit Repair/Debt Relief
So they call and leave a voicemail with a sweet innocent girls voice (same voice on many diff voicemails w/ diff area codes & #) it's usually "Melissa, Rachel, Jaime, etc. & they say it's "time sensitive regarding your student loans." They also give a phone # w/ a (800) area code. They state no Co. name but they give you a reference # & say how they will keep ur case open until "Friday". Once I called back, they set me up with online documentation that I had to sign. Everything seemed legit besides the phone voicemail. I was skeptical & even asked if they were scammers bc I had a gut feeling even though They reassured me by rambling fancy terminology back at me that somewhat made sense to get me to feel at ease. They are super nice & "understanding". "Aron Oh" was who was dealing with my account through the "4 installment payments of $199.75 for 4 months." They then explained that through the IBR program after those 4 months, I would have a $0 repayment plan for 240 months… then the rest would be forgiven. After I gave them the second $200 and realized I had not gotten any email nor paper mail from them… just text alerts, I started to get suspicious. Everything under the online documentation (it was 16 pages of fancy bull[censored] just like regular loan places had) seemed legit. What really made me realize they were scammers is the fact that I kept getting voicemails with the same sweet girl voice stating my student loans were time sensitive & I needed to call immediately to take care of. Why would I keep getting these voicemails if I already consolidated? Sooo I emailed them asking for proof of being real & they emailed me back with this response verbatim:
"Hello Lauren,
Please disregard those phone calls. It could be another company trying to contact you without knowing you have already enrolled in the program. Your advisor, Aron, will be monitoring your account throughout this process so if you have any questions you can contact him at our direct office line, and his extension is 1005. We have attached legal documentation for your personal records.
If you have any further questions, please do not hesitate to contact us."
DO NOT BELIEVE ANY STUDENT LOAN FORGIVENESS PROGRAM THAT MAKES YOU PAY ANY UPFRONT FEES, PAYMENTS, INSTALLMENT PLANS, ETC. THESE PEOPLE ARE PROFESSIONAL SCAMMERS WHO MAKE EVERYTHING SEEM LEGIT EVEN THO IT IS NOT!!!!!
Theodore – Oct 07, 2020
This Aron oh just called me yesterday! Sounded too good to be true. Told him I'd have to talk to my husband 1st. Was supposed to call them back today and totally spaced it off & the Aron guy has literally called me 7 times leaving voicemails every time! 🤦‍♀️ So glad I decided to check in to this! Thank you for your review! Sorry they scammed you!
Randall – Jul 15, 2020
I received a call for sl finance ask me if I want to enroll in the forgiveness program i did I had to pay 199.75 for 4 months i pay all 4 month of and before my last payment ask When will my forgiven loan be forgiven Justin The visor he told me a month after a month I call to check up on it at 1 800-995-1988 go straight to voice mail so I must get scammed
Martin – Sep 09, 2020
Justin is trying to scam me now. did you ever hear back from him?
Angel – Jul 10, 2020
Victim Location 93705
Type of a scam Credit Repair/Debt Relief
They called me and left a voice message. They are aware of Navient Student loan holders and are using that to draw people into their scam. They said that my loan, total amount, could be forgiven if I make $174.00 a month for four months and the remaining balance would be paid off. This is in fact, false. The student loan forgiveness program has different requirements. Being on public assistance or disability does not
qualifies someone. Beware of these scammers. They had me almost fooled until I researched.
Michelle – May 19, 2020
Victim Location 31088
Type of a scam Credit Repair/Debt Relief
Scammer, "Connor" had my entire scope of information including SS#, DOB, Address, Phone#, name of Student Loan, the exact amount I owed, and claimed I was qualified for a forgiveness relief of what I owed, which was 6500.00.
I was told I would be required to pay $199.00 per month for 4 months, which would have to be drafted, then I would be forgiven the loans.
I stopped the conversation when he asked for my bank information.
Cameron – Nov 11, 2020
A guy named Conner called me today too. I had a gut feeling it could be a scam so I googled the number that Conner gave me to contact him which was (1800)995-1988 x1010 and came across this article as I was on the phone with him. I told him I wanted to do more research on the company he worked for before I have him any type of payment. He then hung up the phone. I am thankful to come across this article. I also changed the password to my student loan account just in case.
Ronnie – Apr 21, 2020
I was called by one of the receptionists at SL Finance about my student loans and my current situation. I was able to get transferred to one of the student loans adviser there(ISAIAH) he was able to help me out in a timely matter and get approved for one of the loan forgiveness programs(REPAYE). Isaiah did a great job with helping me out,
would recommend to anyone who is currently struggling with student loan debt.
Tamara – Apr 21, 2020
My loans were in default and I was at risk for wage garnishment. If it wasn't for them and their help with the consolidation of my student loans then I would have already had my wages garnished.
Vincent – Apr 21, 2020
Great customer service, was very patient with helping me understand how the programs work. They were able to help me lower my monthly payments to something I could actually afford. Highly recommend to anyone having trouble with their student loans!
Ashley – Apr 21, 2020
After receiving a handful of phone calls from different places, SL Finance was able to guide me through the whole process, answering all my questions and able to explain everything thoroughly. The agent was straight forward and explained to me the student loan consolidation programs in a very detailed manner. Thankfully they were with me every step of the way. Thank you!
Steve – Apr 21, 2020
I called in asking for help in regards to the loan forgiveness program. They were very helpful in walking me through the entire process step by step. They were able to help me save a lot of money! Definitely will recommend to anyone with outstanding student loan debt.
Roberto – Apr 21, 2020
I have been receiving many calls and messages as well. I finally reached back to this company. They were able to pull up my exact amount of student loan debt. They were also able to qualify my payments down to $0, at first I didn't really believe what I heard, but the gentleman on the phone was very helpful. After the consolidation process was over, I received an email and a letter in the mail saying I was approved for the program. I felt so relived that I answered the phone and put my trust into the company. They are very professional.
Deanna – Apr 21, 2020
SL Finance was a tremendous help. I had been in default and unable to afford any payments towards my student loans. The IRS had notified me they will begin taking from my taxes. I spoke with Connor at SL Finance and he was able to get me qualified and enrolled into forgiveness directly with the DOE. Since then my loans have been pulled from default and I currently have a balance of 0 of my loans! If you are struggling with student loan problems I highly recommend them!
Tristan – Apr 21, 2020
Thank you so much to Justin for helping me with my student loans! He was very helpful with my enrollment into the program. Before talking to SL Finance, my servicer wasn't really very helpful. Navient was always charging me interest, but thanks to Justin I don't have to worry about that anymore. If you have student loans, make sure to give them a call.
Ricky – Apr 21, 2020
When they helped me with my loan forgiveness program, SL Finance always sent me payment reminders. I always made sure to call in before my payment date if I needed more time.
Mandy – Apr 14, 2020
Victim Location 18201
Type of a scam Credit Repair/Debt Relief
I received a call from 1(931)297-9924 asking if I was interested in loan forgiveness. They transferred my call to "Dustin ****". Which then hung up. He returned my call with the 1-800-995-1988 number. He said that we must have got disconnected. He had a previous address of mine from about 10 years ago. I gave him my current address. He then asked me to verify my birthday which I gave to him. He then told me that a code was going to be sent to my phone and to read it back to him for security purposes. It was a code from the studentaid.gov website. The text was from 884-60. I gave Dustin the code. He then sent me an email of all my federal loans, including my SSN number, date of birth, ect. He said that I qualified for Student Loan Forgiveness. He spoke to me thoroughly about this program they offered. He was very convincing. He asked me to verify the last 4 of my driver's license number. I did give it to him. He then said that I would have to pay 4 payments for 4 dates during this and the following 3 months of 199.99$ to get my loans transferred to the program from navient to Department of Education. I would receive a document from the Department of Education saying paid in full which would boost my credit score.I then would have to pay 17.99$ a month after to the department of education instead of navient for 120 months. After that my remaining balance would be forgiven. He requested my debit card information to get me started. He said he could not send anything by mail. He then sent me a document in my email that was the "legal document." However you had to sign it before you viewed it. I then told him I was not interested. He said he could be reached by 1-800-995-1988 ext 1008
*My boyfriend's mother received a similar call.
Erica – Apr 21, 2020
I received the same call from Dustin, only he was very helpful! He was able to help me qualify for payments i could actually afford. You actually don't have to sign to view any of their legal documents, i just had to adopt the signature. It was actually very simple.
Tonya – Mar 19, 2020
they just called me they had all my info, and they are asking me for payments of 199.00 for the next four months, Connor 1-800-722-1300
Connor Looney
Student Loan Advisor
Phone: (800)995-1988
Email:[email protected]
Website: https://www.slfinance.org
Address: 12832 Garden Grove Blvd. Ste. 220
Garden Grove,CA-92843
Eduardo – Oct 06, 2020
They were able to get all your loan information because you provided them access to you studentaide. Gov all that information is on there
Bobby – Apr 29, 2020
Yeah mines for 174 for 4 months then I get full doe forgiveness we will see
Carly – Apr 21, 2020
They were actually able to help me pull up all the loan information since I couldn't find it myself!
Molly – Feb 27, 2020
Victim Location 91384
Total money lost $199.75
Type of a scam Advance Fee Loan
They said i could qualify for student loan forgiveness, they really tricked me. I did give them all my info. They took 200 bucks that day and was gona take 600 more the next few months. Turns out they never contacted my fed loans other than to put my account on forbearance so fedloans didnt ask me for payments while i was paying them..but i called them to double check everything and they had no record as they said they contacted them already. This scam then started hanging up on me constantly, talkin over me, repeating themselves. I asked to talk to a manager and he said he was supposedly. But he was like a kid and not professional at all.
Brandon – Apr 21, 2020
They got me qualified for the same program! I actually went through the whole process though, and was able to be placed in a loan forgiveness program. The forbearance they place on your loans is so you don't have to pay your lender during the consolidation process. It was very helpful that they did that. Thank you SL Finance!
Casey –
Victim Location 49327
Total money lost $199.75
Type of a scam Advance Fee Loan
I have been receiving several messages via text from this Company called SL finance. They were offering a loan income driven repayment plan for my student loans. They said that they would consolidate my loans and I would pay an initial fee of 199.75 in Feb.2020, which I did, and then pay 120 payments of 39.00 a month. I just received a text stating that they are taking another 199.75 in March 2020 which I DID NOT AGREE to. So now i have been trying to reach this company and email and have had no response and no answer. This company is a scam, watch out.
Kelli –
I was approved for a similar program, they stated the consolidation process takes 4 months so i would be paying 199.75 for the first four months only. Shortly after that I enrolled into my IBR program with my quoted monthly obligation toward my loan debt. They followed through from what we discussed and I left satisfied! Highly recommend.