Jordan – Dec 09, 2020
I received the attached text but have not responded because it seemed shady. After reading your responses I am glad I looked into it further. We never got to the part where they send me money if they had said that I would've instantly known it was a scam because all companies that want you to do remote work will mail you your equipment they never ask you to go out and purchase it with their funds. You either have to supply your own equipment out of your own pocket or they supply it for you.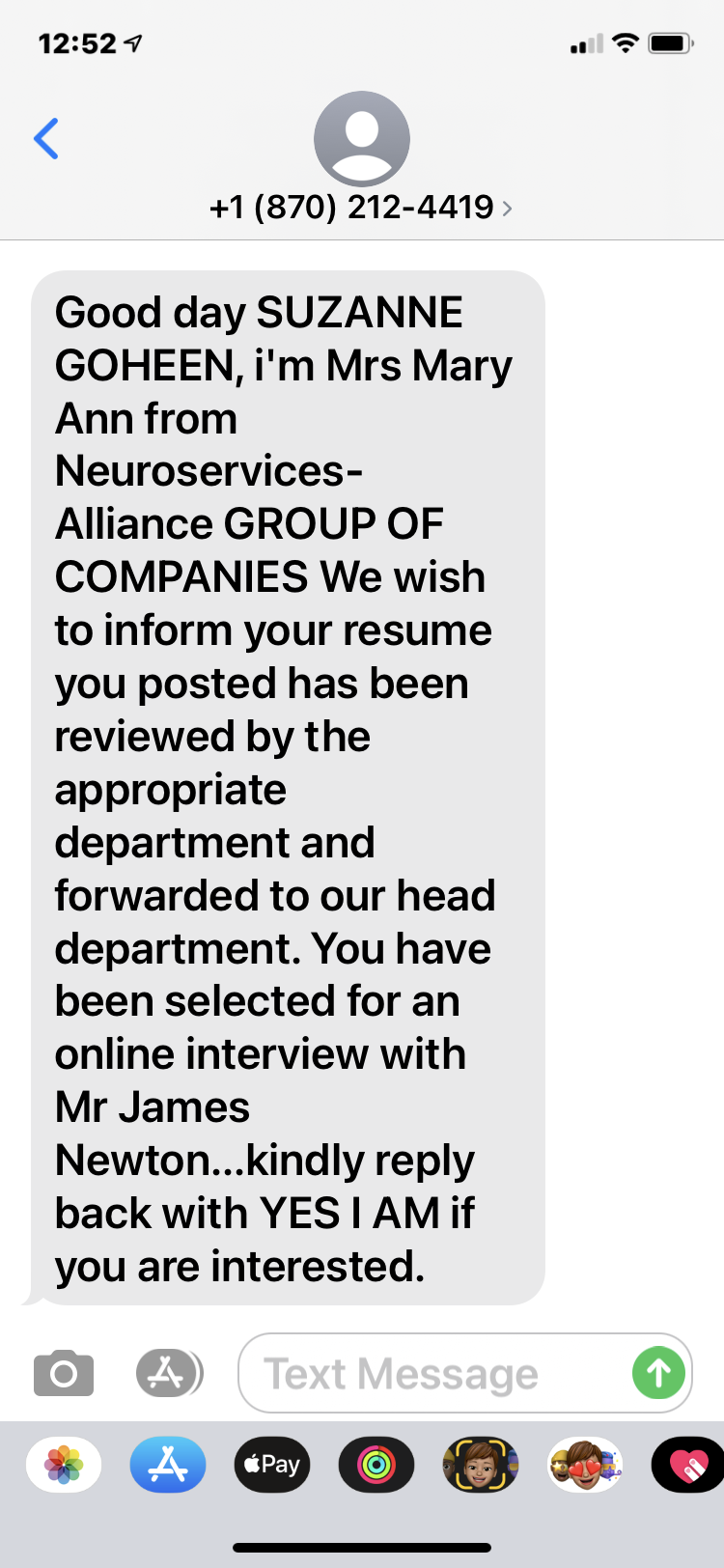 Samuel – Nov 19, 2020
I got send a check worth $3,450 deposited by mobile deposit then had to wait ten days before those were up the bank said it's a fake check and that they are deactivating my account. This was his response… I should of known it was too good to be true. and. It was through telegram
Kurt – Oct 09, 2020
A "Stacy Hernandez" sent me a $3,550 check and I thought it was a scam when I first got employsd but got suckered into giving away $300 which is a lot for me.. i'm having the check tested for fraud but I already stupidly deposited it so my bank will probably delete me when they discover it's probably fraud. I feel so dumb but I guess i'll see what happens with the statement. I'm sure I lost the $300 I sent and didn't have my wits about me. Somekne needs to file a case on these ***holes but I assume noone has the money 'cause they pray on people like me.
Geoffrey – Oct 01, 2020
I am speaking to a " Bob Petroski" , who seems to be a legitimate person online though idk if this person is just posing to be them. I got a check for 4,350.00 usd and I'm now going to the bank to deposit them I'm gonna make some calls.
Summer – Sep 03, 2020
Victim Location 77084
Type of a scam Employment
This company contacted me via "Zip Recruiter" claiming to have a job opportunity, sent me employee documents, a $1900 check for my "software equipment" that I was then required to Zelle to their vendor. When I asked them why wouldn't they just send me the equipment they got super defensive, and no longer were replying to me.
Jake – Sep 30, 2020
Who was the person that you was talking to because I think am going through the same problem