Angela – Dec 08, 2020
I purchased a Neat Projector on Friday 19 November 2019, I purchased the Neat Projector, extended warranty, HDMI cable and short stand totally $120.99 USD and I'm yet to receive any part of my order.
My order was confirmed and I was told a number of times that my order had been shipped. I did communicate with them via their support email account earlier this year but for some strange reason the content has disappeared but queries have not.
I've reported them to social media sites as they were still advertising this product and so far I've not seen or heard anything from them. I've long since given up on a refund so the next best thing is to share my own experience in forums like this in the hope that the message will reach the right people so they can put a stop to all of this.
Melody – Nov 13, 2020
Same with me, I ordered mine on July 27. I've got the black mini projector and after a few days, it changed the statement to "shipped" and it never arrived until now.
I have sent emails to the company and '[email protected]' and never got a reply back. I had to get one for my school project and I had to use more money because of this scam.
Would there be a way to get a refund or something…would it be too late?
Nicolas – Nov 12, 2020
Ordered a projector in July .. it says it was shipped but I never received it and now the website disappeared and can't get a refund
Brandy – Oct 23, 2020
It has already been about two months since I've ordered the "projector" and I haven't received anything. I've been emailing them multiple times but no response and when I try to go to their website, nothing shows up anymore. I had found the ad for this projector on Instagram.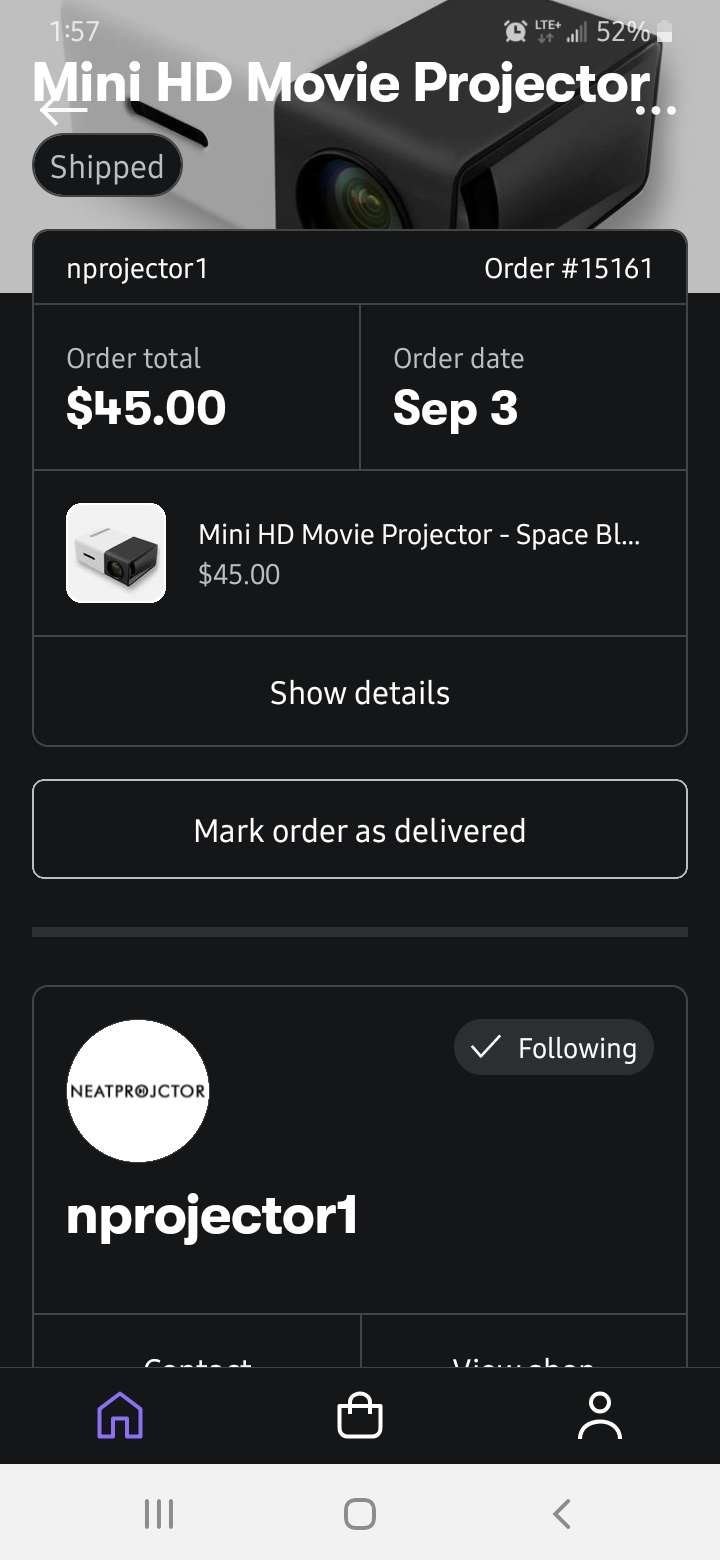 Jeffrey – Oct 01, 2020
The same thing happened to me. Nothing has arrived after two months, I have sent many emails and no response, no tracking number, no communication.
Tasha – Sep 22, 2020
Ordered on August 9th and never got it. All tracking or shipment links are busted. 100% just got scammed out of like $69 all because of their instagram add
Jaime – Sep 17, 2020
Only bought 1 projector, but got the following email they will add a screen and stand to the order. The view order shows that the package has shipped, but after a few days it expires and shows the following page.
The email is [email protected]
The company email is
[email protected]
Jack – Sep 13, 2020
I ordered on August 13th I have emailed multiple to ask how long it standard shipping blah blah blah, and still no reply!
Genuinely disgusted that people do this crap! It's not okay and IG needs to get there crap into gear and make sure advertisement like that isn't a scam!
Such bullcrap!
Trevor – Sep 03, 2020
I ordered it on July 21st. I've emailed them and still nothing. It's been saying that it was shipped weeks ago and I haven't heard anything from them.
This is the email I have for them
Besides that I'm lost and extremely pissed off. I needed this for my son's project.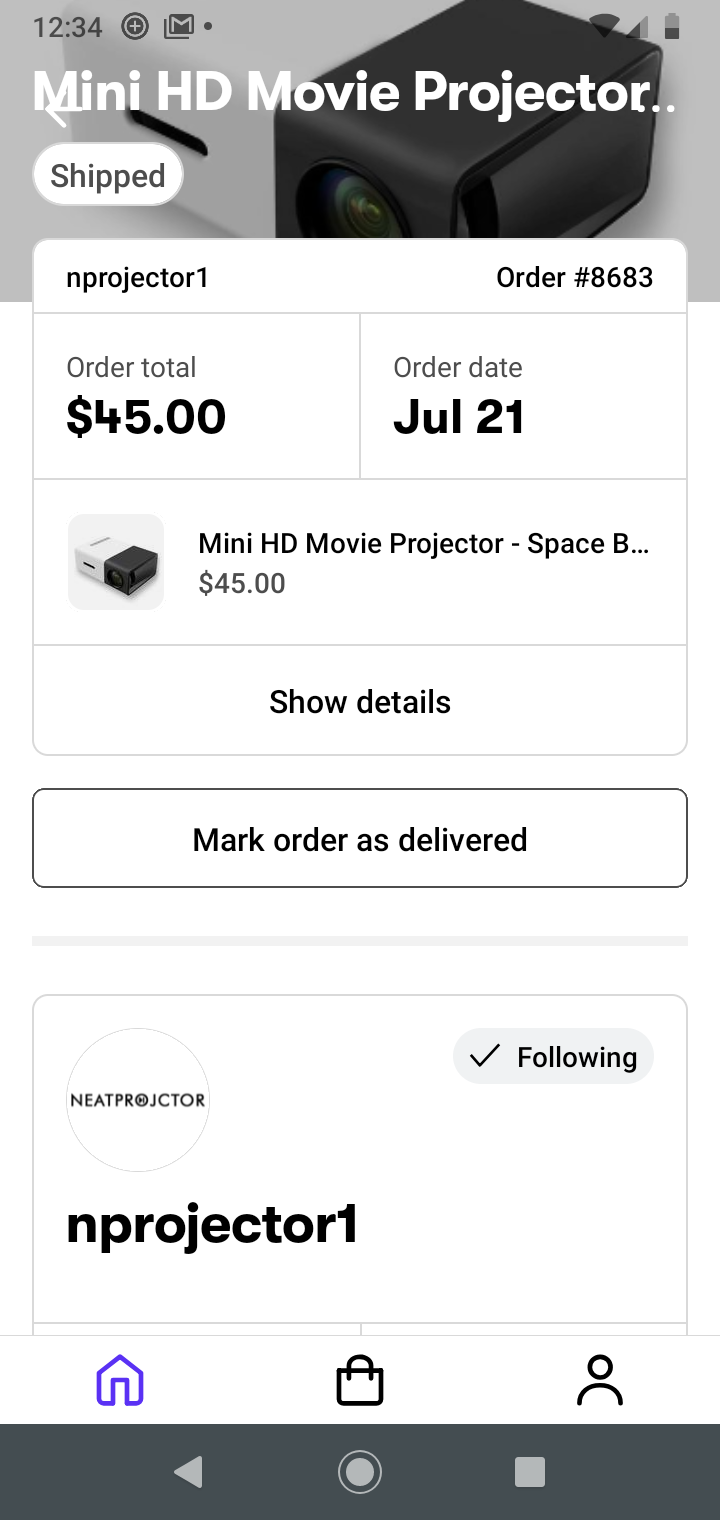 Robin – Aug 14, 2020
Same story-
Placed my order on Jul 19 and haven't received any package yet. I feel so stupid that never checked review websites before placing my order.
It was definitely the first and last time I purchased anything on IG.
Does any one knows if the banks can refund the money?
Karl – Aug 08, 2020
Did I receive a tracking number
Kristy – Jul 17, 2020
I only wanted to buy three things. It kept taking me to different things and it made me purchase it. I list $246.20 I'm 19, my mom sent that to me to help me out and I needed that money. I have a phone bill. I lost my job. We're losing money because a selfish [censored] can't work and decide Mx to steal from others
Bradley – Jul 13, 2020
Neat Projector is a scam and although it said something was shipped and I could track it, nothing even arrived.
Alicia –
They should be drug in the alley and shot! Nothing but old fashioned theft! Instagram should screen ads before running fraudulent companies like this… I'm out 97$
Same story as everyone else
Instagram ad sent me to the Neat Projector, a projecting device I look at their page and website and thought it was a great gift for my wife for Christmas so I ordered one. With holiday discounts, my total was $97. I got an email informing me of my order number and that they were backed up
LIES
SOMEONE FIND THEM and I'll lead the charge to BEAT my money out of them
Erik –
Victim Location 30047
Total money lost $97
Type of a scam Online Purchase
Placed order from IG for Neat Projector on black Friday sale. Paid in full $97.00 for two items. Received several emails that the products will "ship this week" but those weeks have past and it's ow February. Their website now down and there is no way to contact them other than automated email response stating the product will "ship this week". Absolutely a fake company. Total scam on IG and FB. Reviews were all Fake!
Christina –
I ordered a projector from a so-called 'specialist' site, which promises high-quality (1080p) videos. The first warning sign was the delayed delivery after payment. This prompted me to contact Neatprojector via email to ask for a status update. The tracking number (which was provided after purchase) did not align with any specific carrier and no information was provided. Once delivered, I opened and tested the product and found that it was defective. The projector is very poor quality and its aspect ratio was incorrect. They claimed that the product shows 1080p (HD) images and yet it displays this signal in a square frame. The edges of the picture are heavily distorted, and it is not possible to focus the entire picture, only parts of it. The company's primary website appears to have been taken offline. Each time I turned it on, it would overheat to the point when it was too hot to touch. I was deeply concerned that the in-built fan was not doing its job. They tried to reassure me that it was normal, but I knew it was a hazardous object to have in the home. I emailed them, asking for a return. The Facebook link that was present on Neatprojector did not contain a legitimate Facebook page. On Instagram also, Neatprojector has very few posts, but a good number of followers. On the Trustpilot site as well, many people have rejected Neatprojector claiming it to be a scam. I am pursuing a refund since the website no longer exists and I have no contact details. There is no phone number to reach the company and email did not resolve the issue.
Sheila –
Victim Location 80033
Total money lost $91
Type of a scam Online Purchase
Ordered the neat projector on Black Friday for a gift for my sister for Christmas. I received an e-mail saying they had too many orders and had to open up other production sights and that the product would be delayed. After Christmas had passed sent several emails saying I still hadn't received the product and the keep replying that it is in transit. Every time I look up the tracking number it says it is in progress since January 9. I then googled the neat projector and found many other consumers with similar stories. They have now taken down their website but their people keep replying to my requests about a refund saying again they can't help the delay of the product and they can't issue a refund.
Willie –
Victim Location 53189
Total money lost $119
Type of a scam Online Purchase
On 12/6/2019, I ordered this projector after seeing the ads on Facebook. After receiving an email that stated they had "higher than expected orders, they were still working on my order." I have still not received this product. I have sent multiple emails that have not been returned. There is no phone number to call either. Scam.
Samantha –
Victim Location 96762
Total money lost $81
Type of a scam Online Purchase
I purchased this entertainment system. After many emails back and forth, I still have not received this product and the website no longer exists.
Mark –
Victim Location 13036
Total money lost $80.80
Type of a scam Online Purchase
I purchased this online from a Facebook ad on Nov 30, 2019. I still have not received this product. I contacted the company and they have an automated reply that they did not anticipate so many orders so they are hiring more staff and a new production line. I went to my bank Jan 9, due to the overwhelming negative reviews of many others not receiving their purchase as well, to dispute the charge. They also charged me a Credit Card fee that was never present in the purchase only showed up on my bank statement. After my bank disputed the purchase the same day I received an email stating the order is in process of delivery. Great choice of words. Company is scamming many people still today. They have changed names on several ads.
Natasha –
Victim Location 55104
Total money lost $150
Type of a scam Online Purchase
Purchased an LED projector from Neat Projector website after seeing an ad for it on Instagram. Purchased a projector and stand for $150. Projector did not work as advertised, emailed and asked for a refund. Received an email but nothing further. Verbiage about refunds are conflicting on website and now based on reviews for this product and company I would highly not recommend them and they should be shut down.
Karen –
Victim Location 37377
Total money lost $80
Type of a scam Online Purchase
purchased this product on 12/4. i send emails daily for a refund b/c now i realize it's a total scam and i receive replies stating they are 'sorry for the delay and that the response was so much greater than anticipated'…….
it's the same response every time. you can tell they do not speak english from the emails.
Kelsey –
Victim Location 21075
Total money lost $97
Type of a scam Online Purchase
On November 27th, I followed an ad on FaceBook and Instagram to the Neat Projector, a portable projecting device that you can affix to any computer, phone, tablet, etc. and then project the screen onto any surface, like a movie. I look at their pages and website and thought it was a great gift for my husband for Christmas so I ordered one. With holiday discounts, my total was $97. I got an email informing me of my order number and that I could track my shipment in the "Arrive" app. A few weeks later, I realized the product hasn't arrived so I went to track the order in Arrive, where I found it didn't exist. I emailed the company inquiring about my order. I got a very generic, vague response that they had received a lot of orders and were backed-up. Something didn't sit right, I looked up "Neat Projector reviews" where I came across hundreds of angry reviews, claiming they had been scammed. I went back to the email and website and saw there is no phone number or physical address, which I hadn't noticed before. I emailed again; again, I got a similar response. I contacted my bank to file a fraud claim and the FTC, where I reported them as well. The ads were still on FaceBook last I checked, despite them being reported as fraudulent. Their Instagram account is still active, however, there are no comments and no ability to comment anymore.
Mario –
Victim Location 90807
Total money lost $163.99
Type of a scam Online Purchase
Please beware of this company "best projector". I found them on social media via Instagram as an add on my feed. They advertise sales all of the time, but then will continually state there is a shipment delay. Over one month has passed and I have not heard from the company. I investigated the company further and the information pulls up what appears to be possibly a Swedish company based off the foreign language on the website. The company's name was listed as centafic ab and centafic is also how the company showed up on my credit card statement. In total, I paid 163.99 and have yet to have anything confirmed regarding plans on shipment.