Diana – Oct 10, 2020
I ordered a cat tower and the payment was taken out of my account on 04/05/20.
It is now 10/10/20 and I have not received the cat tower, nor have I received responses to my emails and I can not access their website.
Do you have any suggestions?
Whitney – Oct 20, 2020
I have ordered a cat tree on March 31, still have not received it.
Emailed twice and have not heard back. Does anyone have a phone number for these people? [email protected]
Desiree – Sep 10, 2020
On 4/4/30 I ordered from Milcats the tree tower. I paid for it and the charge was taken out of my account. It is 9/9/30 and I still have not received my order. In Shop app it appears as shipped with no other information. There is an email contact which I've written to several times with no response. I've tried every avenue to get either my product or my funds returned to no avail. Now I see that it is the case with many if not all other orders. Does anyone know what I can do to resolve this. I would appreciate some any information or assistance with this. Thank you.
Angel – Aug 24, 2020
I ordered the same Milcats tree as everyone else (on 4/1/2020) and just like all of them have never received the tree. I have tried to contact them with no response.Have really learned a lesson and also will never order from adds on Facebook again.
Tony – Aug 07, 2020
Yeah! I am another one that thought the purchase was legit.
I paid for my supposed cat tree on April 24th 2020.
Nothing arrived. Credit Card company reimbursed me today.
Martha – Aug 05, 2020
I ordered a cat tree for $29.99 in May it is now Aug and still no cat tree this definitely was a scam! Never again will I order anything off of good old Facebook!
Darren – Jul 29, 2020
Don't purchase anything from Milcats. I ordered a cat tree 5 months ago and haven't received it. Farcebook should be liable for the things they allow people who scam. This makes 5 items I've purchased from Facebook and there's no way for you to contact anyone!
Sabrina – Jul 29, 2020
I paid for and waited for cat tree and nothing,no response from emails and then directed me to dragrkang site and the same thing happened but this time I think they delivered a sticker of cat tree.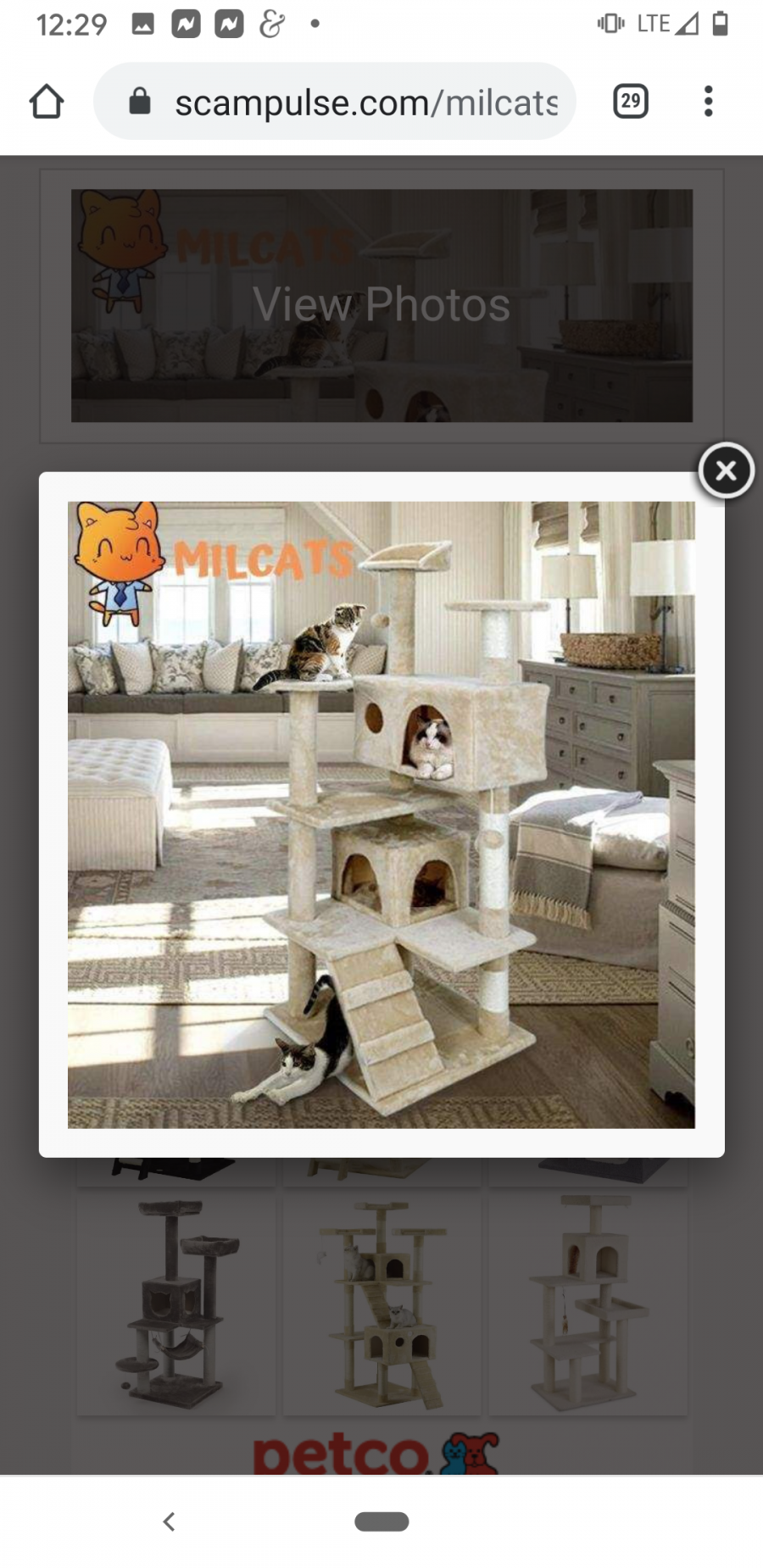 Kristen – Jul 26, 2020
hate when you get scammed, I also ordered the cat tree and never got it. I agree FB should be responsible for allowing scammers on their site but I am surw they dont check. I will not order anything on there unless i can use paypal. that way you can get your money back.
Jerome – Jul 24, 2020
I ordered a cat tower on April 4, 2020 for $29.99.off of a Facebook advertising. I have made several attempts to contact them at [email protected] about the the whereabouts of my cat tower with no response. It is obviously a scam. I wish I would have read the reviews before ordering.
Evelyn – Jul 21, 2020
Milcats is sure making a lot of money from us. I, too, ordered a cat tree for my kitties in March. They charged my card on 4/4/20 for $29.99. There is no contact information on my bank statement so I cant call. I have emailed them but no response. I , too, thought it was legitimate. I found it on facebook marketplace. Very disappointed. I dont know what else to do about this. But it really sucks to be taken advantage of.
Sheila – Jul 04, 2020
I ordered a cat tree on 04/04/20 It is now 07/04/20 and I still have not received my cat tree. Someone needs to do something about these scammers! I am furious! I'm not sure how to proceed with this because of the length of time that has lapsed. It's been so long I forgot what card I used. I;m going to try to follow up! No more ordering something from FB!
Tiffany – Jun 25, 2020
I ordered a cat tree in april, got confirmation
and never sent product. I filed a dispute with my credit card company and they did refund me. i hate people that scam others!
Jonathan – Jun 24, 2020
I ordered a cat tree in April and still haven't received it anyone else ya omg the same issue? I would like my money back or the item ordered
Charlotte – Jun 12, 2020
2-17-2020
I ALSO ORDERED A CAT TREE ON 2-17-2020.ISENT SEVERAL EMAILS TO SEE WHEN I WOULD RECEIVE IT AND GOT NO RESPONSES. I CHARGED IT TO A CREDIT CARD ,SO I WAS ABLE TO GET MY MONEY BACK. THEY SHOULD FIND THIS COMPANY AND MAKE THEM PAY EVERYTHING BACK.THEY ARE JUST THIEVES AND SCAMMERS.
DSL
Leslie – Jun 10, 2020
I also ordered one unit from this place on April 4th and have not received anything. Now that I see all these complaints I know why.
Personally I am that FB should make sure all these places are legit before letting them advertise on FB. If it turns out they're not and FB has allowed them to put phony ads on them then FB should be responsible for this and return the money to each person who got scammed. I will not order from anything on FB again. I know there's a lot of legit ads on FB but if no one is going to be responsible for returning the money lost when it is a scam then why take the chance?
Rebekah – Jun 09, 2020
I ordered from them on April 12 and they tool my money and never got my order. I paid 29.99 and my ORDER #61686. I have 3 kitties that would have really liked it.
Johnny – Jun 07, 2020
Victim Location 38106
Total money lost $29.99
Type of a scam Online Purchase
Never sent product and never responded to email or calls. Found on Facebook. Interesting part is many of the customers got their product. Not sure if COVID messed up their business or what but I do now see many prior complaints.
Blake – Jun 04, 2020
I ordered cat tower in April paid and told delivery would be 7-12 days no delivery no response to emails am seeking legal advice Do not order from these they are now on Facebook under anewname
Ruth – May 27, 2020
Like everyone else on here,I ordered a cat tree on April 9th 2020 after seeing an ad on Facebook. Received a confirmation email,and later a notification that the tree was being shipped. Nothing has arrived to date,and no response to 2 emails either. Obviously a scam,and should have known better,at what I thought was too low a price. Will not be buying anything from Facebook ads again,,as lesson learned!
Erin – May 24, 2020
Got had by these pirates. Rest assured I will be more vigilant next time
Patrick –
PUBLIC SERVICE ANNOUNCEMENT! I like you was scammed by this company! On Thurs 5/23/2020 my Credit Card Company contacted me about a charge at Chick-fil-a; we weren't at Chick-fil-a so I stopped the payment. When I called my credit card company they informed me there were also 2 – .01 cent charges as well. MAKE SURE IF YOU USED YOUR CREDIT CARD YOU WATCH FOR CHARGES YOU DIDN'T CHARGE. Who would think Chick-fil-a?! They will start like that and if they get away with it they will go to town. I will NO LONGER order anything from Facebook! Facebook is so worried about people saying or posting the wrong thing, I think they need to be more concerned of who is posting Ads on Facebook…I hope this helps even just 1 person…Stop the Fraud!
Caleb –
I will never order anything posted on FB again. First this and then my husband wanted to try Keto Fast. It was 49.99. In addition to that, plus tax, they charged another $34.98 and $1.99. I looked it up and sure enough, lots of complaints with same amounts, some were higher. So sad that people "work" so hard to make money off us honest people…why don't they work that hard at a real job.
Anne –
Same story as everyone else. However, when I got my credit card statement the charge was for Midcat PARIS. We have been had again. Poor American fools and we can't touch them.
Randall –
Same story as everyone else, however, when I got my credit card statement the charge was listed as MIDCAT PARIS. So I guess that is why we are unable to do anything to them. They are not in our Country and we are their poor American suckers again.
Larry –
I am also a victim of this scam money out of account and no product no replies to my E-mails and they have my credit card info, I should have listened to my Grandmother when she said " if it sounds to good to be true it most likely is" Just want my money back
Eddie –
I ordered a cat tower as well. I have sent numerous emails to no avail. They said it was shipped. Never received it. No phone number. The $29.95 was a scam. I'm so pissed. They said they were going out of business was why they were cheap. To good to be true.
Jorge –
I order a cat tree from this company .I order was April 14.I'm one of the ones who fell for a deal to good to be true!' Someone needs to check them and stop them.
Roy –
I have also ordered this product and received a confirmation notice on 4/16. Have sent two emails with no response. I really want this product or money back. Also, ordered from an ad on Facebook. I normally write good reviews but if this is a scam I want to save others the grief. If it isn't I will write again.
Keith –
Like everyone else on this page, I ordered a dark grey cat tree for $29.99 USD and my credit card was charged exchange of $42 and change. That was on April 8 and I have NOT received it, have not received answers to 5 emails, 2 of them being directly on their page under "contact us" link. I have an invoice, and received email saying they were sending a tracking #, of course that was a lie. This week I received an email asking me to review. I gave a negative review & said the same as others here, how can I review when I have not received it? I again (6th time), gave my invoice # and sent it it. I received an automated reply that as I had given a negative review, someone would be in touch. I have checked my email repeatedly, no reply, no phone call – nothing. I have 2 cats and was looking forward to getting this as one has destroyed my furniture and constantly on counters etc. I too, saw the ad on FB and thought it was legit. How do we get our money back, or even report them? The site has been taken down as I just discovered. I also
did research, I too, found nothing about them until today when I found this page.
Maria –
I ordered a cat tower April 9th for 29.99 but got my credit card bill and because of exchange was charged 43.29. No cat tower unable to find email to ask where it is but i hear they are a scam. Would like to know where they are from so I can contact BBB. Now they are advertising on FB under another name. I would like reimbursed
Latasha –
I ordered a cat tower on 4/1 and received a confirmation. My credit card was charged. I have not received the cat tower and the company does not respond to inquiries. I disputed this with my credit card. We were looking forward to this item. Also advising Facebook since this is where I first saw the ad.
Oscar –
Ordered a furry cat tree tower 4/14/2020 never received,
paid with credit card,
they kept telling me it was on it's way, no delivery!
They even wanted me to give them a review! I said how can I review when I never received it! SCAM SCAM SCAM!
Brenda –
I also ordered a cat tree on 3/26 and paid with my debit card. I have not received the product and have not recieved any response to my remail. this place is a scam, dont, order anything from them
Clayton –
Ordered one beige cat tree on April 11 – paid with my debit card. Received an immediate "Thank you for your purchase!" and noted shipment would be in 7-12 days. Have e-mailed asking when I'd receive it. No reply.
Not happy!
Cassandra –
Ordered one unit. This Company very keen on cashing-in your money. Site looks professional and genuine but beware, It is a hoax. They do not intend to deliver… They do not respond to e-mails or queries.
In the end, you realize that you have been had by a bunch of thieves and crooks and that you will never receive the product… even less to get your money back
Someone out there should go after them and make them pay for all the fraudulent transactions and the money they extracted from good will customer…
JF
Arthur –
Yep. I've been scammed by them. What a crock. What a bunch of horrible dishonest jerks.
Mario –
Victim Location 56537
Total money lost $60
Type of a scam Online Purchase
Ordered two cat trees from this person/company. Received an email that shipping would take longer due to Covid, I said that was ok. I have since sent 2 emails asking where my product is or a tracking number. I have gotten no response and no product. They took 60.00 from me. I ordered on March 23, 2020 and never received my products. There were hundreds of people in the same situation, I did do research prior to ordering and found nothing, but that is not the case now. Please do not order anything from them….you will get scammed. It looks like a legit website….special price for one day….looks like a nice product…and the do send a email after you order like they are a concerned person/ business owner. They are NOT…do not get fooled like me!!!
Billy –
It is always so dissapointing that you are the victim of af HOAX. I paid my 29,99$ for a cat tower to robbers who have no intention of delivering the product!
I made several attemps to contact them, but here is never any response!
I don't know who can stop these thieves who operate without impunity from I dont't know where, and without any consequences or law to put them in prison and making them pay the price for their dishonesty!.
BEWARE: Don't ever give these thieves any money or else, rest assured that you will loose it!
Mario –
The same here…Ordered "2" cat trees one for myself and one for my daughters cat. I looked into reviews first…all seemed good. Did this 4/11 and on 4/13 they took $59.98 on my credit card. They stated they had numerous trees available in their NY warehouse and would be shipped within 10 days. I also have seen many advertisements on facebook for same tree, different company name and higher price. I have a call into my credit card company and awaiting a return call.
Andrew –
Ordered and never received it. I'm putting a complaint through BBB. Plus through our card. We should get these guys they are thieves!
Heidi –
I ordered 2 cat trees from Milcats and charges are on my Visa bill…$29.99 each. never received them…guess I got scammed. Will Visa take it off my charge account?
William –
same here… credit card charged right away and I would get the shipping confirmation soon, it never came. They never replied to me. Now, the website is unavailable. April 9th is when my cc was charged.
Randi –
This is the photo that sent when they asked me to give them a good review. I still never got a reply about where my cat tower was or when it was supposed to be sent and it's been almost a month.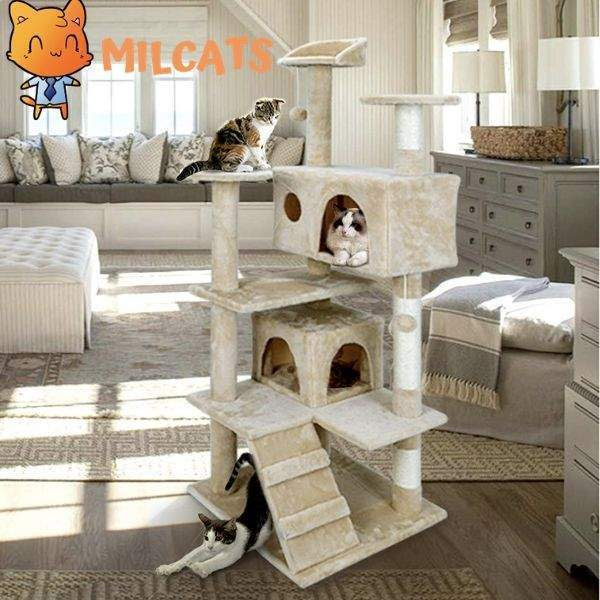 Nancy –
I too, lost $30. when I ordered a cat tree for my kitties. I have written to them several times and receive no answer but they were very quick to take my money. Now I am seeing the same cat tree offered again under another name on facebook only they want $40. for it this time. If it sounds too good to be true, it probably is.
Joseph –
Victim Location 28803
Total money lost $30
Type of a scam Online Purchase
I ordered a cat tree from this company. I researched the company online a bit and found no immediate threat so decided to go on with my purchase. This was April 6. Immediately I received a confirmation email and the funds removed from my account. The email stated I would receive a shipping confirmation email later. I waited a week and emailed the company asking for clarification about my order and received no response. I waited another week and sent another email, again no response. I waited a few days and decided to really try to dig into this company and that is when I found that their IP address is almost brand new and they have multiple supposed addresses none of which match the return address given for faulty product. So I lost $30, which is a lot of money to me seeing how my disposable income every month is $40. I couldn't get groceries because I wanted to spoil my cat and his gift won't even arrive.