Casey – Oct 15, 2020
I ordered pipe cleaners on May 24th and it is now Oct. 15th. I emailed several times and NO response! I see that I am not alone in this. This is definitely a scam!
Meredith – Sep 06, 2020
I have the same story as everyone else. I bought 2 candles from Walmart.com's website in April 2020, not realizing that I would be at the mercy of a 3rd party seller stealing people's money. It is now September 2020 and my order still says "Delayed". I tried to reach out to the seller with no luck at getting a response. I called Walmart.com at (800) 925-6278 to see about getting a refund of approximately $30. This seller is raking in the cash by saying they shipped your items so they can charge your credit card, and then never sending the purchased items.
Tara – Sep 06, 2020
Walmart.com is promising a refund within 2 – 5 business days. I will post an update soon.
Peter – Aug 07, 2020
I ordered from the third party seller JHM Hobbies off of Walmart's website back in March. It took about a month for my package to deliver, but once it did the company just stated it was "delayed". At the time, I didn't think much of it because with COVID-19 in full swing, it wasn't unheard of for a package to be delayed. Once it reached June, I became a little impatient and filed a complaint with Walmart that I had yet to receive my package and whenever I checked on the delivery status it just said "delayed" and to check back once the package had been shipped for further details. It is now August and I've filed three complaints; hearing nothing back from Walmart nor JHM hobbies.
Jenny – Jun 18, 2020
I ordered 3 items on the Walmart's website in May 2020. I was notified that the items were shipped via FedEx and a tracking number was provided. When I tried tracking the package after a week (items were to delivered within 3 days), the status indicated "delayed". After almost a month, the items never showed. I contacted the seller and they replied and said that they would issues a refund if I don't submit a negative review. Now, a month later, no items, no response, Do NOT order from this seller (SCAM ARTIST). I went to Walmart's website and this seller is no longer on there. The amount was only $44.00, but it is the principle. Walmart and/or this "seller" will be hearing from my attorney. UNBELIEVABLE how hard up people are for money.
Lacey – Jun 07, 2020
My experience is like every one else's. I placed an order on May 3rd. It gave me a tracking number that said 'just shipped' with a delivery date of the 11th. The 11th came and went and now the tracking says 'delayed'. I contacted them through Walmart to get the 'we will refund your' email. Never got the refund. Further emails go unanswered and ignored. Attempting to get some help.from Walmart but an getting transferred a bunch of times because no one can help me.
Alana – May 28, 2020
I am also a victim of this JHM HOBBIES Walmart has as a third party seller. I ordered a garden flag pole to put on our sons grave 5-1-20 tracking it said it was in Ca, and that is where it stayed. I have been on with Walmart for over 2 hrs. trying to get my 14.99 refund. I was being told the ID # was invalid, then I would be put through to someone higher to help me, on, and on, I finally gave up. I think what kind of business like Walmart would do business with a SCAM business. I am very upset, with Walmart, and I will NEVER order anything from them again. I guess I am out the 14.99, and we had to buy another flag pole for his grave, and it ruined MEMORIAL DAY. I had email this place NO RESPONSE. Emailed Walmart, kept saying this place would email me in 1-3 days, what a SHAM!
Cara – May 27, 2020
I ORDERED AN ART KIT FROM WALMART.COM, ON 4-30-20. IT WAS SUPPOSED TO BE SENT BY JHM HOBBIES. I GOT A CONFIRMATION E-MAIL THAT IT WAS SHIPPED ON 5-1-20. I WAS SUPPOSED TO GET IT ON 5-13-20, BUT IT DIDN'T ARRIVE. THE UPS TRACKING NUMBER COMES UP "INVALID". I CALLED WALMART.COM, & THEY SAID TO WAIT A FEW DAYS MORE. NOW THE TRACKING IS LISTED AS "DELAYED". I HAVE CONTACTED JHM, THROUGH WALMART'S "CONTACT SELLER" LINK. I GOT A RETURN E-MAIL THAT SAID I WOULD GET A FULL REFUND. A WEEK LATER & NO REFUND. I HAVE DONE A GOOGLE SEARCH ON "JHM HOBBIES", & NOW FIND IT IS A SCAM COMPANY, THAT WALMART HAS HAD ON THEIR WEBSIGHT, AS A 3RD PARTY SELLER, SINCE 2017. I AM OUT $25.63 FOR A GRADUATION GIFT I WANTED TO GIVE TO A SPECIAL YOUNG LADY THAT CAN'T EVEN HAVE A PARTY DUE TO COVID-19. I HAVE CONTACTED DISCOVER CARD, & AM PUTTING THE AMOUNT UNDER PROTEST. WALMART, OR JHM, HAVEN'T HEARD THE LAST FROM THIS VIETNAM ERA NAVY VETERAN.
Joshua – May 24, 2020
Victim Location 70775
Total money lost $18.74
Type of a scam Online Purchase
I ordered an item on 5/2/2020 through Walmart's website from a seller called JHM Hobbies. Scheduled delivery was estimated to be 5/7/2020; item never arrived. I checked my purchase history & saw the item was Shipped-Delayed. The UPS tracking number is invalid. I contacted Walmart Customer Service today 5/23/2020 & was told they cannot cancel the order or refund my money because the seller marked the item as Shipped.
Walmart told me I had to wait for the item to be delivered: refuse delivery, or request shipping return label. But this will never happen because the item will never arrive!
There are NUMEROUS negative reviews online about this company, all from people stating they never received their orders from JHM Hobbies. Thank goodness it was only a $18.74 purchase & not something expensive!
Abby – May 22, 2020
Where is my package ! I tried to call, I tried to e-mail and nothing !
How is it possible that Walmart allows such company to steal from customers!?
Lock them up!
Ashleigh – May 21, 2020
I ordered from Walmart in October, JHM said it was delayed a couple of months but because it was a replacement item that was hard to find I said no problem I could wait. It is now May and I have tried several times to email and call them with no response. The tracking says it shipped back in November but its stuck in CA. This is a scam and is ridiculous. I called Walmart a few weeks ago and they contacted the seller as did I again. Walmart said if I don't hear from them in 48 hours to let them know. Of course I did not hear from them so finally called Walmart today, waited 40 minutes for someone to answer the phone – they couldn't help me and had to transfer me to Walmart resolution team. That call then said I would have to wait 48 minutes for the next available or press 1 for them to call me. I pressed 1 since I couldn't take it anymore.
About an hour or so later a very nice man named Chad from Walmart called me back. I told him everything that had happened and he promptly refunded my money to my Walmart card. I also told him about what I read on line and told him Walmart really needs to make a move to remove these scammers from their site. He said he is completing a form to do so and sending it to his boss. Hopefully this happens so they can stop ripping people off.
Tommy – May 28, 2020
It is now almost the 28th, and SCAM COMPANY is still on WALMART!
Melody – May 19, 2020
I ordered a wee wreath ring in middle April and it creeps saying it's shipped but here it is almost end of May and still nothing.
Alejandro – May 19, 2020
I ordered a lamp shade from JHM Hobbies on 04/10/2020, I have sent messages to check on the status and got an email back that looks to be a auto response. I have ask for a refund on 05/18/2020 maybe I'll get my money back who knows at this point. Will never order from this company again.
Andres – May 16, 2020
Never received product. After using the UPS tracking information given, we found it was completely bogus. The company said it shipped my product on 5/1/20 and should arrive by 5/13/20. I waited 3 extra days and no change in the delivery status or I haven't seen my product. I asked for a refund. I will order similar products through Amazon. I will NEVER use this company again.
Darryl – May 16, 2020
I ordered two candles from them on April 22nd and I still have not received anything from them. It says it's been shipped but it's still in California. Now it says delayed and it's May 16th. I wished I knew this before I ordered from them. I should have read the reviews on this company.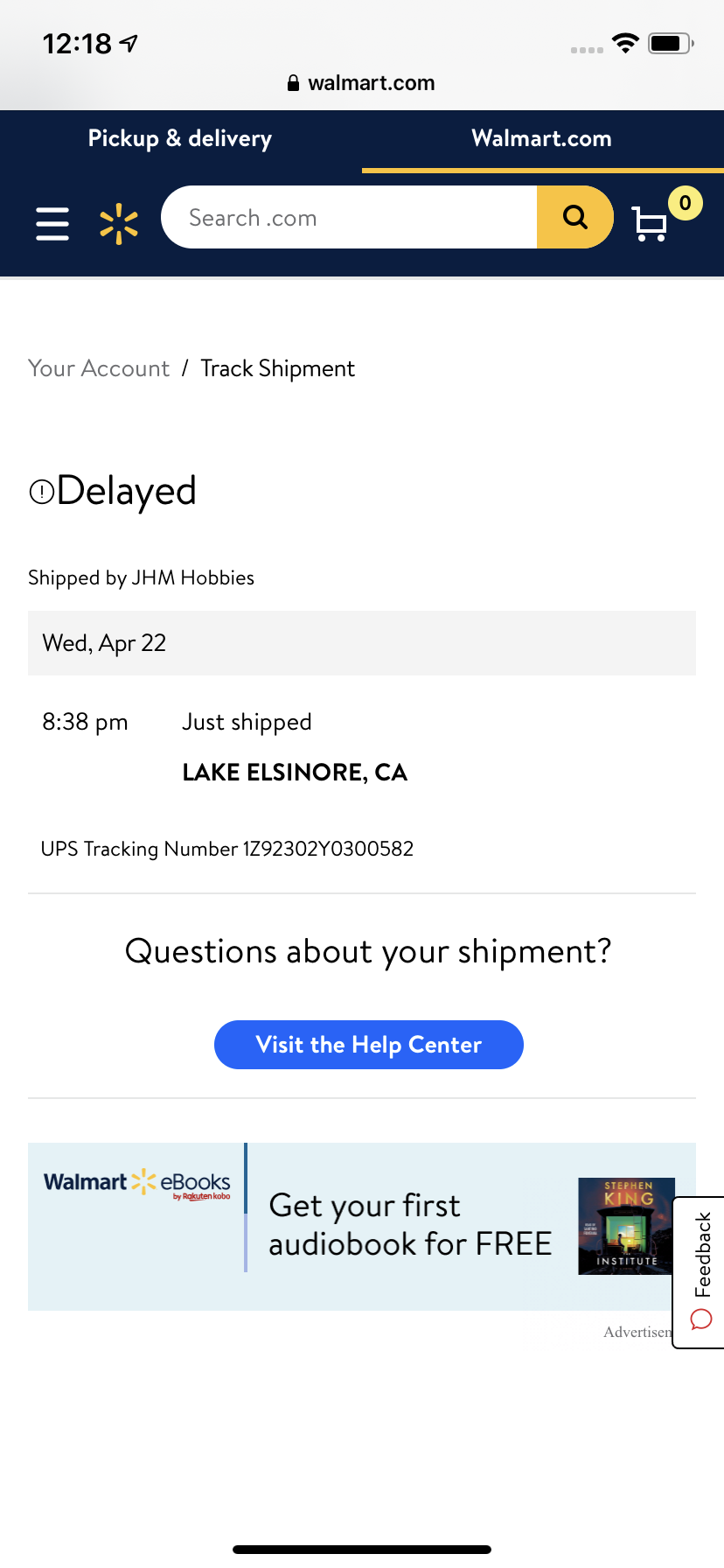 Darryl – May 16, 2020
I forgot to mention that when you look up the tracking number it says that it don't exist.
Martin – May 14, 2020
I too ordered from JHM Hobbies and never got my products. I contacted them through the Walmart marketplace via email and they were very nice and acted like they would fix the problem. (I believe they do this because Walmart requires them to respond.) I was given a fake tracking number. (I believe they do this so that the customer is unable to initiate a refund in Walmart's website.) I had to call Walmart 4 times and on the final call I sat on hold for 2hours and 38 minutes to finally be refunded. I told every customer service representative about this being a scam company and how there are so many of the exact same complaints. The last one I spoke to said she'd let someone know, but I doubt it did any good. At a point Walmart is a participant in this scam. I have read reviews from 3 years ago with this same problem with this company. I've also read several where several others have made this known to Walmart.
Shaun – May 28, 2020
What a sad state of affairs, when Walmart will not do anything about this, 3 yrs they have known WOW.
Lisa – May 13, 2020
I ordered something from Walmart and the brand is by them I guess. I been tracking my package and it's still in California since May 4 I am so mad. It's supposed to be delivered tomorrow but looks like it's not ugh but it is shipped it just not moving anywhere .
Brent – May 16, 2020
I ordered from them also and it says shipped but it's still in California and it says delayed. Did you ever get what you ordered?
Anna – May 10, 2020
[censored] this company [censored] Walmart. It's a fraud company that scams people out of money. Walmart won't help you and the JHM Hobbies will keep sending you emails lying to you about it being on the way and being late and being lost and we sent another one but they didn't they just took your money and let you look dumb and walmart with there crackhead employees who can't even listen to you or believe you. Just don't order! And if you have hopefully you didn't loose too much.
Cynthia – May 06, 2020
Scammer's website via Walmart Website
Country United States
Type of a scam Fake Invoice/Supplier Bill
Initial means of contact Website
Placed an order via Walmart on March 26th, have not received merchandise, Have not responded to my many emails requesting refund and cancellation. Scammer!
Kevin – May 06, 2020
I placed an order on March 26th via Walmart from JHM Hobbies, never received item, have sent several emails requesting refund and cancellation, no response. DO NOT USE THIS COMPANY.
Misty – Apr 10, 2020
I ordered dories from JHM Hobbies on March 2, 2020. Charged my credit card $24.52 never received my order. Got a tracking # from them, then came a order delayed message. Still no order and no replies back on my messages as WalMart said they'd give them the message. No reponse back. Please advise, or reporting this company as I've seen several complaints.
Carl –
This company does not exist and Walmart supports the scam they're running. I placed an order with them and my merchandise was never delivered. Walmart claimed that they contacted the seller and that someone would respond in 24 hours that was 5 days ago. Nothing from Walmart or JHM Hobbies.
Stefanie –
Have you had any luck? I wish I would have been able to see reviews before my purchase because I have been a victim to the scam myself. Over a hundred dollars for patio lights that I have not received and Walmart hasn't been any help either.
Krista –
Placed an order with them on WALMART not realizing scam company, order placed 12/20/19, 12/26/19 shipped/delayed tracking number issued but not in USPS system! It is 1/9/20 three emails no refund or response! Walmart won't help either! Walmart should be liable too I made the purchase that was obviously fraudulent through them! Terrible
Rose –
I ordered an art kit from them through Walmart I order this with two other items, that had no issues, on Nov. 25. It stated that the art kit would arrive on Dec. 9 at the latest. It has still not shown up and it is Jan. 4. I tried to track the package but all it will say is shipped. I have tried to email them and it was stated that I would hear from them with in 24 hours after I sent the email, I send multiple s and it's been nearly a month since I sent the first one. I have also tried to call them but their number is not really theirs.
Caleb –
Scammer's website Walmart
Country United States
Type of a scam Online Purchase
Initial means of contact Not applicable
I ordered 2 items on the Walmart website 8/18/19 was given a tracking number, but the items never showed being shipped. I have tried several times to contact seller and was told the last e-mail 12/2/19 that I would be contacted within 24 hours by the seller but never was. I paid $29.98 and nothing to show for it
Jessie –
On 12/10/2019 I ordered an item from JHM hobbies that was said to be delivered 12/20/2019. Since 12/11/2019 on Wal-Mart.com my package says the delivery is delayed, but will be delivered 12/20/2019. When I put the tracking number in the USPS site the site stated "the Label Created, not yet in system.
A status update is not yet available on your package. It will be available when the shipper provides an update or the package is delivered to USPS. Check back soon." This statement has been on this tracking number since 12/11/2019, & it currently is 12/26/2019.
When I e-mailed JHM Hobbies, they did not respond back. I contacted Wal-Mart.com, & they said that they would contact JHM Hobbies, & JHM Hobbies would contact me (which JHM Hobbies never did). Wal-Mart contacted me the next day & said that since they could not resend out the item, they would not only issue the refund, but they also would send me a Wal-Mart gift card for the inconvenience.
Stephanie –
I ordered a item before 12/13/2019 and still haven't received it. The tracking number said it was shipped from SC and was mailed to SC. I am in NC. I sent a email to JHM on 12/21/2019, will see what happens. Hopefully will get a reply. Item was $10.00 so I hope I will get it.
Melissa –
Victim Location 91766
Total money lost $46
Type of a scam Fake Invoice/Supplier Bill
I ordered an item on 10/1/2019 through Walmart's website from a seller called JHM Hobbies. The arrival day was 10/15/2019. The tracking number did not work and the item never showed. By the 17th when I contacted Walmart they emailed the seller on my behalf who replyed…
How are you? I apologize that we did not get back to you earlier but we have been a little more busy than normal so it takes us a little longer than usual to reply back. Your package has shipped out. Sometimes our local post office takes awhile to get the items scanned in as sometimes they simply forward it onto the sorting facility and sometimes it doesn't get scanned in until it is delivered, especially around the holiday time. Regardless, I will reship you out a new package and if you end up receiving two packages we can arrange for one to get back to us. Thanks for checking in and please let me know if I can answer any further questions.
I didn't receive any information about when the 'second' package is being shipped or delivered.
On the reviews for this seller on Walmart's website, 46 people reported the same grievances. https://www.wmtsellers.com/jhm-hobbies#review
So I called Walmarts customer service on 10/22/19 after finding the bad reviews. The customer service agent called the JHM Hobbies and reported the seller saying that the package was delivered to the post office but must be lost in transit because their records show it has shipped. I placed another order through the customer service agent, who says there is a new tracking number and order number, but I have not received confirmation numbers for this new order and shipment.