Raul – May 21, 2020
I received a check in my name for $2330.25 as well as a letter indicating I should go to Walmart or a store of my choice and buy gift cards. The interesting thing is the day I received this in the mail I also received a follow up email stating that I needed to let them know if the check arrived and gave me a phone number of a person to text. I honestly have no idea how they received my name address and email.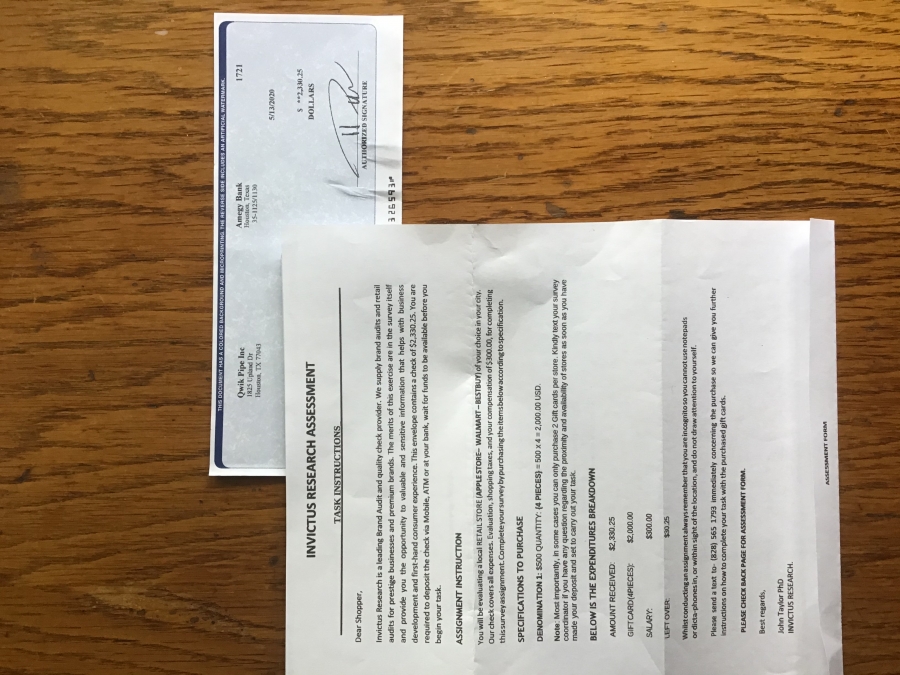 Carlos – May 16, 2020
Scammer's phone 3053060359
Scammer's website invictusresearchassessment.com
Country United States
Type of a scam Fake Check/Money Order
Initial means of contact Postal mail
Then sent me a check for a so-called store-evaluation. Then asked me to purchase ebay gift cards after depositing the check from local stores. I deposited the check into my bank account and then purchased several ebay gift card for a total of $2000 and sent the codes to them. The next day I realized that the check was returned and was invalid. So I had to pay this $2000 out of my packet. Very obvious scam.
Neil – Mar 18, 2020
Does all of you go to Gwinnett tech? Because I received the same check and now I have to pay all the money back. Can we raise the flag to GTC so they don't scam someone else and find out who Jordan Wood is based on the email address [email protected]? I need to get justice and have my money back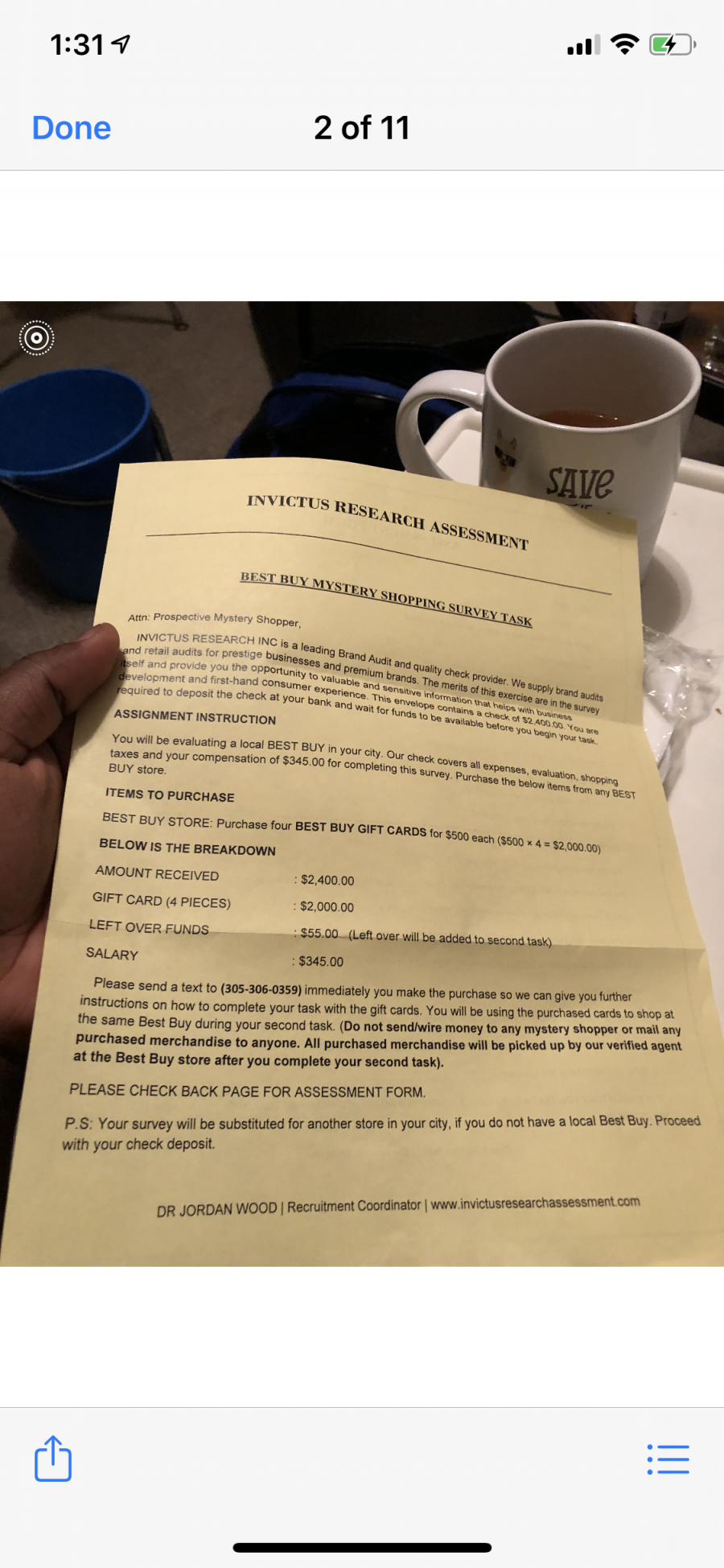 Austin – May 21, 2020
I don't attend Gwinnett but am jealous that they were gong to "pay" you more than they were going to me. Thank you for posting I didn't fall for it after reading your post, but I am definitely sorry for what happened to you.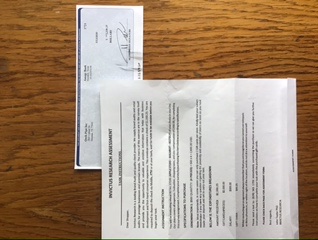 Adrian – Mar 11, 2020
Victim Location 30017
Total money lost $2,000
Type of a scam Fake Check/Money Order
To Whom It may concern
I have received a mail that contained a Mystery Shopping Survey Letter from Invictus Research Inc and a check from South Carolina Federal credit uninon Bank amount of $2400. I was told to deposit the check to my bank and wait for the fund available then go to best buy and buy 4 $500 Best buy gift cards fill out assessment survey letter text back to them and wait for 2nd task in couple of days. I deposited the check on Friday March 6th to Bank of America. Money avaliable to my account on Saturday. I bought 4 Best buy giftcards on Saturday. took alll the cards pic and text it to (914)6278589 number and waiting for next task. Today I checked my email and found Bank of America charged me back $2400 because they found out March 10th It was a fake check.
Dominic – Mar 04, 2020
Scammer's website invictusresearchassessment.com
Country United States
Type of a scam Fake Check/Money Order
Initial means of contact Email
I was contacted via my student email, though the fact that I can no longer FIND the email really bothers me. They offered me a mystery shopping job so I submitted the required info, about 2 weeks later I received a text from a number saying I'd been selected & to look out for my PACKAGE. The package was supposed to be my first assignment. The package came & inside was a cashier's check for $2400 & a piece of paper with a checklist & instructions for the assignment. That assignment was to purchase 4 Best Buy Gift cards, $500 each & keep the remainder as compensation. After I purchased the gift cards, a certified agent would pick them up from me.
Jesse – Mar 04, 2020
Hey I go to Gwinnett tech also and got the same email. They sent me a check in the mail too. I'm trying to figure out how I can return it because this is definitely fake.
Patricia – Feb 24, 2020
Victim Location 53185
Type of a scam Employment
Received an email from my college group about employment as a secret shopper. Filled out the application and received instructions in the mail 2 weeks later. The instructions included a cashier's check for use to complete the secret shopping and payment compensation. The 1st step was to direct deposit the check into my own account. Yep, check was fraudulent. Remitter: Dewayne Washington Republic Bank member fdic has what appears to be all the usual security features. My bank flagged me had no issues clearing it up, I reported the fraud to my school and now of course on here. 
Jimmy –
Victim Location 74074
Type of a scam Fake Check/Money Order
They prey on the mystery shopper idea. You will be contacted first through your school account if you are a student.
As you click on the link, you will be asked to enter your name/address date of birth. Then you will see the following message: We will contact you if you are a fit.
Several weeks later, you would received a text msg as followed : " Hello, we are happy to inform you that you have been selected to start the first store evaluation Job you applied for. Your first assignment will be delivered via regular mail next week. Do you have any of these stores around you? ( Apple, Walmart, Best Buy ……INVICTUS RESEARCH ASSESSMENT".
Following the text you will receive a mail, strangely it will have a regular postage on it(nothing like a legitimate business, it is more like a personal mail. That raised up my eyebrows!!! And the suspicion begins!!!!). Inside the envelope, you will find a yellow paper with the following letter head :
INVICTUS RESEARCH ASSESSMENT
BEST BUY MYSTERY SHOPPING SURVEY TASK
In the first paragraph, they will go on to explaining the business they specialize in. Then you will see the following :
The envelope contains a check of $2,350. You are required to deposit the check at your bank and waits for funds to be available before you begin your task.
ASSIGNMENT INSTRUCTION
You will be evaluating a local BEST BUY in your city. Our check covers all expenses. evaluation, shopping taxes and your compensation of $300 for completing this survey. Purchase the below items from any BEST Buy store.
ITEMS TO PURCHASE
BEST BUY STORE: Purchase 4 best buy gift cards for $500 each ( $500 x 4 = $2,000)
BELOW IS THE BREAKDOWN
Amount received : $2,350
Gift Card ( 4 pieces):$2,000
Left over funds : $50( left over will be added to the second task
Salary : $300
Then below
You will see : It is mandatory you send a text to (407-588-6741) immediately you make the purchase so we can give you further instructions( As you can see, there is a very obvious grammar error in that phrase. This raised an additional flag for me).
Of course on the back you will see their rating chart and all.
At point, I chose to investigate because it looks to good to be true. Let's me say why:
1- you sent me $2350 with no guarantee that I will really use for what's intended ( usually businesses try to reduce the liability)
2-I need to get some gift cards and someone will meet me to collect them back? ( Ok triple fishy. Regardless of how I ran it through my heads, how the business was going to get the money back. At that point, the spidey sense is tingling. LoL.
Anyway, I first started my investigation on the address on the received envelope.
Results :——It is the address of some type of nursing home —– I used google earth to look and it looks like it.
2- I did a reverse phone look-up on the name, phone number and address. Nothing was coming back with invictus research assessment attached to it.( ooohh)
3- I, then searched on the Business Bureau and could not find a registered business under INVICTUS RESEARCH ASSESSMENT llc
4- So I proceed to search the routing number on the cashier check. It came back as Credit union of Ohio ( I had a sense of relief, but was still inquisitive. As you know the routing number is public knowledge, so I decided I got to verify the funds and the legitimacy of the check). Let me tell you, that check was very convincing. It looks exactly like any cashier check that you received for a refund as an example. But one that I could not convince myself one, is that the check did not have any payer ( any check will always have a payer).
5- I found the number of the bank, and called to verify the funds and legitimacy of the check. Then Tadaaaaaa, the member service representative announces that it is a scam. She even described invictus process.
I chuckled and thanked her. Fiuuu, I am glad that I investigated and listen to my guts. Granted that they have my name, DOB and address, but at least I dodged the damages for now. And Yes my credit is locked tight now.
Morale of the story is that , the scammers have gotten very freaking good. So if you want to go and be a mystery shopper, go straight to https://mspa-americas.org/about. There, you will be able to see which company is legitimate.
Micah –
Received the same mail as you. I sensed that it is fraud because it is too good to be true. So I searched the net and I found your post. Thanks! Let me be honest, the check looks very real! 😀
Richard –
Victim Location 83704
Type of a scam Employment
I got an email asking to become a secret shopper and earn $300 per assignment, the website seemed legit so I applied. I didn't hear anything for a couple of weeks but then i got a text form the number 1-305-563-0085 saying that I had been selected for the secret shopper program and that my first assignment would be coming in via regular mail and then once I received it to text the number 407-588-6741, the text was signed by a Dr Shelby Price. When the envelope came in the mail, I opened it to find a single piece of paper and a money order of $2350. The paper instructed me to deposit the money order into my personal bank account and then go to my local Best Buy and perchance 4 gift cards for $500, $300 was to be my payment, and the remaining $50 was for next time. On the back of the paper was a list of questions for me to answer about the store. The letter also indicated that I was to text the second number immediately after purchasing the gift card and a representative would come to my location and pick them up. I texted the second number and got a text back saying the number was no longer in service, when I texted the first number to inform them of this I was given the new number 305-998-7185 to text. All the text felt automated, except for the last one from the last number that simply asked if i had gotten the envelope. I brought this up to my mother-in-law who suggested I called the BBB.
Charles –
Victim Location 19802
Type of a scam Fake Check/Money Order
I received an email from my job at a. College about part time job opportunities as a mystery shopper. They sent me a check and stated that they wanted me to buy Best Buy gift cards and then kept $300 for compensation and then text them the info and save the gift cards for the next job.
Craig –
Victim Location 19734
Type of a scam Employment
I was sent the referral from a co-worker to earn $300 as a mystery shopper and it was a great experience. After filling out the contact information on the company's website, I received an email within a couple of days congratulating me on joining the team and my packet would be sent in the mail with instructions. I received the letter and cashiers check for $1,890. with instructions to deposit the check into a valid bank account and my assignment was for Walmart. Purchase 3 gift cards for $500 each, evaluate Walmart services and text a picture of the receipt and the back of the gently scratched off gift card to 678-460-8165. It also said to not discard the cards as they will be used for the next assignment. Included in the letter are guidelines on what to look for at the store to report on as part of the assignment. The website looks totally legitimate, however, there are a number of different company names that are also being used. John Harvey Survey LLC is on the letter, signed by Daniel Michael; Linda Dudley is the remitter on the cashiers check drawn on First National Bank of Winnsboro, Texas with a different signer on the signature line. And the emails come from a Mark Gerrald email address with the company name Invictus Assessment LLC. And the mailer came from Ashli Penny in Atlanta GA. I did not deposit the check.